San Casciano is picture perfect Tuscany – it's no surprise that it's a member of borghi piu belli d'Italia (prettiest Italian villages). Set on a hilltop it has a church and a castle, vertiginous cobbled streets and breathtaking views across verdant fields and valleys. It is only here, though for one reason – water. San Casciano dei Bagni (to give it its full name) has 42 springs from which the water emerges at a scorching 42C. Every day 5.5 million litres are delivered – making this the third most prolific terme in Europe.
Taking these waters goes way back, beyond medieval times. Legend has it that the first baths were founded by Porsenna, an Etruscan king. Then the Romans came including, so they say, the Emperor Augustus. There was a very early Christian church here (Our Lady of the Waters) and the baths remained popular through the Middle Ages and the Renaissance but they gradually declined until comparatively recently when the Fonteverde spa arrived.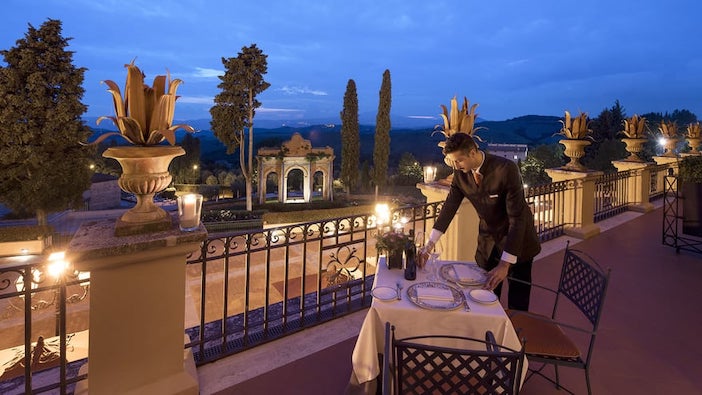 The hotel is set in a Medici Palace built in 1607 by the Grand Duke Ferdinand I and he picked a good spot because the views over the Val d'Orcia are pretty hard to beat. The spa is vast – I lost count of the pools, all of which use the thermal waters, rich in sulphur, calcium, fluoride and magnesium. Because of the rapidity and continuity of the flow, they require no chenical treatment, so the water you get is essentially the same as Augustus enjoyed 2000 years ago.
So, what does it do for you? Its claims include supporting muscle tone, relaxing the nervous system, anti-inflammatory and analgesic properties and the liver and bile ducts are said to benefit from the water's anti-oxidant and metabolic effects. You can breathe it the inhalation cave (stone walls, marble benches with the crystallised salts on the floor) and drink it, too. The pools have all kinds of hydrotherapy jets (one of them is more like a waterfall), most are inside/outside and the water is so warm, you can still swim out to enjoy the view in the depths of winter. There's sauna and steam and the rather painful Kneipp walk over cobblestones – the cold water's a bit of a shock after all that nurturing warmth.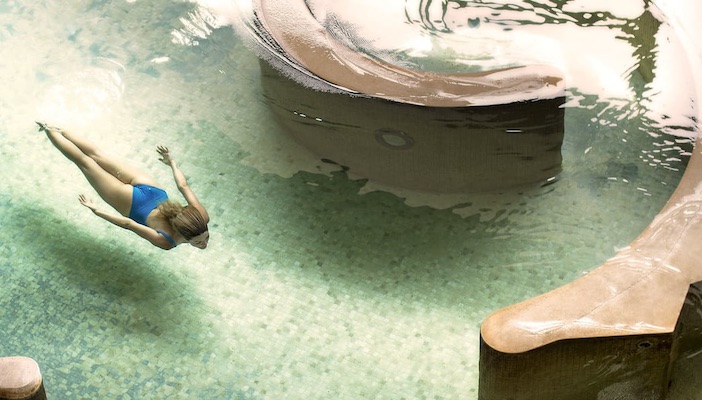 And, of course, there are lots of treatments.  I tried the Thalaquam followed by the Salidarium. The first turned out to be pretty much 20 minutes of bliss, floating in water so salty you just bob on the surface. I tried it out on my own (though you can book it for two) in a blue-tiled pool, lit by lanterns with a starry dome above. It's sometimes called a floatation chamber (which makes it sound a lot less pleasant than the reality) and it's good for stress, muscle relaxation and, oddly, water retention.
The second stage of the treatment, the Salidarium, was a new one on me. I was instructed to remove my wet swimming costume and replace it with a white version of the outfit worn by Obi-Wan Kenobi, complete with hood and medieval sleeves. I then lay down (again there's room for two) on a hot bed of sea salt crystals, clutching a pillowful of more hot salt on top – a kind of human and sea-salt sandwich. This apparently stimulates blood and lymphatic circulation, intensifies the oxygenation of both body tissues and the brain and helps to eliminate toxins. It was strangely pleasant, even if it mostly made you want to laugh.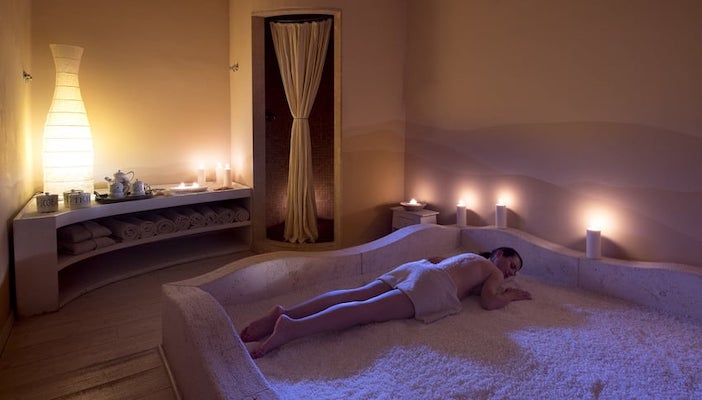 There's plenty more on offer: massages and facials, mud baths and a surprising amount of aesthetic procedures – everything from Botox to having your buttocks "filled" (not sure how that one works when you're sitting on the plane home. Just saying.). There are whole programmes, too: Equilibrium (much more on this on the Month Spa of the Month, Bagni di Pisa); Periodic Fasting; and Anti-cellulite.
If you're not on one of these programmes, you can eat quite wonderfully healthy Tuscan food in the restaurant, all very local and seasonal. It may inspire you to explore the local vineyards (Montepulciano's a stone's throw), try the in-house cookery course or go truffle hunting if you're there in the autumn. And if you're heartbroken at the thought of leaving the dog, fear not. Fonteverde is the only spa I've ever heard of that not only welcomes our furry friends, it gives them a thermal pool (and a towel, a bowl and a dog-sitting service) of their very own. Honest.
Fonteverde is a member of The Leading Hotels of the World. For more information on the hotel and spa, including details of offers and the Fonteverde Superflex deal, please visit www.fonteverdespa.com email travel@fonteverdespa.com or call +39 0578 572333.