Simply put, Forsthofgut is gorgeous. An hour from Salzburg, and you are up in the mountains breathing air that bears no resemblance to what you find on city streets and you're surrounded by forest and snow. Forsthofgut has a main hotel – alpine chalet picture perfect on the outside, cool and contemporary on the inside. Then there's its spa – brand new and contemporary all the way – a vast space of weathered wood and glass that sits right on the ski slope. This means you get one of the most breathtaking pool views in the world. The warm water (it steams slightly in the mountain air) of the infinity pool looks across to snowy peaks and (almost close enough to touch) the skiers who swish past on their home run.
This is a naturhotel (nature hotel, fairly obviously), a popular concept in Austria. Now this is partly down to that glorious setting with mountains and forests all around, lots of wildlife and a rather beautiful lake just down the road. However, equally important are the hotel's excellent eco-credentials and its approach to food. So look out for the twist in the dinner menu.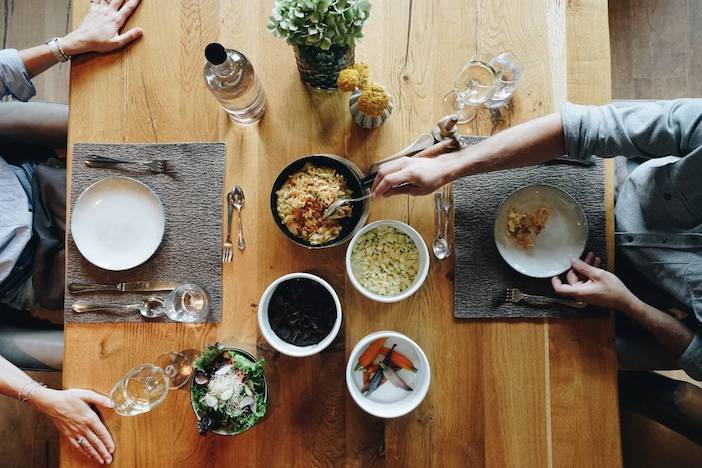 In fact, there are basically three menus in one and you can mix and match between them. First is the Alpine menu – a contemporary take on traditional dishes. Then there's the R50 menu – I'm not sure what the "R" stands for but what it means is that all its ingredients have come no further than 50km from your table. And menu number three is vegan. So venison to pumpkin panacotta, with suckling calf, salmon trout and garlic dumplings along the way. Indeed, so proud are they of their bio-credentials, their farewell gift to guests is a miniature hessian sack of their super-healthy local potatoes.
All menus start with the salad buffet and I have never seen a better one – every kind of greenery, plus sprouting seeds and sprinkles (and of course plenty of richer fare for the Major and others who have spent the day up the mountain). Ah yes, the Major and his mountain. As we were here for just two days, he had a plan. So, day one was with Roland, a ski guide from the local Saalfelden/Leogang tourist office.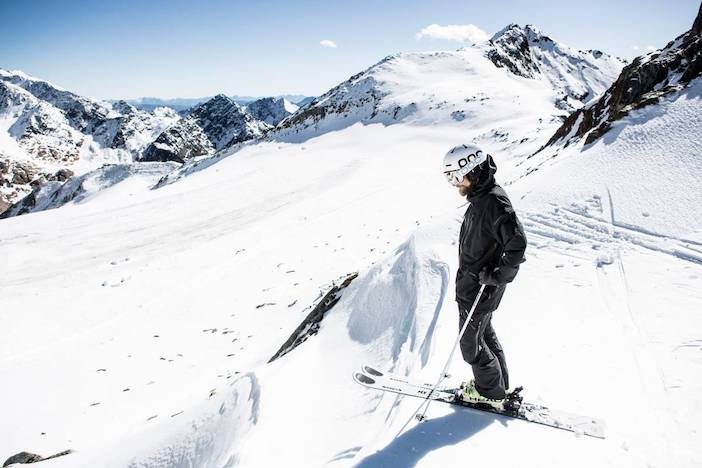 Roland (ski instructor in winter, tennis and sailing coach in summer) is a bit of an athlete and eyed the Major with some concern at first but, having decided he could ski a bit after all, dragged him round a good third of the available slopes during the course of a morning. Now, this may not sound too arduous until you consider this is part of the Saalbach-Leogang-Hinterglemm-Fieberbrunn ski circus – 70 lifts and 270km of pistes.
Since 2020, it is also connected to both the Zell Am See and Kaprun ski areas which brings in another 140km of slopes and an additional 50 or so lifts. This makes it one of the biggest ski circuses in the Alps and it even includes a glacier, at Kitzsteinhorn. The pistes are long, wide and open for the most part with the shortest being 1km and the longest over 7km. There are seven black runs (longest 4km) and between 30-40 red and just over 50 blues. Roland and the Major stuck to reds but they didn't stop for a moment. This was partly because the best skiing was in the morning – on a warm sunny day in March, the snow can get a bit slushy by midday. (The Major did look somewhat longingly, though, at the bars and restaurants they passed where less obsessive skiers were drinking beer or hot chocolate.)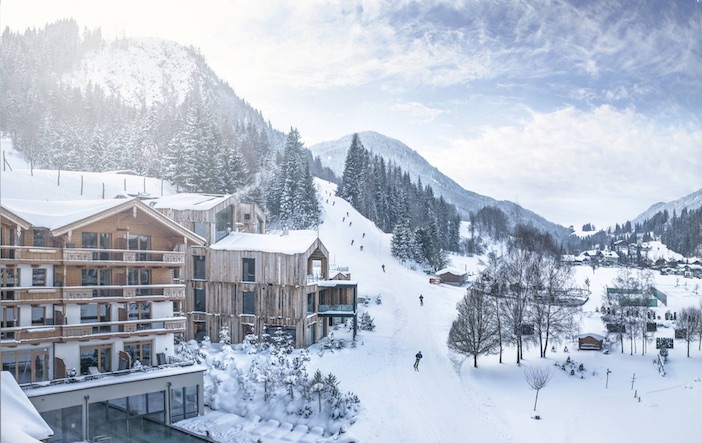 The Major returned flushed with happiness and exertion, albeit with some creaking sounds coming from his knees. Because there are so many runs and they are so wide, he explained, it never feels overcrowded or as if you're dodging other people. And it's easy to navigate, even if you're a novice. Or so he thought. Day two, he was alone and had gone up early to get the best of the snow. After all that sunshine the day before, he found very different conditions – snow was falling and visibility was limited. But the snow was good and there were even fewer people.
The first couple of hours were fine and then the Major, emboldened by his successful day with Roland, decided for his last run to ski from the top of the mountain down to the bottom. Great – until he found himself on a steep black run in soft spring snow. His descent was, he admitted, rather inelegant.
All this time, I was hard at it in the spa. In fact, there are two spas at Forsthofgut. There is the family spa, also known as the "textile spa". This means you're allowed to wear clothes in there. In the adult spa (except for the swimming pool) you aren't. So whenever you're in one of the many saunas and steam rooms, it's without even the smallest of bikinis. You could drape yourself in a towel, of course, but most Austrians would consider this a sign of madness.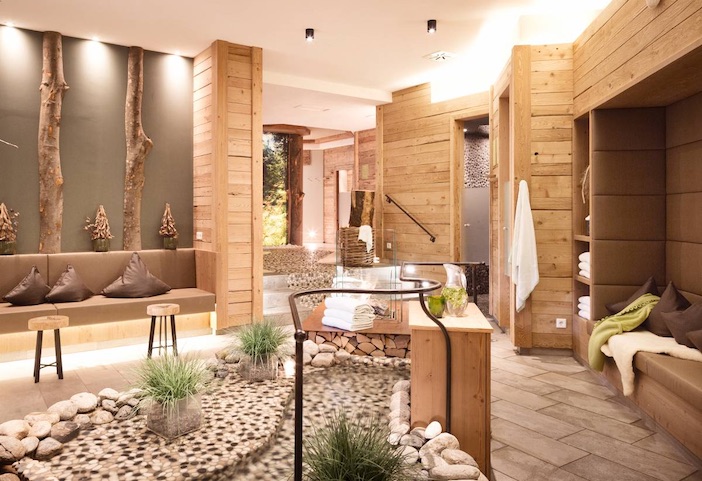 Next to the family spa is Rocky's kids' club (two years and over) professionally supervised every day from 9am to 9pm with meals and nature-themed activities. There are tree-houses, suspension bridges, Tarzan swings – a forest playground, in fact. And there's a petting farm with goats, rabbits, ponies and deer.
Back in the spa, it was time for my treatments. On my first day, it was a massage called Alpine muscle freedom with Milo from Slovakia. He gave me a handshake that made me pause for thought – this was a grip of iron if ever there was one. In fact, Milo's hands were the last thing I had to worry about. He revealed a treasure chest that would have put a gleam in the eye of a medieval torturer. If they'd have been made of iron, that is. But these are made of wood. This is the Wald Spa, literally the forest spa, and it's a concept they take very seriously.
So, Milo's batterie de massage. It starts off with a simple wooden roller which has a surprisingly smooth and relaxing effect. Then there's something I first take to be a stone (the kind you'd expect in a hot stone massage) but this turns out to be made of wood, too, and comes in a variety of sizes. However, when I see one that looks like a cross between a rolling pin and a mace – you know that one with the spikes – I feel a little worried. OK, they're not so much spikes as a pattern of cones or pyramids. But they can certainly get into the knots when we get around to the shoulder blades.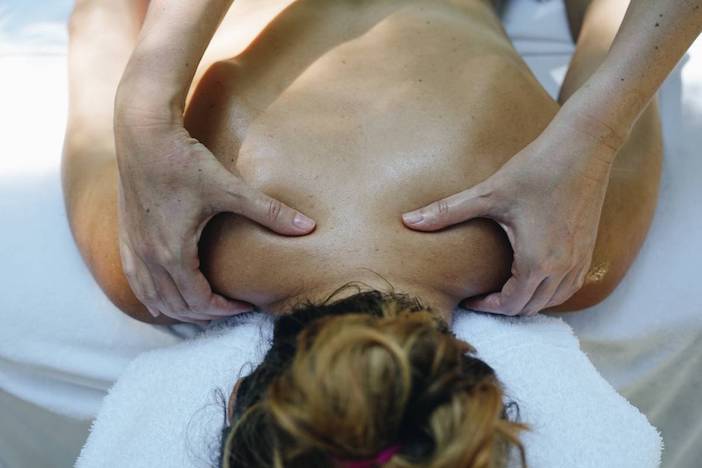 The massage itself starts with hot oil which is always nice and I sink into the bed, knowing that I have a long session ahead (80 minutes). I begin lying face down and Milo starts on my back and arms – as I say all very smooth and relaxing but working up to an assault on the knotty bits that is certainly effective. Then it's the legs and feet before turning over for more on the legs and arms. There's a particularly effective part – and quite an unusual one in my experience – around the back of the neck, all the way up to the ears. Maybe it's something to do with lymph nodes? I stagger out, all muscles freed, and have a short break before the late afternoon yoga session.
Another day, another massage – but this one couldn't be more different from yesterday's. So, Adrienne, my therapist today, tells me on my way to the massage room, this is a cross between Ayurveda (Indian) massage and their own alpine healing methods – WaldYurveda! And, she tells me, it's soft. Very soft. It's true. It turns out to be so gentle, it's almost dreamlike.
I start by choosing my oil. It's a tricky one but in the end I go for elderflower – sweet but not too sweet. There follows an hour of bliss. The whole massage is for the back, arms and legs so you never turn over. The spa menu promises it to be "a soothing oil massage for body, mind and soul". And so it turns out.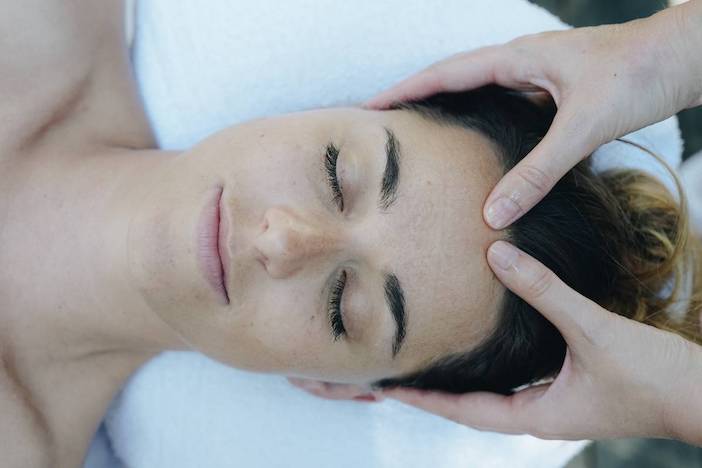 There is gentle Indian music in the background to which Adrienne choreographs her movements. They are slow and sweeping and they begin on the left side when she massages the oil into all the key joints – starting with the ankle and working up through the knee, the hip, the shoulder, the elbow and the wrist. Then it is all smoothed together, taking in the left side of the back, before she repeats the whole thing again on the right side. This approach (joining up the whole body rather than just focusing on one part) is very much at the heart of Ayurveda massage.
There is a lot of work on the back but again it is the back linked to the arms and shoulders, or the hips and legs and sometimes drawing all of them together in long smooth strokes or slow moving circles. This is particularly wonderful when there are two circles going on at once – on the small of the back and between the shoulder blades, for instance. This is a lovely slow, gentle massage, one that lets the mind drift. Then it's back to the relaxation room, with its open fire, sounds of birdsong and that amazing view…
Naturhotel Forsthofgut was named Europe's Most Beautiful Spa Hotel 2018. For more information about the hotel and spa, including details of offers and 'secret deals', visit www.forsthofgut.at/en.
Check for special ski packages this winter, including Sunny Skiing (late season ski packages). All guests receive a free pass to use all the mountain lifts. And for up to date Covid information, please visit the Saalfelden Legogang Tourist office at www.saalfelden-leogang.com.