It's no understatement that 2020 has been a strange year. As a travel journalist, being totally grounded from March has been surreal. Thinking back, the last place I visited before the great close down was Austria, up in the mountains in the final days of the ski season. And suddenly, without it seems any other intervening seasonal travel, it's time to think about skiing (alongside dreamy spas, of course) again…
The Grossarlerhof Hotel looks from the outside the perfect picture of rustic alpine architecture. Remember all that fuss about hygge a couple of years ago? Here, it's gemutlich – Austria is really big on cosiness. So, you can expect roaring fires, plenty of pine and wall-to-wall dirndls. It's all wonderfully comforting, especially when outside there's snow and mountains and forests.
Alongside all that gemutlich, Grossarlerhof has its hi-tech moments too. It's part of the Small Luxury Hotels of the World group but the luxury here is not so much Christian Louboutin, more cashmere throw. So, underfloor heating and superfast broadband rub shoulders with very fine dining and insulation so effective that even when you're looking out at that winter wonderland, inside there's almost no heating needed. [Austria always makes me realise how awful British housing is in terms of insulation – I think we must have the leakiest homes in Europe.]
This combination of cosy and state-of-the-art is much in evidence in the spa. This isn't a vast spa but it is, as they say, perfectly formed. All whites and creams with weathered pine, it's a relaxing spot. Indeed, there's a choice of relaxation rooms. You can lie on a lounger looking out at the snow or on a waterbed with huge cushions (emblazoned: I feel good) and cream blankets lit by flickering candles.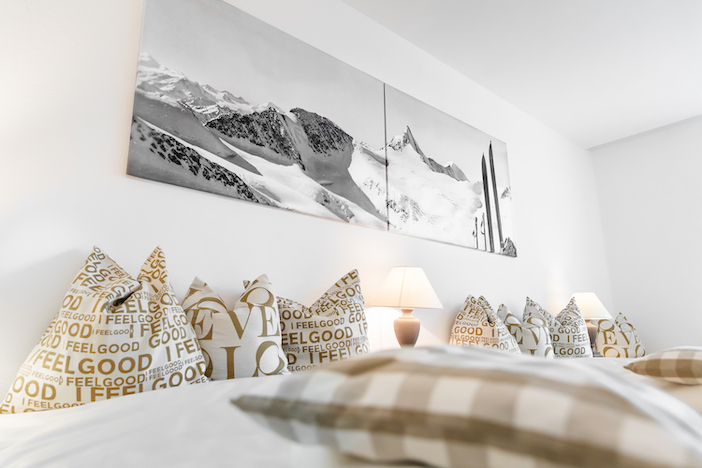 There is a small gym but I started my first morning with a class based around a black roller used as a tool for deep self-massage. Now I know this sounds a bit lazy (and it's not exactly cardio-based) but it does get at bits of muscle tension you might not otherwise even know about. So, you place the roller under your calf, thigh, different parts of your back, your neck – and sometimes it's really pleasant and sometimes it hurts like hell. But it does seem to work if you're trying to release stiff muscles. In fact, it makes it an ideal post-ski activity and therefore more ideal for the Major who was up the mountain already when the class began at 9am.
Now last year, the Major got no skiing at all so was feeling very short changed on the winter sports front but also a little hesitant about going full out after such a long break. After around 10 minutes, though, he told me he wasn't too bad at this and, while not doing any black runs, warmed up on his first day with blues and reds.
The ski areas here are the Grossarltal and the Dorfgastein – basically the two sides of the mountain. There are 73km of pistes and 17 lifts with a majority of red and blue runs with a couple of black runs. So this is a great place for beginners and intermediate skiers as well as families. There are good ski schools even for the tiniest skiers (the Major saw one who looked like he'd just started walking and was linked to his instructor by reins!) and there are lots of offers on passes for families and young skiers.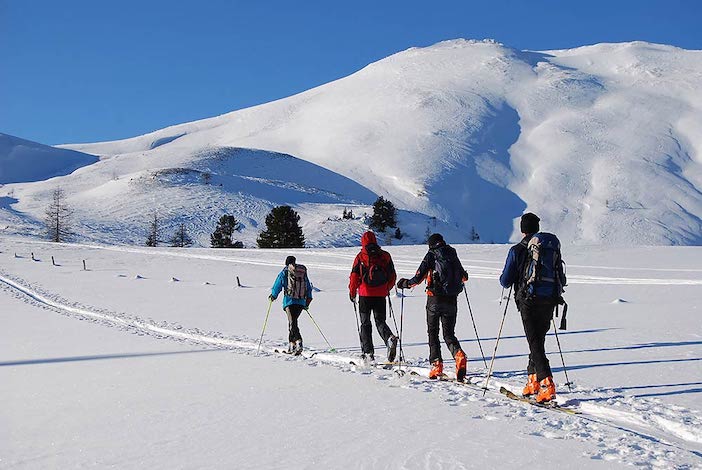 If you want to try something a bit different, there's a ski touring programme aimed at complete beginners and intermediates. Ski touring is a cross between downhill and cross-country skiing, so you learn to ski uphill (honest) using skins on your skis. The trails take you off the beaten track and away from the lifts and the pistes – this is skiing for those who really want to get away from it all. And, of course, there's cross country on prepared tracks down in the valley. For a bit of R&R, there are plenty of cafes and restaurants all around the pistes and spots where you can just sit and take in the view.
Grossarltal-Dorfgastein is part of the wider Ski Amade area within Hohe Tauern in Salzburgerland and the Ski Amade lift pass gives access to all the lifts in the area. So if you're looking for more challenging black runs it's just a bus ride away.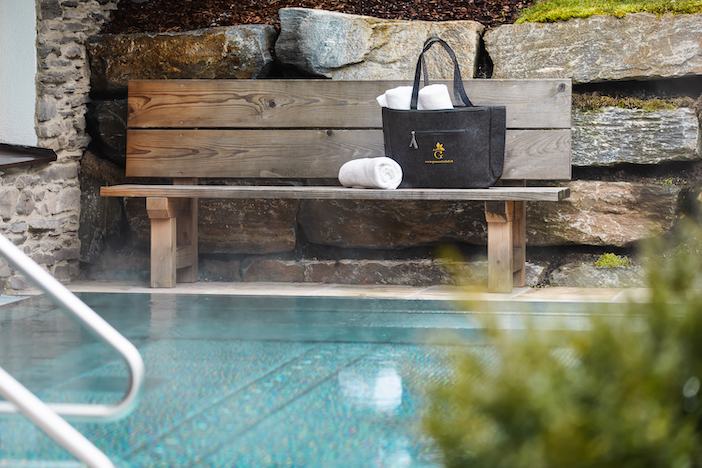 Meanwhile, back in the spa, I decided to explore after my class. There's isn't a swimming pool as such but there is an outdoor hydro-massage pool for underwater relaxation. Now, it does take a smidgen of courage to go out in your cozzie when there's snow on the ground, though not as much as is needed when you get out of the water and sprint back into the spa. All very exhilarating, though, and perhaps it's intentional that you experience this change in temperature as that's very much part of the ideology here.
Spa ideology? Yep. Austria in general is very keen on naturopathy and this rests on, among other things, the idea that extreme changes in temperature promote health and, in particular, the immune system. So, think the sauna followed by a roll in the snow. Of course, you could just do that but inside the spa you can alternate between sauna and cold showers. Or you can try the Kneipp Walk. This is a series of five beautifully tiled footbaths – you step from one to the next in a pattern that goes warm-cold-warm-cold-warm. They say the cold is 5C but I don't believe a word of that – it's cold enough to make you gasp. There's more of the cold, too, as it reaches up almost to your knees while the warm water barely makes it to your ankles. After a few rounds, though (they recommend a minimum of five circuits), it starts to feel strangely pleasant…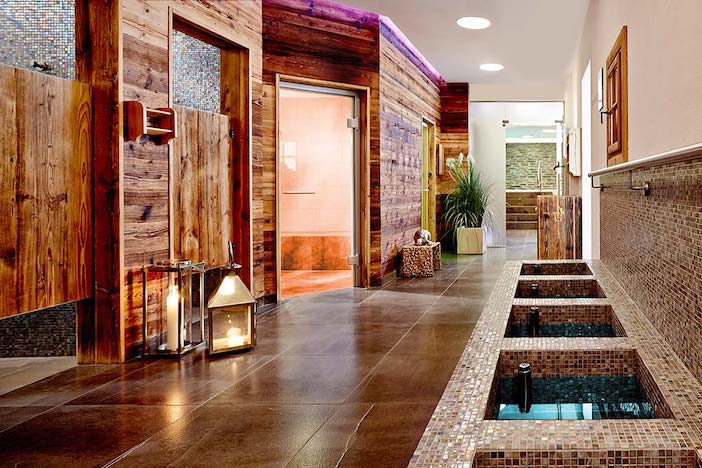 There's a hot sauna and a steamy Turkish bath and, for those who don't like too hot or too steamy, there's the Goldilocks option of the Sanarium. This is hot but not too hot, pleasantly humid without being steamy and you can stay in for longer. But with all of these hot treatments you should alternate with a cold shower or you could use the surprisingly cool indoor Jacuzzi. There's an infrared cabin, too, particularly good for aches and pains in the back, shoulders and neck.
After all this, it was time for my first treatment. The Grossarlerhof is surrounded by alpine meadows and forests of alder (in fact, its spa is named after the alder, Erlenreich) and much of its inspiration comes from this natural environment. The Pure Altitude massage with mountain balsam sounded like a good one. The mountain balsam contains lavender, mint, sage and other mountain herb oils and therapist Sonia gave me a deep massage that got into all the knots (of which there were plenty) pretty painlessly.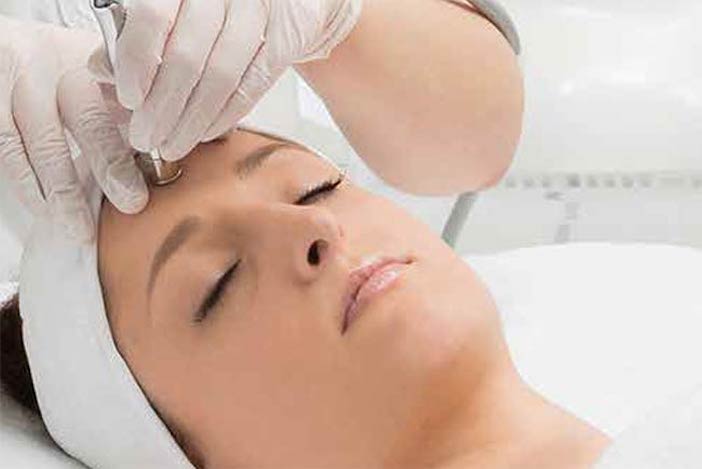 For my facial, I decided to go hi-tech. Dermopeel is a micro-exfoliation treatment. It gently removes the upper layers of the skin with laser-cut diamonds and stimulates the production of collagen and elastin. It's good for acne, wrinkles and age spots (used on the body it's good for cellulite and stretch marks too). It's not what you'd call relaxing as facials go, though, as it all plays out under a very bright light and uses a strange suction tube to suck out all impurities. On the nose – the least fleshy part of the face, I guess – it has moments of discomfort but I am at least secure in the knowledge that my face hasn't got a single blocked pore. After the cleansing part, a soothing balm is applied and massaged in with tiny rollers, leaving my skin looking fresher and properly woken up!
There are Pure Altitude treatments for the face, too, if you're after something a little gentler and more nature-inspired. Ingredients include blueberries, honey, Alpine herbs, gentian, Alpine rose and, of course, edelweiss which is the ultimate star of the show. All in all, there are more than 50 herbal ingredients, mixed with glacial spring water from the foot of Mont Blanc. You surely will be as pure as the driven snow by the time you leave…
For more information on Grossarlerhof, including details of spa packages and activity programmes, please visit www.grossarlerhof.at/en. For more information on skiing and the ski area, visit www.grossarltal.info.