You could make a very strong case for the Hotel Arts being the most stylish place to stay in that most stylish of cities, Barcelona. Admittedly, it's not one of those gorgeous Art Nouveau buildings for which the place is so famous. Instead, it's right down by the water and indeed sparkles in its reflection – all 43 floors of it. It's modern and glass – both pretty unusual in Barcelona – and sits next to the marina, the beach and rubs shoulders with the great bronze fish sculpture (more whale-sized really, and any local will tell you that's what they call it) that became a symbol of the Barcelona Olympics.
Arts by name and Arts by nature, you might say, too. The hotel is filled with contemporary works and has its own gallery to sell them. Food is an art here as well. The hotel has lots of restaurants inside and spilling out on to the various terraces. The jewel in its crown, though, is a small fine dining restaurant with two Michelin stars – and they are anticipating a third. Enoteca is famous around here. Chef Paco Perez (he has another 2** restaurant, Miramar, in Girona) is known for his Mediterranean and seasonally inspired cooking. Sadly, I never got to try as it was closed when I was there. But them's the breaks as one of our recent PMs put it.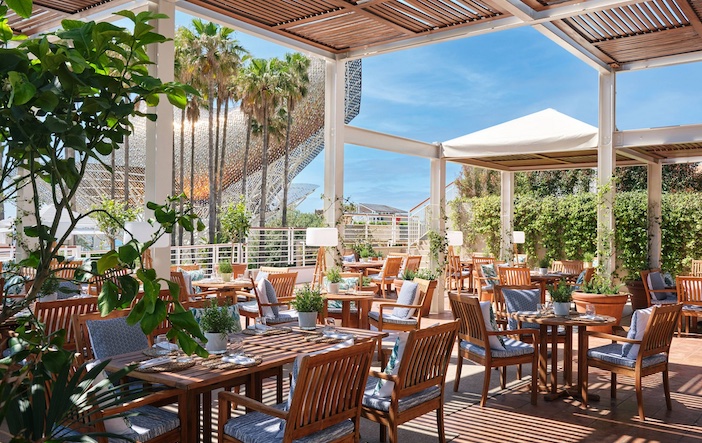 My room – and I use this word loosely – made up for the disappointment. On the 36th floor, I looked not over the sea but at Barcelona laid out before me like a map. La Sagrada Familia was directly in front of me and the mountains seemed to hold the city in its embrace. "My room" was over two floors with a vast sitting room and an equally vast bedroom – off which were not one but two bathrooms. His and hers taken to a new level.
Even higher than my own personal Barcelona eyrie is the spa. It's on the top floor of the hotel (43) and that's the name of the spa too. The views are, as you might imagine, equally extraordinary. There's a dizzying outside relaxation space with views down to the marina, the beach and the sea beyond. The hydro area is small but you do get it all to yourself (you have a 45 minute booking usually).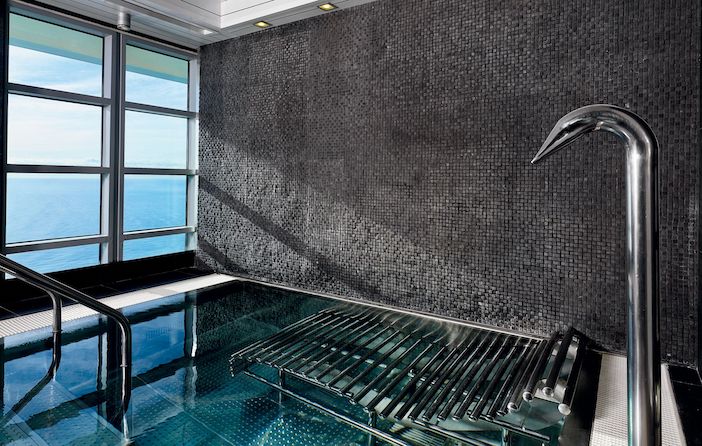 From the extremely hot sauna you look down on the marina. There's also a very dark internal steam room. There's a bed for relaxation facing the sea. And then there's a warm plunge pool with an underwater bed and a kind of sofa with various hydro jets. From the underwater bed you get the best views – all kinds of ship and boats and soaring birds and, luckily for me, a half moon rising in the early evening.
This was a good time of day to be in the spa – very relaxing and, as I was later promised, highly beneficial for a good night's sleep. After my 45 minutes of private hydro I was already feeling very relaxed when Maria came to take me for my Diamond Rose Ritual. There really are diamonds involved (in the form of diamond dust) and there was certainly a lot of rose. It's essence of damask rose (a particularly wonderful smell) and it came first as a spray on my feet, then around the room, then on Maria's hands for me to inhale and then generally over my body before the (Diamond Rose) scrub began.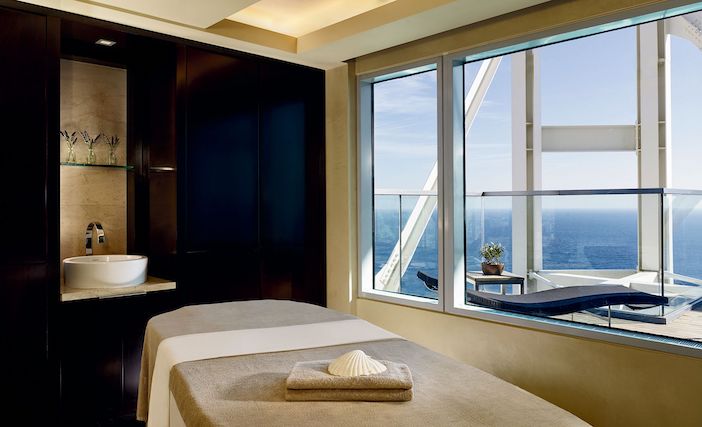 The spa uses the Spanish brand Natura Bisse and its oily salt-based scrub in carrier oil, the salt seeming to dissolve as the scrub-massage went on. Each area was then sprayed with more damask rose as Maria worked her way around until I sadly had to shower it all off. By the time I was out, Maria had changed the bed over for the main massage and this was blissfully rosy, too.
After 90 minutes with Maria, I was putty in Alejandra's hands. And Alejandra's hands have magic in them. Cool and full of expert knowledge, she used them in the Diamond Cocoon Experience. I had first assumed a Cocoon was going to be some kind of body wrap – but, no, it was actually a facial and, wow, it was an effective one.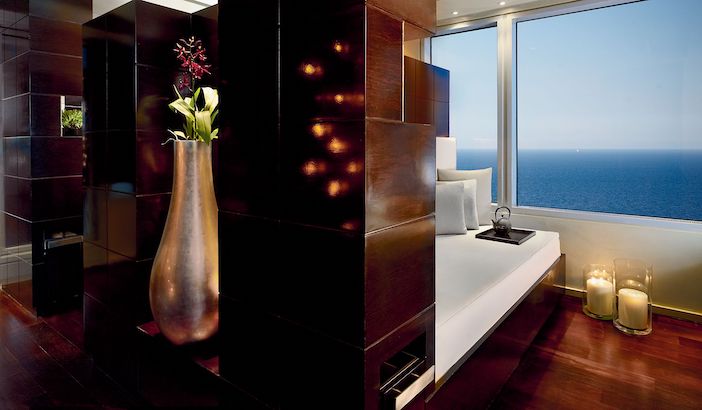 It began with a quick cleanse with some mildly abrasive pads. In fact, there was a continuous stream of different fabrics applied to my face – soft cloths, abrasive ones, hot wet towels, cold dry ones, jade stones and, first up, a brush used by Alejandra to apply what felt like a cleansing cream (Diamond Enzyme Cleanser). She then applied a lotion (Diamond Hydrating Essence) with her fingers that seemed to dilute this and blend in. I wasn't asking too many questions partly because Alejandra was from Prague and communication was somewhat fractured but mostly because I was too focused on enjoying the sensations.
Sometimes it can be good not to know what's going on – just relax and go with the flow of unguents applied and removed. There was a peel (Diamond Radiance Peel) next and then a Diamond Cocoon Concentrate. Occasionally, Alejandra would murmur a word about what she was using – "balm" – a balm mask that was encouraged to absorb with those jade stones I mentioned. Then while that was taking for a little while longer, she gave me a quite exquisite hand massage (up to the elbow actually). Then the masque was removed and then we were pretty much done – though, she promised me, this would all result in a good night's sleep. It did indeed. So, yes, well and truly cocooned.
For more information, including details of rooms & suites, dining options and spa treatments, please visit www.hotelartsbarcelona.com.
EasyJet flies from Gatwick to Barcelona up to seven days a week, with prices starting from £22.99 per person (one-way, including taxes and based on two people on the same booking). For more information, please visit www.easyjet.com.