The yoga retreat in the hills of Andalusia is back and very much on form with a brand new teacher, Laura Rodenas, and the same vegetarian food to die for: life-changing seed bread, you know I'm talking about you. So even if you're not a yogi (or a vegetarian) there is so much to love on this week-long course, I guarantee you'll feel better for it.
This is, of course, not strictly speaking a spa. It is, though, very much about wellness and besides the food and the yoga there are, in fact, some very special treatments – you book these once you're there and better tuned in to what you actually might need. (It's surprising how quickly this happens). There are meditative massages, kinesiology and Bach flower remedies, Shiatsu and reflexology. Perhaps the most remarkable moment of the entire week came on the last evening with the Sound Bath. No, I'd never done this before either but the singing bowls played by Kim and accompanied by her truly lovely ethereal voice were an extraordinary experience. Their reverberations echoed through the body – different pitches and intensities affecting specific areas somehow – and it was both beautiful and moving. We all came out tearful and amazed.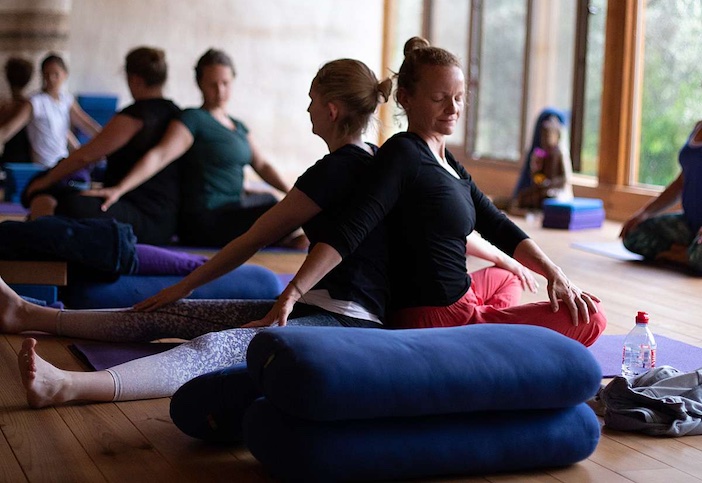 Teacher, Laura, herself does one-to-one yoga (just in case three hours a day isn't enough!) and therapies including a hip opening passive stretch session after which one guest declared "my legs are at least 30cm longer than when I went in". Two others confessed they wept – not with pain but in some kind of emotional release.
I went in for my session with some trepidation, not least because I'd been having some lower back pain. Would this make it better or not – a kill or cure moment. I'm not quite sure what I was expecting but I can perhaps best describe what happens as a kind of yoga that is done to you, with a hint of Thai massage. So Laura positions herself next to you as you lie on your mat and manipulates your legs to stretch open the whole pelvic area in different directions. For me (being a lifelong dancer) stretching the legs towards the body is actually deeply relaxing and opens up the back making it feel rather comfortable. Taking the leg out to the side, though, is a different matter and I could feel plenty of tension that you breathe through with her as you try to let it go. There was a moment when I heard (and felt) a small pop, followed by tangible release. This, in a good way, you understand. And my back? Definitely cure, not kill.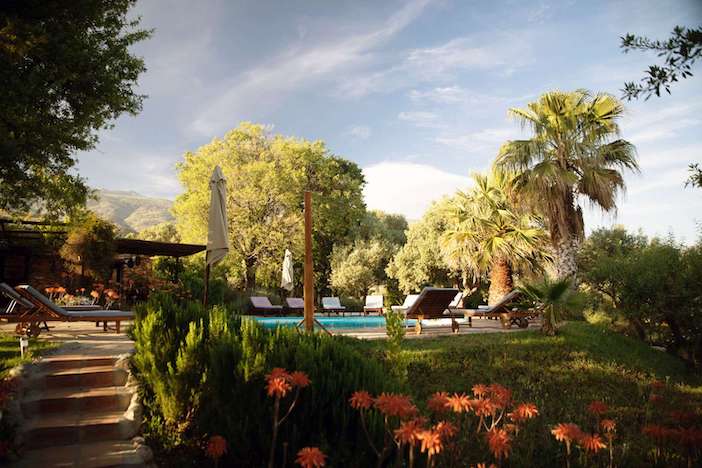 The setting for all this is idyllic. Up in the mountains, there is a constant breeze with the background sounds of water, the wind in the trees and in the summer the (sometimes deafening) cicadas. The skies are wonderfully clear at night and there's a day bed that you can sleep on all night to make the most of the stars.
A retreat is different from a regular spa. You have to let go of your usual day-to-day concerns and let yourself slip into a slower rhythm and get to a deeper level. Often people come who are feeling stressed and overwhelmed, by work or relationships, and need a place to re-order their minds and lives. Or they come to make decisions about which directions to take in life. Or they do, of course, simply come to spend a week learning yoga in a beautiful supportive environment.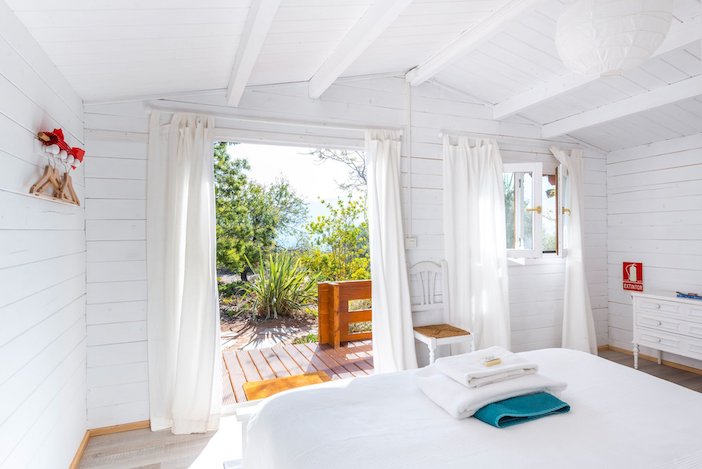 To create this peaceful environment, life becomes more simple. Phones are discouraged (though you can use them in your room), the food is super-fresh, organic and vegetarian and, frankly, if you only had this for a week, it would effect a physical change. There is no alcohol. And, most importantly, your day has a rhythm. So you are woken most mornings by a tinkling bell at 7.30 in time for two hours of yoga starting at 8 o'clock. This is followed by breakfast and a long morning break till lunch at 2. There's a sweet treat around 4 and the second hour of yoga at 6.30, followed by mocktails and tapas at 7.30 and dinner at 8.
Laura is a remarkable teacher and carefully structures her classes to include all levels – and many people come with very little yoga experience. She starts each morning session with a short meditation, breathing (pranayama) which gets increasingly complex as the week goes on, and then asanas based around different versions of Salute to the Sun. "The purpose of authentic yoga practice is," she says, "to be at ease with self and environment, re-establishing the natural mind-body relationship." Every day is different and you're most definitely on a path – sometimes very quiet and focused, other times pretty physically demanding. The evening session is yin yoga: slow and intense with positions held for long minutes.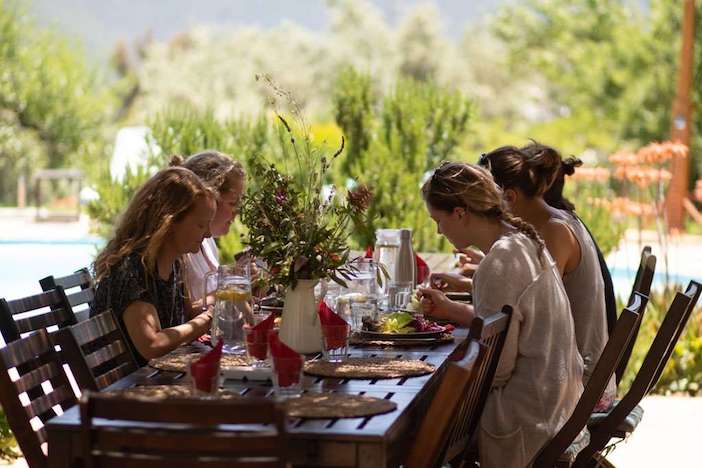 There is a decided family atmosphere and the staff are all friendly, welcoming and super-supportive. Laura often eats with her students and we all learn a lot about each other. Laura, for instance, is Spanish (very local, in fact, and has family nearby) but she trained for a long time in India – she had originally gone as an architect focusing on community projects.
Aside from the meals and the yoga, the rest of the time is your own. You can have treatments, go for walks or longer hikes, swim in the pool or take an infra-red sauna, visit the local market in Orgiva, go horse riding through the Alpujarra hills, visit the Alhambra or the beach. Or you can just relax, sit by the pool, swing in a hammock and enjoy. I can guarantee the enjoyment. You might even find it life changing….
Kaliyoga, Camina Orellana, Las Alpujarras, Granada, Spain. For more information about Kaliyoga, including details of treatments and retreats, please visit www.kaliyoga.com.