It was sheer luck that I escaped the worst of the July heat wave down by the sea in Cornwall. When I'd arranged it a good month earlier, there was no sign of the 40C temperatures that were coming our way and, down in Falmouth, it was more like 25C – and really rather pleasant. But there again, who doesn't love Cornwall any time? The only problem being, it's a bit of a schlep. And if, like me, you're going for just three days, do you really want to drive for five or six hours each way? The short answer is no, especially if it's a spa break and your aim is relaxation!
So, I went for the train (GWR from Paddington) and worked for a couple of hours until the view outside decided to distract me – after Exeter you are right next to the water, of course, passing beaches and coves, wondrous rock formations and people on paddleboards, in canoes or just swimming in the sea to cool off. OK, the dining service isn't back to what it was pre-Covid (table cloths, three courses – those were the days) but the morning coffees, cakes and croissants are limitless and if you leave on an early train, you get to Falmouth in time for lunch.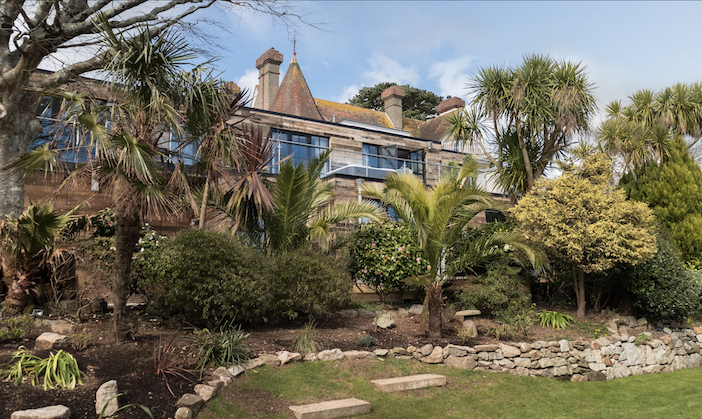 I was staying at Merchants Manor, built in grand Edwardian style by a family of shipping merchants, wine distillers and brewers (their biggest claim to fame is they invented the screw-cap bottle). It was known as "Garras" (Cornish for "House on the Hill") and became the Merchants Manor Hotel in 2012 with a prime location high up between the town and the beaches. It is not, though, a typical spa hotel. It does have a heated indoor pool with sauna, Jacuzzi and steam. And it most definitely offers treatments. But if you're looking for a vast spa with numerous pools and lots of hydro treatments, this probably not the place for you.
It does, though, offer hydro in a rather unusual way. Within its rather lovely secret garden, divided into separate "rooms", there are tables, loungers, daybeds and a couple of hot tubs that you can book for a couple of hours. And if you stay at Landlubber, you have one all to yourself on your terrace surrounded by palm trees and flowering shrubs, all very private.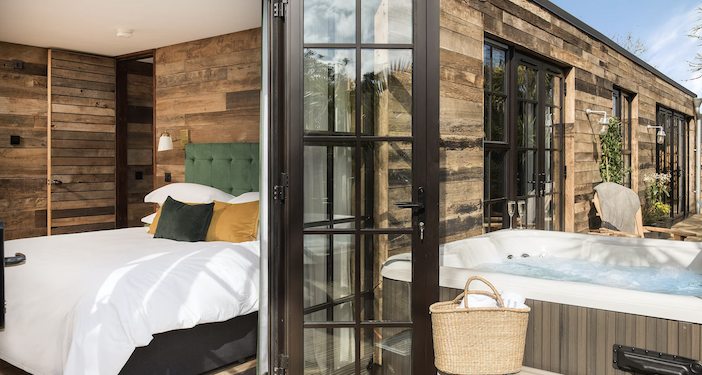 How to describe Landlubber? Maybe as a cross between a log cabin and an orangery? It's your own little Cornish hideaway, all glass on two sides (looking out onto your deck, your hot tub, outdoor table and loungers) and wood on the other two (clinker built inside like a ship). It sits just below the main hotel (we're on a hill remember) and above the secret garden. There are two bedrooms and bathrooms, a sitting room, dining table and fully functioning kitchen. So no need to go anywhere really and there's more than enough space for a family or a few friends.
Clearly, you could self cater but then you'd miss out on the restaurant and that would be a shame as their Cornish chef Aiden Blakely-May is an original who combines the contemporary trend towards the local, seasonal and sustainable with a passion for reviving ancient culinary techniques in modern ways. He makes his own mirin and soy sauces for pickling and curing, uses homegrown Cornish chillis to make sriracha and gives the six-year-old yeast for sourdough (aka Mrs Pettigrew) her daily feed. As well as the main a la carte, there is a tasting menu (and excellent wine pairings) with plenty of local offerings (with a twist) – monkfish, scallops from Falmouth Bay, summer peas, tomatoes, herbs and rhubarb. BTW, instead of avocado on sourdough for breakfast (just think of those food miles), I loved the smashed peas.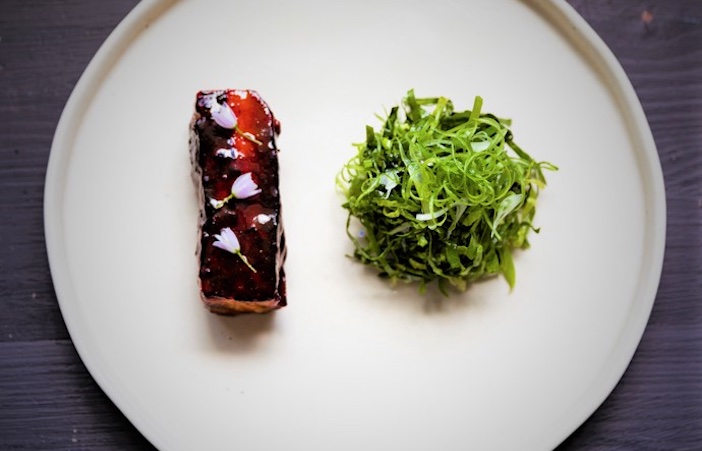 But what about the spa? There are just two treatment rooms and a variety of facials and massages available with Hayley who tailors her offerings according to your needs. She uses Temple Spa products – one of my favourites, with strong spicy scents and very nourishing. We have two sessions together, starting with a Drift Away massage.
It all begins with a body brush from the feet upwards over the legs and back then down to the feet again for their first massage – the brushing gets rid of dead, flaky skin so that the oil will be better absorbed. Then Hayley moves up to my back – and this is of course the main focus – using mostly hands (and forearms with deep, sweeping movements) and some hot stones. The oil is applied warm and this all adds to the relaxation.
One of Hayley's favourites is her detox massage – this is more focused on the lymphatic drainage system with extra body brushing. But Drift Away is totally about relaxation and after a busy, stressful period, this is exactly what I needed. So my feet get massaged three times in all and there is a moment at the end when, having worked her way around the body with gentle pressure applied on top of the towel, Hayley just holds the tops of the feet for a moment and this curiously releases any last hint of tension.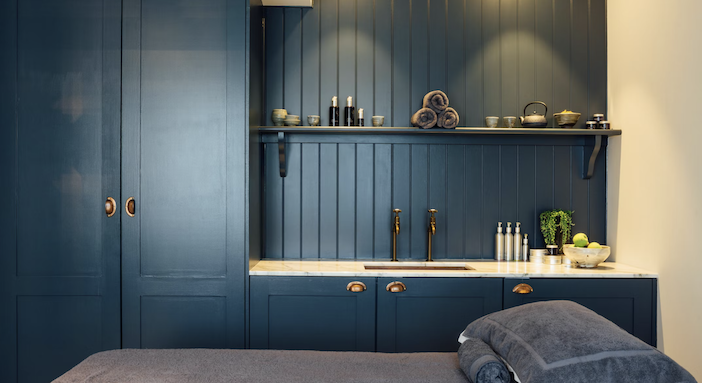 After an hour's break, we meet up again for the second session. I thought I'd drifted away this morning but this was as nothing compared to this afternoon. Billed as a Champagne and Truffles Facial – and lasting a blissful 90 minutes – this was so much more than a facial. I guess you'd call it a face (and scalp and neck and arms) massage with the most extraordinary ingredients. Even my feet got another look-in (we started with a brief foot massage with peppermint oil – the smell drifted up to me.) There were, in fact, a lot of smells, all of them really quite wonderful. Sometimes they were applied to the skin (or the hair), sometimes Hayley wafted them close to me. To call it a temple of delights for the senses is putting it mildly.
The products were all Temple Spa again, so rich textures, strong, often spicy, occasionally floral scents. In some ways it followed the routine of a regular facial – eye cleanse, double face cleanse, tone, masks etc. But because of the nature of the way the products – and most especially Hayley worked – it wasn't like a regular facial at all with a utilitarian approach to skin care.
It's hard to pinpoint the difference exactly – there are, after all, only so many ways to describe the sense of touch. But, to give you a for instance, there was heat (hot towels for cleansing, super hot oil on the scalp, warm facial oils) and cold – most notably the stones that had been kept in ice for part of the face massage. Every time there was a change of temperature (and there were many of these) Hayley would touch your shoulder with the next product so you knew what to expect.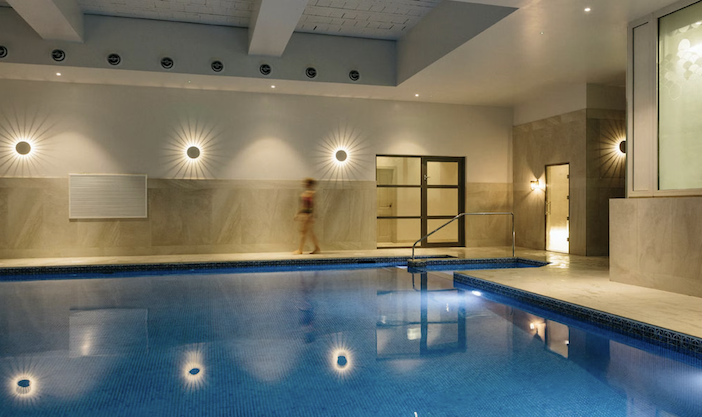 Some of these products were super rich including (my favourite) the truffle mask with 24 carat gold and platinum – you lie there just soaking up that vegetable and mineral wealth while there's a scalp massage going on. Even the music seems to be in time with the process. It starts off quite jauntily while you're being cleansed and toned but by the time you get to the main facial massage – though this whole 90 minute process is really a massage – it is so faint, you wonder if it's still there (it is).
Before that is a peel that becomes a foam and pops little air bubbles over your skin. There's a scrub for your arms and hands, followed by an arm massage while the second hydrating mask is on. The neck, the shoulders, the décolleté are all massaged but most of all it's the face and this seems to go on for a delicious forever. Hayley has the lightest of touches and at times this becomes almost a whisper of a massage and you become helplessly limp and, yes, drift off again. It was all bliss for this stressed out Londoner. In fact, this may just have been the most relaxing 90 minutes of my life.
Merchant's Manor, Western Terrace, Falmouth, Cornwall, TR11 4QJ. For more information, including details of offers and latest news, please visit www.merchantsmanor.com.
Prices for Great Western Railway services to Falmouth start from £73.60. For tickets and travel information go to GWR.com or download the app.