When you think of having two therapists working simultaneously on your prone body, probably the first thing that springs to mind is one of those delicious four-hander Ayurvedic massages. But what about combining two therapies, two completely different disciplines, into one treatment? For the time poor and results-driven this could be the answer to a lot of prayers.
So, how about hypnosis meets skincare? At their headquarters at 96 Harley Street, Dr David Jack and hypnotherapist Malminder Gill have launched the mindful facial. Think of it as a deep-clean not just for the face but for the mind itself.
A bit of background first. Dr David Jack is a leading aesthetic doctor and has combined his NHS plastic surgery and burns experience with an interest in a holistic approach to skin health and anti-ageing. He has come up with a range of his own skin care products as well as a variety of unusually effective anti-ageing facials.
Malminder Gill has observed that during facials, people either fall asleep or get trapped into running, like hamsters on their wheels, through all of the most pressing current problems on their minds. Neither is all that helpful. Instead, she aims to "immerse the client into the present moment and maximise the opportunity to absorb positive suggestions, specifically designed to improve their emotional wellbeing."
Glowing skin, calmer mind – not much to argue with here.
A day or two before my visit, I have a phone consultation with Malminder about goals. What would I like to achieve from my session? I'm not quite sure where to start here. I know that Malminder deals with everything from anxiety to overeating, performance success to relationship breakups. But aside from my high stress levels (but then aren't everyone's?) I'm slightly stumped. Then it comes to me – insomnia, a problem so longstanding, I now take it as normal. It would be beyond wonderful to stop being an insomniac. There is just one fly in the ointment, though. I don't think I can be hypnotised…
When I get to Harley St, I meet Malminder who has prepared a sleep-hypnosis programme for me and Izabela Pawlitka, Dr Jack's chief facialist. I am lying on the couch, Malminder is ready with soft music and the world's most soothing voice, and Izabela is behind me with potions, unguents – and a scalpel.
I am just a little bit alarmed by this but she tells me this is part of the process known as dermaplaning which will be the last stage of the cleansing and preparation part of the facial. And there is a lot of cleansing. Dr Jack's Milk Cleanser is followed by his Clean Slate Cleanser (with raspberry seed oil and pumpkin fruit ferment filtrate). Then there's his Gel Cleanser, Daily Foam Cleanser (with salicylic and glycolic acid) and three peels. One is 20% lactic acid to increase the ceramids in the skin's protective barrier, increase water retention, prevent congestion and improve pigmentation. The zelaic acid peel has antimicrobial and anit-inflammatory properties and the mandelic acid has lightening properties and stimulates collagen production. These are applied one on top of the other and while they're doing their stuff Izabela gives me a scalp massage.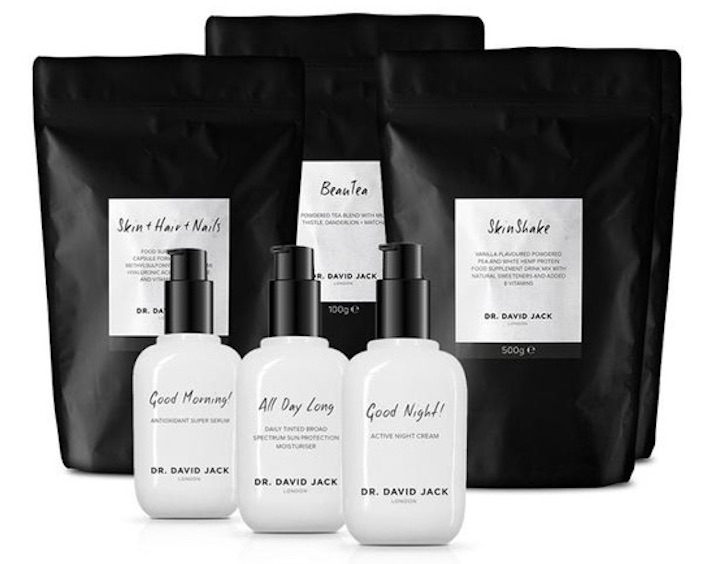 During all of this, Malminder has got me into a state of relaxation with breathing techniques and a visualisation that leads me to a place of peace and contentment. I am indeed feeling relaxed so when Izabela starts to wield her scalpel, I'm mildly interested rather than alarmed. Dermaplaning seems to me like the closest I'm likely to get to shaving as Izabela gently scrapes the surface of my skin, removing impurities and dead skin from the outermost layer to stimulate new skin development.
Malminder in the meantime is talking about insomnia suggesting that I wonder whether it is tonight I will sleep without waking, or perhaps the night after? When I am sleeping through the night without waking, what will the effect be on the rest of my life?
The final stage of the facial is a sculpting and lifting massage using Dr Jack's hyaluronic acid serum and his face mask with peptides and ginseng. This is not a quiet, calming massage, though, it's intensive and vigorous using various techniques (Kourgi Japanese method, cross-fibre friction technique, longitudinal gliding, myofascial releases. Together they stimulate the skin so blood circulation and microcirculation in the subcutaneous tissue increase, producing collagen and elastin. Lymphatic drainage helps detoxify and improve the texture of the skin and the massage relaxes the muscles that cause stress lines.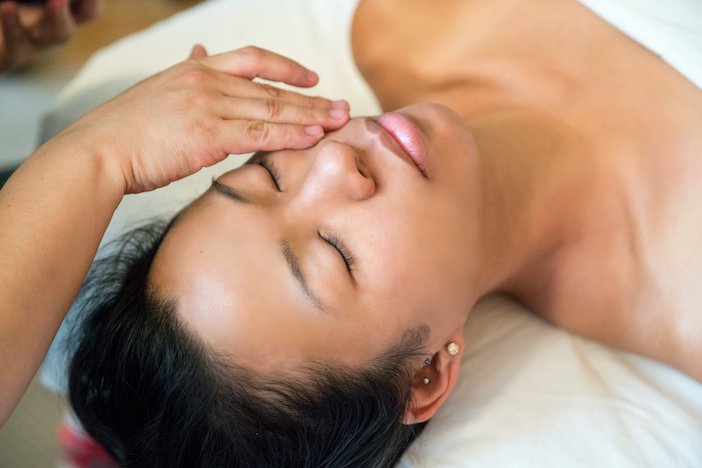 The effect is great – my skin looks lifted and blooming and I feel very relaxed. Malminder suggests, though, that I return for a short follow-up, so a few days later, I'm back in Harley Street lying on a couch. I tell her I did feel relaxed after our first session and (with one blip) my sleep patterns had improved. But I really didn't think I'd been hypnotised.
We began again with breathing and visualisation and suddenly – and entirely unexpectedly – I was off on a visualisation of my own, all unbidden, into my own subconscious mind. There were visual images, feelings of warmth, and awareness of an untapped internal resource of creativity and calm. Certainly, I was aware of Malminder's voice and I could hear all of her suggestions on sleep and stress but there was something else going on too. When she recalled me back to the present, I was almost reluctant to return but, back in the room, I felt an intense sense of relaxation and calm. It was extraordinary and entirely unexpected. Though I still don't know if I've actually been hypnotised…
Mindful Facial at Dr David Jack's Clinic. For more information, visit www.drdavidjackclinic.com. For more information about Hypnotherapy London, visit www.hypnosis-in-london.com.