So, tireless in the search for the most sumptuous, most efficacious, most unusual of spas, I have travelled to many places. Africa and America, Europe and Asia, up mountains and down to the lowest place on earth. Today, I've broken into new territory. Manchester.
Yes, I know it doesn't sound like the most relaxing or sumptuous place for a spa – but you have to hand it to me on the unusual front. And I did go there for a very particular reason. The spa at the Lowry Hotel in Manchester is unique in Britain being the only one to feature the acclaimed QMS Medicostmetic facial. I did try this once before (see December 2018 Spa of the Month, Jagdhof) but that was in Austria and, while you'll find QMS in various super-spas around Europe and beyond, in the UK, the Lowry is it.
QMS was founded in Germany by Dr Erich Schulte. As a surgeon specialising in the field of trauma, he developed his ideas when treating patients who had suffered accidents, burns and acid attacks. He was searching for a way of treating skin that was already in the most delicate and sensitive state possible, with products that would heal and improve damaged skin. Dr Schulte describes his products as "intelligent skincare" and believes he has developed "a complete system of rejuvenating and results focused skincare that combines revolutionary techniques with the highest quality ingredients."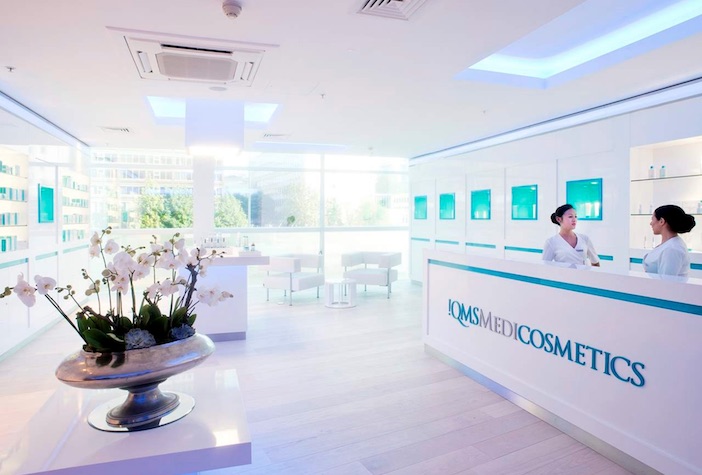 These are pretty big claims but they are also – in my experience – pretty much justified. Certainly, there are few facials I've tried where you can see a real difference afterwards. With this one, you can. The skin is visibly plumped out, fresher and fine lines are a great deal finer than when you go in. You can buy almost all of the products to take home (I have to say I did indulge myself a bit here) so I'm hoping for continued improvement. In fact, Natasha, my QMS therapist at the Lowry, promised the effects of the facial would continue to work over the next 24-48 hours. So, if I could bear it, for best results don't put any make-up on for at least a day. And so impressed was I by the results immediately after the facial, I decided to greet Manchester, Virgin trains and Euston station utterly bare faced.
But back to the Lowry. This is a spa that celebrates its scientific products. So no aromatherapy scents in the air or meditative background music here. It's a sparkling white environment – the emphasis here is on the clinical. And it's the same approach with the facial itself – you're here for the results not relaxation. In fact, there are a number of different QMS approaches and the one you choose is down to an assessment of your skin and its needs before you get going. Not surprisingly, though, all facials start with a cleanse.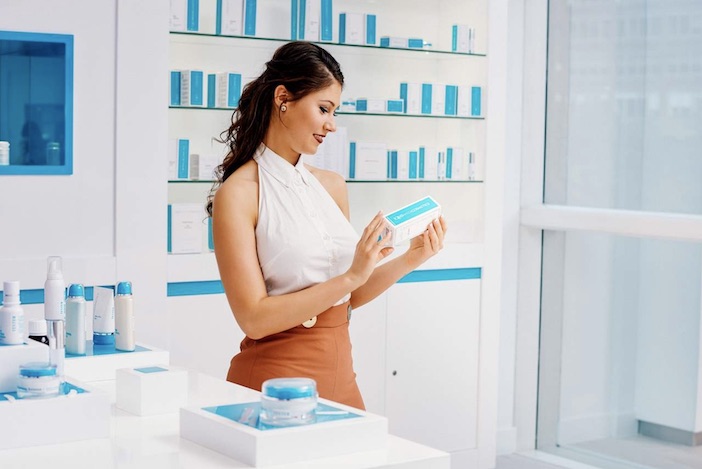 The QMS deep cleanser is very rich and Natasha does it twice over, just to be sure, then follows up with the Freshening Tonic, alcohol-free and rebalancing for the skin's pH levels. Then came the Dermabrasive Gel which, contrary to its name, is a very gentle exfoliating fluid. It peels not by scratching away at the skin's surface – as is the case with many exfoliators – but by dissolving the dead skin cells with a combination of fruit acids and enzymes. It's tingly and leaves your skin looking a bit rosy (though this has all pretty much calmed down by the end).
The next step – and this is definitely the strangest element – is the algae mask. This is applied with a brush and is blue, thick and very heavy. Not only that (and Natasha does ask first if I'm claustrophobic) it goes over the eyes and the mouth, too. Perhaps to take my mind off this rather strange sensation, Natasha gives me a hand and arm massage – very relaxing during this otherwise techie facial As it dries out, the mask turns white and is peeled off, revealing in terrifying detail all the problem areas on your face – in my case, the eyes and, rather oddly, the chin. So, these spots are where the next stage of the treatment will pay particular attention.
At this point, the oxygen machine (it had been doing some heavy breathing in the corner for the entire treatment) comes into its own. The oxygen machine applies at high pressure a combination of pure (99.9%) oxygen and particular products into the skin so that they penetrate more deeply and firmly. The oxygen itself has a beneficial effect, particularly for skin that faces a lot of pollution (and living in central London I definitely tick that box).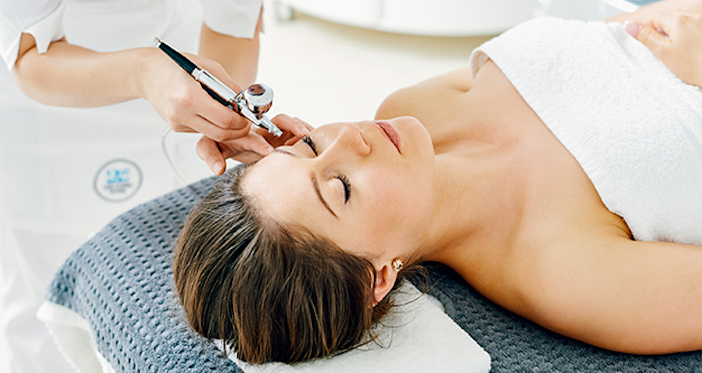 First, Natasha applied H2O serum, then Lip Line Corrector (though this isn't only for lips and is about to be renamed) both with the oxygen machine. Later she applied by hand 24-hour cream, Neck and More cream, Day Collagen and Intensive Eye Care. I also picked up a few helpful hints. Who knew, for instance, that you should use neck cream on the back as well as the front of your neck, or that hot water is really bad for your face – you should only use tepid water? Not me.
I was more than happy with the results – these are very impressive products, so the trip to Manchester was definitely worth it. If you can't make it to the Lowry, though, QMS does have a London base so you can track them down there. Liberty has a QMS counter where you can buy the products and they do offer treatments, too, in their upstairs treatment rooms. I can't believe, though, that this groundbreaking approach isn't going to spread to some more UK spas soon…
For more information about QMS, including details of treatments and offers, and more about The Lowry, please visit www.thelowryhotel.com.