The Algarve is one of the most popular places for Brits to holiday but almost everyone turns right out of Faro airport. If you turn left, you find a very different Algarve. Less touristy and facing the breath-taking Ria Formosa, the eastern coast is a series of islands, lagoons, sand spits and salt marshes, teeming with wildlife. Portugal has made it one of the country's Seven Natural Wonders and, if you stay in Olhao, you can hire a boat or take the local ferry to islands that have no roads or traffic, just quiet sandy beaches surrounded by warm shallow waters.
There are saltpans and tiny shellfish "farms" in the lagoons and 200 species of birds here as well as countless types of aquatic fauna and there's an area designated for the protection of seahorses. From the mainland the Ria is just gorgeous and there are walks through dunes and pine forests as well as vast sandy beaches. All along the coast there are small towns and villages – one of the tiniest and prettiest is Cacela Velha where you can walk for miles along the white sand and stop off in the village for lunch. And that has to be fish. This part of the Algarve is sustained by fishing more than tourism and you won't find fresher fish or shellfish anywhere.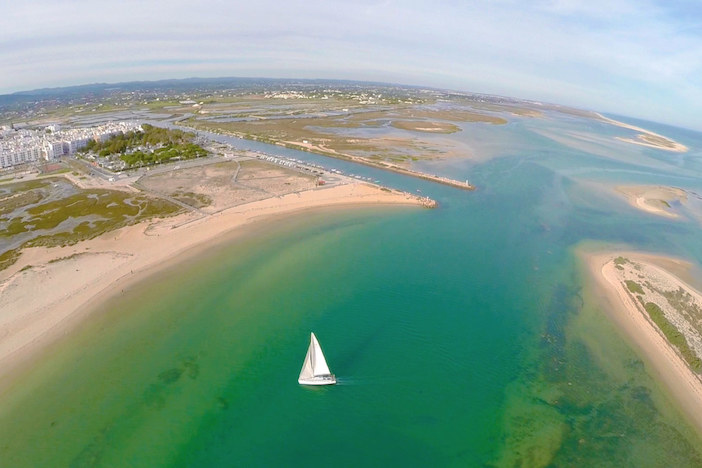 Olhao itself is full of boats. At one end of town is the fishing port (and there is big fish market in town – I recommend you buy some dried tuna to take home and sprinkle in your salads) and at the other is the marina for pleasure boats. Olhao is not a big place, though, and the two are pretty close in reality. The town itself is full of little bars and restaurants, all seemingly family run, and all with tables outside on the cobbled streets and squares.
I stayed at the Real Marina Hotel, with direct views from my balcony across the Ria Formosa. The outdoor swimming pool is up on the first floor with the bar and restaurant (and better views than you'd have on the ground). Swallows swoop over the pool, sparrows almost eat from your hand and you are very likely to see a stork fly by. They have their large untidy nests all over town and when I visited in June the chicks were enormous and just about ready to fly. Immediately opposite the hotel, you can get boats out to the islands and spend a day on a deserted beach. The one island that's inhabited, Ilha da Culatra, has homes that are exclusively for fishermen. If you stop off, drop in to the café behind the church for a Vinho verde (Portugal's young, slightly fizzy wine – here sold on tap at €2 for a generous glass) and a plate of super-fresh calamari. It's a relaxing, laid back kind of place.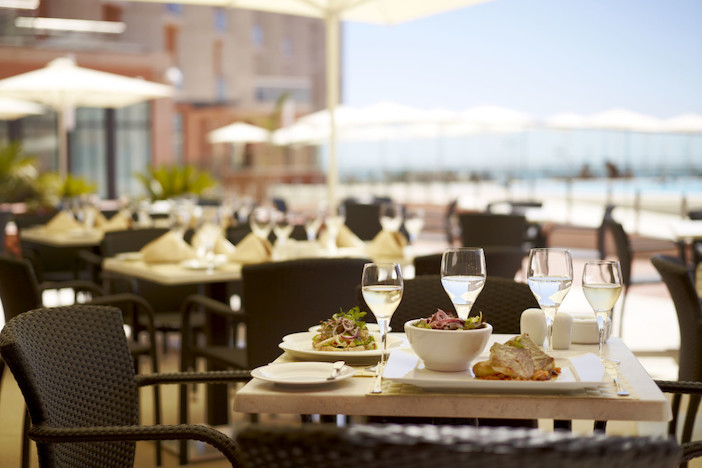 But for complete relaxation, of course, you need a spa. The spa at the Real Marina has an indoor heated swimming pool that overlooks the outdoor one with a Jacuzzi and a sauna and some interesting Portuguese therapies based, appropriately enough given we are virtually at the water's edge, on hydrotherapy. Water therapy has numerous advantages – it's gentle, you can add herbs or aromatherapy essences to it for added benefits, you can combine it with a massage. Of course, it doesn't have to be gentle. One of the treatments is known as a jet shower and I have tried this before. Essentially, for 15 minutes you stand at one end of a tiled room and hang on to a rail for dear life while you are hosed down with a very high powered jet of water that almost knocks you off your feet. The water changes temperature several times and it's very stimulating to the circulation and lymphatic system – so good for detoxifying and stimulating your immune system. And definitely refreshing.
They also have wraps and water massages with specific ingredients – chamomile for relaxation, green tea for cellulite, algae for detoxing, toning with eucalyptus and more. There are also numerous massages including the less obvious ones (lymphatic drainage and craniofacial massage). I decided to go for their signature treatments, though, a detoxifying treatment with marine crystals and algae followed by an Antioxidant facial treatment with red vine. My therapist throughout the entire two and a quarter hours was Adrianna.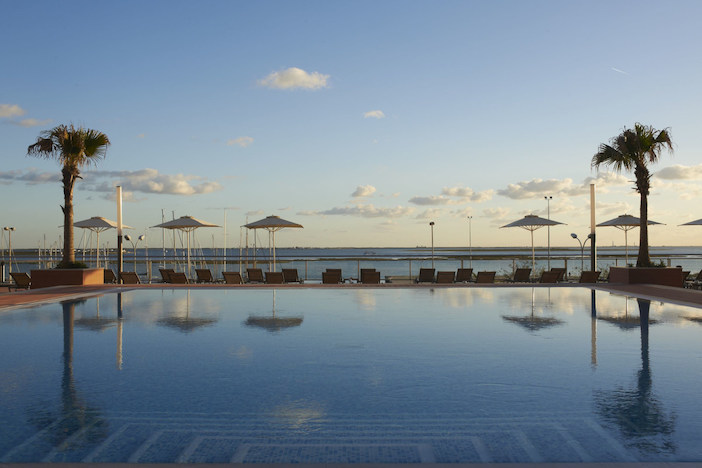 I noted when we got to the therapy room that there was a shower – and during the course of the first treatment I was to visit it twice. We began with an exfoliation using sea salt crystals, suspended in oil and gently massaged in – after which I had my first visit to the shower. When I came out Adrianna had covered the bed in sheets of plastic which I sat on while she applied a green paste (that would be the algae) to my back, then I lay down while she basically painted me green. It didn't reach as far as my face but it certainly felt like I was having a bit of a Shrek moment. Then she wrapped me up in the plastic, put a towel on top and left me to cook for 15 minutes. Getting to the shower afterwards was quite a procedure as I hopped, still wrapped up, mummy-like to the shower and spent quite a while under the water getting back to my normal colour. Adrianna followed this up with a light massage with a moisturising cream and I was ready for Stage Two.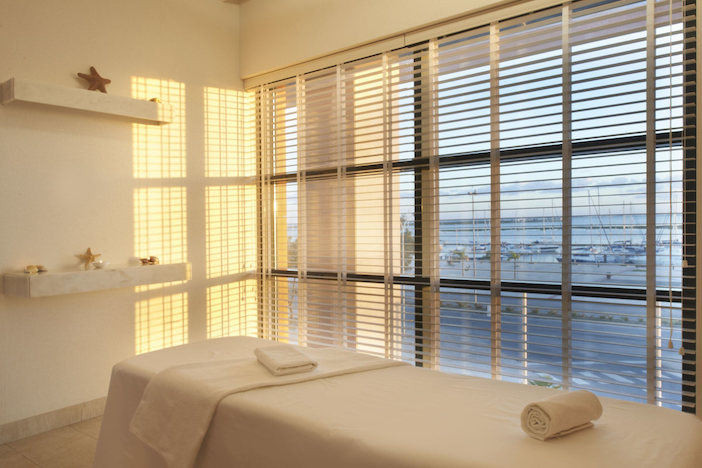 For the facial, Adrianna used the Spanish range, Aroms natur. Its ingredients are organic and they blend natural ingredients, phytotherapy and aromatherapy to produce effective but gentle products. We began with a cleansing massage and toning, then she applied the peel, cautioning me not to sunbathe that day as my skin would be oversensitive to the sun. She then applied a gauze mask in two halves to my upper and lower face. On top of this, she brushed on the red vine mask and applied an eye mask, too. Both were removed after 10 minutes or so and then a further mask was applied (this time without the gauze) and finally a moisturiser combined with sun screen were massaged gently in.
Overall, it was a lovely gentle session and very relaxing. My skin was soft and refreshed and I dutifully remained out of the sun for the rest of the day. Nothing though would keep me out of that boat the next day out on the Ria Formosa.
The Real Marina Hotel & Spa, Olhao, Portugal. For more information, including details of spa treatments and other services and amenities, please visit www.realhotelsgroup.com.