The Scarlet is surely Cornwall's coolest hotel. It has no check-in desk – you just sit on the sofa and someone comes to you. The valet has already parked your car and your bags are in your room before you are. There is amazing artwork on the walls (some of which you can buy) and witty sculptures dotted around the place. It's not surprising there are walls of glass everywhere, given the truly stunning views over Bedruthan Bay: rolling downland above the cliffs, soft golden sand below.
So, there's plenty of luxury but it's surfer style, as laid back as you can get. In the spa, the consultants pad around in bare feet and the therapies take place not in treatment rooms but quite extraordinary tented pods. More of this later.
As you might imagine, the Scarlet has impeccable eco credentials – from sea-thrift roofing to the local brand, Oula's, ethically sourced soaps, shampoos and lotions, from special bat holes created in the roof to guest slippers made from recycled plastic bottles (and, yes, they are very comfy and you're encouraged to take them home and use them again).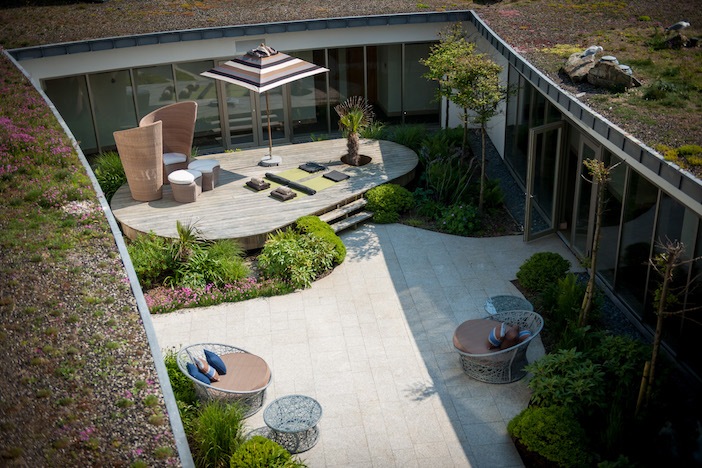 The natural setting here is crucial and guests are encouraged to enjoy it in many ways. There is, for instance, besides the heated indoor pool, an unheated outdoor pool. Well, I say pool, but maybe it's more of a pond. There is a stone "diving board" and around the edges are water lilies, and its living reed bed is also a filtration system. Micro-organisms and plants balance the chemistry of the water ensuring perfect conditions for outdoor, fresh water swimming – exhilarating in every sense!
I was to begin my spa session in the great outdoors but in decidedly more comfy conditions than that refreshing outdoor pool. Scarlet has two cliff-top hot tubs and these are recommended as the starting place for any spa treatments. I can see why. I even persuaded the Major (who rarely accompanies me to spas) to join in. He hadn't been sure about cavorting about on a cliff top on a cool June day but was soon persuaded, once inside the wonderfully hot water accompanied by a glass of Cornish sparkling wine. Mm, I know alcohol and spas aren't really supposed to mix, but there was a bit of a gap before the actual treatment began and this isn't the kind of place where rules apply…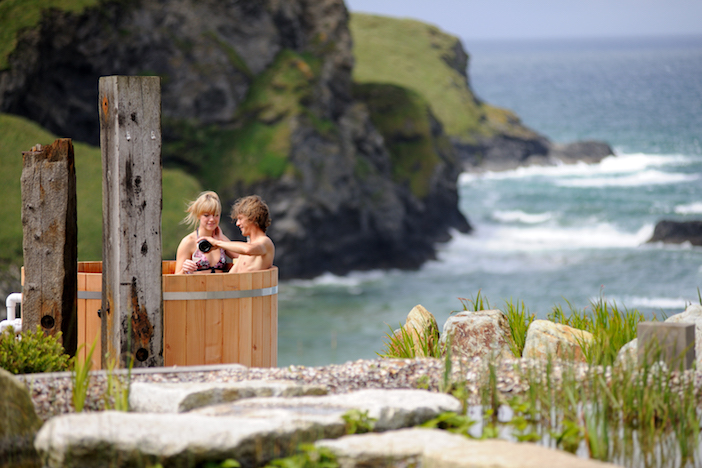 So after the hot tub came my relaxation time and the Major and I lay back on loungers next to the outdoor pool and one of the hosts brought us a tray of fruit and some water. There is also a meditation room you can use at this point, complete with bean bags and a whole range of guided meditations. However, we were very happy to lie back and watch the swimmers leap in to the natural pool accompanied by gasps and occasional yelps.
I had already started off earlier that morning with a consultant in the spa who not only took me through the usual form about medical conditions but also an Ayurvedic one. My dosha form was based on the three physical and mental types in Ayurveda (so you're generally either Vata, Pitta or Kapha). It asked multiple choice questions about everything from sleep to skin to digestion and, according to your answers, your consultant designs your treatment around you. There's nothing off the peg here and it's down to you to choose in the end – you effectively design your own treatment with a bit of expert help.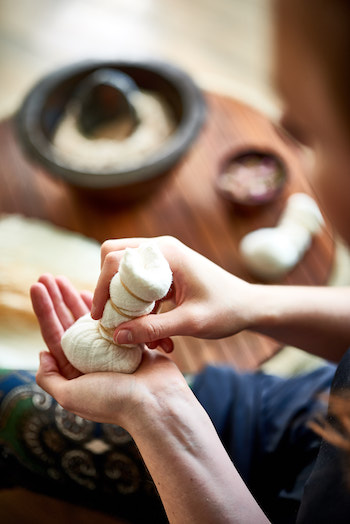 So, my imbalance was apparently in Vata and a good way of rebalancing is with the Ayurvedic treatment known as Shirodhara. Now, I have had this before and it is a bit of a Marmite therapy – you really do either love it or hate it. Love it and you attain a state of blissful relaxation. Hate it and your become irritated beyond belief with this endless trickle of oil moving from one side of your forehead to the other. I fall into the latter category. So, we decided instead on a seated Indian head massage, followed by a recumbent back and face massage, rounded off with a guided meditation at the end. All that was left to decide was the oil. I went for one that had spicy overtones, Tridosha Danwantari, supplied by a local Ayurvedic doctor.
When it was time for my treatment, my therapist Mai came to fetch me and we entered the tented space that makes up the spa pods. All these soft surfaces are very different from the usual spa treatment room and create a deeply quiet, relaxing atmosphere with low lighting and soft sounds. What followed was pretty unique, too.
I began seated in a chair for the Indian head massage but this went way beyond that – from the crown of my head to the tips of my fingers. When I moved to the very comfortable bed for the back and later the face massage, I quickly sank into a very relaxed state, perhaps helped by the spicy oil that became increasingly redolent of Christmas pudding. There were steaming hot poultices, Tibetan singing bowls, deep massage, a guided meditation by soft-voiced Mai and it lasted for an hour and a half. Blissful.
And it didn't stop there. Scarlet also has the best restaurant I tried during ten days in Cornwall (eat your heart out, Rick Stein). They have an extremely knowledgeable sommelier and you can have a flight of wines chosen to match each course. The food was superb – spiced crispy plaice goujons with wasabi mayonnaise followed by slow cooked lamb rump with broad beans for me, and venison ragu with horseradish and pan fried sea trout for the Major. Everything is local, organic and delicious.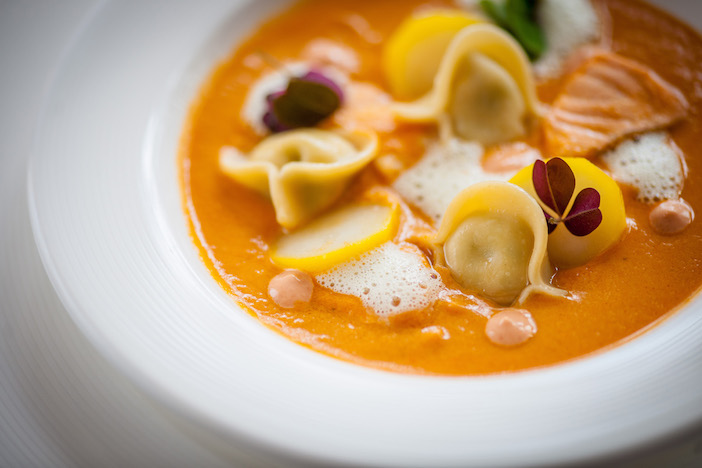 Even after all that I did manage to get up next morning for their daily 8am class of mindful movement (they have a meditation class in the afternoon, too). But this isn't a knock-yourself-out kind of spa where you do an hour of weights in the gym (there isn't one). Instead, you can swim, go surfing, walk into Newquay, or along the beach or into the nearby village of St Mawgan, which may look familiar as the setting for the home of the BBC Miss Marple.
If you're looking for a grown-up, but utterly laid back place in Cornwall, look no further. Relaxation guaranteed and I could swear when we picked it up again, they'd cleaned the car.
Scarlet Hotel, Mawgan Porth, Cornwall. For more information, including details of its sustainability credentials, visit www.scarlethotel.co.uk.