Up North, it's a different world. Forget about the crowded beaches of the South coast and locals armed with pitchforks to prevent you crossing the Tamar into Cornwall. The beaches (and there are many of these) are pretty much empty. And the locals are so delighted you're there, they chat if you sit on a nearby bench in the sun; the neighbouring tables offer advice on what to choose from the menu; and the driver who picked me up from Durham Station (Mr King) insisted on taking me to the see all the coastal beauty spots before I got to the hotel just in case I didn't have time.
He was taking me to Seaham Hall, a short drive from Durham and a ten-minute walk to a wild and beautiful coastline. There's a gritty past, quite literally, with some of the beaches still bearing the blackened traces of sea coal, while others have pristine white sand. And Seaham Hall itself has a literary past. It's the house where Lord Byron had his wedding and embarked on his ill-fated marriage (he stayed for a year and then set off to Europe never to return). A replica of that famous portrait of the poet (the one where he's dressed as an Albanian) now hangs in the hotel's restaurant and there's a Byron Walk in the considerable (37 acre) park, as well as an Ada Lovelace suite, named for Byron's brilliant mathematical daughter.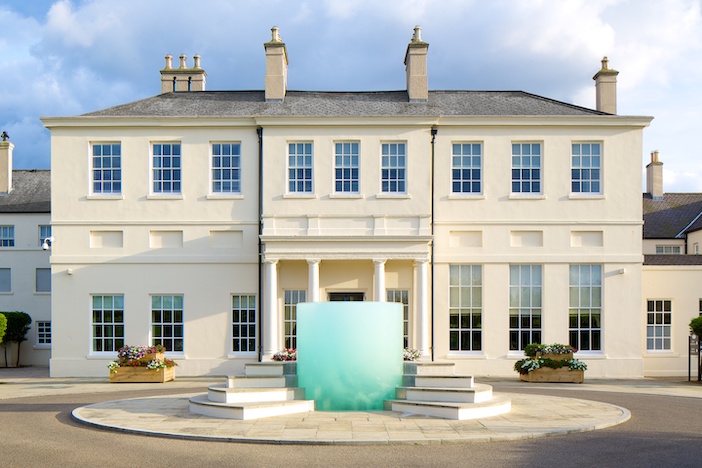 So, with all this history, you can expect a certain amount of grandeur but, less predictably, it's also on the cosiest of scales. There are only 21 bedrooms and, though the service throughout is impeccable, the staff – pretty much all locals – are relaxed and friendly. My room was a garden room – but you'd be mistaken if you thought this meant a garden view. No, this was a full-on, very private garden with a courtyard, shrubs, and a grassy area, all teeming with birdlife. And a Heath Robinson inspired wood-fired hot tub with a chimney.  So, you're feeling pretty serene even before you get to the very considerable Serenity Spa.
The spa is reached via a long tunnel with a boardwalk, water rippling on either side, the odd Buddha sitting in a watery alcove and a gigantic elephant – I'll leave you to discover that when you visit. It's an indoor/outdoor spa with a series of pools, hydrotherapy, numerous saunas and steam rooms and outdoor hot tubs (rather larger than the one in "my" garden). There are indoor and outdoor relaxation areas, too, including waterbeds with curtains if you fancy deep relaxation (aka a snooze).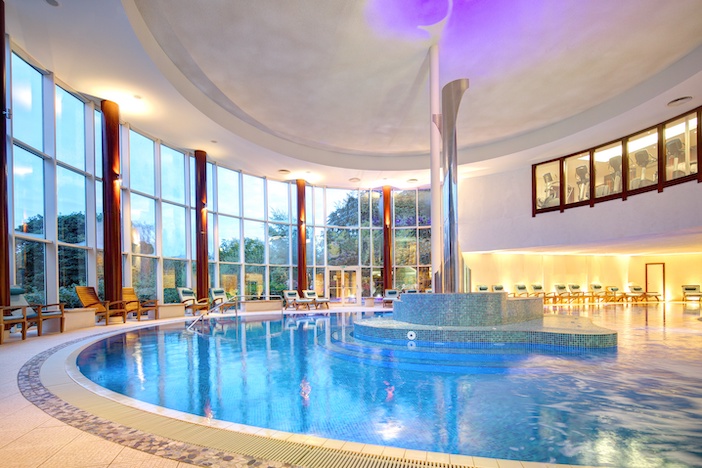 That first afternoon, though, I was booked in for a 75-minute Repose Facial. This isn't just a treatment for the face, though, as it covers the neck, throat, décolletage, shoulders, upper arms and eventually the scalp. At its heart is a massage though you do begin, of course, with a double cleanse, and an exfoliation, all using Temple Spa products. These have lovely smells and textures but are very much results driven – you expect to see a different in your skin after this.
Kelly, my therapist (and again another local) is a big advocate of Temple Spa and its range of ingredients, all very much natural and inspired by the warmth and vibrancy of the Mediterranean, though its founders (Liz and Mark Warom) are Brits and they create the products nowadays down in West Sussex. The products themselves have great names – more about their wished-for outcomes than methodology – and Kelly matched them to my skin.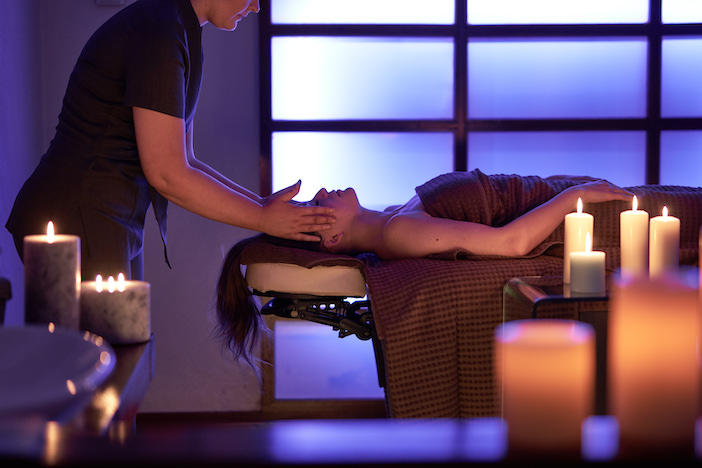 So, my cleanser was In the Beginning (along with Easy on the Eye), all removed with hot damp cloths that were applied one fingertip at a time as my skin adjusted to the heat and the relaxation that came along with it. Then there was Breakfast Smoothie (the gentle exfoliator – there is a more of a scrub called Power Breakfast). Then there was Be Firm, skin lifting serum (to plump, lift, smooth and firm) and Exalt firming neck gel. Truffle Elixir and Eye Truffle are deeply hydrating and when all was removed I was sent on my way with Be Still, a "settling moisturiser."
This treatment was, though, as much about the massage as the products. Slow and mesmerising, I reached (and OK, I admit I was a bit tired after an early start and a three-hour train journey) something akin to a meditative state, hovering just on the brink of falling asleep while being minutely aware of every move. Kelly describes it all as "sleep in a jar."
Afterwards, in the relaxation room, Kelly brought me raspberry sorbet (yum) and I rested awhile before heading back to get ready for dinner. The Dining Room is all Georgian splendour with gold-plated chandeliers, vast windows overlooking the park (and a very unusual water feature) and that Byron portrait. The cooking is local, seasonal and a little bit quirky. I had a delicate haddock (not that bright yellow super-salty version you most often find) with a potato served in Cullen skink sauce. This was followed by duck with beetroot, nasturtium and blackberries. It was all absolutely delicious and I heard all around me the scraping of plates. Chocolate truffles appeared magically at the end. It had been a bit of a truffle day…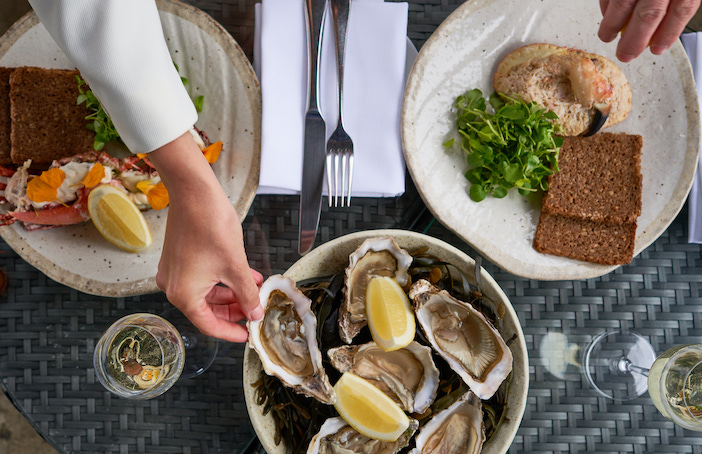 Having waited for so long to get back to them after the seemingly endless Covid closure, it does strike me that spas can be undervalued. The concept is regarded by some as frivolous but – and this is true of all good spas – they can be deeply restorative for both mind and body. In fact, focusing on your body and how it feels gives your mind a rest, slowing it down to a relaxed state (and wearers of fitbits will know there is a similar effect on the heart rate). In the right atmosphere, you can reach an almost meditative state. It's a being in the moment thing.
However, there is a caveat here. This only takes place in good spas, where there is plenty of space and quiet, where you are close to nature and where the therapists know what they're about. Seaham Hall has one such spa and I promise you will feel restored.
Seaham Hall, Lord Byron's Walk, Seaham, County Durham, England, SR7 7AG. For more information, including details of spa treatments, membership and summer offers, please visit www.seaham-hall.co.uk.