When you think of a spa that's vegan and organic, what would spring to your mind? What sprang to mine was a place that felt cosy and inward-looking, a bit on the hippy-dippy side, full of handmade products and the most traditional methods. I couldn't have been more wrong.
The Spa on Top is on the top floors of the Constanza Hotel on the edge of Barcelona's Serria district. It's a barrio that's leafy, affluent and residential yet just 15 minutes taxi ride to the heart of the city. Set on the hills above the city, it's cooler and quieter than the centre where the noise never stops making it a good plan if you want to see the sights but hanker after a decent night's sleep.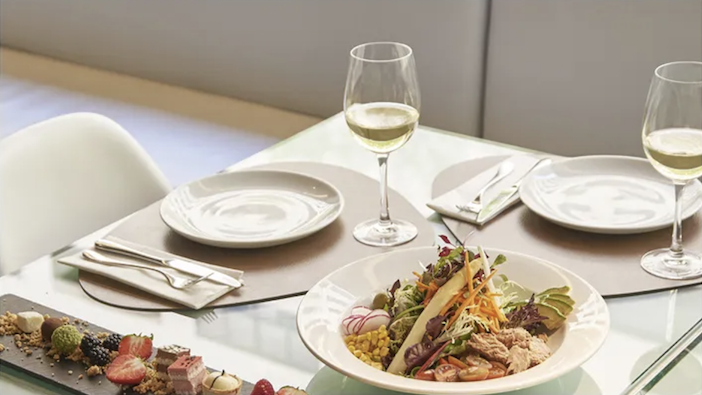 The Constanza also has a very interesting restaurant – GoXO which is full of surprises.
But, of course, I was here for the spa and that turned out to be full of surprises. The Spa on Top is – being on the top floor – filled with light, so my mental image of a dark, cosy space was entirely wrong. There's a hydro area with a warm pool with various jets and underwater massage stations next to an icy plunge pool as well as a sauna and a relaxation space with hanging bouncy chairs that also feature on the outside verandah. I spent a pleasant sandalwood-infused half-hour here before therapist Aurika collected me for my treatment.
I had decided to go for the Luxury Signature Ritual – combining, body scrub, massage and facial for a blissful 110 minutes.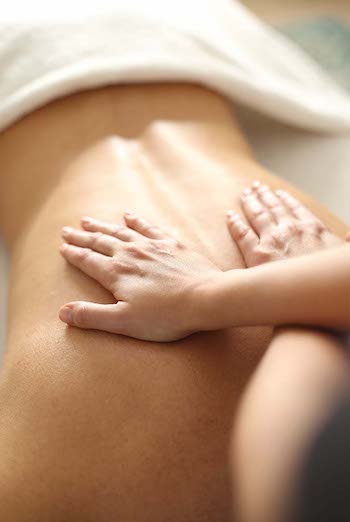 This was no cursory salt scrub. The salt itself came from the Dead Sea and it was suspended in a lusciously fragrant oil (gardenia?) and thoroughly massaged in for quite a while. I could almost feel my skin shedding dead cells and impurities. Then I showered this all off before the most relaxing part of the ritual – the massage. In fact, it all began with the massage but the facial was integrated within it, too. Let me explain.
Aurika's massage began as I lay face down covered in towels. She began with that cat-like tread typical of Thai massage that works its way up the legs then the back. Aah, I thought, this is going to be a Thai massage. But then when she removed the towel from my right leg and began using oil the technique turned into something much more akin to Ayurvedic (Indian) massage with long, sustained, sweeping strokes that then extended not just the length of a leg but all the way up one side of the body and down the arm to the palm of the hand. Sometimes, her hands stayed together for the whole run. Other times, they parted half way, one travelling to the sole of the foot, the other arriving at the hand at the same moment. It was the kind of experience you'd normally expect with a two-person four-handed massage. How she did this all on her own is quite beyond me.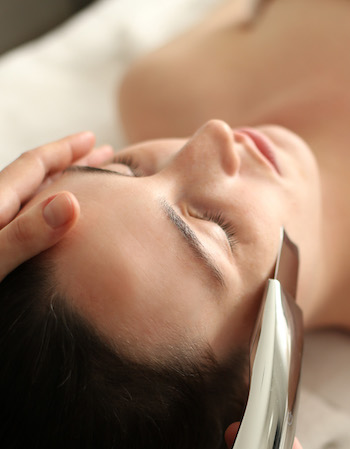 Then, turning on to my back, I was surprised to be told the facial was about to begin. What about the front of my legs, I wondered? But, there again, I thought, this had been such a strong and powerfully relaxing massage, maybe that wasn't needed. In the meantime, Aurika had begun applying that heavenly scented oil to my face, throat, décolletage, shoulders and arms. So maybe it was a facial massage rather than a conventional facial? No, this was the cleansing stage. This threw me completely, never having come across oil as a cleanser. On top of this came a gel that lathered everything up and was removed with muslin cloths. Then rose light? This looked very techy to me and not at all what I was expecting – it felt like a cool air jet playing across my face.
Next up, a papaya masque was applied with a brush and my eyes covered with infused pads – and while all this was taking effect, we went back to the massage. This was removed and then more blue lights followed by a pre-soaked muslin masque with – the biggest surprise of all in this organic, vegan spa – an ultrasound wand to help the serum penetrated and, said Aurika, deal with the lines of expression.
The results of all of this were nothing short of sensational and I could see a definite effect on those lines of expression not to mention a general blooming in skin tone and colour and a profound sense of relaxation. It turns out that Spa on Top is a regular award-winner in Spain and, with just three treatment rooms (one of these is for couples), appointments are like gold dust. I'm not surprised. Just make sure you book early to avoid, as they say, disappointment. This is one the serious spa-goer does not want to miss.
Spa on Top, NH Constanza, Carrer de Deu i Mata, Barcelona. For more information, including details of treatments, please visit www.spaontop.com.
easyJet flies from Gatwick to Barcelona up to seven days a week, with prices starting from £22.99 per person (one-way, including taxes and based on two people on the same booking).