An empty sandy beach on the Med? That's not possible, right? Let me allow you into a secret…
Everyone knows Cyprus but what they tend to know about it are the tourist cities of the South – Larnaca, Limassol, Paphos and so on. Most people don't know the North of the island at all and there's a reason for that. In 1974, the island was divided and the Turkish and Greek Cypriots split from their multi-cultural towns and villages with the Turkish population heading north and the Greeks going south.
This is not the place for a political/historical debate but, to put it very simply, the Greeks blame an invasion by the Turkish army while the Turks say they were being ethnically cleansed by the Greeks. What is remarkable is that the situation remains unchanged to this day. Nearly 50 years on, Cyprus has the only divided capital in Europe and, to go from one side of the island to the other, you need a passport.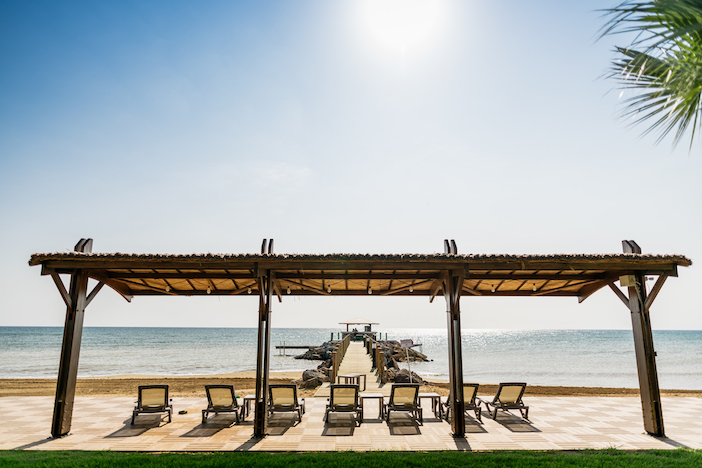 As a result, North Cyprus has been embargoed in terms of both trade and travel and, as a result of that, development has lagged way behind the South. This is not to say that no one comes. There is tourism from the Turkish mainland and there have always been a few Brits who have visited. However, that empty sandy beach on the Med (remember that?) – you'll find it here.
The place in North Cyprus that is most untouched is the panhandle (the island is shaped like a saucepan) or, more correctly, the Karpas Peninsula. This is now a nature reserve and there is no development allowed. However, just before you get there is the town of Bafra and its nearby coastline is starting to be developed for visitors.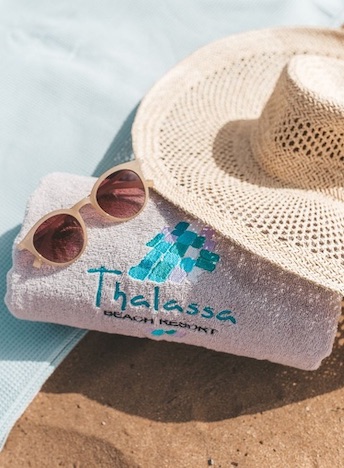 One of these is Thalassa, an apartment-hotel right on the beach. And, if you're looking for a laidback beach holiday, either with a group of friends or for a young family this is a perfect spot. There are lots of activities for children, not to mention mini-bouldering, a waterpark and a jungle gym. Most important for everyone, though, is that beach and its watersports (kayaks, paddleboards, pedalo, inflatables). You can also take a boat tour to go fishing or snorkelling.
Thalassa will also arrange tours for you to explore North Cyprus if you're not keen on driving here (though it is on the left, so easy for Brits). I particularly recommend the Karpas with its restored monastery, golden beaches (there's one four miles long) and the wild donkeys who will definitely approach you if you buy one of the bags of cucumbers (irresistible to donkeys apparently) a few enterprising locals sell by the roadside. Or, if you fancy a bit of history, there's the nearby fortified town of Famagusta and the Greek/Roman/Byzantine city of Salamis – a vast site with temples, churches, synagogues, theatres and a gymnasium.
But if it's R&R you're after, get yourself a cabana on the beach for a day. There are loungers on the deck, shady daybeds inside, the sea a few steps away and at lunchtime, a picnic appears complete with a bottle of fizz. When I was there in August, there were just six other people on the beach.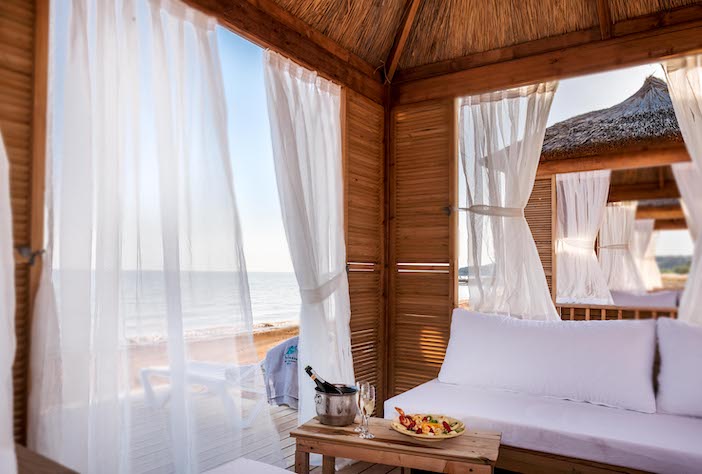 So with all this chilling going on, is a spa really necessary? Always. The spa at Thalassa is run by two ladies from Bali, Tina and Juliana, who can perform the odd miracle over the course of a morning.
Mine began with Tina in the hammam. Now it may seem strange that in a place as hot as Cyprus you'd want to get even hotter, but this is the genuine article and a mini-version of the kind of traditional hammam you'd find in Istanbul. And it is indisputably relaxing. In fact, it's so hot, resistance is futile.
You begin on the central dais, with just a towel between you and the super-hot marble. When Tina starts pouring buckets of water over me, this is a relief. However, the water heats up, sizzling on the marble – and on my ever-burning skin. Then it's time for the scrub. This is performed with a mitt and, believe me, it's thorough. You won't find any dead or dull skin anywhere on your body after this. After that, it's the foam.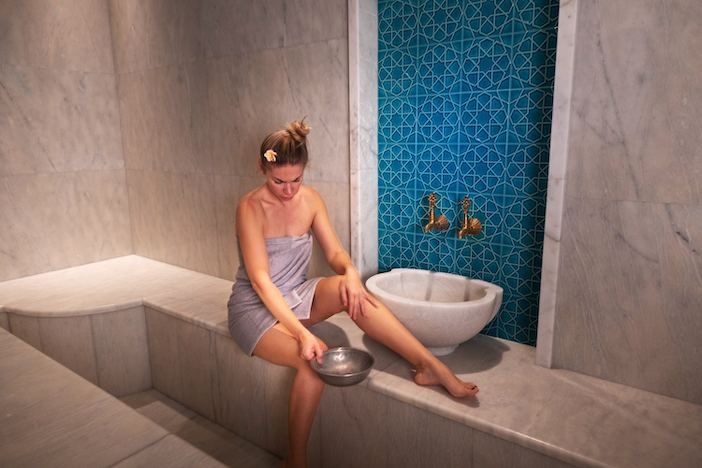 Now, I have had quite a few hammam experiences in my time but I have never been able to fathom how the foam thing works. What you see is something akin to an empty pillowcase being twirled round and round and the foam accumulates on the outside. It is then squeezed off and onto your body where it sits about a foot high of quivering suds. All this from a bar of soap? Evidently, there's an art to it.
So you are thoroughly washed with all this soap, including your hair, and, then you are sluiced down with buckets of water including two or three over the top of your head (hold your breath, this is waterboarding by another name). And, believe me, you are truly clean after all this.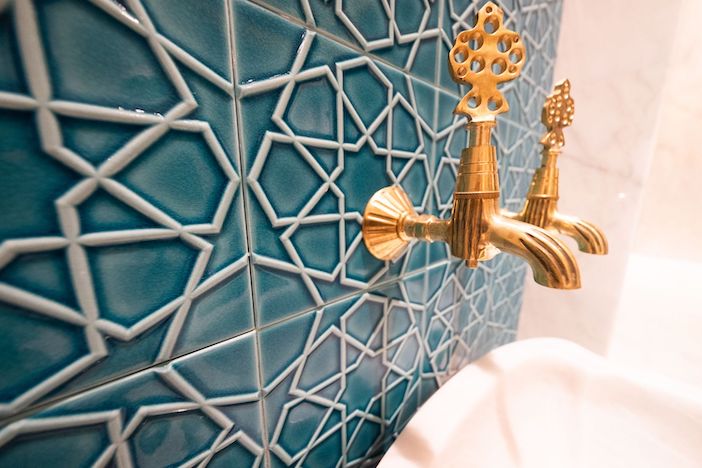 And hot. It takes quite a while to cool down, so even though I rest with a cold drink on a lounger for a good ten minutes, I'm still feeling overheated when my massage begins. Now there has been some massage in the hammam but that was just the warm-up (no, really) for this. Juliana joins Tina and my four-handed massage begins.
There are many massages on the spa menu to choose from here but when I spotted this one, there was no question what I'd go for. Why? Well, most massages are relaxing affairs but this one is so all encompassing, it demands your whole focus. If you ever have trouble being in the moment, a four-handed massage will deliver for you in spades.
So I begin face down on the bed, my muscles already pretty relaxed after all that heat. The two therapists are either side of me and work in perfect synchronicity on my feet and legs, squeezing their way upwards over the towel I'm wrapped up in still. What, I think, no oil? But that is just the start and soon the towel disappears and the squeezing is replaced by long stroking movements as the oil is worked into my thankful open pores.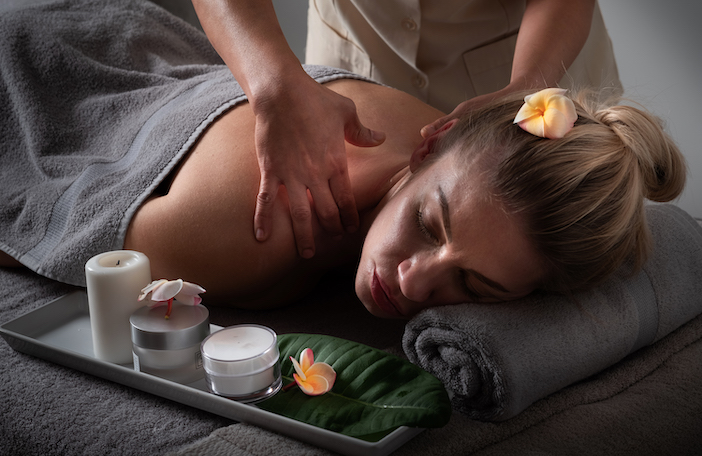 Tina and Juliana know their way around plenty of techniques and therapies but, given their Balinese background, they are adept at using not just their hands but their arms, their elbows and their weight to iron out any remaining knots (and, yes, they did manage to find a few). Sometimes they worked on parts of the body as mirror images, each on one side of the back, or one arm or leg each. At others, one worked on the abdomen and the other on the upper chest; or the feet and the head. All I could do was surrender to the moment…
Afterwards, there was still the facial to come. This time it was Juliana on her own and she introduced me to a range of products that were new to me, Anubis. This is an award-winning brand best known in the Middle East and South America. It is also very results-driven, so I held out high hopes for my anti-ageing facial.
After cleansing and toning, Juliana steamed my skin (more heat!) to prepare it for the vitamin serum and then my mask. As if I hadn't had quite a lot of massage already, while the mask took, she massaged my hands and arms (and let's face it, there's no such thing as too much massage). Then there were gels and peels, creams for the eye contours and the throat, and finally a high factor sun protection and moisturiser. I was ready to face the rest of my very leisurely day.
For more information about Thalassa Beach Resort, including details of spa facilities and activities, please visit www.thalassabeachresort.com. Thalassa will arrange transfers from both Larnaca Airport in Greek Cyprus and Ercan Airport in the North.