It's the first spa column of 2022 and, in the hope that we are all going to be travelling much more this year than last, I'm starting with a celebration of my most recent overseas trip, in December, to Oman. Let me declare, up front, Oman is one of my favourite places. It is a country that's unique in the Middle East. While it certainly has the wealth of the other Gulf states, it has chosen to spend it in very different ways. So don't expect to see the Manhattan-on-sand approach you'll find in the rest of the region.
The late and much-lamented Sultan Qaboos made it illegal to build anything higher than the minaret of his gilded Grand Mosque in the capital, Muscat. Furthermore, he espoused an arabesque style of architecture. He built roads, schools, hospitals (education and healthcare are free in Oman) and, during his 50-year reign, paid for everything out of his oil and gas revenues – meaning nobody paid any taxes. Hardly surprisingly, Omanis are a contented lot and there is very little crime, no litter, no graffiti. This atmosphere is tranquil – even the traders in the souk are forbidden to harass you.
A good place for a spa then – and Oman does indeed have some particularly glorious ones. Over the coming months, I'll be revisiting the country with one spa up in the mountains, another in the desert. The first one, though, is in the capital, Muscat. Don't be fooled, though, into thinking this is your typical city spa. This one sits on the shores of the Arabian Sea.
If Oman is an oasis in the Middle East, the Chedi is an oasis in Oman. It has row after symmetrical row of swaying palm trees, pools and fountains, gardens and water features. The rooms are in two-storey white houses separated by marble walkways and marked out by pieces of ceramic sculpture. I say rooms but we're talking suites at the very least. The bathrooms are vast with deep sunken baths and Acqua di Palma products. This is a place that likes its glamour and luxury, but never strays into the glitzy. At night, while you are having dinner, the turn-down service includes the lighting of huge cream candles in the bedroom and bathroom. A touch of the Arabian Nights magic.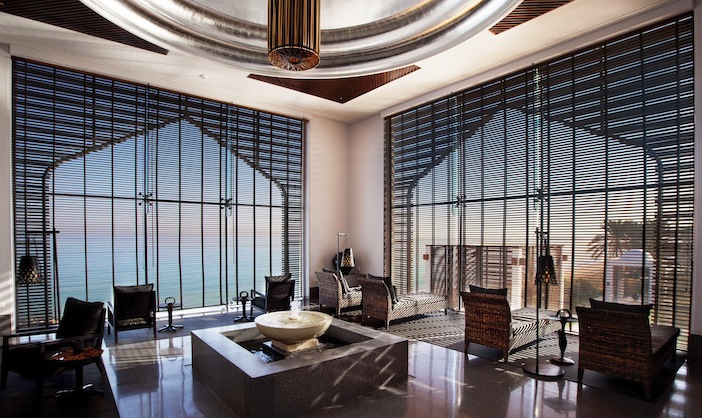 So, after all this, you know the spa is going to be something pretty special. In fact, it's a brand new spa, over 1500 square metres with relaxation rooms that look out across the sea. The atmosphere is hushed and the air is scented with frankincense, Oman's signature fragrance, made from its trees in the south of the country.
It's all pretty relaxing then and I'm particularly relaxed after my first treatment, a four-handed massage. Most people think of a four-handed massage as an exclusively Ayurvedic technique. At the Chedi, though, there is a whole combination of massage traditions that come together with two therapists working in perfect synchronicity. Their techniques include Japanese shiatsu, Balinese palming, Thai stretching, Swedish effleurage and Hawaiian Lomi-Lomi as well as Ayurveda.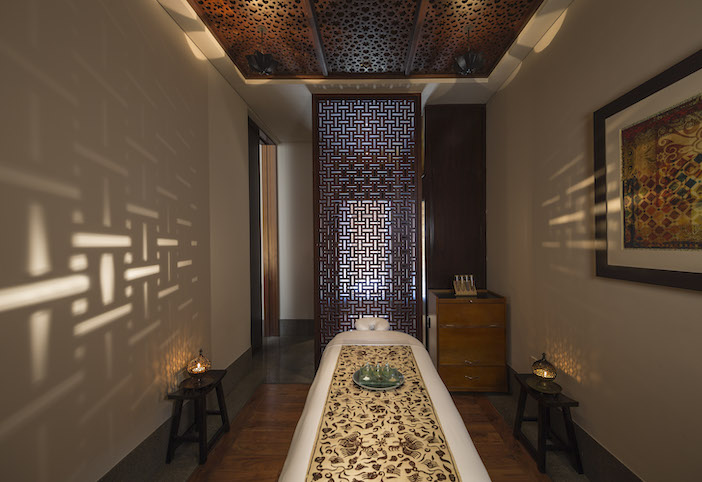 Here, it's known as the Chedi Jade Massage and it's designed to dissolve muscle tension and soothe the spirit. And while you could say that of just about any massage, when you have two therapists working at the same time, it has a tendency to dissolve the mind alongside the muscles. Sometimes, the two therapists mirror each other exactly; then they have split and one is working on your right leg, the other on your left shoulder. There is so much happening and with such rapidity (this is quite a dynamic massage), your have a single focus – touch, that Cinderella of the senses.
The next day at the spa is a very different one. I was going to have a magnesium scrub or, to give it its full title, a Ren Atlantic Kelp and Magnesium Exfoliating Body Balm for Invigoration. There are, in fact, many ingredients included – for instance, rosemary, geranium, clary sage and cypress essential oils – but at the heart of this treatment is magnesium sulphate.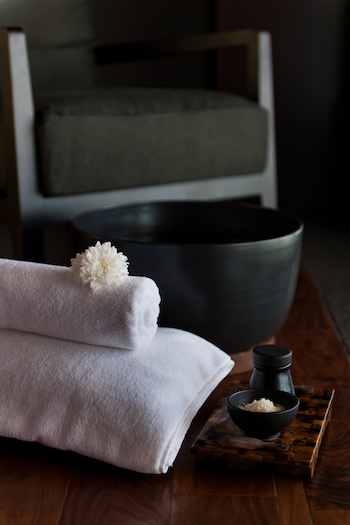 I had been forewarned I could feel a certain "tingling" but was assured that, if it all got too unbearable, the therapist would remove it straightaway. This was slightly unnerving but, as with the previous day, when I sat in the chair for my foot scrub (just with ordinary salt – we hadn't got going on the magnesium at this point) and my hibiscus drink, I began to relax. Sheree (one of the two therapists from the day before) explained to me that we are often lacking in magnesium and this treatment helps to restore the imbalance as well as having benefits for the skin and improving sleep.
I had checked up beforehand on the importance of magnesium and it seems, if you have a deficiency, observable symptoms include cramp, loss of appetite, fatigue and weakness. You can have a deficiency if you're diabetic or if you are taking lots of antibiotics or diuretics but most commonly the cause is a poor diet – junk food, sugar and alcohol. It is most likely you won't know you even have a deficiency but, if you do, unseen damage can be done to your blood vessels and bones and your sleep patterns can be disrupted. I had never come across a magnesium scrub before but it certainly sounded like a good idea. Fingers crossed that tingling doesn't become unbearable then…
Sheree massages in the scrub with smooth gentle strokes, starting on my legs. Here I don't really feel that much, but when it gets to the back, I do start to feel the heat – much more than a tingling. When I turn over to lie on my back it feels like it's on fire – though, strangely, in a good way. I breathe a sight of relief – it's not going to be a problem and Sheree continues with the scrub all over the body and right up into the neck and throat (though not the face). Then I shower it all off and Sheree applies a cooling balm.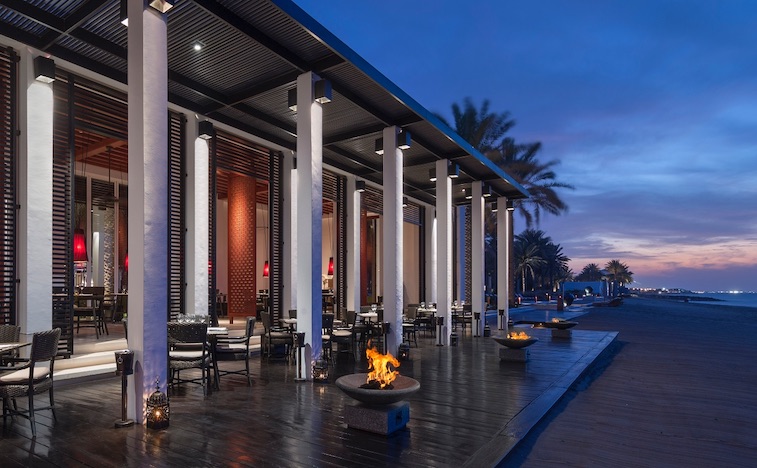 In fact, the heat stays with me for some time after and, in the late afternoon (the treatment finished at 3pm) I do start to feel a bit sleepy. I decide to have an early dinner. This was down in the Chedi's restaurant on the beach, lit by flaming torches and deservedly renowned for its seafood. Just as I thought things couldn't get any better, a shooting star fell from the sky, almost close enough to catch. What was that about Arabian Nights magic?
For more information about The Chedi, Muscat, including details of spa and wellness packages and promotions, please visit www.ghmhotels.com.