You'd expect a bit of glam, a bit of luxe at the spa of the Dorchester, wouldn't you? And you wouldn't be disappointed. The décor is a symphony of cream and white, all voile and satin drapes, subdued lighting and an awful lot of roses. In the Spatisserie (spa restaurant) there's actually a whole wall of roses, the palest, most delicate of pinks.
These, it turns out, are the Dorchester's own rose. It's recently gone on sale at the hotel's florist and is described as "a delicately scented, blush pink flower" created by Mejer Roses – and it's only on sale here at the hotel. Talk about exclusive. The colour was chosen as a complement to the hotel's interior tones, they say, and "the open shape of the flower makes it unique. Each stem is perfect."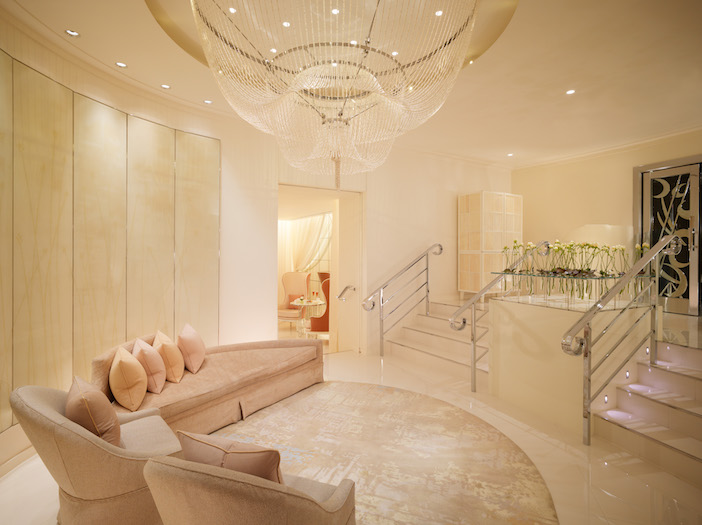 Now, I'm not the world's greatest expert on roses but they did look pretty good to me and they certainly reinforced the relaxed, quiet and super-feminine feel of the spa. (Having said that, there is a male changing room so chaps must venture in sometimes.)
Given the rosy celebration, though, there really was no argument about what to go for in the spa. It had to be roses all the way. So, I went for their  Top to Toe package which uses Aromatherapy Associates products, all based on the essential oil of rose. Aromatherapy Associates are very highly thought of in the spa world. Their products are totally natural and there are no nasty parabens or other chemicals in them and no animals tested in their production. They promise great benefits – improving circulation, easing muscular aches and pains, improving skin texture, at the same time as lifting the mood by engaging the senses. (The senses of smell and touch, combined in these treatments affect us on the deepest levels.)
Of all the essential oils, rose is the one most associated with being uplifting and restorative. So, my therapist Erica explained to me, all of the products she would be using would be rose-based. We were in a treatment room with the most subdued lighting and a heated bed that moved me up and down at appropriate moments. So, she asked, me what were my priorities. Well, everything really but I'd had the flu, my skin was mid-winter drab and dry as sandpaper, so….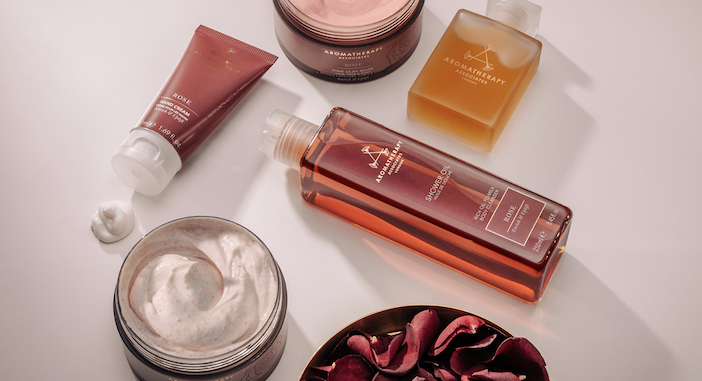 We started with a body scrub. This was based on AA's Renewing Rose Body Wash with salt granules added to exfoliate, stimulate circulation and reveal smoother, softer skin. The salt seemed to dissolve in the warmth during the course of a pleasant massage. And then all I had to do was wash it off in the adjoining shower – this was the last time any effort was expected of me.
When I stepped out of the shower, there were fresh layers of towels on the warm bed and I sank in to them as Renewing Rose Body Oil was applied to my back and legs, followed immediately by Renewing Rose Body Cream to seal it in. Then I turned over for my rose facial.
After cleansing, exfoliating and toning, Erica inspected my skin under a very bright light (having provided me with a deep padded eye mask first, of course). She decided steam would be good to open up the pores to accept the oils more effectively but no extractions – removing skin blockages by good old-fashioned squeezing. This can be painful, so hooray!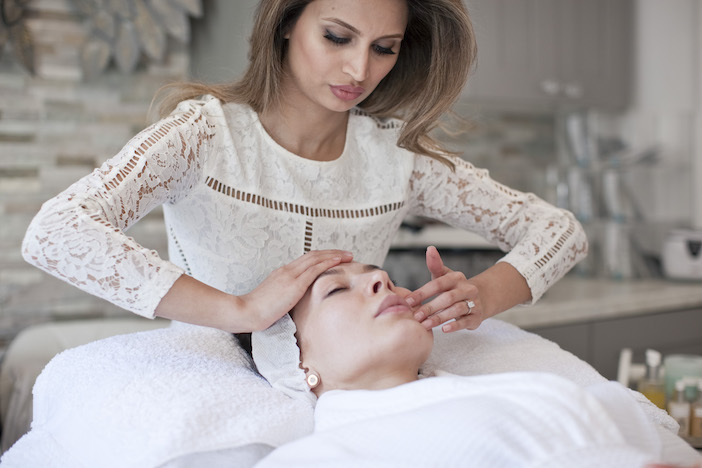 There followed a lovely face and shoulder massage with Anti-Ageing Intensive Skin Treatment Oil (rose based, obviously, but with some rosehip and lavender oil, too) and then Erica applied my mask – Hydrating Renewing Rose Face Mask with Sodium Haylauronate. This acts like an injection of hydration for dry skin. Then there was the scalp massage (blissful) but without oil (useful if you don't want to look too much like you've been dragged backwards through the proverbial hedgerow). And, while the mask continued to do its stuff, the other side of my body got the body oil and body cream treatment.
Almost finally, there was a Detox & Purifying Leg treatment – this was scented with grapefruit, juniper and rosemary – a lovely lower leg and foot massage for energy. And then really finally, the mask was removed and, after just a little extra serum, eye concentrate and moisturiser, I was ready to face the world – smelling, of course, of roses.
The Dorchester Spa, Park Lane, London W1K 1Q. For more information, including details of treatments and membership options, please visit www.dorchestercollection.com.