For the second of my Omani spas, I'm heading for what is likely to first spring to mind when you think of this country – sand. Just to be clear, I'm not talking about the desert proper here. The real desert is the Empty Quarter. It stretches over some 650,000 square kilometres (250,000 square miles) and into Saudi Arabia, the UAE and Yemen as well as Oman itself. This is not a place you venture into lightly.
If you want to get a bit of the flavour of the desert, though, you can. The Dunes are in the South Batinah region of the Sultinate, less than an hour from Muscat and the airport. And the dunes themselves are pretty majestic. The resort itself, the Dunes Al Nahda, is a desert camp.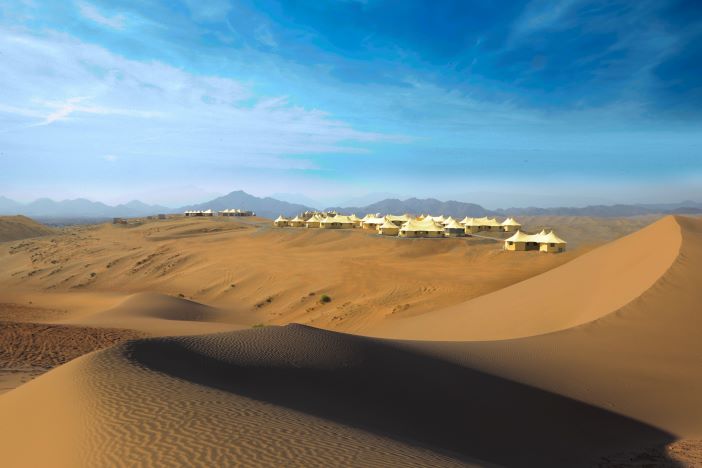 Now when I say camp, don't get the wrong idea. This is very much a luxury camp and, because it is relatively close to the coast, it doesn't have the traditional desert climate where the temperature plummets at night. Even in the winter (and this is the best time for us northern Europeans to visit) the evenings stay pretty balmy.
So you are living in a tent, but the emphasis here is definitely on luxury. There is, admittedly, a roof that is slightly redolent of a tent when you look at it from the outside. But really it's a pretty solid circular building painted white. There is a positively gorgeous bathroom complete with a sunken slipper bath, as well as a big bedroom with a vast bed, wifi and A/C. That tent-like roof structure is covered on the inside by sumptuous gathered silken fabric. So not a boy scout kind of experience, then.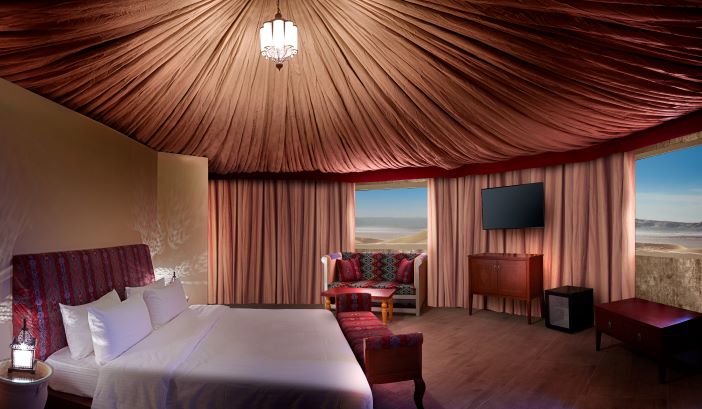 The "tents" are set back in the dunes beyond a swimming pool with massage jets surrounded by double and single loungers that overlook the sands. There's volleyball, "bunker" golf (really!), kite flying and the dunes themselves are quite a draw to locals and visitors alike. You can go for sunset camel rides or, if you're more of a petrol head (and Omanis love this), you can go dune bashing. You drive slowly (and by no means in a straight line – even in a 4×4 driving on sand is rather like driving on ice) up to the top of the dune and then welly on down it. This can be exhilarating but, for me, I'm more after the romance of the desert.
And there's plenty of it. Dining under the stars here is pretty special – and there are an awful lot of stars in the clear night sky. The dining area, lounge and the bar are in an open-sided pavilion and very pleasant in the evenings when the breeze blows in from the coast.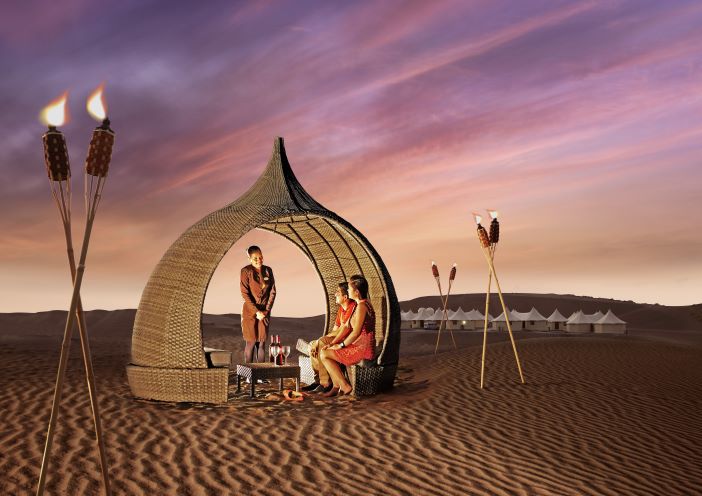 And then after all that kite flying and camel riding, you might feel in need of a little cossetting and so we get to the spa. Like the rest of the Gulf States, doesn't have a massage tradition of its own and so the spas here use mostly Thai treatments and, being Oman, they can afford to bring the best therapists over here. Mine was called Anna and she was going to give me a Thai massage.
A traditional Thai massage is more like osteopathy than aromatherapy and it is done dry – so no oil. This, though, was a bit of a therapeutic mix  – a combination of a Thai massage with oil. And with the actual oil we are in real Omani territory.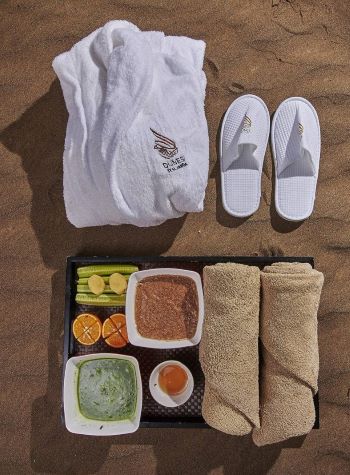 Frankincense was the reason for the vast wealth of this region a couple of millennia ago. Frankincense was worth more than gold and you will still find it all over the country today, wafting its heady scent from a burner in the souk or in the lobbies of the country's top hotels. It is a strong, spicy, unique perfume and, when its essential oil is mixed with a carrier oil, it is a great skin rejuvenator.
Anna gave me a silky Thai sarong and I lay face down on the bed. She began with one leg at a time, gently applying the warmed oil in long strokes – so far, so aromatherapy. Then the Thai part began with her extremely strong thumbs working their way around the edges of my feet and up the soles. There are a lot of pressure points in Thai massage and this can be quite painful if there is some kind of "blockage" in your system. All I can say is that I must have had quite a few – especially around my ankles and calves. Just when it was all getting a little too much, everything changed to the softest, almost ghost-like touch.
Working her way up the back and across my shoulders, the warm oil (I noticed when she got to my arms) was used in such quantities I glistened like a mackerel. Bliss for my desert-dry skin. Turning over, she worked again on my legs and arms and then, sitting up, she stretched out my back against her knees and I was done.
Now, while Oman doesn't have its own massage traditions, at Dunes, they have imported a relatively local one using something that they have here in abundance. Hot Sand Therapy is believed to be an invention of the ancient Egyptians and it combines the benefits of the natural minerals found in the sand (absorbed through the skin) with the beneficial effects of heat.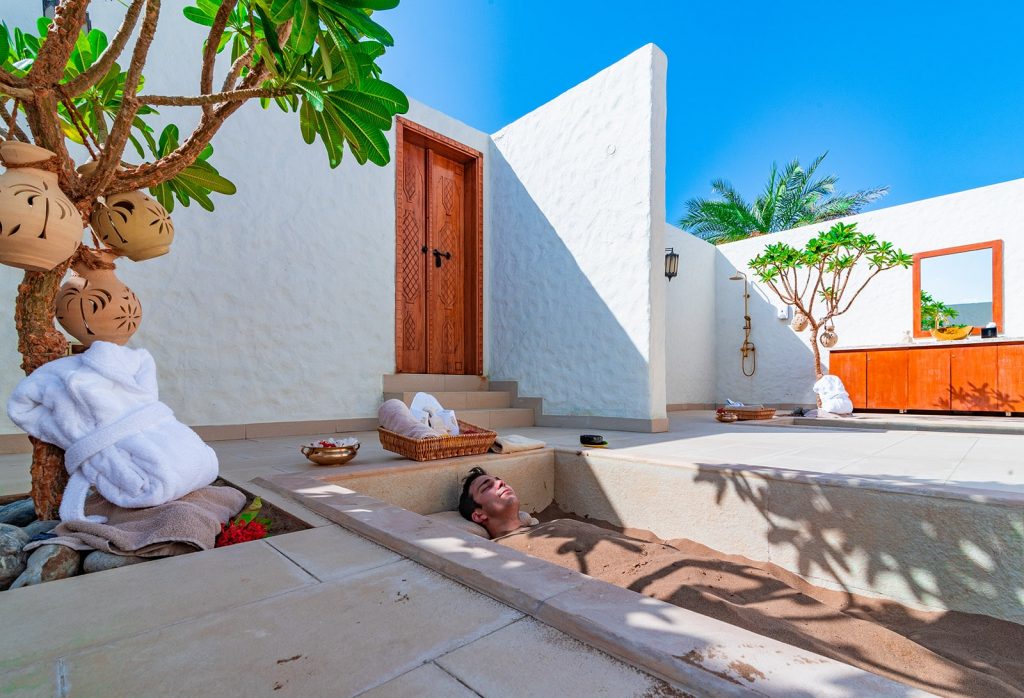 You lie in a sunken hot sand tub and basically you get buried up to your neck in sanitised sand. Your head is wrapped up to protect it from sand particles and your eyes are covered with chilled wedges of fruit and the rest of your face has an aloe vera mask applied. Think of an old-fashioned steam cabinet with your head sticking out – but your body is surrounded in sand rather than steam. And that's it. You just soak it all up for around 20 minutes, getting pretty warm in the process, then move to rest on a lounger while you cool down.
In fact, it's not that easy to cool down in the Omani heat. So to help your body return to its normal temperature, you have a creamy yoghurt applied all over, relax for another 15 minutes then shower it all off. Job done and it's back out into the sands themselves for a spot of kite flying.
Dunes by Al Nahda, Oman. For more information, including details of offers, destination guide and 'life at the spa', please visit www.dunesbyalnahda.com.