The Lygon Arms is a Cotswolds institution. In the heart of the beautiful village of Broadway, its golden stone rambles across gardens and croquet lawns, higgledy piggledy rooms with four-poster beds and vast fireplaces. There are numerous pictures of its famous guests. These include Elizabeth Taylor and Richard Burton (together) Mary Pickford and Edward VIII (definitely separately) and, perhaps most famously of all, Oliver Cromwell who stayed here the night before he won the Battle of Worcester and changed English history forever, with the first European revolution, the abolition of the monarchy and the banning of Christmas.
You won't find the Lygon Arms doing that these days. And if you're thinking of getting into the Christmas spirit soon, I can't think of a better place to do it. The winter weekend break can be wonderfully restorative: bracing walks, roaring fires, lazy breakfasts in bed – you get the picture. And then there's the festive season itself. Not only does the Lygon Arms outdo itself with its decorations and multiple Christmas trees, Broadway's main street has a Christmas fair (helpful for unusual gift ideas).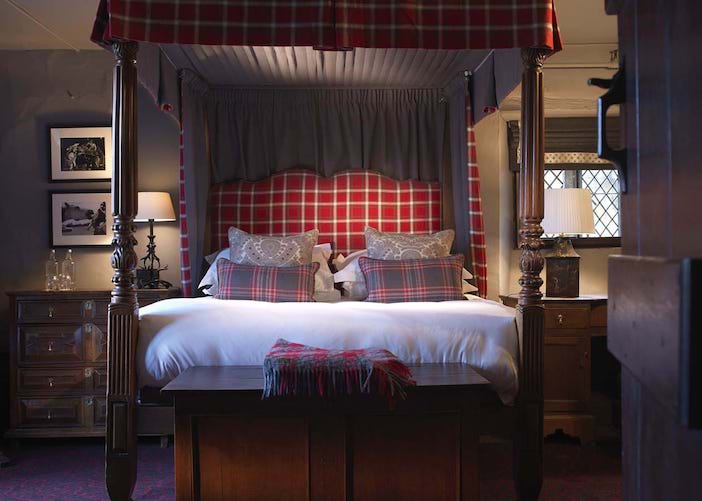 There's no escaping the history here. Over the doorway the name "John Trevis" appears next to the date 1620. This, though, was relatively recent in Lygon terms and there's a record of a coaching inn here from 1377, when it was known as The White Hart (perhaps named for the hart, or stag, that was the personal symbol of King Richard II who was on the throne at the time). The current building dates from the Tudor period and, if you're a lover of straight lines, you're going to be challenged here. I failed to spot an entirely horizontal floor (some of the landings have a 30 degree slant, I reckon). But if you're a fan of the quirky and genuinely historic, this is the place for you. There are Sleeping Beauty-style spinning wheels perched in the eaves, massive (silent) brass bells, oak beams and fireplaces big enough for a king size bed. And speaking of kings, Charles I stayed here earlier in the Civil War, too. Not surprisingly, there is a "King Charles Suite" to celebrate the fact. Diplomatically, they have hung the Cromwell "warts and all" portrait elsewhere.
All the nooks and crannies create informal places to eat and drink around the bar though the main restaurant for dinner and breakfast is a huge room with a barrel-vaulted ceiling and antler chandeliers. The food is local (80% of ingredients come from within a 60-mile radius) and seasonal and there is plenty of tradition here as you might expect – Hereford beef Chateaubriand for two, Poached Turbot and lots of steaks. The wine bar is a more bistro-style menu with "pizzetta" and pasta and the Champagne cream tea is pretty much irresistible. If the weather is even a little bit sunny, there's a particularly gorgeous courtyard to enjoy a coffee or a glass of wine. And just beyond that, there's the spa.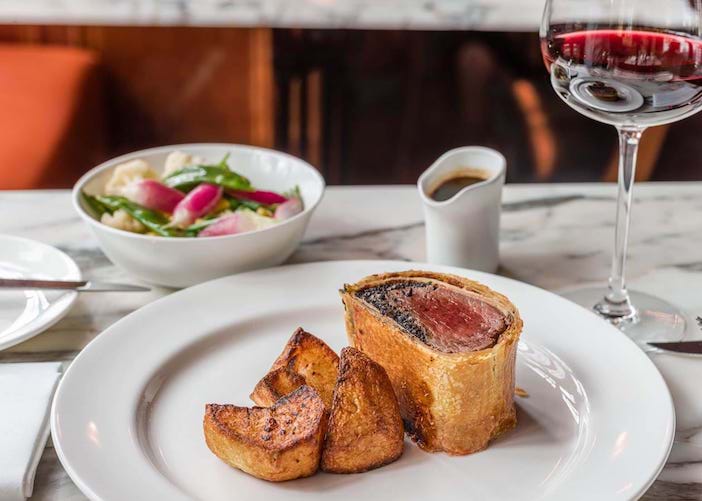 Given the limitations of space when building a spa in a high street (albeit one that has a good case for being England's prettiest), the Lygon spa is surprisingly spacious. There is a grand, Romanesque swimming pool complete with columns, mirrors and a gallery. You'll find saunas and steam rooms beside it. Upstairs are the treatment rooms where I found my therapist, Tish, with whom I'd be spending the next two hours.
Clearly, I have been to quite a few spas and I've come across many different beauty brands but Tish was to introduce me to one I didn't know at all. The name OSKIA is derived from the ancient Greek for "beauty" and its products are naturally derived or bio-identical and they are specialists in bio-cellular skin nutrition. What was most surprising, though, was that my massage would begin with a candle.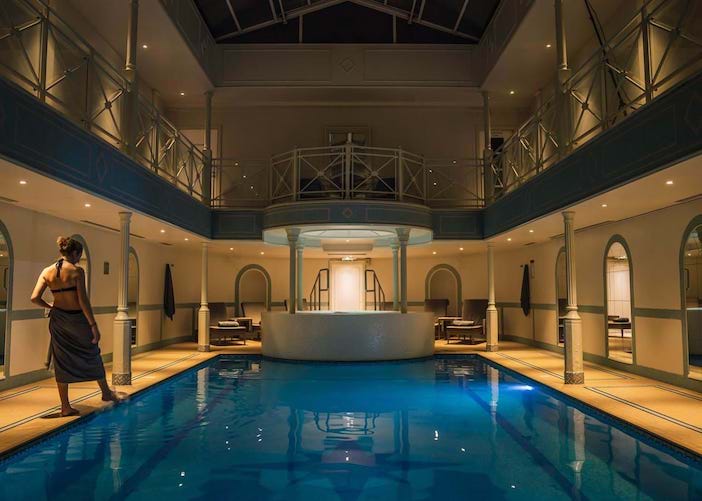 I know. It was a new one on me, too. But Oskia's Rose de Mai Massage, body oil and treatment candle is melted down (scenting the room with a gorgeous rosy aroma) and used as a massage oil. Its ingredients are beeswax, soya and coconut oil and, once the wick is lit, the candle melts and the warm oil is poured directly onto the skin. It feels very soft, rich and gentle on the skin (rather like Tish's massage) and leaves its divine scent to linger on you for hours. Tish had explained before we began that every treatment here is bespoke and, while there is an extensive spa menu, you basically book the time with your therapist who then guides you towards the best treatment for you.
So we began with a manual massage with the warm oil focused on the neck, shoulders and arms, followed by hot stones on the shoulders and back. It was very relaxing and my skin afterwards was extremely soft and hydrated – I think this was richer than any aromatherapy oil I've ever tried.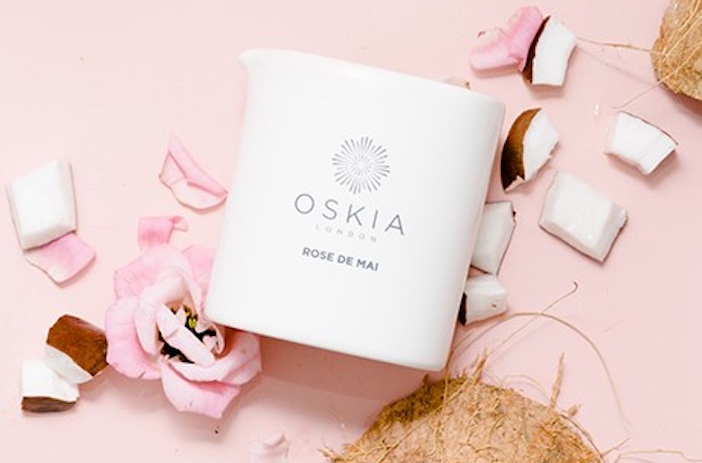 Then it was on to the facial and, again, Tish went for Oskia. The facial products are not so highly scented as the massage candle but are just as rich. So we began with a double cleanse, first with Perfect Cleanser, a balm that emulsifies on the skin becoming a light milk that penetrates deeply and washes off without leaving a greasy residue. This was followed by the second cleanse with Renaissance cleanser and then the very gentle Micro Exfoliating Balm – creamy and rich it uses the tiniest silica particles to buff away tired skin cells (and I have to say all my dry patches had disappeared by the end of this facial).
After this Tish applied the Renaissance mask which was, she explained, packed with nutrients to boost the texture of the skin leaving it smoother, refined and illuminated. Ingredients include rose, passion fruit and chamomile so it smells pretty good too! Once removed, there were just the finishing touches to face the day: Eye Wonder, a nutri-active serum targeting dark circles and puffiness; super 16 serum for the rest of the face and then the Bedtime Beauty Boost night cream. The results were excellent – glowing and refreshed skin – that were most definitely still there the next morning. What a find!
The Lygon Arms, High Street, Broadway, Worcestershire WR12 7DU. For more information, including details of spa packages and offers, please visit www.lygonarmshotel.co.uk.