It's not often I find myself in the middle of a golf course, my tendencies being more sybaritic than sportif. However, here I am looking out from the gigantic windows (of my equally gigantic suite) in the Old Course Hotel and Spa in St Andrew's at greens and sandy bunkers and a rather fine clubhouse directly opposite.
And this isn't any old golf course either. It's the first one ever – on the planet. They're very proud of that here and of St Andrew's reputation as the golfers' Mecca. They do after all have five world-class courses around the town. So your room is likely to be named after a famous golfer, the walls will be adorned with photographs of the local courses next to windswept Scottish beaches or beneath ruined Scottish castles. Downstairs, along with the fitness centre and the swimming pool, there's a Swing Studio – and no, we're not talking jive and jitterbug here…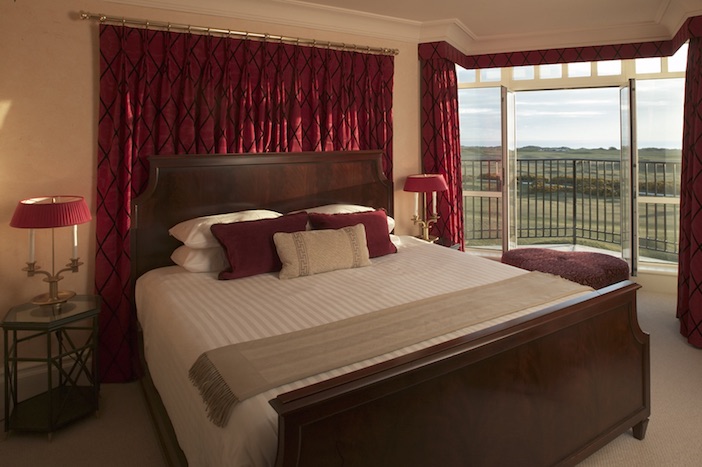 However, there's also the UK's only Kohler Waters Spa and it's looking good after reopening last year after a multi-million-pound refurbishment. Kohler Waters are an American spa brand specializing in hydrotherapy and there is a rather beautiful hydrotherapy area featuring a 20m pool with a cascading waterfall under a pitched glass roof, steam and sauna, an ice fountain and almost equally icy plunge pool (only for the brave), an outdoor spa garden with a hot tub, "experience showers" and a large, very warm hydrotherapy pool with various underwater massages on offer.
Hydrotherapy is an ancient art and it benefits the immune and circulation systems, fluid retention, sore muscles and anyone stressed, tired or inclined to insomnia. True to its watery theme, the spa offers a variety of thalassotherapy (sea water) treatments including an over-flowing Sok Bath filled with seaweed harvested from the Irish coast (good for muscle aches, joint stiffness and detoxing); an organic seaweed leaf wrap incorporating a scrub and a wrap which detoxifies, firms and softens the skin and is helpful if you're trying to lose weight, too; and a seaweed body buff where you're massaged with bladderwrack until you glow.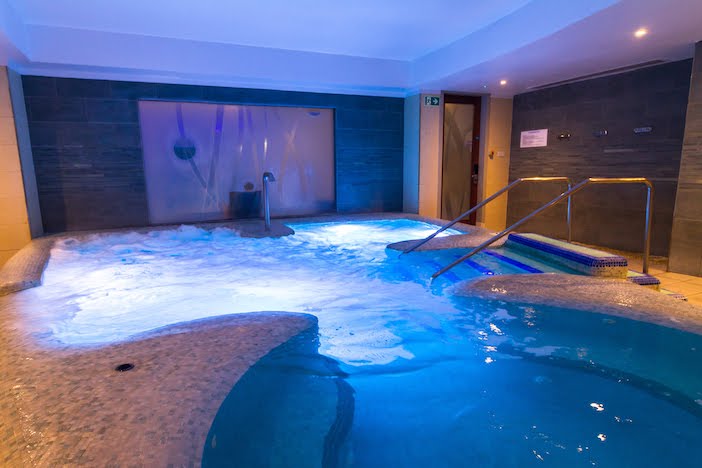 Added to this you're right by the beach so sea air and coastal walks are pretty much de rigueur.And these, together with all that hydrotherapy, help with the spa's aim of relaxation and sleep improvement. This sounded good to me so after a morning in the hydrotherapy spa (I recommend swim/sauna/swim/sauna and repeat for total relaxation), I met Yelena for my Tranquility Face and Body Ritual.
I'd decided on this in advance, as it was described on the spa menu as "a unique, sensorial and aromatic wellbeing ritual for the face and body achieving complete relaxation of mind and body. Experience a profound sense of wellbeing that results in relaxed muscles, improved circulation and visibly oxygenated, luminous and nourished skin." I mean, who's going to argue with that?
In fact, it turned out to be not quite what I expected – but in a good way. Yelena went through what I wanted from our 90 minutes in a very thorough way and it's clear that, if all the therapists are as knowledgeable, a good bet would be "custom time". This is two hours where you work out when you meet your therapist the best treatments that will work for you and she provides tailor-made rather than off-the-peg accordingly.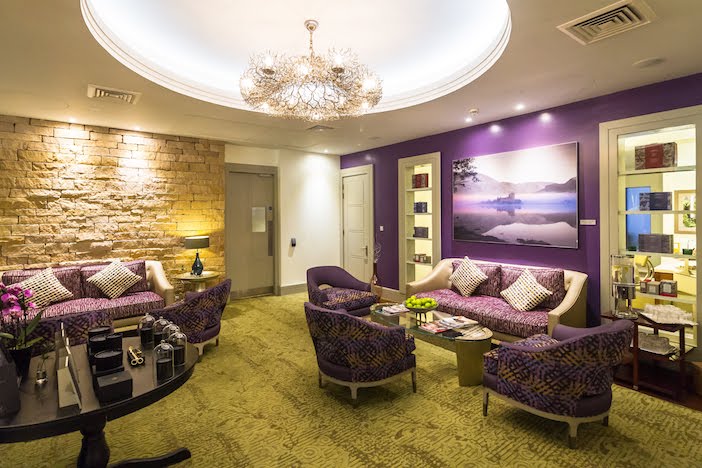 So, what was unexpected? Apart from this very personalized approach, this was also one of the most gentle, supportive, nourishing massages I've experienced. If you're feeling a bit delicate, a bit frail, a bit sensitive, go for this one. There's a lot of warmth involved with a heated bed, towels and a duvet. And the massage pressure is, for much of the time feather light.
I started face down and, after a few preliminaries, the massage began one leg at a time being covered in super-hot oil painted on by a brush. Yelena's hands then mirrored that feeling of softness with long, slow gentle strokes until the first leg was wrapped up – even the towel drawing down to cover it became part of the massage. This is not to say there was never any more pressure than that. And it was clear from her bone-crushing initial handshake that Yelena would take no prisoners in that department. But the pressure came in the form of pressure points on the feet and hands and later with the face and scalp massage.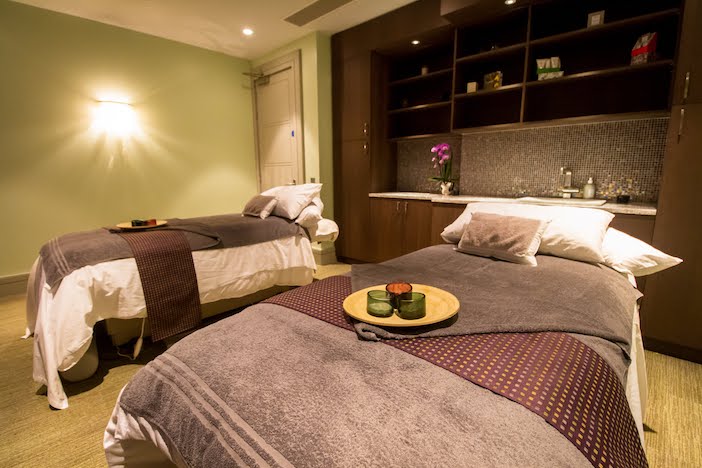 When it was time to turn over, I was already super-relaxed and Yelena re-organised the bed so my knees were raised as well as my upper body that was cushioned, too, by a huge triangular pillow. At this point, the massage continued but it alternated with the facial. Using Phytomer (a brand that specializes in marine-themed skin care) Yelena double cleansed and toned my face before applying an exfoliant with pineapple enzymes and, while that was doing its stuff, it was the turn of the front of my legs for a massage. Then while the next stage in the facial was cooking (the mask), she did my arms. All of the facial stages were massages in themselves but there was a final facial and scalp massage and then I was led to the dimly lit Relax Room – a spot highly recommended for the stressed-out.
I did have, after all this, a very healthy lunch (butternut squash soup and avocado salad) in the spa café. The night of my arrival, though, I had an altogether more indulgent meal in the hotel's Road Hole Restaurant. Now, where did this get its name, I hear you ask? So, back to that very first golf course. There was once a much smaller hotel when the 17thhole was the hardest on the course (some say in the world) because you had to hit the ball over the top of the hotel and if you got it wrong it landed on the road beyond with dreadful consequences. Now I don't think anyone is likely to try hitting the ball over the current four-storey hotel but this is too good a story to be forgotten.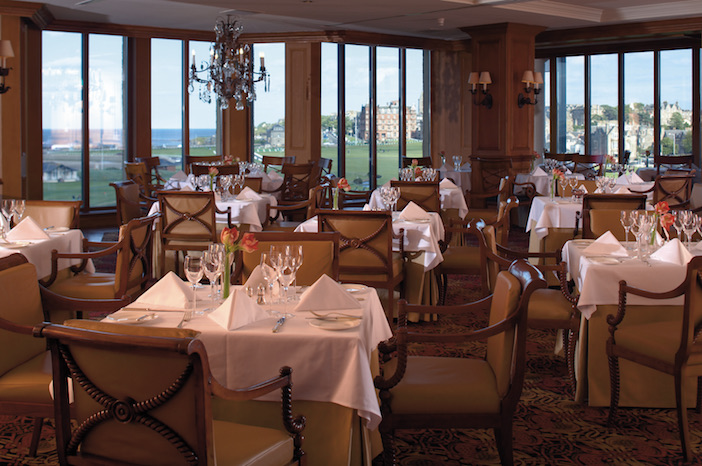 So on this top fourth floor, there's the Road Hole Bar – with literally hundreds of whiskies – and the Road Hole Restaurant which is quite simply superb and I'm sure a big reason why this place was voted Scotland's best hotel recently. It's local produce, carefully sourced, beautifully cooked and presented and partnered by unusual wines suggested by the restaurant's enthusiastic and knowledgeable sommelier. Our starters were scallops with lentils and wafer thin crispy bacon and poached salmon with cucumber caviar. These were followed by wild mushroom millefeuille with butternut and parmesan cream and venison with root vegetable rosti. It was all absolutely divine.
So not an abstemious kind of spa then but if you're looking for relaxation in all its forms, a pretty good bet. And we did sleep rather well….
The Old Course Hotel, St Andrews, Kingdom of Fife, Scotland KY16 9SP. For more information about the Kohler Waters spa, please visit www.oldcoursehotel.co.uk.