It's November and I'm heading for Snowdonia. The ultimate wet weekend in Wales, right? Yes, but not quite as you might be expecting.
Adventure Parc Snowdonia is the country's first-ever inland lagoon where you can learn to surf. (It was the first commercial surfing lagoon in the world when it opened in 2015.) It's gigantic, filled with six million gallons of pure Welsh rainwater piped down from the reservoirs in the Snowdonia National Park and into the lagoon once it's been through the Hydro Electric Power Station next door.
The water is slightly brownish in colour due to the peat beds it's travelled through. Don't let that worry you, though, it's all cleaned through the underground filtration system. In fact, it's probably good enough to drink. And this is just as well as you will no doubt soon be gulping some down…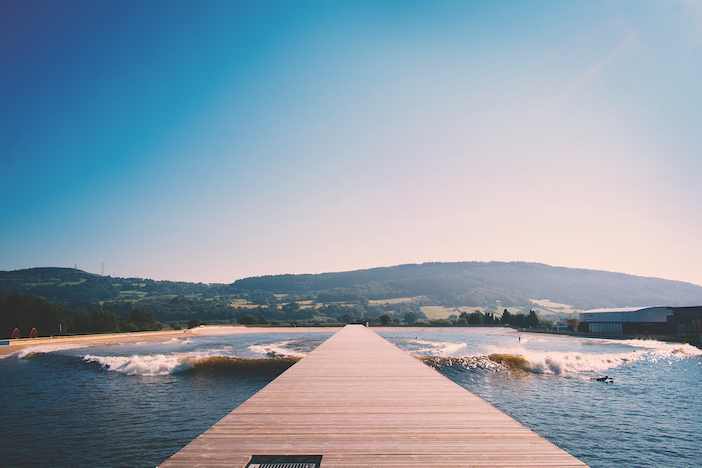 The Welsh mountains may seem a funny place to learn to surf but you do have the regularity and reliability of a constant wave here up to 2m high. This is created by a moving wall that slides up and down the 300m lagoon creating a building wave in its wake – it works a bit like a snow plough. Surfers lie atop their boards and start paddling away from it (is this panic I sense in the beginners' bay?) and hope to be lifted up on the crest and then stand on the board and ride it out. That is something so beyond my wildest dreams, it's not even worth trying. But there are some here who are pretty expert and it's impressive stuff.
The surfing lagoon may be the main draw here but there is even more: a massive climbing wall, a zip line, a freefall bungee jump, a skate board park, mountain biking, ropes, indoor caving and more. So if you're looking for an adventurous get-away with some friends or you have super-active kids, this is the place. You can even opt for relatively adventurous sleeping arrangements. There are wooden glamping pods in the woods or next to the lagoon – basic but fun.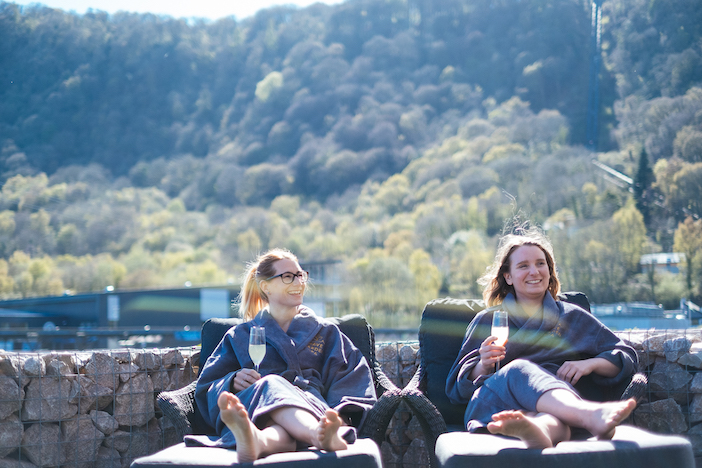 But wait. Isn't this a spa column? Indeed it is. And since May this year, you don't have to do the glamping (or indeed the surfing, though you can get a ringside seat). The new Hilton Garden Inn (it opened in May this year) sits lagoon-side and shares its views of mountains and forests. And its Wave Garden Spa takes its name and its theme from the lagoon.
This isn't just about paying lip service to the name, though. Surfing was invented, of course, in Polynesia. And it is the ocean and the massages of the Polynesian islands that inspire the treatments here. So I went for – what else? – the Iles Pacifique Spa Ritual.
Now this may sound a bit unlikely in North Wales. But don't you believe it. My therapist, Aisha, knew exactly what she was about and this was one of the most relaxing and indulgent massages I have experienced. The treatment room was spacious, softly lit and reverberated with the sound of waves breaking. No tinkly music here – just the sounds of nature's most powerful force and a scent of vanilla in the air.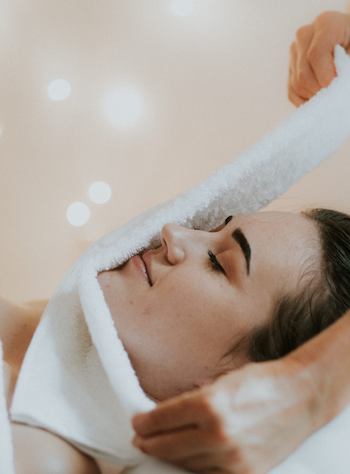 Now I was also booked in for a facial (Heart of the Ocean Facial) but Aisha was going to be doing that, too. So I had some two and a half hours of indulgence ahead. I had already spent a couple of hours in the hydro-spa: sauna, steam, Himalayan salt sauna, foot spa, and hydrotherapy bath indoors; and "barrel sauna", another hydrotherapy bath and relaxation room outside. The relaxation room really lives up to its name and looks out on mountain and forest and – during the last weekend of October – enormous dragonflies. The weather in Snowdonia, despite the worst pronouncements of the BBC weather forecasters, turned out to be sunny and mild. Astonishing.
But back to my treatments. We began with the body treatment and this started with a vanilla-scented foot scrub that Aisha likened to walking on the beach. And it does indeed comprise Bora Bora sand, sea salt, coconut shell and algo-monoi. Now, for those who don't know the wonders of Polynesia, monoi (also called tiare in Tahiti) is the headiest scented flower on the planet. We call it gardenia and, if I had to pick one scent in the world as my favourite, this would be it.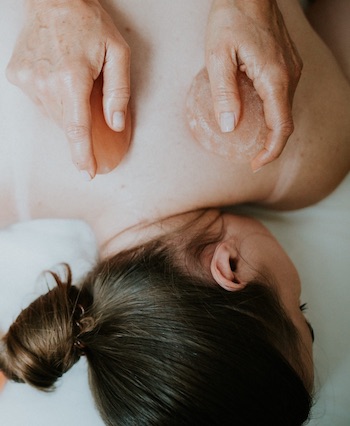 The scrub extends not just to the feet but the lower legs and includes a firm massage after which the scrub itself is removed ready for the main event. The movements in this massage are based on traditional Polynesian Mahana massage – slow and powerful but simultaneously gentle, imitating the ebb and flow of the ocean itself. There are no vicious thumbs probing knotty shoulders here. Instead, there are moves that are rolling or circular, long, slow pulls, rhythmic motions and moments of stillness. There was a moment when my fingers were curled inwards and then opened out like seaweed. You know that feeling when you stand with your feet in the water and each time the waves ebb, your heels sink a little further into the sand? This image came to me repeatedly.
Aisha used her hands and forearms but also pouches of hot sand, sliding up and down over oiled skin – first my left leg, then my left arm; then a deliciously long back massage; and then down my right arm and finally my right leg. By the time I turned over, I was utterly relaxed.
The Heart of the Ocean facial is a personalised Thalgo signature facial and is based on your skin's particular needs. Thalgo, of course, uses the marine environment to make highly effective skincare products, so you can see how that ocean theme continues.
This facial follows the traditional path of cleansing, exfoliation, mask and moisturiser but it's all done with a certain rhythm, designed to relax the muscles of the face, neck and shoulders. So products are applied, massaged in to the skin and removed with hot, damp towels applied first across the collarbone and then folded upwards across the throat and face.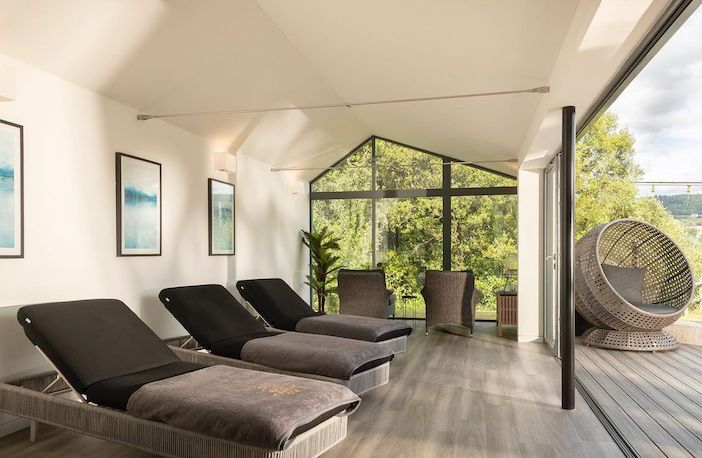 And so many products: gentle cleansing milk, purifying gel, melt-in scrub, deeply nourishing mask, perfect matte fluid, energising anti-pollution eye gel, reviving mist. The mask is massaged not just into the face but the throat, across the collarbone, up the back of the neck, even my ears and hair get the full treatment. And my hair gets even more – Aisha gives me a great scalp massage using a combination of shea butter, coconut oil scented with that amazing monoi.
This does mean you end up looking like a haystack, though surely a small price to pay in the circumstances. But Aisha advised leaving the oils on the skin and hair for as long as possible for maximum results. So I decided to return to my room wild of hair and carrying two sand pouches, disregarding the curious stares. But, there again, maybe no one noticed. Did I mention it was Halloween weekend?
For more information about the Wave Garden Spa, including details of treatments and winter packages, please visit www.wavegardenspa.com.