In the evenings, from my balcony next to the Dead Sea, I can see the lights of Jerusalem twinkling across the water. I am in a region suffused with history both ancient and rather more modern. At the northernmost end of the sea, the narrow River Jordan forms the boundary between the territories of Jordan and Israel and for decades the surrounding area was a vast minefield. Since the peace agreement between the two countries, the archaeologists have moved in and discovered the site where John the Baptist baptised Jesus. They have uncovered, too, a number of the earliest Christian churches and baptism tanks that grew up around the spot. In the hillsides above there are caves where hermits meditated and, not far from here, they found the Dead Sea scrolls.
There is a sense of timelessness here. The middle-eastern sun lights up the pale mountains of the surrounding landscape and this saltiest of seas. Both dazzle eyes used to cloudier northern skies. It's a unique area being, at 430 metres below sea level, the lowest place on Earth and the sun's ultraviolet rays are filtered and reduced by this minus altitude. As a result, you are less likely to burn and you can spend longer soaking up not just the sun but the sea's minerals that are constantly evaporating into the atmosphere – you inhale them before you even get into the sea. The great depth results, too, in a higher atmospheric pressure and you really do breathe easy.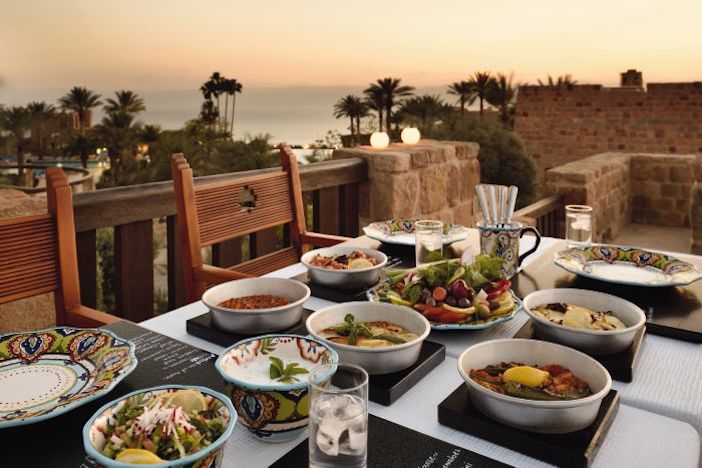 So, if you're looking for the most therapeutic winter sun on the planet, you need to head to Jordan and the Dead Sea. I wouldn't recommend summer when the temperature is impossibly high (as well as the humidity) but in the winter it's warm enough to sunbathe (I was there in January). And maybe it's something to do with the unique air and minerals and water but there is something about this place that feels deeply tranquil. You sleep well and both body and mind seem to relax naturally.
I am staying at the Movenpick Resort. Built as an idealised version of an Arab village in the palely glowing local stone, there are abundant gardens, shady passageways, courtyards with fountains, archways and birdsong. The resort has its own Dead Sea beach frontage so you can go down to the sea itself and float. Be warned, though, don't get in the water if you have any cuts or broken skin and definitely don't get any water in your eyes – it really stings! There is also a bucket of ready-to-use Dead Sea mud next to the water with which to plaster yourself. It's good for skin and joint problems and as a purifying beauty treatment (Cleopatra swore by it). Getting in the sea is fine and floating is compulsory (you can't swim, there's too much salt) though getting out can be a challenge in terms of putting your feet down while the sea keeps pushing them back up again…
Alternatively, you can go to the Movenpick's beautiful Zara Spa where they have a floatation pool with Dead Sea water (cleaned up so that you don't have the sulphurous smell you sometimes get in hot weather). There is a massive indoor/outdoor pool with all kinds of hydrotherapy areas and an infinity edge overlooking the sea itself. There are various other pools, saunas and steam, outside areas where you can lie on a lounger or have a light lunch – there are, in fact, some 6000 square metres of spa, all very tranquil.
And then there are the treatments. These mostly focus – why wouldn't they? – on the unique environment and local ingredients of the Dead Sea, particularly the water, the minerals, the salt and the mud. There is a beautiful hammam where you can have the traditional treatment that starts with full-body exfoliation, removing dead skin cells and boosting the circulation. Then there is a body mask using the Dead Sea mud and while this sinks in you have a facial including a mask made of white honey and royal jelly. This particular treatment is called "Thousand and one Nights" and I was pretty tempted but in the end decided on the Dead Sea Ritual.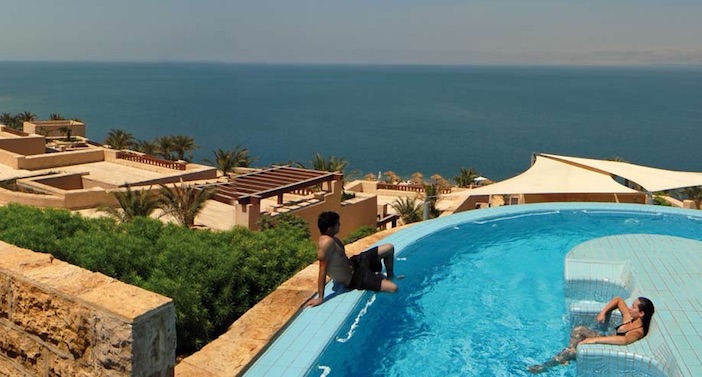 Now, I knew there was quite a lot involved in this (the clue is always in the word "ritual") but I hadn't really taken in that it lasted for three hours, there were four main treatments, two showers and I would move between two treatment rooms. There was, though, just one therapist. Jolita is tiny, Indonesian and a woman of superhuman strength. All I can say is, I'm glad I opted for medium pressure in my massage – Jolita's strong pressure would, I imagine, reduce the average rugby prop forward to tears in minutes…
So we start with a Dead Sea salt scrub that unusually is left to soak in for 10 minutes before showering off. This so the mineral salts as well as the oil are absorbed and, when I do shower them off, my skin is already super silky. Then it's time for the mud. It is applied warm and covers my whole body, then I'm wrapped up in plastic sheeting with two towels over the top and I start to heat up. While I'm busy absoribng the minerals and salts in the mud, Jolita gives me first a head massage and then a face massage. She uses a strong deep pressure all the way and I sink into a state of deep relaxation.
After that, I'm left to cook for a while, the mud continuing to gradually heat up so I feel rather like a gently poaching salmon. Then it's time for another shower and we're off to the dry treatment area for stage two.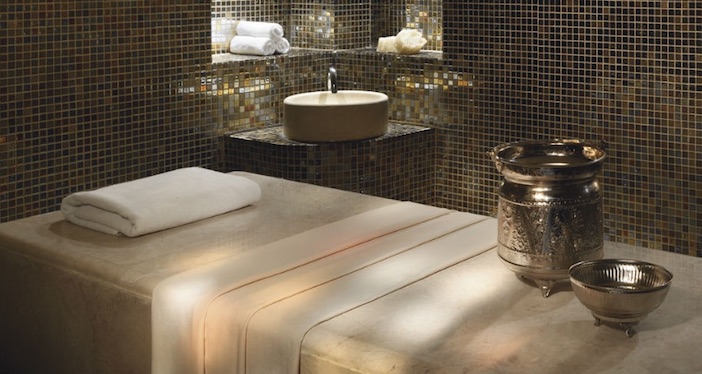 I start facing down (unusually) covered in towels and Jolita arranges my limbs – so my arms dangling off the sides of the bed. This is for a reason. She links her fingers through mine and stretches my arm and shoulder back across to the other side of the bed. Then she works her way on top of the towel in a very Thai massage, pressing up through the feet, back of the legs and the back.
After this starter massage, the main course of the oil massage begins. Jolita works on my toes, pressing them down individually on to the bed and then continuing to press all over the soles of my feet (quite a sensitive area, this, I find). She works gradually up my legs and on to my back. There are long, deep strokes and then squeezing moves that she finishes with a flourish and a clap of her hands in the air. There is strong, strong work over my shoulders that seem unusually knotty and she takes this up into the side of neck and around the base of my skull, stretching and pressing, and then over the scalp. The pressure is deep and there's more clapping – all oddly relaxing. I sigh and turn over.
And there's even more to come – a facial with cleansing, exfoliating, masks and – you guessed it – more massage. It is a truly top to toe experience. All three hours of it. Cleopatra would have approved, I think.
For more information, including details of packages and offers, visit www.movenpick.com.