We're on a speedboat, spray flying as we skim the surface of the water, heading for Jarada Island, 14km off Bahrain's mainland. It might be November and winter here, but the sun is beating down, it's 30C and the sky is cloudless.
The island appears and disappears daily along with the tide, and as we approach after 45 minutes on the boat, Jarada appears like a long, thin streak of pearl white against the clear blue sea, surrounded by a number of pristine boats whose disembarked passengers have had the same idea: lunch with a difference.
We wade ashore with our Bahraini picnic – steaks and lamb chops ready to be barbecued – and the boat's captain doubles as chef. While he's cooking I wander out into the shallow, warm water with fish, sea urchins and oyster shells clearly visible. Oysters are plentiful here and if you find a pearl you can keep it. Indeed, Bahrain was founded on pearls thousands of years ago, long before oil was struck.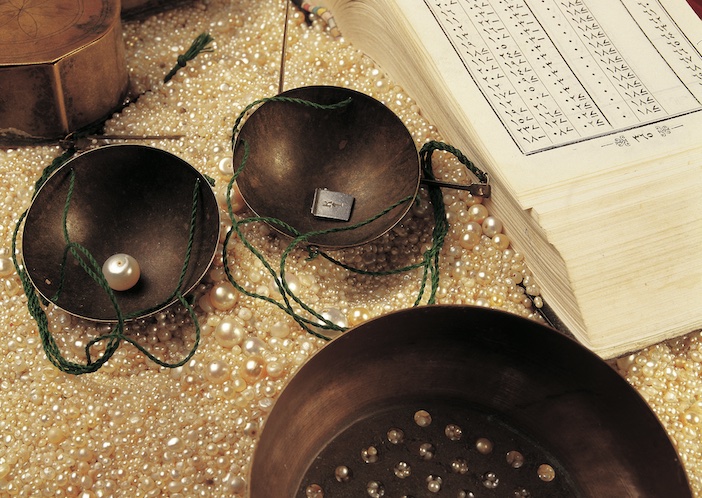 Lunch is ready but we've mistimed the tide, which is threatening to swallow our towels and then us, so we eat our picnic faster than is polite, quickly pack everything away and wade to the boat – the water now much higher up our legs – to speed back to the marina on the mainland. I look round to see the island disappearing under the water.
Bahrain is an archipelago of 33 islands off the coast of Saudi Arabia in the Arabian Gulf, a location that made it the region's most important commercial crossroads for more than 4,000 years as a trading hub and route for the pearl-diving industry, and certainly there's a feeling of history and tradition here. Take the souks, for example. Bab Al Bahrain, a traditional souk in the capital Manama, is the place to go for spices, silks, shisha pipes, mosaic glass lanterns, gold jewellery, toys, perfume oils and incense. You'll also find electronic goods, record players (vinyl must be having a resurgence here, too) and clothing.
In the souk's labyrinth of narrow streets we come across a Hindu temple. All religions here respect each other, explains our guide, Husain, who's also keen for us to visit a synagogue. William, the man who looks after it, tells us that this synagogue was built in 1935, despite only 35 people, or six families, in Bahrain being Jewish at the time. He wants us to see a picture of a British visitor from 10 days ago – and pulls out his phone to show us a photo of himself with ex-prime minister Theresa May in this very room. Random.
Most people here are Muslims, of course, and the Al Fateh Grand Mosque in Juffair, a suburb of the capital, is the largest in Bahrain, able to hold 7,000 worshippers and built under the patronage of the late Sheikh Isa Bin Salman Al Khalifa in the 1980s. As you enter, you'll be asked to remove your shoes and, if you're female, put on the traditional abaya (robe) and hijab. Once inside, a guide will explain many aspects of Islam, including why the calls to prayer are at certain times, and you'll see the many beautiful handblown glass lights, the large fibreglass-domed roof with its huge chandelier and Kufic calligraphy on the walls. It's an inspiring visit and if you'd like to learn more you can help yourself to books about Islam on the way out.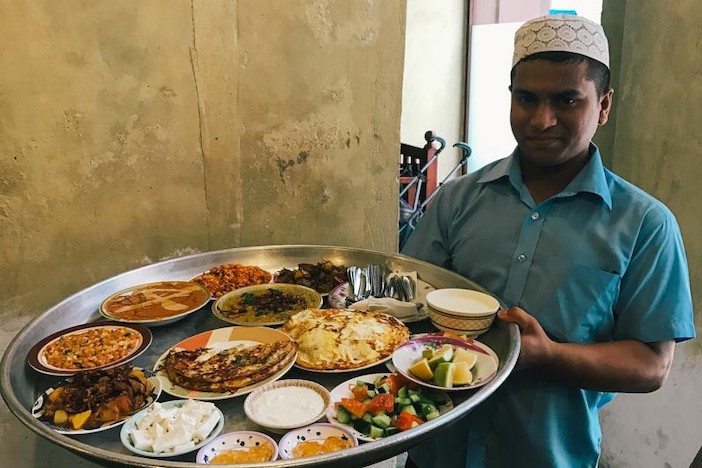 Wanting to find out more about the country's culture and traditions, we visited Muharraq, Bahrain's capital in the 19th century and the centre of the pearl trade. Today you can wander the narrow alleyways and visit traditional Bahraini homes along with cafés serving local food and small museums exhibiting traditional handicrafts, such as Al-Kurar, practised at home by women who wove golden threads (zari) onto dresses. Muharraq was made a UNESCO Heritage site in 2019.
Another UNESCO site, some way out of town, is the archaeological site at Qal'at at Al-Bahrain, a fort built by the Portuguese in the 16th century and believed to have been the capital of the Dilman Empire. It's worth a walk around the walls of the fort (some people are on Arabian horses), for another sense of how it might have felt to live here hundreds of years ago and to glance back at the capital, which looks like skyscrapers rising out of the desert – and that's pretty much what it is.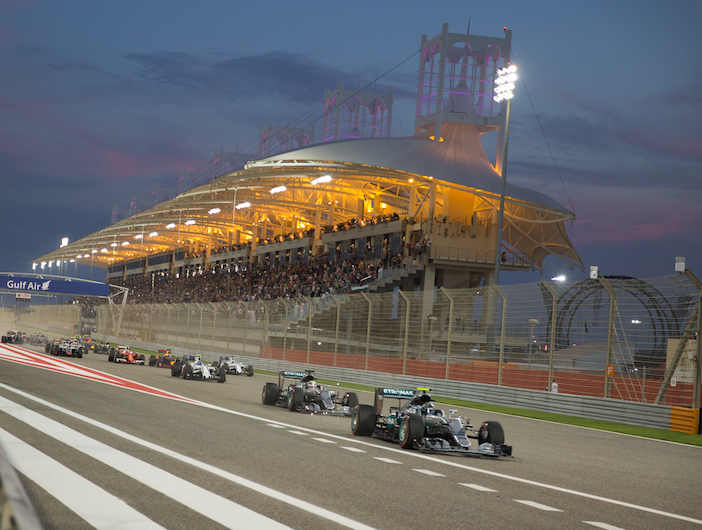 Close to the fort and by way of complete contrast is the Bahrain International Circuit, due to host the F1 Gulf Air Bahrain Grand Prix in 2023. We walk into the spectators' area and watch the cars as they roar past. A short walk from the F1 track is the Bahrain International Karting Circuit. After a brief safety talk, we pull on the red racing onesie and helmet and drive around for two 15-minute sessions, imagining ourselves as Lewis Hamilton but slower. Still, it's exhilarating and fun.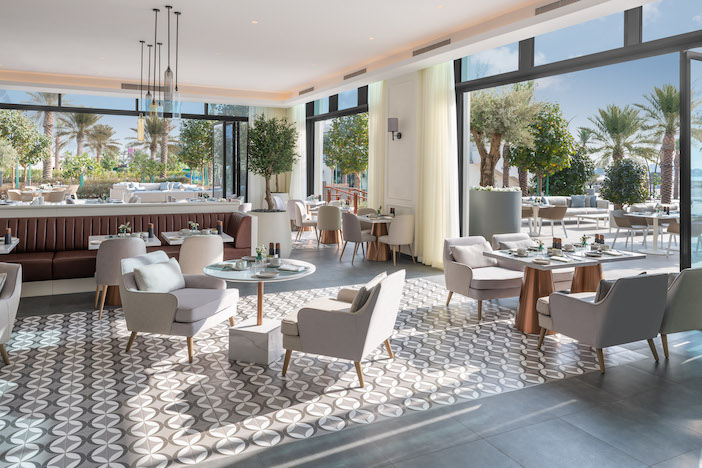 After all this activity it's time to rest and eat. Bahrain has no shortage of five-star hotels. For our first night, we're staying nearer to the capital in the five-star Vida Beach Resort Madrassa Al Bahrain. This chic, spacious hotel has a young and funky vibe, the staff are friendly and the rooms and suites are large and comfortable. My stylish suite had a view over a pool to the sea, perfect for watching the sunset. Vida offers a huge choice for breakfast – all nationalities are catered for – along with lunches and suppers in The Bistro by Origins. You can eat outside, too, where large screens show sporting events and there's a view of the beach.
A minute's walk from Vida is its neighbour The Address, opened in November 2022, also five-star and located on Marassi beachfront. The breakfasts here are superb with plenty of choice for all tastes, there are a number of dining venues for lunch and dinner, and the rooms and suites are luxurious and spacious with similar sunset views. While at The Address, be sure to check out the spa, which has six serene treatment rooms, where I had one of the best and most blissful massages ever – it lasted an hour and I floated back to my suite.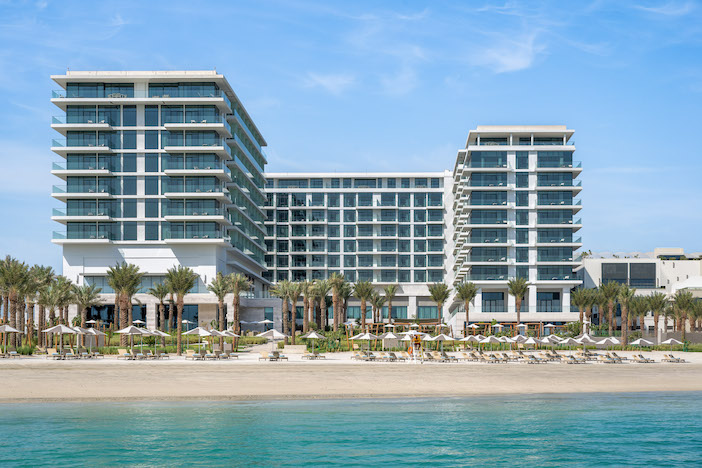 Another hotel offering good food is the Four Seasons Hotel Bahrain Bay, located on its own private island. Re/Asian Cuisine by Wolfgang Puck, on the 50th floor, has views of the glittering Bahrain skyline, from 7pm there's a DJ and candles complement the low lighting in the art deco-inspired design. The idea is reimagined Asian cuisine and outstanding dishes include a starter of chilli dan dan chicken dumplings with toasted peanuts and a main course of falling-apart braised beef short rib with peanut rendang, kaffir lime and coconut rice.
Finally, Thursday night is the Arabic version of Friday night, and this is when the roads are packed with cars driving in from Saudi for the evening or weekend. We head to Block 338, Manama's arty district with fashionable rooftop bars and restaurants serving food from all over the world. We plump for Attic, a Greek restaurant using, where it can, sustainable and organic ingredients and where I enjoyed the best Greek food I've tasted outside Greece. As we leave around midnight, plenty of young Bahrainis and Saudis are still milling around, out to enjoy themselves and looking ready to continue into the small hours. Cosmopolitan, out for adventure – and all taking place in an island kingdom built on pearls.
For more information on visiting Bahrain go to www.bahrain.com and www.visitbahrain.bh.
Karen flew direct from Heathrow to Bahrain on Gulf Air, prices from London start at £715 return. For more information, please visit www.gulfair.com. For more information about Vida Beach Resort, please visit www.vidahotels.com. For more information about The Address Beach Resort Bahrain, please visit www.addresshotels.com.
Header photo: Bahrain World Trade Centre (photo by Charles-Adrien Fournier on Unsplash)