Lydia Manch visits a decidedly modern city with some decidedly old-fashioned charm… 
At street level, it could be Italy. Genoa, maybe, or Verona, somewhere cool and northern enough that the fog might still be clinging to the city long into the morning, still pooling in the corners of Romanesque stonework.
Even in this weather the colonnades running the length of some of the older buildings are scattered with people, knocking back espresso and smoking. We spent last night in an old-school, wooden-beamed restaurant in a cobbled corner of the city, drinking flagons of cheap, flinty local wine; eating punchy cheese and improbable amounts of meat.
So far, so Mediterranean.
It's a different story 26 floors above the city. From the top of the Jumeirah's tower, this is more the Frankfurt we expected. This is the Frankfurt of silver skyscrapers jabbing into the sky on all sides, the Frankfurt of business deals and banking HQs, of luxury hotels and high-shine comforts.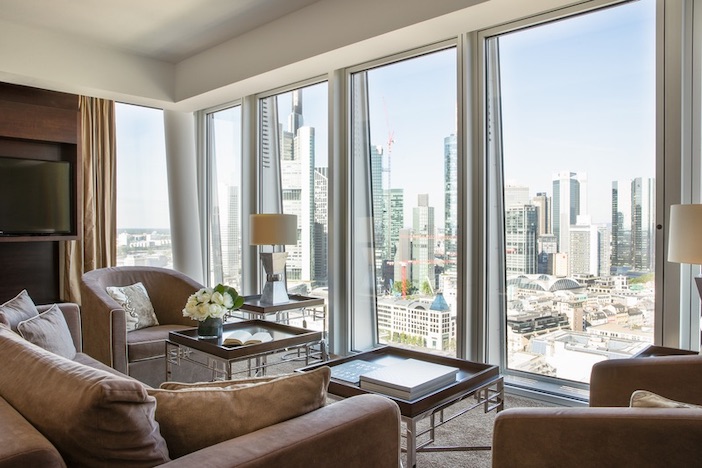 And this particular luxury hotel comes with a hell of a cityscape. Even from the twelfth floor our Panoramic Suite very much does what it says on the label, floor-to-ceiling windows wrapping around the living room and bedroom space.
The 26th floor, though. That's the hot ticket at sunset. Not usually open to the public, the top level of the Jumeirah Frankfurt's tower is a machinery and ops room – a buzzing hum of generators and infrastructure that guests of the hotel can get a backstage pass to, via the free sunset Skyline Experience every weekend.
Getting to run around the service corridors of a skyscraper at night is a lot of our Nakatomi Plaza fantasies made real. And the view at sunset's reason enough to head behind the scenes: a bristle of steel-and-glass that takes in all 10 of Germany's tallest skyscrapers, and then dropping out into a broad sweep of greenery and hills in the near distance. Maybe forty-five minutes' drive from the Jumeirah's centre-of-the-city tower, and you'd be in vineyard and village territory. Riesling country.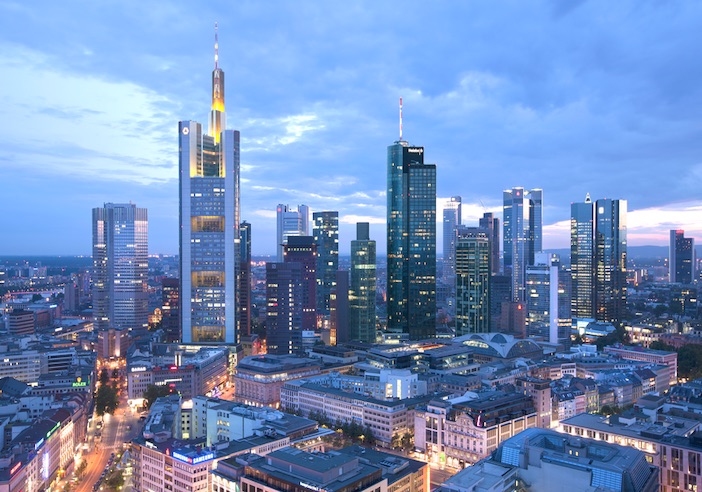 Despite all the slick, five-star luxury the Jumeirah packs into its restaurant, its suites and their Talise spa – and the luxury comes thick and fast – when it comes to leisure travel the biggest flex the hotel has in its pocket is still the location. Frankfurt isn't enormous, and our suite's at the centre of it: fifteen minutes' taxi from the airport, ten minutes' walk to the river, fifteen to the Staedel Museum and the traditional apfelwein restaurants lining the streets of the Sachsenhauser neighbourhood.
Back at ground level, Frankfurt's balance of old-meets-new, of city-meets-Rheingau, feels tipped in favour away from the corporate, and towards the independent, the traditional… and often the spectacularly decadent.
We arrive in light rain at Kleinemarkthalle – the old town's covered market – in search of a dry seat and a hot drink. It's well before lunch, so we're expecting the wooden-beamed wine terrace to be empty, or filled with coffee drinkers and a late breakfast crowd.
Nein, though. 10.30am's late enough for the terrace to be buzzing with Frankfurters balancing goblets of local wine and big plates of dumplings and pork chops, steam curling up into the cool air. Same relaxed approach to breakfast wine we expect from a Mediterranean city, same prices low enough to make a Londoner want to weep gently into their 2.5 euro glass of flinty, incredible local sekt.
It's unfair, maybe, that we keep thinking of it as something borrowed from the Med. Frankfurt's boozy and al fresco and artistic and food-oriented in its own right; Frankfurt has world-renowned museums and galleries, a long history of fostering literature and the arts, some of the country's most famous vineyards in easy reach of the city.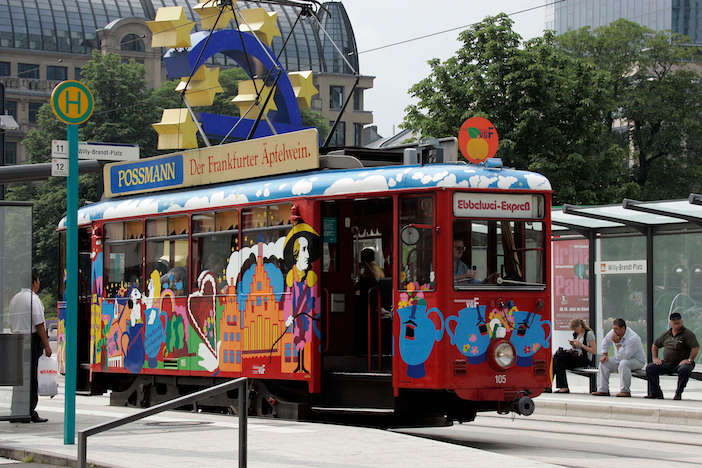 Frankfurt has neo-gothic architecture for days, son. It has the Ebbelwei Express, an old, wooden tram circling the city, refitted in trippy colours, speakers playing vigorous oompah music and bottle openers attached to every table; a bottle of apfelwein and a bag of pretzels come included in the 8 euro ticket.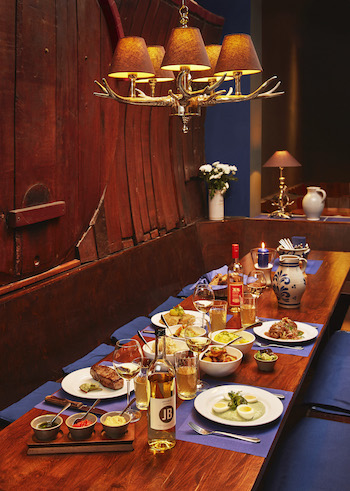 Frankfurt has a compellingly mad set of hyperlocal speciality dishes: try ordering 'handcheese with music', anywhere in Germany but Frankfurt and see where it gets you; honourable mention to the Frankfurt grune soße, a cold, creamy, eggy, bright green sauce somewhere between a yoghurty soup and a herby custard.
Frankfurt has magnificent schnitzel. It has those traditional applewine restaurants – including the glorious Affentor Schaenke – where you eat said schnitzel on long, shouty, candlelit tables. Early licences, and late licences. And, importantly, the calmly mature approach to drinking that allows people to take advantage of both without absolute havoc reigning, the way it would if London bars suddenly started serving extremely cheap, good alcohol from 9am to 2am.
We spend our last day hitting the Jumeirah breakfast buffet hard, wandering the river, propping up various food stands at Kleinmarkthalle and generally doing our part to make sure there's not much Rheingau Sekt or local honey left for the export market.
We knew Frankfurt would come with all mod cons. We just hadn't realised there'd also be so much old-school charm.
Rooms at the Jumeirah Frankfurt start from 209 euros for a deluxe room, with the Panoramic Suite at 506 euros a night for two adults with breakfast. Jumeirah Frankfurt, Thurn-und-Taxis-Platz 2, 60313 Frankfurt am Main, Germany. 
For more details about Frankfurt travel, including city tours please visit the official website at www.frankfurt-tourismus.de.