Of all the North African countries, Tunisia feels the most European. There are those wide tree-lined boulevards in the capital, Tunis, edged with outdoor cafes. There is the French (and a little Italian) influence in the language and the food.
There is a relaxed feeling in the air – most people wear western dress, alcohol is not an issue (in fact, Tunisians make some excellent wines though they are only available within the country) and everyone speaks French as well as Arabic (and quite a lot of English).
And, given it's just a two and a half hour flight, this makes it a very reasonable destination if you fancy a bit of winter sun. It won't be boiling – upper teens or low twenties are the norm during the months that are coldest in the UK – but then it does have rather more to offer than being splattered against a lounger for a week or two.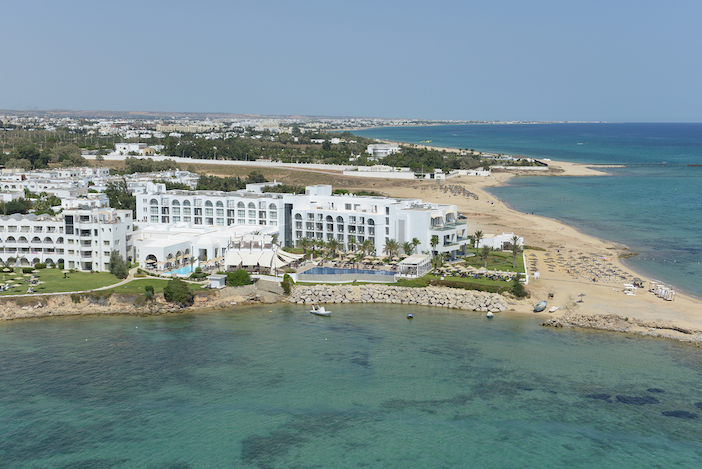 This is not to say there aren't some excellent resort hotels along the coast (there's a wide choice of four and five stars) but it would seem a shame to miss out on all that culture and food. Tunisia prides itself on its food – not just the inventiveness of its cuisine but also the fact that it's super fresh. You get the idea pretty quickly in the Marché Central in Tunis.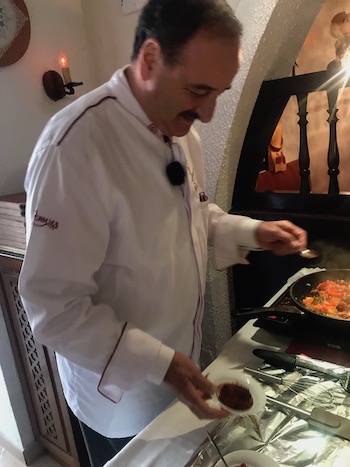 There are mountains of fruit and vegetables (they fed a great deal of the Roman empire a couple of thousand years ago) and the fish market is a thing to behold. Did I say fresh? Eels slither, escargot wave their tentacles at you and fish do back flips on the counter.
Hardly surprisingly, then, when I got to Dar Bel Hadj, deep in the Tunis Medina, I ordered the fish. This is a restaurant that had been a rather grand private house and is riad-shaped with the main dining area in the courtyard, open to the sky in the summer but with a cover in the winter (just in case of a shower). It's a charming spot, with beautiful tiles, elegant archways and delicate latticework. It's not a million miles (literally and figuratively) from the Alhambra.
Tunisia – just like the rest of us – has celebrity chefs. One of the most famous is Rafik Tlatli whose restaurant in Nabeul is, rather curiously, named Slovenia (in honour of his Slovenian wife). His cooking, though, is definitely Tunisian and he's a TV star, to boot. So, being used to demonstrations, he didn't cook the local speciality, Ojja, in the privacy of his restaurant kitchen, he did it before my very eyes so I could recreate it at home.
Ojja is Tunisian comfort food and often cooked at home and its main ingredients are eggs, tomatoes, peppers and spices (most definitely including harissa) and Merguez sausages. This is definitely not an omelette and it was utterly delicious though, when I get back to my own kitchen, I might go just a little easier on the spices.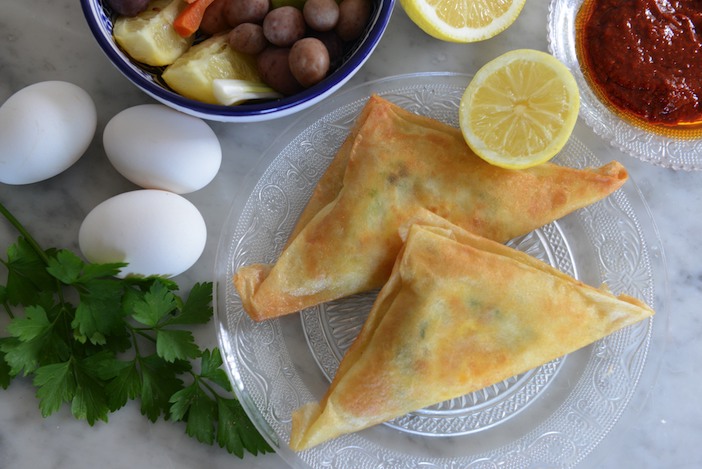 At the other end of the culinary spectrum, there is Tunisia's famous street food, brik. You can order this in a restaurant and it's on offer in most or you can buy it from a fast-food stall and eat it in the street. It looks a bit like a Cornish pasty but there are two surprises in store if that's what you are expecting.
The first is that harissa – Tunisia's ubiquitous spicy sauce is mixed in with the onion, parsley, tuna or chicken. The second one is the egg. It goes in with the rest of the filling raw and is cooked when the filo pastry wrapping is deep fried. It comes out runny – you have been warned.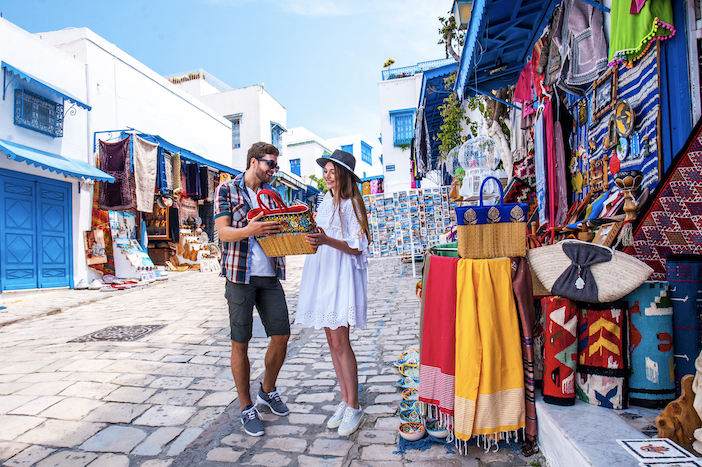 Up in Sidi Bou Said (and this has my vote for North Africa's prettiest village) they are famous for their Bambalounis. This is essentially a deep-fried doughnut that you eat very hot and, for extra calories, you can have it coated in icing sugar too. Sidi Bou Said is picture perfect, high on a hill looking down over Tunis and Carthage, it's all cobbled streets and white houses with sea-blue doors, railings and shutters. It's gorgeous any time but sitting in one of the outdoor cafes or restaurants at sunset overlooking the sea is particularly special.
Eat your way around Tunisia? I can think of worse ways to spend the winter.