One of the world's most famous train journeys, the Rocky Mountaineer takes you from the city of Vancouver into the mountain wilderness of the Rockies. The railroad itself is a remarkable feat of engineering – bridges, tracks through canyons and alongside rivers, tunnels, some of them built as spirals through the mountains.
Nowadays, you travel in style, in a raised cabin with huge domed windows giving panoramic views and comfortable spacious reclining seats complete with footrests, heating and lumbar supports! Downstairs there is a fine dining restaurant, free-flowing wine, a fascinating commentary and an open-air "vestibule" platform for taking pictures – and this is a ride that offers plenty of opportunities for photographers.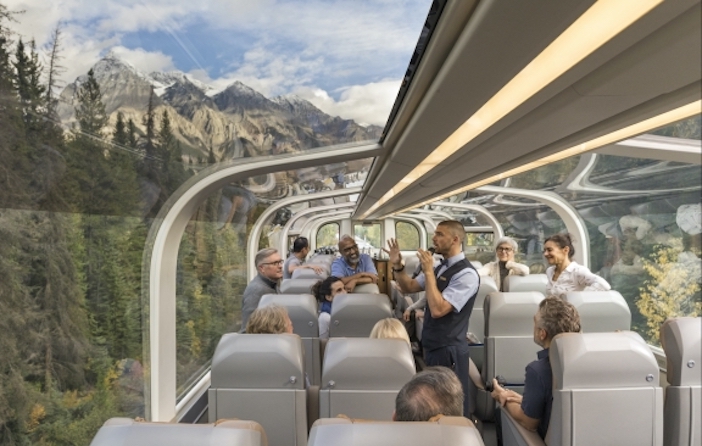 The first day begins in the farmlands surrounding Vancouver, logs being towed along the surface of the wide waters of the River Fraser. This is a waterway we'll follow for much of the day and a place where millions of salmon come every year to spawn. All five types of Pacific salmon come here and later we find the sockeye particularly easy to spot in the shallows – they're bright red.
Soon we're in the Coast Mountains, watching as Gold Rush ghost towns flash past and the raging white waters of Hell's Gate lie beneath us – the volume of water rushing through here is three times greater than Niagara Falls. The landscape changes again to scrub bush and desert as we move into the "rain shadow" land beyond the Coast Mountains.
After a night in Kamloops, the second day we are heading into the Rocky Mountains themselves. En route, there are deep gorges, dense forests, soaring snow-topped mountains, vast blue lakes. Bears (and, yes, we do find them) fish at the water's edge, deer stare out from the woods, ospreys nest on bridges and bald eagles soar.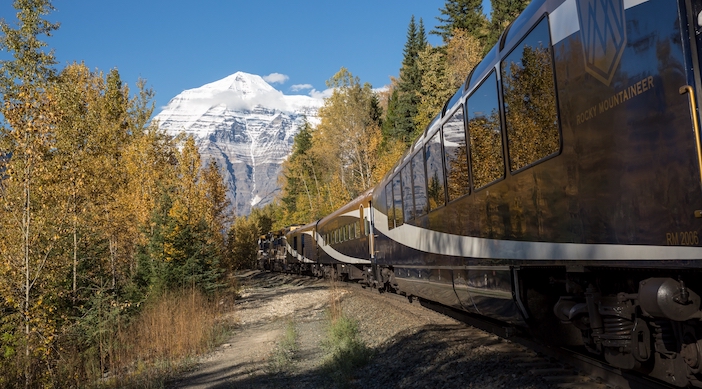 We travel through the Yoho National Park – "yoho" is a Cree word meaning "wonder or awe" and appropriate given the beauty of the landscape here with its vast ice fields and some of the highest peaks in the Rockies. These heights are the source of the Kicking Horse River which accompanies us for much of the day.
After the extraordinary Spiral Tunnels, the Rockies themselves rise up full of cascading waterfalls, jagged peaks and the beautiful sparkling waters of Lake Louise. This is all part of Banff National Park, Canada's first and established in 1885. It is 2,564 square miles of mountains full of glaciers and ice fields, dense forests and the charming alpine towns of Banff (where our second hotel awaits) and Jasper. Local residents include grizzly bears, cougars, wolverine, elk, bighorn sheep and moose.
It is a remarkable journey that starts at sea level in Vancouver and climbs steadily to 5330ft over two days. A peak wilderness experience in every sense.
For more information about The Rocky Mountaineer, including details of routes and packages, please visit www.rockymountaineer.com.
Photos courtesy of Rocky Mountaineer