From the top of the Belvedere – the highest point of the Hanging Gardens of Marqueyssac, one is afforded a wide panoramic view over the banks of the River Dordogne. Three majestic châteaux painted in a limestone brilliance stick out from the otherwise verdant green landscape, framed for us today by yellow, spotty 'citron' butterflies.
Here we are, deep in the heart of France, in the Périgord noir, a couple of hours' drive north from Toulouse, the easiest point of access from London in early spring. There is sun on our faces as we survey the valley below, identifying Château Beynac on the horizon, where Ridley Scott's 'The Last Duel' was filmed, and the charming village of La Roque-Gageac, where summer revellers continue to enjoy the scene once also frequented by Vikings (their modern day canoes now seen with more regularity by outdoor pursuits specialists in the summer months). Astronomer Jean Tarde, born here in 1561, was the first to draw a map of the region, telling its stories – perhaps as the original publicist of the area, under its wide-open skies, and pretty, medieval environs.
These stunning Italian-inspired garden grounds attract visitors a plenty during the higher season, where 150,000 boxwood trees sate the curiosity of any ladies (and gents) of literary persuasion – burgeoning Alices will find their looking glasses in the château's now prettily restored bedrooms, while celestial creatures are uncovered in the form of reconstructed dinosaur (bones) bought at auction from Wyoming in 2017.
Poetry of 'The Tortoise and the Hare' and other such stories carry you further into the flora on turns of phrase written both in English and Italian, leaving you finally at the orangerie-like bistro for 'Kir a la violette', goats' cheese galettes, and locally made ice cream. Candle-lit Thursday evenings here are a must at dusk during the summer, while wellness-rich yoga will be the latest activity to participate in here as the year continues.
Many châteaux rooftops in the Périgord noir are crafted in a traditional, architecturally emblematic 'lauze' manner – a sort of stone 'thatch' almost, made of singular pieces that match the colour of the region's impressive viaducts and aqueducts, and other such splendid constructions that can be visited nearby. The region is alleged to have the most castles in all of France. Château Puymartin – now open to the public, is a former fortress from The Hundred Years War, still owned by the noble Montbron family, home to secret frescoes and other exhibitions that bring this house's history to life in all sorts of mysterious ways (the Chamber of Artemis and the White Lady exhibition may make you look twice).
On an altogether more glamorous front, visitors to this part of inner France can also stop off at Château des Milandes – former home to Parisian starlet, member of the French resistance and racial activist, Josephine Baker, who in her lifetime also adopted 12 'rainbow children' before finally retiring from the stage in 1975. Her shiny collection of performance attire and other memorabilia, including the château's unique decor, can be seen in a 'no photos' exhibition that climbs up through the house.
If glitz and glamour were the de rigeur signature here, the region, however, has not always been quite so exuberant. La Roque Saint Christophe in Peyzac-le-Moustier is a 55,000 year old piece of physically-geographic history. 1km of troglodyte fortress and shelter homes were built into the side of the rock, revealing a prehistoric way of life – one also shared at nearby UNESCO rated Lascaux.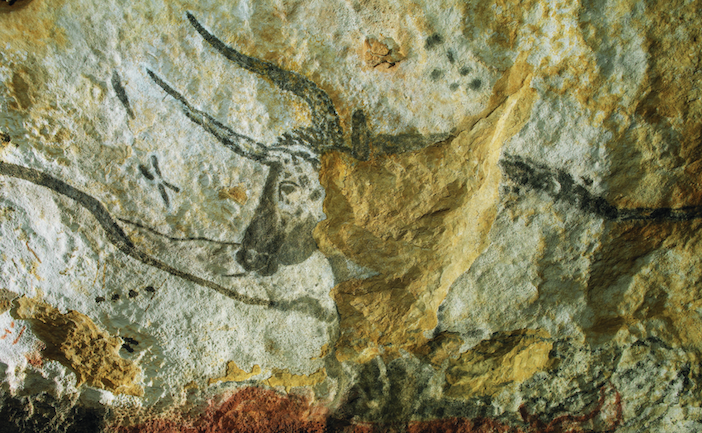 This ancient cave, first discovered by a group of young boys in 1940 when their dog went missing, has since become one of France's biggest 'attractions' – not simply for Lascaux 4 – an incredible complete replica of the original site (now closed to the public), whose technology lends itself to wandering under the thought to be 'spiritually-focused' parietal paintings that lines the cave's interior. Guided tours come highly recommended, should you have the time.
A more modern style of art abounds in the region today – as a surprise visit to the house-cum-atelier of Mireïo in the town of Sarlat showed us, when invited inside for a story-filled tour while we are caught waiting in the rain for a taxi one evening. Newspaper cuttings on her walls describe this place as 'Un maison galerie pour partager un bout de vie.' Galleries and antique shops stretch out along the cobbled streets of this poetic town, where you'll also find artisan 'echoppe's dedicated to selling foie gras, duck, goose and all sorts of truffle-infused confections. With such rich regional culinary finesse, it feels appropriate that back at the suspended gardens, a brief but brilliant exhibition depicts the artistic work of O'Galop, first illustrator of the Michelin man – a symbol long since associated with fine dining.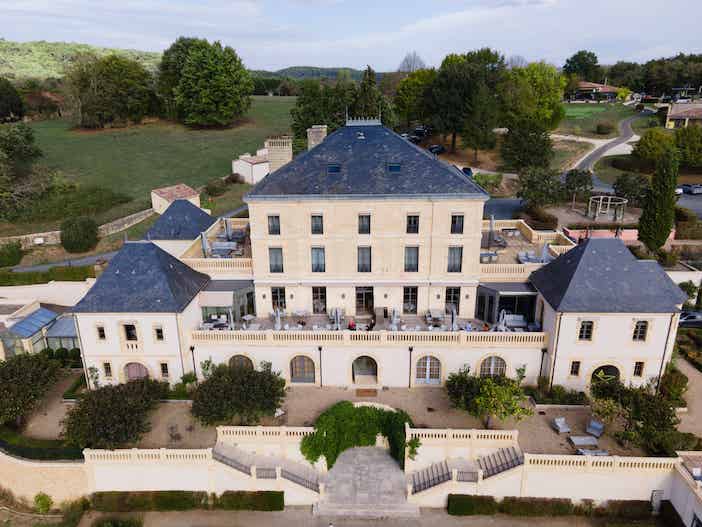 Perhaps the best place to combine all of these regional riches is with a stay at Domaine du Rochebois. The only five star hotel in the region, restored lovingly by two Moroccan-born brothers and their wives (their father also a master hotelier), the building was originally a Salesian monastery, then orphanage and then centre for convalescence. In 1989 one of the orphans, having come into good money, bought the property as a private residence. Today it stands as a symbol of regional luxury, with many original features, including the main staircase, still intact.
For the art, you will find sculptures by Pierre Treilhes decorating nooks and crannies with his upcycled metal from a variety of previous uses. For architecture, the bones of the building speak to the history of the region, a miniature chapel is now a private dining room, and the colours of the region – ochres, greens and purples can be found splashed on each of the 40 suites and bedroom walls.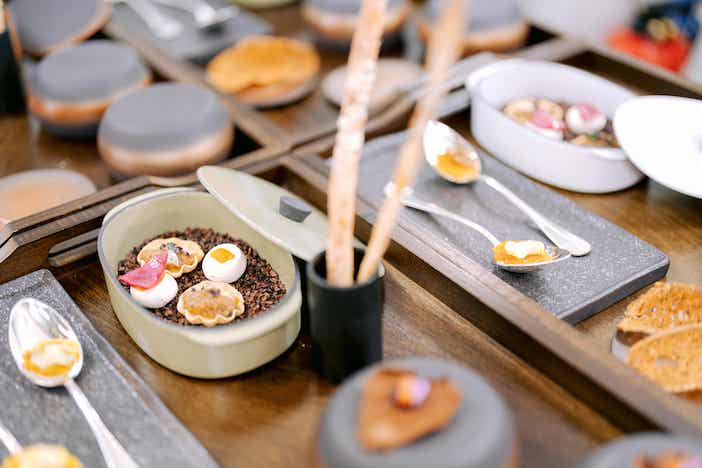 The fine dining restaurant which offers a set tasting menu, complete with butter sommelier (a delicious regional highlight) is bedecked with plates and placements curated in a Lascaux-esque style. Head Chef Jean-Philippe Vecco offers locally sourced ingredients, presented in a modern style, with high aspirations to continue his reputation away from his experience at other continental kitchens. The grounds extend out to offer pretty opportunity for weddings or large family parties, and there is also a golf bar to enjoy for more informal occasions.
Away from the golf club, open til late in the summer, another veritable Domaine du Rochebois richesse to be experienced is in the Nuxe spa – somewhere, we are told by General Manager Thomas Pruneyrac, that people will travel to from over 200km away just to relax into these golf ball and Parisian-brand based experiences (you'll also find Nuxe products and oils in the bedroom bathrooms – not to be confused with the vials of French whisky and vodka). These, and the multi- station sensorial wellness pool will inspire afterglows as bold as sunsets seen from hotel's ample, mulberry-tree-lined terrace.
From rags to riches, a stay of any length here has all the hallmarks of a modern day, French fairytale.
Stays at Domaine du Rochebois start from € 250 per room in low season and €450 in high season – inclusive of breakfast for two. For more information, including visit www.rochebois.com.
Header photo: Chateay Beynac (Penn Graphics, courtesy of Sarlat Tourism)