I've never done anything like this before. Hell, I've never wanted to do anything like this before. The nervous banter on the way up, once reassuring, now makes way for genuine alarm. But the three people who went before me survived – it even sounded like they enjoyed it. I've done the safety checks. I've had reassurances that it's fine. It's fun, even. But this…this goes against every human instinct. I'm standing on the edge of a precipice and I'm about to throw myself off it. I am, quite literally, jumping off a cliff.
This is Interlaken, in the centre of Switzerland, otherwise known as the 'Adventure Capital of Europe'. If Queenstown, New Zealand, is the Mecca of adrenaline sports, then Interlaken is its closest cousin. Its topography is designed for every conceivable contemporary activity that seems to be born of insanity.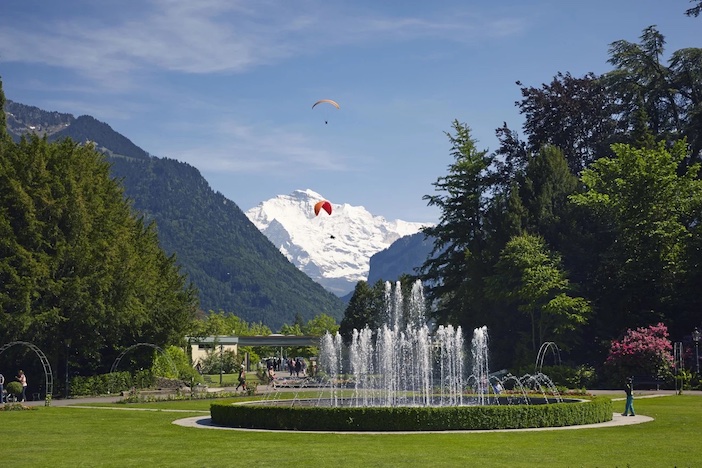 The town sits at the juncture between lakes Thun and Brienz (hence 'Inter Laken') in the Aare river, it's also at the foot of the Harder Kulm (there's no irony in that name either, if you've ever tried to climb it), itself virtually sheer towards its 1323m peak; the perfect platform for throwing yourself off it in whatever fashion you fancy – though most are paragliders taking a scenic descent to the park that sits in the middle of the town, opposite its grand Hotel Victoria. The lakes, too, are fed by rivers that tumble through canyons, providing ample opportunity for yet more crazed activities for the foolhardy. And that's my first; canyoning.
"It's not canoeing," our guide, Al, tells us, to much laughter. "That's not a joke, some people have not realised what they've signed up for." The smiles drop as quickly as they arrive. We're given a thermal wetsuit, shoes, and a helmet, each with a name. And, once decked out, 'Rambo' steps forth.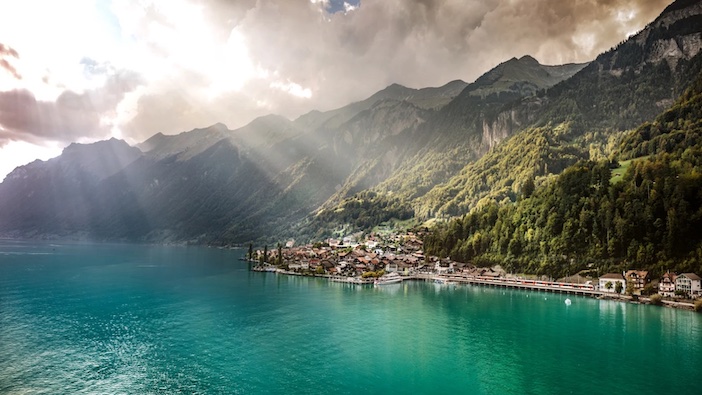 It's a 45-minute drive to Grimsel, during which our surprisingly erudite guides point out some of the local features on the impossibly photogenic drive through the Hasletal valley, sided by sheer rock faces and cotton-thin waterfalls, to a suitably adrenaline-pumping soundtrack of ambient house. It can't be understated how beautiful and pristine this place is. It's quite possible that Interlaken is one of the least known but most spectacular spots in Switzerland.
The drive through Brienz, which featured what was recently voted the world's most beautiful street, is like something out of a film set, where the art director has had to conjure up the postcard-like image. In my group, Nemo, a Texan, on his first trip outside the US, provides a thoroughly entertaining commentary of superlatives as we make our way. Hot damn, indeed.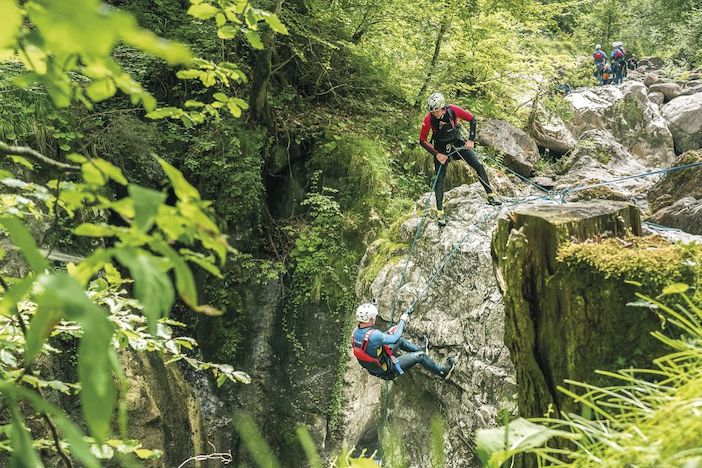 Canyoning is a curious activity. Like many such pursuits, the question 'why?' will likely enter your head. And there's probably a good reason why Al and Lewis didn't tell us everything we would be doing, otherwise we might not have gone. In our group, on the way over, one declares a fear of heights, another a susceptibility to cold water shock. We're given instructions quicker than we can question them. "Wait, we're climbing over this rail and abseiling down this 150ft precipice? Okay."
My lemming moment was being first in line to join a zip line across a pool. "Right," says Al, looping the rope through my carabine, "grip this," I watch him tie the rope – or not, as it turns out – and before I have a chance to question this, "When I say the magic words, I want you to let go." What are the magic words, I ask, as he pushes me off. "Let go!" I instinctively let go the rope and it rapidly unfurls from the carabine and I drop, flailing, into the water below. Amid countless jumps, wading, sliding and thrashing, after an hour or so, we make it out the other end, into the open, with much relief, hugging and back-slapping all round.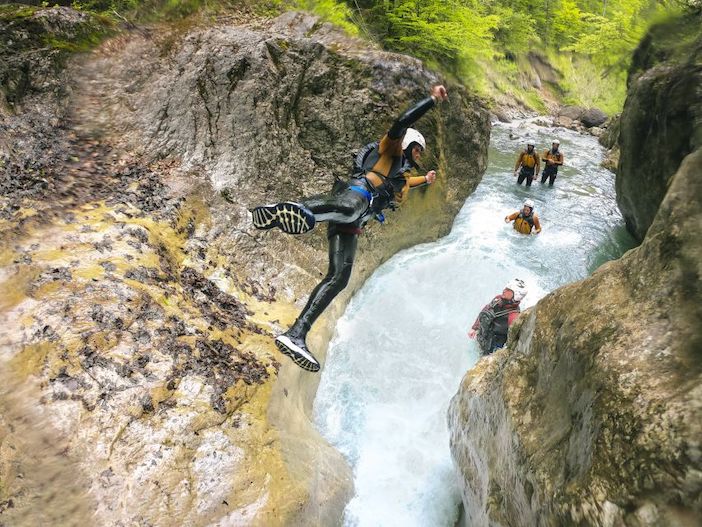 As if battling white water in the water wasn't enough, that afternoon I sign up for battling it on the water; rafting. Back in the minibus, we're off again upstream, following the Lütschine, and disembark riverside for another all-important briefing. There's lots of talk of listening for commands, instructions to not do this and how to do that. My brain's going like Danny Kaye in The Court Jester. Then one bit jumps out: "If you go over, here's the drill". I sear this into my brain. "How often do people go over?" I ask tentatively. The instructor pauses for what feels an uncomfortably long time, "We've had a few this season…" Cue concerned faces. "…but we've got your back," he adds, as what seems like an afterthought.
Needless to say, I went over. Our pilot, Alexi, his nonchalance belying a fearsome attentiveness to the task at hand, captained us assuredly; we were paddling on cue, frantically when required, dipping into eddys, negotiating rocks, turning and weaving like a well-oiled machine. Then, out of nowhere, a tricky manoeuvre navigating unpredictable water, we hit a dip, catch a wave, and end on a rock that tips us forward and throws me and Nemo overboard. Fortunately, our shipmates' training kicked in and we were swiftly hauled back in, grinning ear to ear for having gone over, while an indifferent Alexi reminded us to manage the task at hand.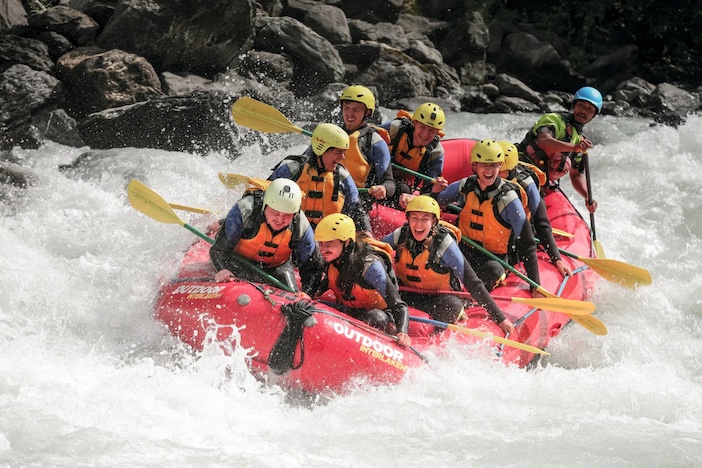 As the water calmed, the current propelling us almost independently towards the inlet into Lake Brienz, that familiar sense of relief and elation returned. We began swimming off the boat, coasting with the current, and easing our way back to normality and that 'why?' question I considered earlier. I could see it now. Jumping in pools in 60ft gorges is one thing, but following a river course, with an element of jeopardy, in a setting such as this, is out of this world.
For something more sedate, there are activities on the lakes; paddle-boarding on Lake Thun is a terrific way to appreciate the vista, and sunset kayaking on Brienz adds new angle on exploring the shoreline, particularly when, as I asked my guide, if he'd ever traversed the lake entire. "Several times," came the reply. That's a mission for my next trip, clearly.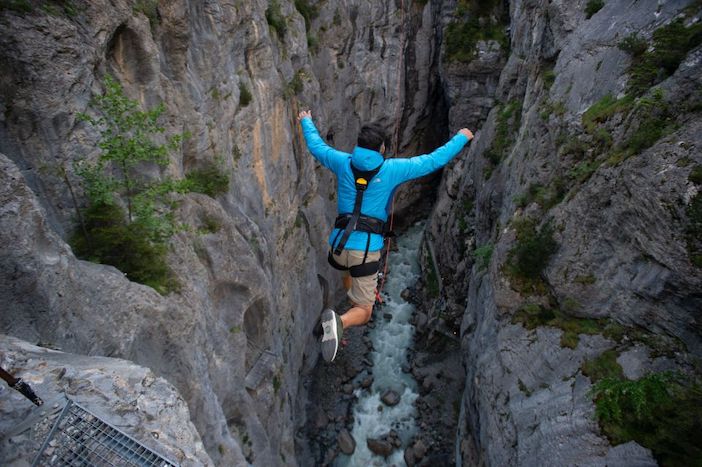 All this, however, was perhaps a mere prelude to the main event, the canyon swing. A new take on the bungee jump, it can only be done in select places, given the geography required (a canyon), and there are only two other swings in the world; Nepal and, of course, New Zealand, so it is rather a unique (not to mention far more accessible) experience here.
Rather than a static jump from a bridge or platform, the rope is tethered to a frame straddling said canyon (90 metres deep in this case), while you're attached at the other end (via a body harness), standing atop the cliff edge at one end – and you step off, free-falling to the point that it tightens and swings you, pendulum-like, through the canyon, mere metres above raging waters below, before gently coming to a rest and you're pulled back to terra firma.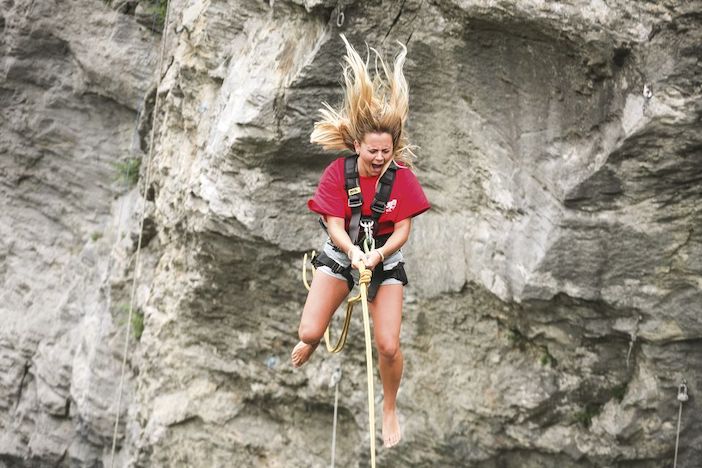 I do consider myself game for anything, but after I saw the first vict- ahem, participant step off, rationality left me. Someone behind me began sobbing. Panic rose among our group, with every scenario imaginable entering our fragile, senses-departing minds. And I signed up for it. I signed the waiver. Oh my God, I signed the waiver…fortunately, our instructor's wit, and few reassuring words were all it took, and all of us, to a person, took the plunge, bursting with euphoria as we were collected at the bottom.
I learned later that Nepal's swing is 220m, and set up by one of the team from here. Nepal, however, will have to wait, for now Interlaken has provided about half a dozen ticks to the bucket list in one fell swoop. And, dare, I say it, I find myself asking for another go.
For more information on Interlaken, and to start planning your trip, including details of accommodation and activities, please visit interlaken.ch. For more information on Switzerland, visit the official tourism website at MySwitzerland.com.
SWISS connects Switzerland with more than 160 weekly flights from London Heathrow, London City, Manchester, Birmingham, Edinburgh and London Gatwick (seasonal) to Zurich or Geneva.  One-way fares start from £54 to Geneva, and include all taxes, fees and surcharges. For more information, visit swiss.com.
For comfortable travel throughout Switzerland, Swiss Travel System (STS) offers a unique all-in-one 1st class Swiss Travel Pass for unlimited travel by train, bus and boat as well as Free admission to more than 500 museums throughout Switzerland. For more information, visit mystsnet.com.