In this second part of his adventure in Kazakhstan, Tom Garton wakes from a night on the town, not quite ready to embrace a day's sight-seeing. But any chance of a relaxing afternoon by Almaty's biggest tourist draw is about to be scuppered…
The next morning, I feel terrible. Yes, I've drunk a huge amount of vodka, but it's not just my head that hurts, it's my insides. They feel like they're ripping each other apart.
This is what you get for ordering fish in the largest land-locked country on Earth.
Ben, miraculously, though, is fully recovered from his bronchitis and wants to see the sights.
I try to explain how ill I'm feeling, but he doesn't extend the same sympathy to me as I did him in Bishkek.
"Let's go to Big Almaty Lake," he announces outside the door of the toilet as I suffer yet another stream of diarrhoea.
I don't reply.
"I'll book a cab," he decides. I can't even be bothered to argue. I'm in gastric agony.
Half an hour later, my stomach has settled down and we're in a taxi. The winding mountain roads offer spectacular views of the city, and we are dropped off by the side of the lake. The driver agrees to stay for a while, so that we can return with him to the hotel.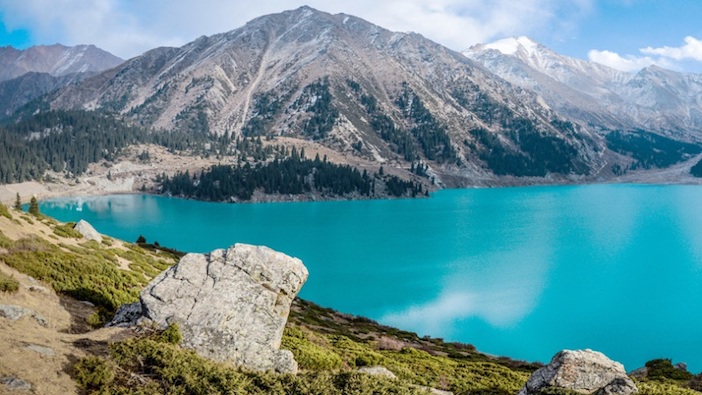 The lake is a pretty scene. The waters are a stunning turquoise. It's encircled by dramatic mountains and pine trees.
There are a few tourists, mainly Russians, milling around drinking coffee out of thermoses. Ben wants to get a closer look of the lake, and we head down to the shores.
I stand looking out at the waters. The unusual colour is calming, and almost mystical. For a second, I forget the abdominal pain, when suddenly behind me I hear a man violently shouting in Russian.
I look behind and see two soldiers in full camouflage holding AK-47s running towards me.
"Ben!" I shout. "Ben!"
Where is he?
My stomach has started up again. I very urgently need a toilet.
The soldiers are incredibly aggressive. Heavily armed, they each carry an assault rifle and a hand gun.
They ask for my papers.
What have I even done wrong?
"I haven't got it. I left it at my hotel. The Ritz Carlton hotel. It's there in the hotel," I'm spluttering, and gibbering. Keep it together.
I take a look at myself. What am I wearing? I look absurd. I've put on incredibly short gym shorts, a long flowing Ralph Lauren shirt, and brown loafers with no socks. What was I thinking?
One spies Ben and sprints to retrieve him from behind a shed. He soon joins me on the sides of the lake.
"I was having a piss," he sighs, exasperated.
One of the soldiers gets his English-speaking brother on the phone as an interpreter.
It emerges that we are in no man's land on the Kazakh-Kyrgyz border. Not having identification is a crime. Neither of us have our passports.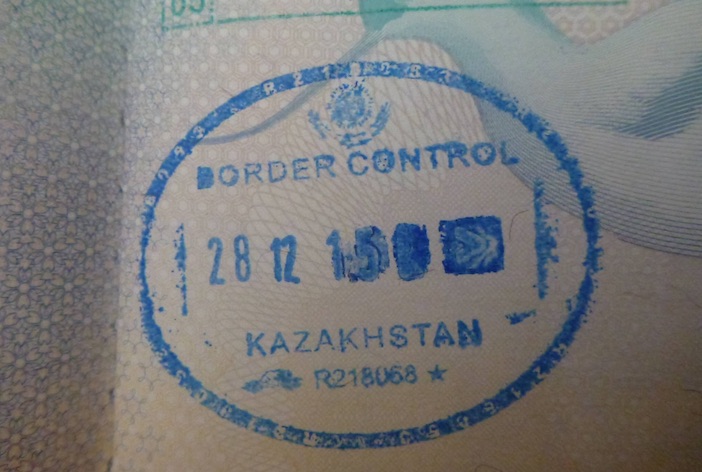 We are marched up the hill and thrown into an army jeep.
Our taxi driver stares at us in shock at the side of the road, his cigarette bleeding untapped ash.
Coming to his senses, he seeks to intercede with the soldiers on our behalf to no avail.
The jeep screeches up into the mountains past armed sentries to a barracks overlooking the lake. We are hauled out of the jeep.
To our right there are riflemen shooting at dummies with sub-machine guns. A few hundred feet away, in the middle-distance, a secluded observatory looks like it's preparing to send a ballistic missile to the moon.
We seem to have wandered into a James Bond film, but with my current get-up of these incredibly short shorts, I definitely feel more like Roger Moore than Sean Connery.
My stomach is getting worse and worse.
We enter the billet. A pre-fab building that stinks of stale fags. I don't even have a very good sense of smell, but the stench of smoke was putrid.
We pass a room where resting soldiers look up at us from their bunks. I'm convinced we're going to be imprisoned, maybe even tortured. Do we even have good diplomatic relations with Kazakhstan? Could the embassy get me out of here?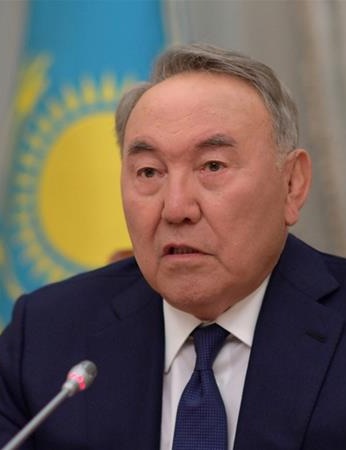 The soldier sits us down in front of a large portrait of the president of Kazakhstan dressed in military garb.
"I will write the details of your electronic passports," he informs us with a thick Russian accent.
My bowels are beginning to move.
Ben has decided he's in a Cold War thriller and is staring down the soldiers with a steely gaze.
"You can write what you like, but you're not going to win," he mutters under his breath.
The soldier ignores him.
An hour later, once he's entered Ben's details, the soldier comes to mine. He points at me with his pen.
"Your birthday?" He says pointing to my date of birth.
"Yes. Yes, that's my birthday. I'm 27."
He doesn't reply, and we are plunged back into silence.
Abruptly, and with a flourish, he provides Ben with a sheet of paper detailing a fine. He points at me and crosses his arms.
"Nyet."
At first, this is more concerning than Ben's fine. Does he get away with a fine and I am left to rot in a jail? Is that how this arbitrary judicial system works?
Once we are delivered back to our taxi driver, we discover I have been absolved of my crime because it was my birthday a few days before.
The soldier, assuming I had celebrated my 27th year of existence in his beautiful country, had exculpated me of my crime.
That night I spent several hours on the Ritz Carlton's toilet in the fullest sense of relief.
***
A few days later, once my stomach and my nerves have begun to heal themselves, I feel ready for another excursion.
While I've been convalescing, Ben has devised another jaunt. This time he packages the idea as a relaxing step back into normal life.
"I know you've been feeling poorly, so how'd you fancy a trip to the Arasan baths?" He says. "It's the finest bathhouse in Central Asia. In fact, it was the most luxurious bathhouse in the Soviet Union. I think we ought to pay a visit."
An hour later we're outside the grand, modernistic facade of the Arasan baths.
Built on the orders of Dinmukhamed Kunayev, First Secretary of the Communist Party of Kazakhstan from 1959 to 1986. A close friend of Brezhnev, Kunayev was the only Central Asian representative in the Politburo. With such high connections, he was able to obtain a generous budget for the bathhouse. He spent this money, quite profligately in the view of the Russians, on perhaps the most expensive public bathing facility in the entire world.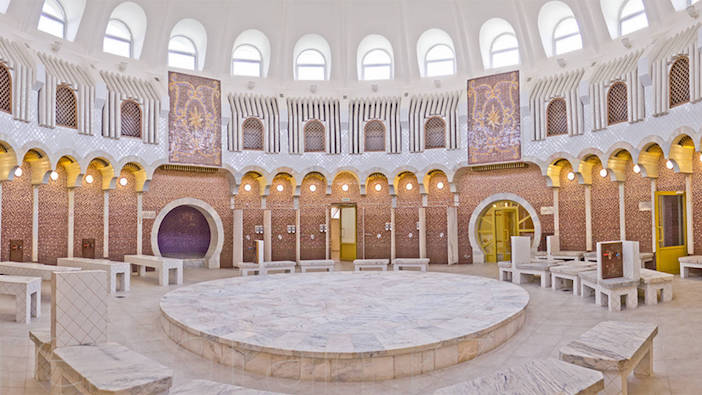 Entry for one hour is around £3, but we don't know how long we're going to stay, and you get unlimited access for the day if you get a massage, which is only about 17 quid. This seems like an absolute steal, so we plump for a traditional, full-body massage.
What Ben hasn't told me, however, is that the Arasana baths is a fully naked, sex-segregated bathhouse.
I only discover the full horror of this, when I am confronted by my masseur: a five foot two body-builder wearing nothing but a towel.
I am a good foot taller than the man, but he leads me in by the hand and points to a marble slab in the middle of the room.
I am required to remove my own towel, exposing myself, and rest (thankfully) face-down.
The masseur uses a sponge and a plastic bucket of water to carry out the procedure, kneading every single crevice. I feel like an elephant or a vehicle being scrubbed down. The ordeal goes on for about an hour.
Once Ben and I have both been thoroughly humiliated, we cover ourselves up and wander sheepishly around the baths.
Obese, old men joyfully jump entirely naked into pools displacing vast quantities of water. It's rather surreal.
We leave after an hour. We've seen enough.
***
We finish our time in Almaty with Anna, a local who has invited us to have dinner.
Anna is highly enjoyable company. A wealthy Kazakh of Russian descent, she has spent many years in London and speaks fluent, accented English. We talk about the expensive restaurants and private members clubs she's been to.
"I love London," she says, topping up our glasses. "I would go back in a heartbeat. It is so boring here."
She laments the boorish ways of the middle-aged crowd, who don't understand what real sophistication is.
After dinner, she offers to drive us up the Medeu ice skating rink in the mountains in her Range Rover.
The Medeu ice rink is the highest Olympic-sized ice-skating rink in the world. On the outside of the stadium is an impressive Stalinist style skating sculpture. Once again, it feels like the setting for a Bond film.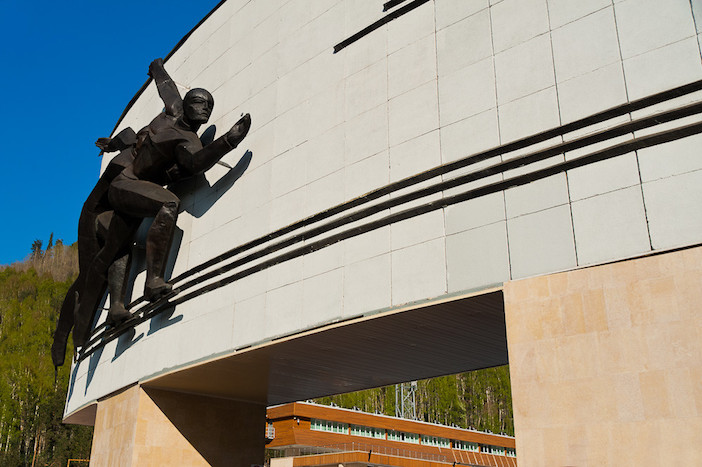 We wander around, but I can feel my stomach churning again, and suggest we return.
"Do you want the scenic route?" Anna asks.
I hesitate, but Ben decides it would be a lovely idea.
"Almaty is changing," Anna explains as we drive back down the mountain, "The younger generation is more open, more global." This makes sense given that we are all in our late '20s and all born after the fall of the USSR.
But she also worries for the future.
"Our president is getting old. Who knows what will happen? Islam is a worry. Kazakhstan used to be a secular country, but now more and more younger ethnic Kazakhs are going to the mosque. I worry about the rise of political Islam."
Later, back on the toilet at the hotel, I look into Anna's concerns in more detail.
One academic paper cites that 'Kazakhstan's Muslims show exceptionally low support for Sharia law, at 10 percent; even among those supporting Sharia, only four percent support the death penalty for apostasy, and only a third support corporal punishment.' It goes on to say that these numbers are off the charts in comparison with the rest of the Muslim world'.
Perhaps Anna's concerns about political Islam are hyperbolic or misguided, but what is clear is that the expected death of Kazakhstan's 79-year-old only ever president shows that there is unmentioned and emerging political uncertainty in this dictatorship.
Kazakhstan is where East meets West, and right now, it feels more West than East. The music in the clubs is western, most of the new restaurants are western. Uber is here. American fast food chains are ubiquitous.
But as China continues its attempts to influence its neighbours, and the fate of the country's political leadership remains an unspoken mystery, the next few years promise to be an interesting time for this vast country.
For more information about Kazakhstan, including travel information and details of what to see and do, visit the official tourism website at www.visitkazakhstan.kz.