It's a commute you might wish for. I sit, sipping my Lavazza, on the train from Chur to St Moritz, and, as we trundle along at an agreeable 30mph and an almost imperceptible climb, the views are close to impossible to look away from. Misty monochrome mountains, needlepoint church spires in decorative hillside villages, cascading chalky blue meltwater streams and rich bucolic pastures. The Swiss know this. Not for nothing is it called the 'Glacier Express'. To absorb this visual feast, an open glass ceiling gives you wraparound views, and there's even the occasional pre-recorded commentary on each of the key vista points and engineering marvels along the route. Engadin is, indeed, the epitome of the Swiss Alps.
As transfixed as I am, I'm also deeply concerned. This is fine for trains. Mountains and scenery are all very delightful, but how on earth am I going to get around here on a bicycle?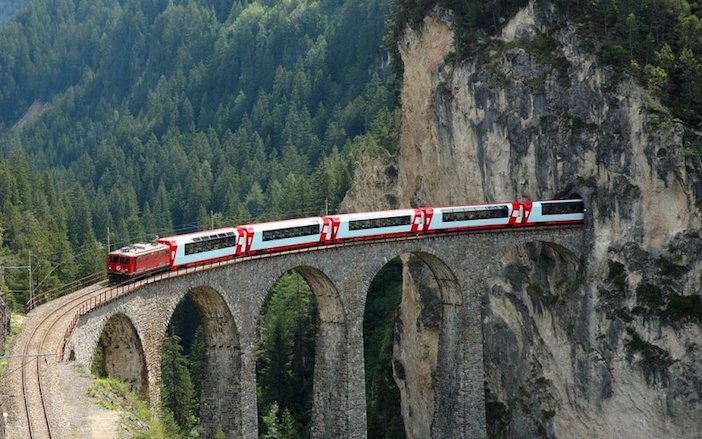 Much has been written about St Moritz in the winter; parties and polo on the lake, the Cresta run, the social scene – many don't even come to ski, in fact – but, in my humble opinion, it's the summer that captures the real essence of the alps. So, when an invitation came in to join a cycling tour with the legendary Badrutt's Palace, just as the meadows were coming into bloom, I didn't give it a second thought.
If St Moritz is the epitome of the Alps, then Badrutt's Palace is the epitome of St Moritz. One of a clutch of originals, the 'grand dames' that have been entertaining tourists since Swiss tourism came of age in the late Victorian era, it is, simply, one of the finest hotels in the world.
Never mind the bespoke toiletries in the bathroom, the handmade chocolate confections on arrival, or even the Queen of England-owned Rolls Royce that collects you for the 400 yard drive to the hotel from the station; the definition of Badrutt's height of luxury is…a comfort-cover on the bathroom scales to prevent the cold snap from the metal when you stand on them. Genius.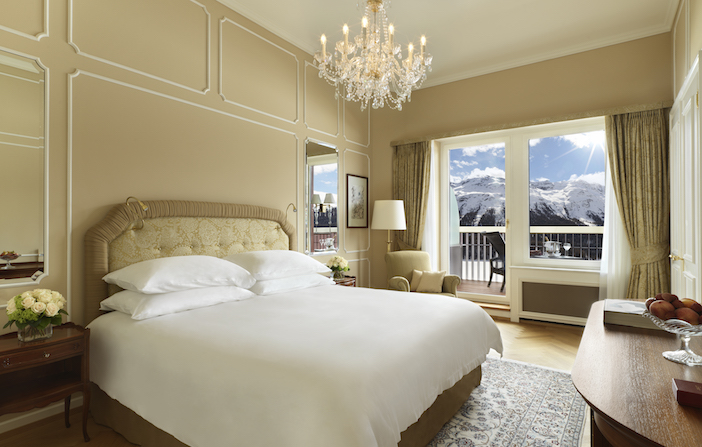 There are many things to love about this property; the history, the grandeur, the in-room welcome and video that plays on the TV as you enter, the carefully thought-out light switches by the bedside (that means a lot to me and marks out a really good hotel), the complimentary mini bar, and of course the exceptional lake views (double aspect in my case, as I entered my corner suite); you truly know what you're getting and you know that the price tag, high as it is, is why it's so good.
Badrutt's Palace is just that, a palace. It looks like a palace, its imposing façade and iconic tower is a beacon on the town's skyline over the lake; it's palatial inside, too, with 20ft ceilings of ornately handcut wood in the main lounge, and a banqueting hall as long as a football pitch whose breakfast buffet extends its length, with a further eleven options for eating (among other function rooms and lounges dotted about its labyrinthine passages), including the new King's Social from Jason Atherton. Just as well that if we were going to eat like kings, we'd be exercising like them, too.
"This is the beauty of cycling," my host tells me as I sit down for breakfast on the first morning, eyeing the buffet racked with indecision, "you don't have to decide. Eat what you like, we'll be burning it all off."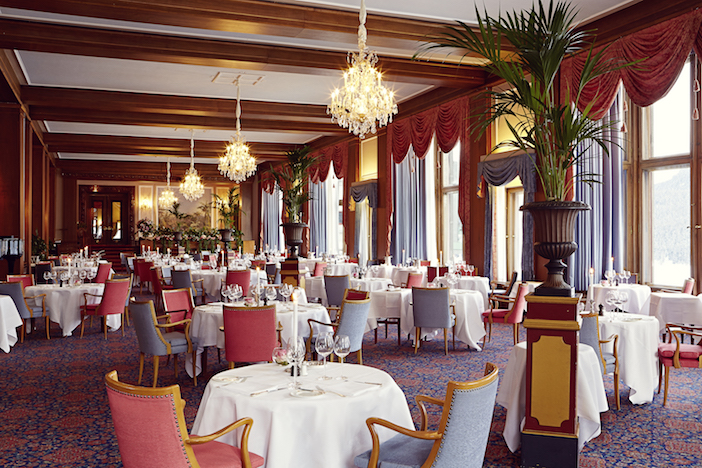 I'm here with Rapha, the high-end cycle clothing and apparel brand, which means we're taking this very seriously. We have a guide – two, in fact – each worthy competitors of any 'tour' and frequently Strava's KOM (that's 'King of the Mountain', if you didn't know), and it means that we're well looked after with support vehicles, dedicated mechanic, coaching, anything you can think of to see us through. Just as well, as I look at the itinerary. This isn't so much a jolly jaunt across the valley floor, but a three-day thigh-busting Hannibal-esque alp crossing.
Laden in figure-hugging lycra, our small party get fitted to our bikes (seats, pedals, everything adjusted), and one serious perk to this venture, these are German-made Canyon Endurace models, of a spec that I could only aspire to.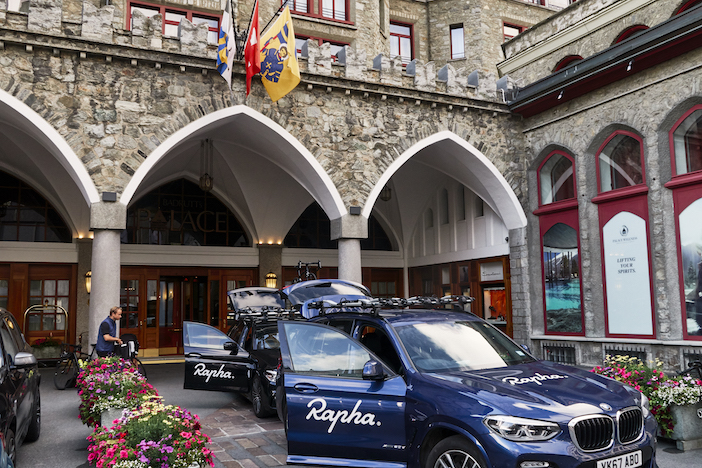 This being a cycling trip, it's principally about that, and covering as much distance as we can – or want to – during our stay, and we discuss the route with Anton, our principal guide. There are, too, different routes for different standards, but being the masochist I am, I opt for the biggest on each day. The beauty of this, however, is that we go out and return to Badrutt's. The hotel is our base, our sanctuary, our haven after a hard day on the pedals.
That first day, we hit the Julierpass. As climbs go, it's long but relatively manageable, with a welcome espresso from the rest stop at the top. A long descent follows, and we dip below the level of our starting point at the hotel, before facing a monstrous 32km climb to the infamous Albulapass. It's punishing more than I can articulate, but we break at a stream flanked by rich pasture, to rest our feet in icy water, before we're met with a packed lunch from the hotel at the top. Better yet, what goes up must come down and we practically freewheel all the way back to the hotel for a welcome massage and a classic Swiss dinner in the intimate and historic Chesa Veglia, carb loading for the next day. Total distance covered: 105km, with 2600m of elevations.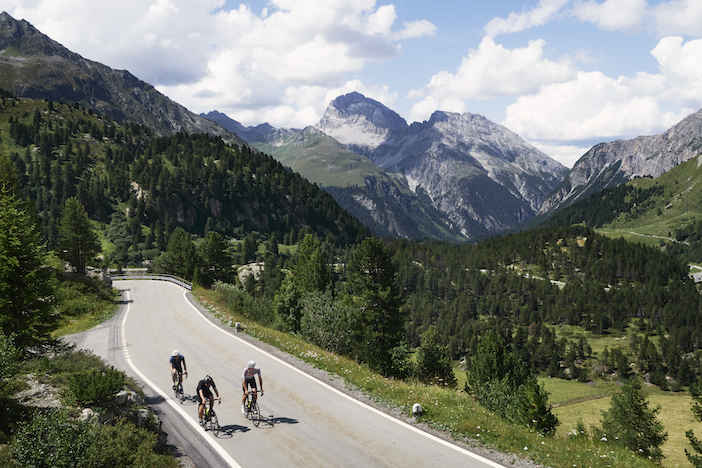 The second day is the group tour, and we begin with a gentle 40km paramble past the Morteratsch glacier before climbing through near-lunar landscape to the Berninapass, following the route of the scenic train route to Poschiavo. This scenery is more stark, but still striking, and we round chalky turquoise lakes through predominantly rocky terrain, to arrive at this haven for bikers and cyclists alike. There follows another lunch on the move, provided by a Badrutt's catering van, their head chef knocking up something that wouldn't be out of place in one of their five-star restaurants on a trestle table with what looks a few utensils and a handful of salad leaves.
Having come this far, and knowing our long weekend is nearly over, I take the questionable decision to join the lead riders in a final haul to the Italian border. We down a series of sharp hairpins and follow a course along the Forcola di Livigno for nothing more than the satisfaction of having cycled to Italy. Of course, the ascent back requires some fortitude but, buoyed by conviction and energy gels, lead-like legs now nothing more than an inconvenience, we're back at the hotel for a long soak in their spectacular spa and a celebratory dinner, basking in the warmth of a self-satisfying sense of achievement.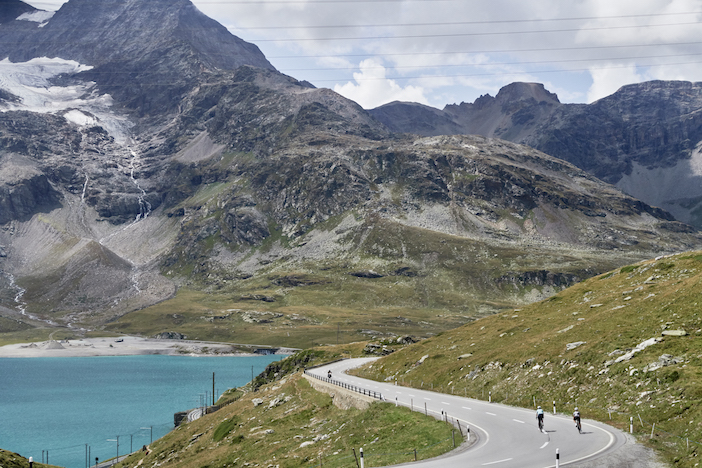 If someone had suggested the Swiss Alps as a cycling destination, I would have considered them inclined to lunacy. Having since been, however, and survived, as well as being furnished with dinner party anecdotes for years to come now – did I mention we put in a 32km climb? – the whole experience goes some way to understanding quite why people do it. Cycling and mountains? Why, they were made for each other.
Besides, it's a fantastic way to see the Swiss countryside in the summer.
For those wanting something close to this experience, but are perhaps less inclined to lunacy, Badrutt's have recently acquired a small fleet of bespoke Pirelli E-bikes available for guest use. The bikes will be available both per hour and per day (up to 8 hours) and can be rented over multiple days.
Rates at Badrutt's Palace start from CHF 450/ £330. The hotel opens for the summer season from 28th June 2019 and closes on 9 September 2019. For more information, including details of all room types, extensive dining options and spa facilities, visit www.badruttspalace.com.
For more details about the Engadin region, including information about travelling to and from Switzerland, and the Glacier Express, visit the official tourist board website at www.myswitzerland.com.
Cycling photos by Antton Miettinen.