Lucy Shaw heads for the Pampas, to the estancias and bodegas for some asado with the gauchos. If you've no idea what any of that is, read on…
The weather forecast predicted storms. I'm sitting in a departure lounge no larger than a coffee shop staring out of the window at lashing rain and angry looking clouds so dark they're almost black. I'm about to board an eight-seater turboprop from Buenos Aires to the Pampas and Mother Nature is doing little to sooth my nerves. Turbulence on a standard flight makes my stomach flip, so the idea of flying in a tiny plane through the eye of a storm is nothing short of terrifying. Our pilot is chain smoking on the next table and avoiding eye contact. Even he looks nervous. We're told to wait until the storm subsides. Half an hour feels like an eternity. I sit counting the seconds, a ball of nervous energy. I pop a Codeine to steady my mind but it hasn't kicked in by the time we board. Buckling my seatbelt, I resign myself to my fate. There's no going back – I have to take this flight. Gripping manically to my plush beige leather seat, my gaze fixed on the horizon, the takeoff is surprisingly smooth and soon we're soaring through a pale blue sky flecked with cotton wool clouds, the colours mirroring the Argentine flag. Admiring the view, the Codeine begins to take effect and I drift into a dreamless sleep.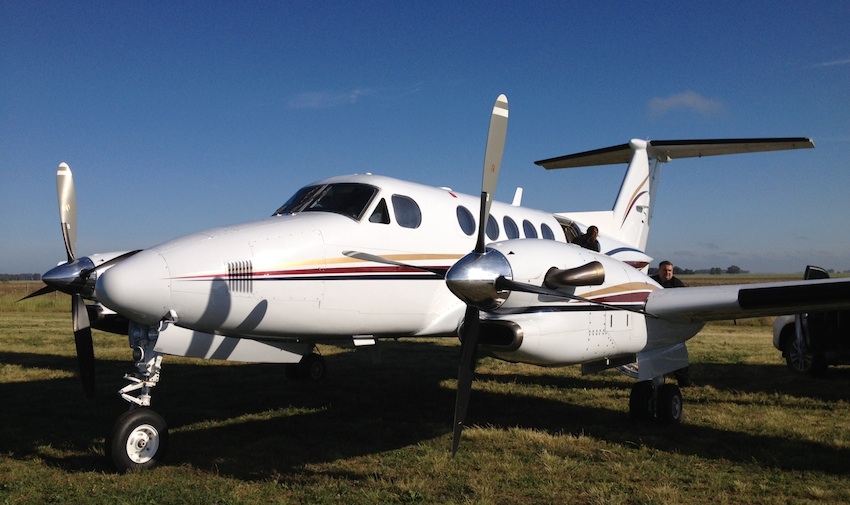 Headed to the fertile Pampas plains where the Argentine elite have their "estancias", or cattle ranches, I was leaving behind Buenos Aires, an intoxicating city of many faces. Its residents, the porteños as they are affectionately known, are a strange breed concerned with beauty and artifice. Unashamedly self involved, plastic surgeons and psychiatrists are in high demand in this city where one of the greatest pleasures is to see and be seen. The porteños seem to survive on very little sleep, rarely venture out for dinner before 10pm and quite happily people watch in Palermo's pavement cafés until the small hours. BA is a sensual city rich in tastes and textures – the balmy air is filled each night with cigar smoke, clicking heels, animated chatter and charred meat.
Often referred to as "the Paris of South America", such comparisons come due to the city's remodeling in the 1880s on Baron Haussmann's architectural achievements in Paris, equipping it with the broad avenues, grand façades, squares and parks that shape the city to this day. Rather than boasting a bounty of landmarks to tick off, Buenos Aires is a city that seeps under your skin. The best way to experience it is to walk around and soak up its energy, or drink in the buzz at one of its many al fresco cafés. Like London, Buenos Aires is formed of a series of different villages, such as the café-filled Recoleta, with its cemetery to rival Paris' Père Lachaise in grandeur. Populated with elaborate tombs, stained glass and guardian angels, its most famous resident is Eva Peron, whose final dwelling place is surprisingly modest compared to those of her garish neighbours.
The arty Palermo district meanwhile, is bursting with chic eateries, while the edgy San Telmo offers a myriad of antiques shops and the promise of impromptu tango in the streets. Buenos Aires is a city for night owls to get their kicks. Late November is an ideal time to visit, as the climate is clement and the jacaranda trees are in full bloom, filling the city with explosions of heavenly lilac blossom. No visit to BA is complete without shouting yourself hoarse at a polo match and lining your suitcase with leather.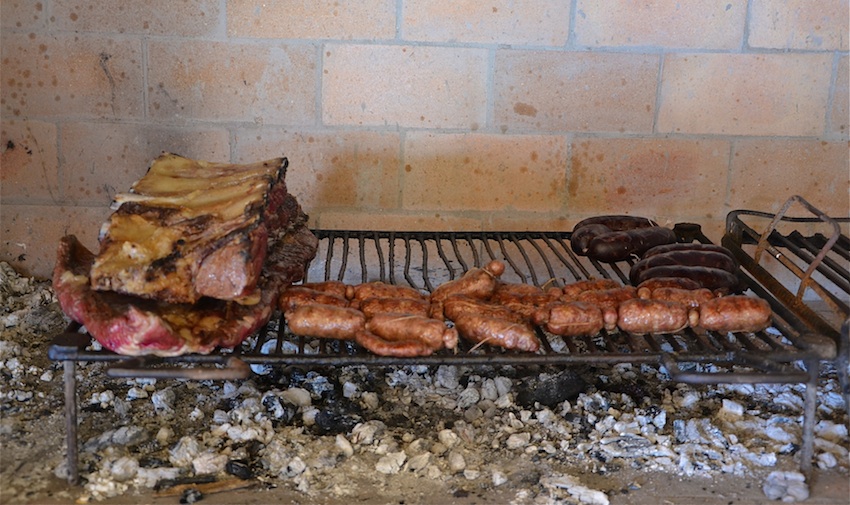 The "asado" (or barbeque) in Argentina is a near-religious experience, and one that takes time to master. For the uninitiated, it's easy to fall at the first hurdle: the empanadas. Much pride is taken in the making of these divine, half moon-shaped parcels and competition is rife for the best empanadas in any given town. Served piping hot with a soft pastry shell and gooey, cheese-stuffed interior, there's something so essential and soothing about them, it's quite reasonable to polish off half a dozen without realising – a dangerous game when tackling the asado. For next comes a round of juicy chorizo and intensely flavoured black pudding, followed by mounds of meat piled as high as the Andes, its charred, salt-rubbed flesh one of the most delicious expressions of beef you are likely to encounter. No part of the cow is wasted during the asado, with ribs, loin, sweetbreads and flanks all in the mix. 
During an asado, you realise how simple and wonderful a combination steak and Malbec is, the power and perfume of Argentina's flagship grape slicing through the fat of the meat. The asado is a very alpha meal, and one that links us back to our Neolithic past. It's instinctive and empowering and often ends on a sweet note with pancakes and lashings of sticky dulce de leche. One such asado was enjoyed during an overnight stay in the Pampas at the cattle ranch of Dario Werthein, owner of both the aforementioned turboprop and one of Argentina's top boutique wineries: Bodegas Riglos. One of the wealthiest men in Argentina, Werthein made his fortune through his Los W Group, which has assets in telecoms, oil, gas, textiles and property, and in 2002 decided he wanted to add a winery to his ever-expanding portfolio. "Wine makes the least money but is the most enjoyable of all my business ventures," he tells me over an abundant asado at his farm, before reciting an ancient Argentine poem about a gaucho and his love rival. 
Werthein keeps things small at his Mendoza estate, producing just 80,000 bottles of wine a year, including a Malbec, Cabernet Sauvignon and red blend Gran Corte. The attention to detail shows, with the Riglos range proving some of the most elegant, refined and graceful wines being made in Argentina today. Allowing us to raid his well-stocked cellar, after pitting the 1990 vintages of Winston Churchill's favourite Champagne, Pol Roger, against the mighty Dom Pérignon, before dinner, Dario's artist sister Judí suggests we walk down to the lake to enjoy the sunset. It was one of those rare moments I'll remember forever. The diffused light soft and ethereal and dipping sun casting inky shadows on tall trees and making the lake appear like liquid silver. Bathed in golden light, the pale pink and sherbet orange Turner-like clouds were indescribably beautiful, as if God had sketched the sky with chalk pastels. All too quickly the sun had set and darkness enveloped the estancia, but the light of the setting sun is forever burnt into my memory.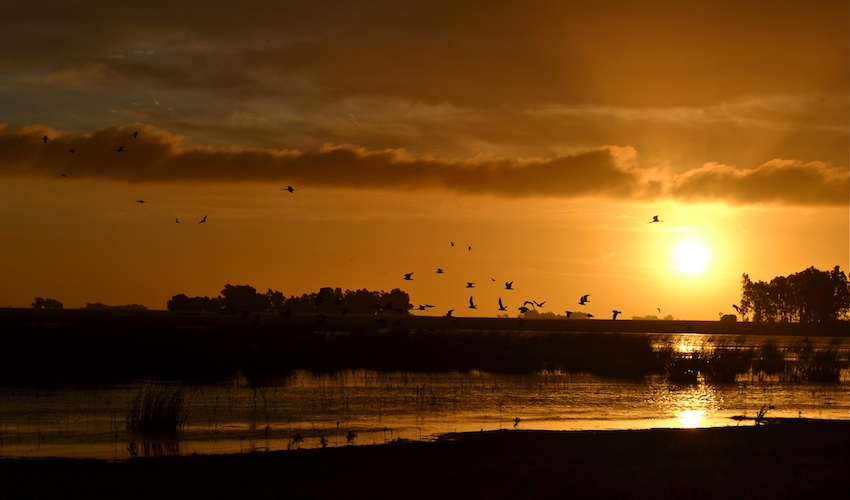 The next morning, mountainous Mendoza beckoned. Boarding the turboprop for a second time, the piercing blue sky eased my mind. The hour-long flight was worth it alone for the jaw-dropping view if afforded of the Andes, its snow-dusted peaks within touching distance, reminding me of how insignificant man is compared to nature. Cruising over the Andes in our tiny plane, the sun burning bright and cloudless sky a perfect blue, I felt heart-thumpingly alive. Touching down in Mendoza, the Andes were hidden behind a curtain of cloud. 
Feeling short changed, we checked into the plush guest house at Bodega DiamAndes in the Uco Valley, one of five French-owned estates that forms the 850-hectare Clos de los Siete, an ambitious project set up by world famous wine consultant Michel Rolland in 1999 in order to get in on Argentina's burgeoning wine scene. The 130-hectare DiamAndes is run by the Bonnie family, owners of Château Malartic-Lagraviere in Bordeaux's Pessac-Léognan appellation, famed for its steely whites. Drawing on their winemaking experience in France, at DiamAndes the Bonnie's are crafting wines that cleverly combine New World power with Old World finesse. On arrival, we're greeted by our host, the ebullient, blond and impossibly tall Jean-Jacques Bonnie, who immediately apologises for the lack of a view.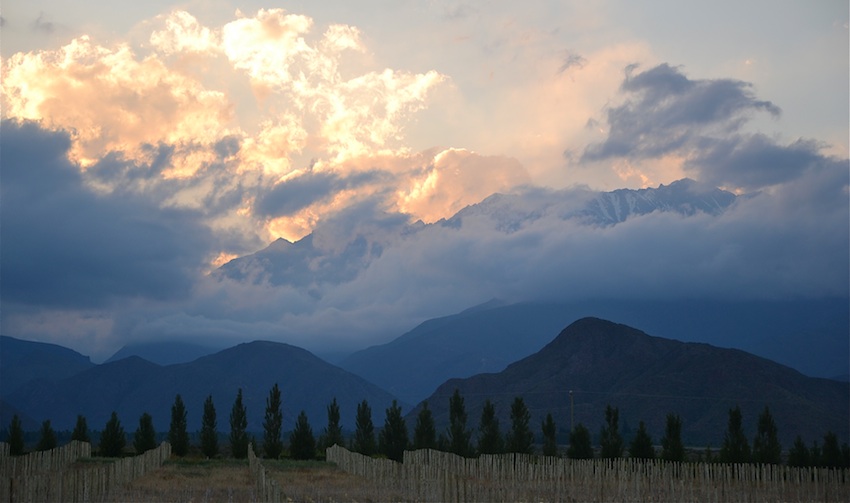 Dragging myself out of bed early the next morning in a bid to snap the sunrise, the heavy curtain of cloud had lifted, theatrically revealing the mountain backdrop. One of the first things you notice about Mendoza is the purity of the air and luminosity of the light, the high altitude and long sunshine hours playing a major role in helping the region's Malbecs to ripen slowly, resulting in fresh, complex and concentrated wines. After a decadent breakfast of thickly spread dulce de leche on toast, Jean Jacques dons his riding gear and takes us on a tour of the DiamAndes estate on horseback. During our leisurely morning trot, my chosen nag – Canario, a soporific Palomino – proved an amusing riding partner. Frequently stopping to munch on vine leaves, on realising he was lagging behind, he'd burst into an impromptu gallop, leaving me clinging on for dear life.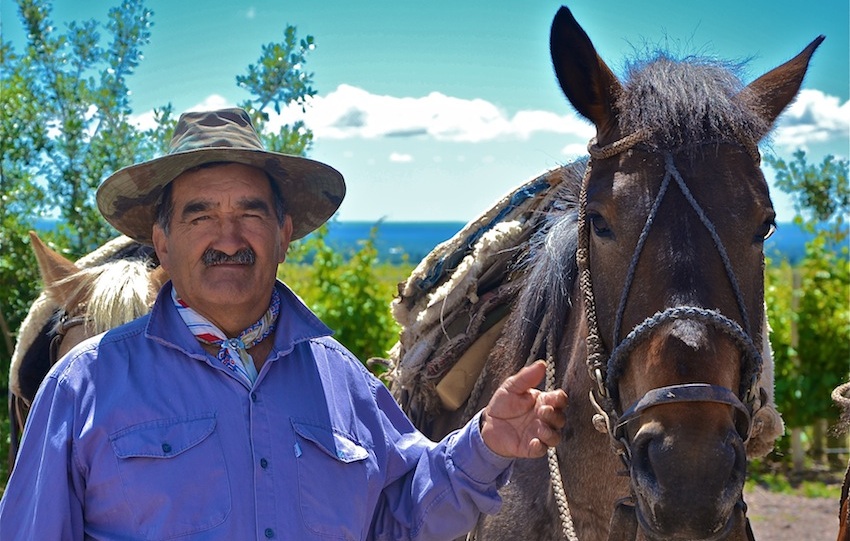 Dismounting my (not so) trusty steed, we were ushered into a four-by-four and whizzed off to Chakana in Lujan de Cuyo, co-owned by the affable Juan Pelizzatti. Founded in 2002, the wine estate takes its name from the Southern Cross constellation, referred to as Chakana by the Andean people. Pelizzatti will soon be swapping Mendoza's sunny skies for England's green pastures, as he's headed to Devon to study sustainable horticulture in order to pursue his dream of turning Chakana 100% biodynamic, meaning vines will be planted, picked and pruned by the phases of the moon. In keeping with his green agenda, he's just employed a parcel of piglets to serve as lawnmowers at the estate and keep the grass trim, though during my afternoon amble they seemed far more interested in hoovering up the vine leaves above. 
Back in Buenos Aires for a final night before flying home, we stumbled upon an adorable little jazz joint shaking up classic cocktails to a frantic, fizzing soundtrack that would have made Dickie Greenleaf reach for the mic. Keen to carry on the party at one of the city's trendy new speakeasy-style bars, we were informed that there wasn't any point attempting entry before midnight. Shuffling sleepily back to our hotel at 11pm we admitted defeat, envious of the Argentines' boundless energy and unquenchable thirst for fun, a mentality wonderfully summed up in the word quilombo, meaning 'extravagant disorder', something us buttoned-up Brits could all do with a dose of.
Lucy visited three bodegas during her trip through the pampas; for more information on each, click on the relevant link to be taken to their website: Riglos, DiamAndes, Chakana.
Photography by Lucy Shaw, unless otherwise credited.