Tuscany is the welcome mat of Italy. It's where the renaissance started and the British come to die. Its history is a glittering mosaic of wars, wines and wonderment, and we Brits continue to relocate to the mountainous region of Toscana; out of our element, believing that the artistry will seep into our souls. Or maybe it's just for the wine?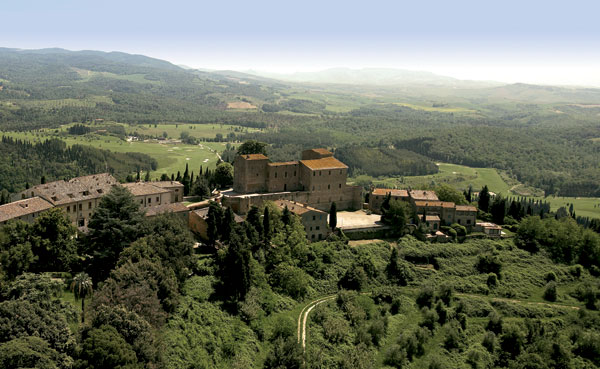 Ever since the astute Medici leadership, the region (Florence in particular) has enjoyed artistic prosperity and traversing curiosity. Dotted towns and fortified villages have become symbols of intercommunal strength after hostilities and violence tore Tuscany apart for so many years. World War II bombings and the floods of 1966 saw damage to art and monuments, but major restoration has stimulated artistic heritage, local employment and fixed Tuscany firmly on the map as the cultural heartbeat of Italy.
All this makes the discovery and regeneration of the medieval hamlet Castelfalfi more interesting. It's amazing how the land remained independent for so long. Perhaps those who viewed its beauty for the first time believed it to already be in the hands of wealthy land owners or commercial investors? While other cities swelled with the prospectus of enterprise, Castelfalfi remained an agricultural region. The likes of Pisa, Chianti, Lucca, Sienna and Florence grew in pictorialization. Castelfalfi just wore out. Lost its footing somewhere through time.
Now, of course, it has been acquired. Stepping back into the Tuscan glow under the guidance of European travel group TUI. A pocket of central Italy packaged and handed over. Poet Victoria Sackville-West lyrically wrote of the region, "This calm of husbandry, this redolent tilth. This terracing of hills, this vintage wealth."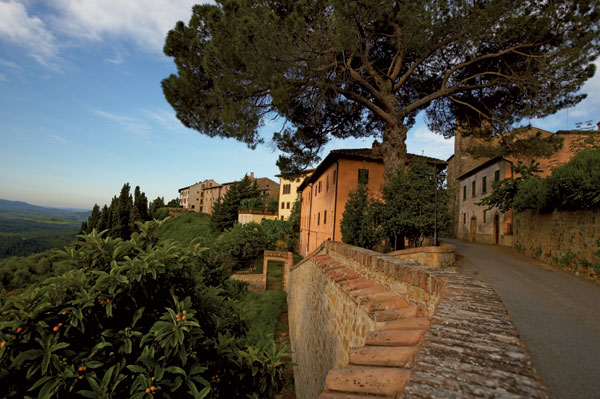 TUI's cash-injection promises to, "Breathe new life into the old wall again." As the sleepy village enters a new era under spectacular renovation and construction, I hope that what's really important remains, preserving the history and traditionalism: the farmers, land-workers, wine makers. Just because regeneration is inevitable, it shouldn't create wiggle-room for Roman Abramovich or the Abu Dhabi royal family.
There's a corner of Tuscany still housing floricultural locals; where the sweeping hills enclose burgeoning greens, yellows and roseate, and the pastoral luxury of conventional Tuscan life is present – hallmarks you can't price.
"Castelfalfi is a prime cut of Tuscany," says Martin Schlűter, manager of Tenuta di Castelfalfi. "The region has always been synonymous with a life in Italy that many people dream of. TUI has the support of the local residents, who independently collected signatures to petition in favour of this project."
The recreation of the estate, including a medieval borgo and newly established villaggi, has been named 'Toscana Resort Castelfalfi'. Infrastructural work has already begun throughout the borgo as well as restoration on the medieval Castello; a brown coloured building like rusty Lego bricks.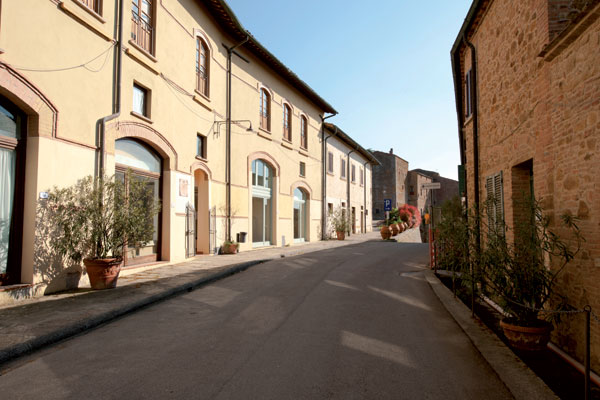 The original village properties are to be completely renovated and sold as apartments that will be delivered next year. The project is also creating three luxury hotels: a 32-room boutique in a restored 'Tabaccaia' factory – once the production plant for Tuscan cigars (Toscani) – close to the borgo, a 120-room hotel with a 3,000-square metre spa and a contemporary 180-room hotel.
There's golf and shooting. Two of the loneliest and slowest 'sports' in existence. Activities deliberately designed for the wealthy and elderly, those likely to frequent the area. The course has been described as 'one of Italy's most challenging and picturesque', with a par-3 9th hole on the Mountain Course taking you past luscious greenery surrounded by water, 35 metres high. An 18-hole course and Country Club is already operational and I witness several clusters of keen amateurs as they promenade through the grounds.
From the over-hanging terrace of the Club I sit with Schlűter and drink strong cocktails made with Prosecco in whisky tumblers. The terrace looks out across the driving range and over the immaculate eighteenth-tee. In the distance are lines of characteristic Tuscan cypress trees and I can see two enchanting silhouettes of casali farmhouses.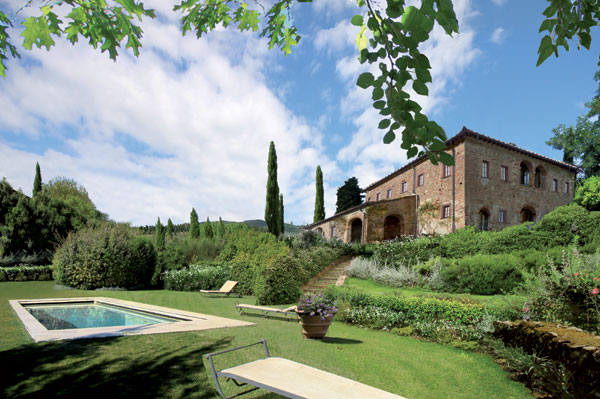 The properties are exceptionally beautiful and glorious buildings with a touch of renaissance charm to each medieval assembly. Ancient villas and casalis are being painstakingly restored to the specifications of the buyers. Apartments will be available from €230,000 and golf villas from €1.2 million. I'm not shown any of the farmhouse villas but am reliably informed that they're priced between €3-€7 million. That's a lot of funny money (around £2.5-£5.8 million). And besides, these are the fourth, fifth acquisitions for property-collecting-buyers. For them, it's like picking out a new shed from Homebase.
Delving deeper into the full extent of development, I'm told that only 0.3% of the land is being built upon, and despite the heinous term "resort", the estate will not be a gated community. Locals and guests are welcome to visit and use facilities, such as the piscines – these are currently three devoid apertures due to open in 2013 – and the golf course and restaurants.
Dinner at il Rosmarino – the onsite trattoria with far-reaching panoramic views – is a personal and pleasant affair. Produce is local and a fine example of what the region cultivates. The estate produces their own wine as well as olive oil courtesy of 30 acres of verdant vineyards and nine thousand olive trees. Both are very good: Clemente VII Chianti Classico Riserva is bustling, bold and berryful, indicative of the truth of Tuscany, and my wild boar ragu (a regional speciality) is worth the moving there alone, and you can sit outside under the inky blue sky while the sound of distant bells pulls you through the evening.