Enough has been written about the Maldives there's almost nothing one can say without trawling every cliche in the book. So, I shall do my best to omit phrases like 'crystal clear waters', 'bowing palm trees' and 'pure white sand'. You can imagine from the countless images and Instagram posts you've seen, so even if you've not been yet, you definitely get the picture.
But among the high-end hotel brands all competing for their resort (some 112 at the last count), painting that picture of paradise, pushing the boat out (quite literally), and trying to find their unique offering – underwater dining, anyone? – every so often there comes one that just approaches it a little differently.
And Jumeirah Maldives Olhahali Island is different. The first indication of this is they're a family resort. That means children. Children? In the Maldives? Imagine those honeymooning couples contending with excitable shrieks around the swimming pool, of romantic sundowners shattered by howling protests from petulant toddlers refusing supper.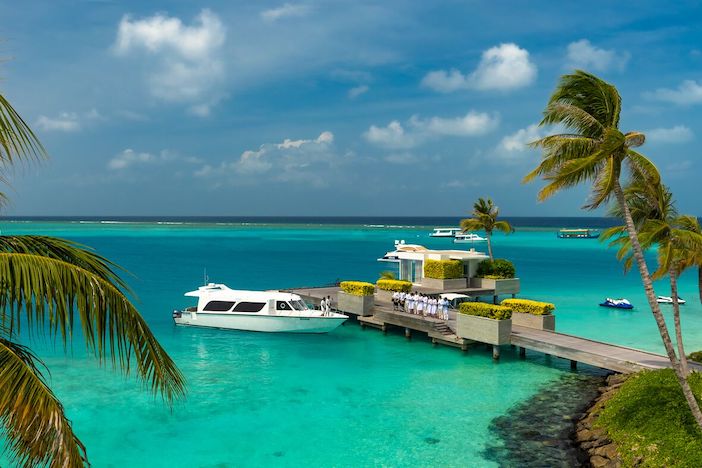 Well, here's a resort where they know how to handle the little…treasures. In fact, they actively encourage them. We've put our little nest of vipers through countless kids' clubs on holidays past. Some are a token room with a few bean bags and over-sized Lego, some are just a big TV screen and games consoles. I wasn't expecting much, I admit, until I saw 'Play' at Jumeirah.
I nearly missed it as we glided to our villa, doubling back to check the facilities, mentally calculating how much time I might have to decompress. I popped in to enquire. A dedicated two-storey building, tucked discreetly behind scaevola bushes and palms, it features air-conditioned play areas, climbing apparatus, outdoor water fountains, and something that looked like a pirate ship poop deck.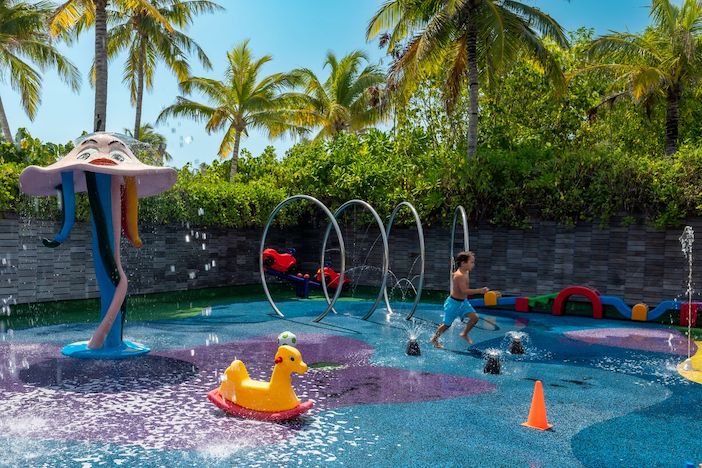 I began to wonder if adults were allowed in there. "No booking necessary," I was told. I smiled. "And no charge," came the reply, before I could ask. I positively lit up. What, all day? "Unless you want the banana boat ride." I think I might. I glanced at the weekly itinerary. From 9-6, Monday-Sunday, with more activities than a full school day, it was better than any summer camp I've seen. There were yoga classes, craft classes of all kinds, from origami to coconut painting, a mini spa (!), island exploring and pizza making, even a Dhiveli class. Imagine, our daughter returning to our villa and greeting us in Maldivian.
Now, some may frown at hotel kids' clubs, arguing that a family holiday should be time spent with family. But you haven't met my daughter. Two hours in each other's company and we're bickering like schoolchildren. She loves activity clubs as much as I relish taking her, only for us to look forward to seeing each other at the end of the day. In the event, she hardly spent any time there, more's the pity, we were having that much fun in the pool in our villa, on the beach, snorkelling and spending time over long, meaningful meals. It seems the island life can make everyone's shoulders sink just a couple of inches, not just the grown-ups.
Have I dwelled too long on this? Perhaps. But you get the idea. Jumeirah takes something rare and makes it even more so. It's just different.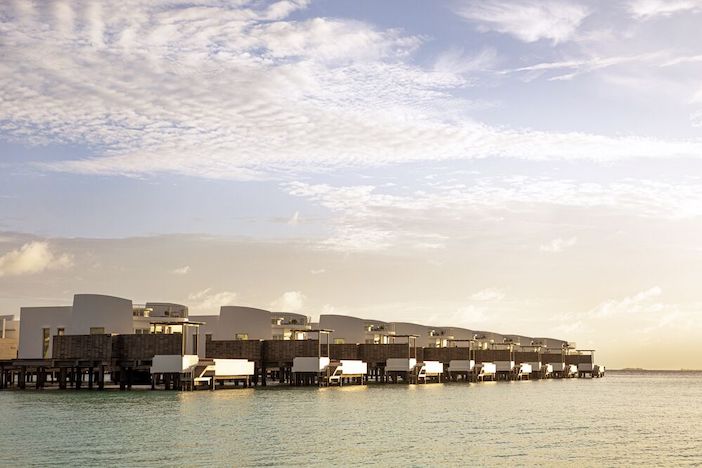 But it's not the only difference. Perhaps the most striking thing about Jumeirah's Maldives property is, well, the property. It appears on the horizon as we course through the middle of the Male atoll from the airport – on the resort's private launch, naturally, in all its air-conditioned, leather-upholstered, cooling-flannel comfort – and its distinctive villas are evident even from a distance.
Pulling up to the jetty, the beginnings of the welcome drum chorus sounding through the breaks in the breeze, most noticeably there's not a thread of thatch in sight. Gone are the traditional Maldivian bungalows. Instead, we're met with dazzling white, flat-roofed (something that will come into its own one evening), Bauhaus-esque blocks; they look almost utilitarian, full of clean lines and perspective, their fronts designed like the prow of a boat, facing out to sea.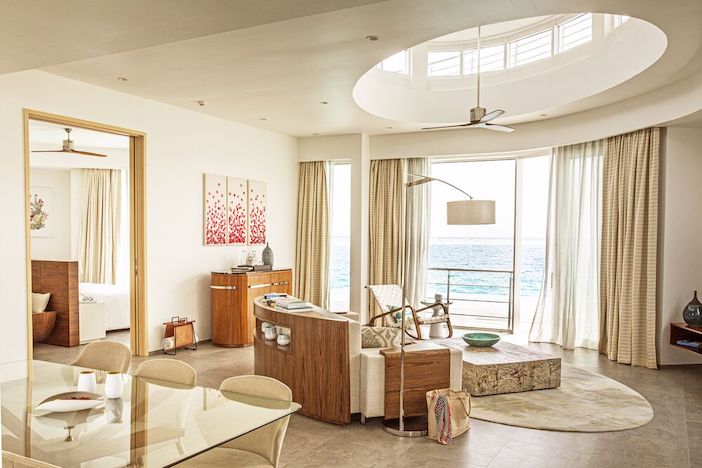 The villas feel as fresh and contemporary inside as they do out. And the space. Oh, the space. They're positively palatial. An atrium hovers over a central living area giving the room a bright, airy feel. They're full of lovely touches; a second cloakroom (very handy), charging pads next to the bed (equally so), remote-controlled curtains opening out to the wraparound balcony and the obligatory infinity pool. But it's the bathroom that does it for me; like something out of Grand Designs, from designer taps to the central, statement tub, and the largest walk-in shower I've ever seen – which I almost didn't use, as the outdoor shower, surrounded by its own tropical garden, proved almost too irresistible each morning.
Sure, all the top properties offer mod-cons, and the requisite Maldives offerings are there, from dhow trips and a turtle safari – not to be understated, mind – to the floating breakfast, but it's the little touches all over the resort that set it apart; the wifi on the boat transfer, its own gelateria, the air-conditioned ante-room for the cold breakfast buffet, cooler bags with water delivered when you take a sun lounger, sorting out your airport forms on departure and, of course, the butler service.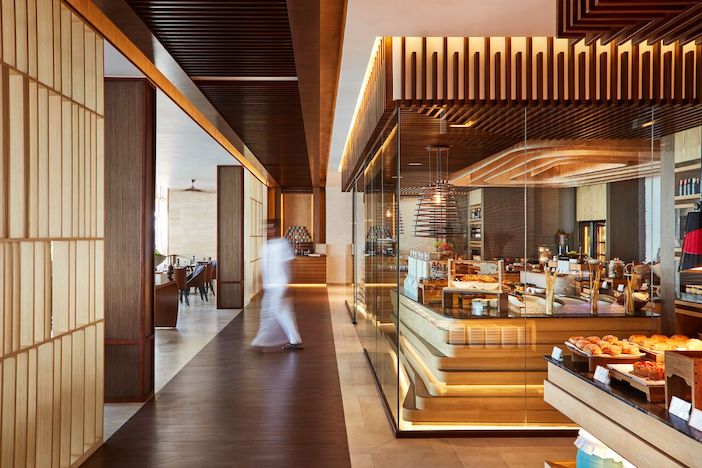 For such a property, you'd expect the service to be exceptional. And it is. Less a butler, more an 'island host', we're met by Mo off the boat, and our daughter takes an instant liking to him as he presents her with a toy fashioned from palm leaves. It keeps her fixated as we're buggied to our villa, given the tour which concludes with him presenting me with a phone and saying he's on speed-dial.
Within hours, this is not lost on our little one, as the slightest opportunity is met with a 'can we call Mo?'. We prepare for dinner on the first night and 'Can Mo take us?' 'No, darling, it's a lovely evening, we'll walk.' As silly as it seemed, we didn't want to put him out. How British could we have been – well, 8-year-olds notwithstanding. As Mrs L and I would return from snorkelling off the reef, or after a game of tennis of an afternoon, safe in the assumption that our little nest of vipers was suitably occupied at Play, there'd be a knock on the door, and there she was, sat shotgun in the buggy, a cheerful Mo at the wheel. "I was finished," she declared, nonchalantly, striding into the villa, "so I called Mo." Cue profuse apologies on our part.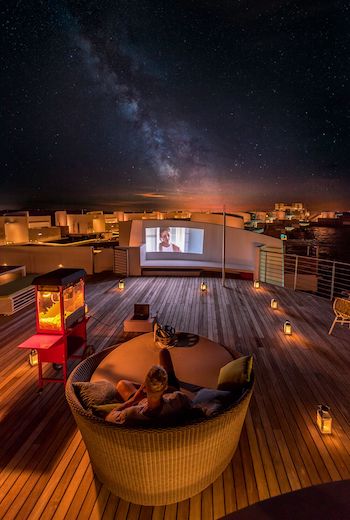 But it wasn't just our daughter who started to get used to having one's own Jeeves. Over dinner one evening, enjoying Peruvian-Japanese delights at Kayto, more than indicative of Jumeirah's emphasis on the culinary offering, the phone goes; it's Mo. "Your cinema is ready, Mr White. Call me when you've finished dinner and I'll pick you up." The intrigue, eh? On cue, we're delivered back to the villa, but we take the outdoor steps, lit by tealights, up to the roof where, complete with popcorn boxes and ice buckets, a projector has cued our selected film against the villa wall. It seemed gimmicky when I heard about it but if you've never watched a movie under a Maldivian sky, that is a bucket list item. Albeit, of course, a film selected by an 8-year-old.
We did, however, managed to get our own time. Come on, this is the Maldives after all. A full-on couples pampering in the over-water spa provided two hours' sanctuary but, most notably, priming a babysitter on our final evening, Mrs L and I took advantage of their 'destination dining' offering. Curious as to what the destination might be on an island half a kilometre square, what met us when we were delivered there at the appointed hour more than surpassed our expectations. Through a break in the foliage, a ring of flaming torches and strung lights framed a delicately-lit table on the beach, itself surrounded by a shallow heart-shaped moat which, as Mrs L and I crossed it threshold, I noticed to be glowing red. Even for a romantic-less pair like ourselves, we couldn't help but clasp hands.
As we dined on tuna tartare, prawn cocktail salad, and a platter of charcoal-fired seafood at the hands of our personal chef and waiter team, Sam and Imash, we knew we were creating a memory that would last a lifetime. "Do we have to go back yet?" Mrs L asked. I looked at her wistfully, "Yes, my dear, the bank balance wouldn't sustain it." "I meant to our room, tonight," she replied, "to our little bundle of mayhem." In truth, we were sated. Our downtime quota fulfilled. We were ready to reunite en famille and had the best part of the next day to make the most of everything we'd already encountered and loved, all over again.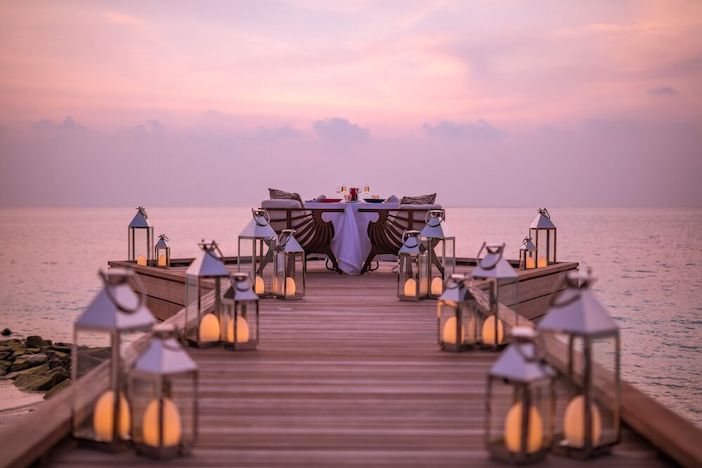 Full disclosure. Mrs L and I were on our honeymoon. With child. The lunacy notwithstanding, it was the best decision we could have made. We returned feeling suitably honeymoon'd, beach bag in hand, boarding the plane in flip-flops, and our little bundle of horror going full Robinson Crusoe, complete with reed necklace and flower garland, a single tear glistening on her cheek that she might not see Mo again (though I don't know if that was for his company or she'd got so used to having a chauffeur). It was a stay quite unlike any other – and it was only when I returned home and hung up the beach bag, I noticed the line: 'stay different'.
And that, quite simply, sums it up perfectly.
Mr & Mrs (and Miss) White stayed at Jumeirah Maldives Olhahali Island. Single room villas start at $1300 per night, with transfers etc. For more information about the resort, including details of its culinary options, facilities and offers, including Jumeirah Escapes (with 25% off bookings, resort credit and complimentary transfers), please visit www.jumeirah.com.