Cruises come in many forms. There are these days ships that can carry over 6,000 passengers, floating towns with a dozen restaurants, cinemas and ice rinks. Then there are smaller ships with a more personalised service able to nudge their way into smaller ports. I personally favour the latter – being at sea is a good place to switch off. This doesn't mean it's boring. All ships like to offer things to do at all hours of the day and night – above all eating, of course. But a day or two reading a book on deck is a nice antidote to city living.
The great advantage of a cruise is that the ship does the work for you. You spend a day in Helsinki and wake up in St Petersburg ready to go. So, OK, I know the Baltic sounds chilly – and I certainly wouldn't get in the water, though it did reportedly reach 19C at one point – but the brief summer here is celebrated. In fact, the northern world takes to the outdoors en masse, heading for their dachas, the forests or the water to mess about in boats. I was messing about in a slightly bigger boat, on board Fred Olsen's Braemar on a trip that took in Copenhagen, Helsinki, St Petersburg, Riga, Travemunde, Lubeck and a quick sprint home through the Kiel Canal.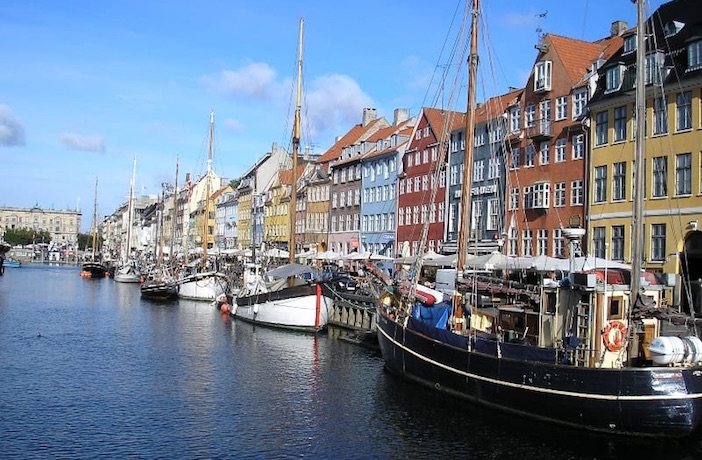 Copenhagen is my favourite Scandi capital, surely the prettiest (yep, I know, I could have a fight on my hands here) with that vast expanse of waterfront and its old forts, perfectly symmetrical palaces, opera houses and museums, baroque or streamlined contemporary. It's a great place just to walk.
Early on a sunny Saturday morning in August, there are people all along the waterfront, messing about in those boats from kayaks to super-yachts. Outside the Diamond Arts Centre, there are people taking a strenuous exercise class on the boardwalk. There are play areas for kids, handmade ice cream stalls, the towers and rides of the Tivoli Gardens. Tourists and locals throng the cafes in front of the bright painted merchants' houses and warehouses of the Nyhavn. By the end of the morning, I'd walked through the royal palace, seen the Little Mermaid statue (just ten minutes walk from the ship) and, of course, visited Borgen – looking far less noir in the August sunshine.
The afternoon stretched ahead, so obviously the thing to do was what the Danes do on a summer's weekend – go to Dragor. A short drive from the capital, Dragor is a fishing village, listed in its entirety where every house is yellow. There are thatched roofs and tiled roofs, tiny alleyways and cobbled gardens, hollyhocks growing wild and outdoor markets and restaurants. Of course, it's full of boats including the one – tiny and tub-like – that evacuated the Jews to neutral Sweden when the Nazis invaded Denmark (nearly all escaped). From Dragor you can see the Bridge (yes, that one) and we come even closer later as we sail past – though not under – it on our way to Helsinki.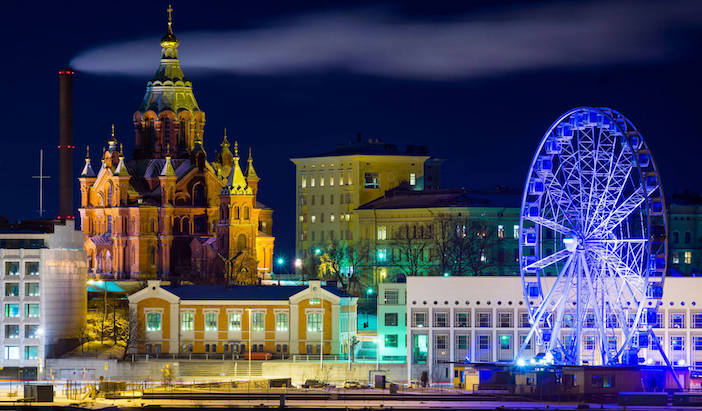 Another day, another beautiful capital where arriving by ship is spectacular, travelling through one of the world's biggest archipelagos, a UNESCO Biosphere Reserve of 330 islands. There's plenty of sight-seeing: two cathedrals (Lutheran and Russian), the Rock Church (circular, copper-domed and excavated from solid rock). Market Square is right by the harbour and the fish market.
The afternoon was another trip outside the city with a very local flavour. Helsinki is a pretty green city but once you leave it, you start to realise how forested this country is –10 trees for every human on the planet, in fact. Out in the woods are moose, deer, lynx and, in the far north, bear. We arrive at a wooden house, next to a lake, all deep in the forest to take tea with the family. Surely there's a fairy-tale in this?
Driving out of Helsinki, St Petersburg is on the road signs and the ship arrives next morning for a stay of two days. Founded by Peter the Great in 1703, the entire city is now a UNESCO World Heritage Site. Often called the Venice of the North, it is built on numerous islands on the River Neva and criss-crossed by bridges and canals, lined with 18thcentury palaces.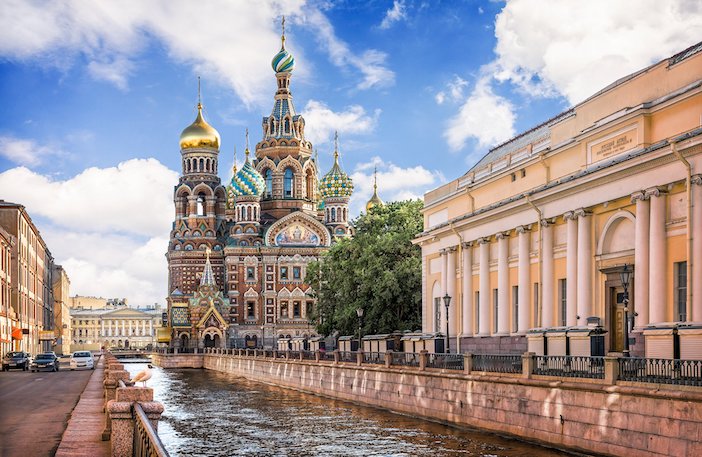 Where to start? Maybe with St Isaac's Cathedral and, of course, the Hermitage. One of the world's greatest art galleries it is actually five buildings built by the Empresses Elizabeth and Catherine the Great. I decided against a night at the ballet – Swan Lake, what else? – because the Russians have special ballet theatres for tourists. Fearing that the sad ending will be too much for them, they opt instead for one that sees curses removed and a wedding in the offing, somewhat at odds with Tchaikovsky's soaring tragic finale. Instead, I went to the folkloric evening – song, dance and knockabout humour.
In Pushkin (named for the poet), Catherine's Palace was originally built by Empress Elizabeth but named in memory of her own mother, Catherine. Catherine the Great, though, disliked the original Russian baroque style and had it redesigned along neo-Classical lines. Painted blue and white, covered in gilt and reached via the massive Golden Gates, the palace is surrounded by formal French gardens and lyrical English parkland, complete with grottos and man-made lakes.
Inside there is a riot of white Carrera marble, gold leaf, precious porcelain and sculpted plasterwork. The Great Hall mimics the Versailles Hall of Mirrors. The Amber Room, made entirely of 25 different varieties of the precious material, is mooted as an eighth wonder of the world.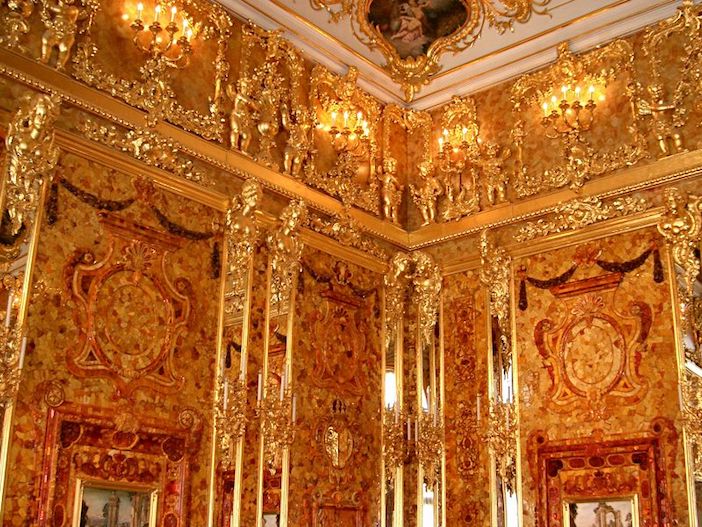 Later, I went on one of the ship's personalised visits (this could only ever be possible on such a small ship) to the flat of Tamara and Alexander. They had met when studying engineering at St Petersburg University and had raised their family here. Though it was in an old building, inside it was, surprisingly, the height of contemporary living. Now in their 60s, they were a living Russian history lesson. Tamara had been a child in a communal flat (one room for each of 13 families with a shared kitchen and bathroom). Though engineering had been a good job when they'd begun, after Perestroika, they found themselves out of work and had managed to forge themselves a new career in hospitality – an entirely new concept in what had been a closed country.
Two days later and we're in Riga. Now this was a new city for me, having never visited Latvia before. I took a guided tour through the small, walkable Old City – there's a handful of old wooden houses but Art Nouveau is the main style (think a chilly Barcelona). Here, too, the Russian system prevailed, with communal flats, the main church turned into a planetarium and streets named for Stalin, Lenin et al (not any more!).
Much earlier, Riga was a wealthy city as an important part of the mercantile German Hanseatic League who traded cloth and copper, pitch and potash, wax and whale oil – just about everything in fact. Hansa was an old name meaning "guild" and the League dominated trade in the region from London to Russia.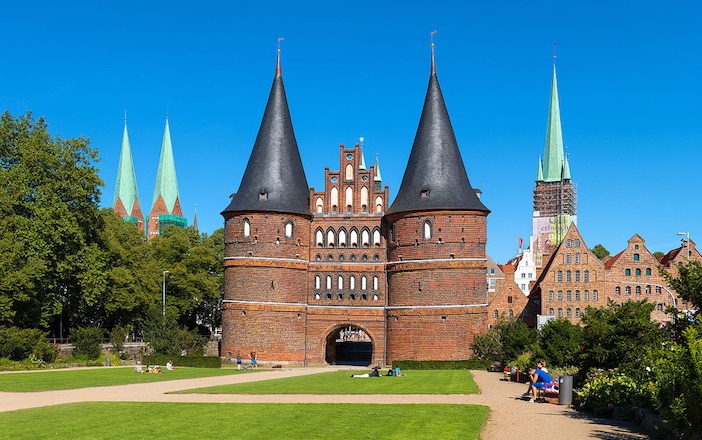 Lubeck was known as the Queen of the Hanseatic League and was our final stop, a short drive from the port of Travemunde. Lubeck is full of stunning historic buildings with a forest of church spires (including the tallest Gothic church built of brick), an old city wall and monuments built purely to show off all that wealth – even if they were just highly decorated walls with nothing behind them!
The Hansa faded into extinction centuries ago but it's recently becoming a trend with some 200 cities with historic links to the League trying to forge them again. And you've probably seen the name around, anyway. Lufthansa ring any bells?
Fred Olsen'a Braemar will be embarking on a similar cruise in 2020 – a 13-night 'Capital Cities of the Baltic' departure (M2014), sailing from Southampton on 1st June 2020. Ports of call include: Copenhagen, Helsinki, an overnight stay in St Petersburg, Tallinn, Travemünde, and cruising the Kiel Canal, returning to Southampton on 14th June 2020.
Prices from £1,799 pp, based on an interior twin-bedded room, subject to availability, and includes all food and entertainment on board, and port taxes.
For further information on Fred Olsen Cruise Lines, visit the website at www.fredolsencruises.com, or call  Reservations on 0800 0355 242 (Monday – Friday, 8am – 8pm; Saturday, 9am – 5pm; Sunday, 10am – 4pm).