The destinations are getting bigger. From Altenburg it's an hour's drive north to Leipzig. En route I hear for the first time that it's 'the new Berlin' and, as we enter the city, it's easy to see why. There's an energy to it, of youth colliding with tradition, and not simply evident for all the graffiti tagging the foot of almost every building as we make our way to the city centre.
New Berlin or not, one thing that cannot be denied is Leipzig's cultural legacy. Standing in AugustusPlatz, Germany's largest city square, we are effectively in the centre of the country's musical heritage. Here, the new Gewandhaus concert hall faces off against the 'new' opera house. The latter may look 19th century but, with the original being destroyed in the war, this, built in a neo-classical style, is its 1960 incarnation.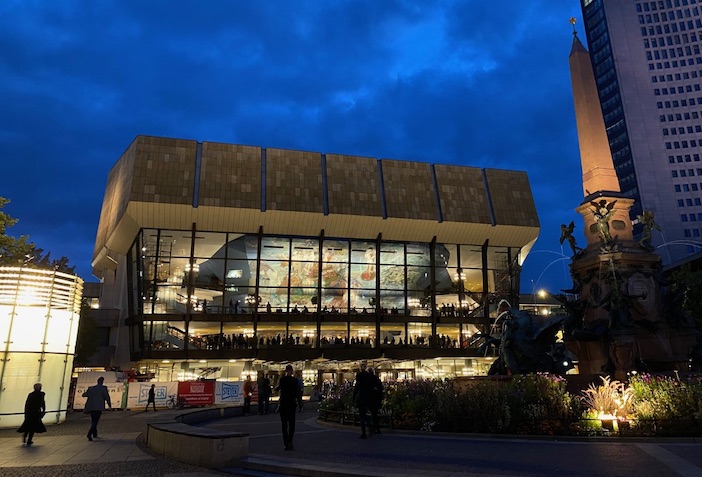 Opposite, the Gewandhaus, the famous concert hall, is a distinctly modern building, reminding me of London's Royal Festival Hall, although its decorative interior far outstrips the latter. Built in 1981, 200 years after its first predecessor, it emerged, remarkably, only under the direction of conductor Kurt Masur, who, when invited to be Kappelmeister, insisted he would only take up the post if a new concert hall was built. Curiously, gewand is nothing to do with music. It's the word for a type of garment, and it's in the former Guildhall of Drapers, or Gewandhaus, that concerts first started to be played.
It's a fitting starting point for a rather unique take on a city walking tour; the Notenspur, or Leipzig Music Trail. Starting in Augustplatz, in front of the striking University building (built to resemble the church that stood there before, destroyed by the Communists), the tour is signposted by information posts and steel swirls embedded in the pavement, pointing you in the direction of travel. The complete Notenspur weaves through the city centre along a 5km trail, through all of the places of work of the city's famous composers. And it's an enviable list, with Bach, Mendelssohn, Schumann, Wagner and Mahler among them.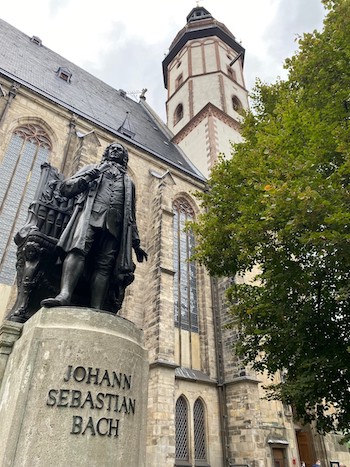 Among these, too, are the old town's churches, principally St Thomas's and St Nicholas's, themselves rather significant in the city's musical history. The former may be most associated with Bach, but it's the latter that draws my curiosity. It's beautiful interior nothwithstanding, it's where Bach auditioned to become organist (he was third choice) but, more recently, it's also the site of the 'peace prayers', the origins of the demonstrations in October 1989 that led to the fall of the Berlin Wall.
Whether new or otherwise, unlike many German cities, a lot of old Leipzig survives, and principally from the Gründerzeit, or Wilhelminian, period. Its Belle Epoque in style, also giving it the monicker 'Little Paris' in its time but, for all the grandiosity, there's one architectural oddity that really stands out. It's a maze of arcades and halls, dating back to its time as the home of, of all things, trade fairs; a tradition from the 12th century. But selling wares aside, it's these arcades that give the city its unique, often stunning, character. Some, such as the Mädler-Passage, the oldest surviving mall in Germany, make the Burlington Arcade look like a Noddy set.
Wending our way through buildings and between streets, emerging into leafy squares and cobbled courtyards, I ask our guide, Anna, about the 'new Berlin' thing. "It's a silly comparison," she says. "It came from the Auerbach wine cellar, the famous restaurant where Goethe spent his time, as a marketing slogan, and it's stuck. I can see why people might think that; we're both in the east, but we're Saxony, they're Prussia. And we're a sixth of the size. Berlin is in a different league." So, perhaps 'Little Berlin' is more fitting.
As with anywhere, to get really under the skin of a city, you have to steer clear of the tourists. In Leipzig's case, it warrants a short 10 min tram journey west from the central station, across the Weisse Esse river. Outside the densely-packed old town, the tram takes precedence down broad Palladian avenues away from the city centre, themselves contributing to the city's 'little Paris' reference, but these days they're interspersed with remnants of GDR brutalism and punctuated by the occasional graffiti-strewn derelict mansion.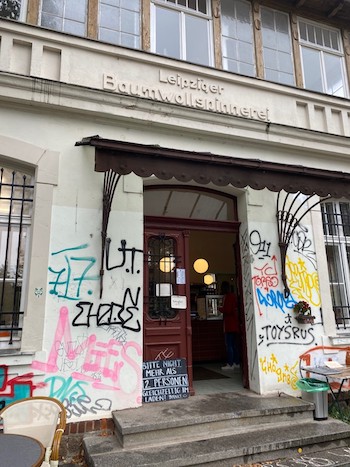 Our destination is Die Spinnerai, a vast square kilometre of disused red brick factories making up a former late 19th century cotton spinning factory. Beginning with a few hundred looms, in a few short decades it grew into a town within a town, housing thousands of workers, with its own tram depot (the lines still run through its cobbled streets), school and infirmary. After years of dereliction, it's now, as you might expect, a vast arts centre.
A graffiti-strewn cafe frontage belies the behemoth behind. It's still a town in itself, only unlike its former life it now houses galleries, studio spaces, workshops, a cinema, shops, even accommodation. It's an admirable example of self-sufficiency; a space where businesses subsidise the creatives. The new usage aside, much of the fabric of the original buildings survive, so it has the feel of a living museum. That café at the entrance, incidentally, Cafe Mule, may be a no-frills sort of place, but the food is delicious; hummus infused with herb oils and roasted veg, lentil curries and salads that would leave a vegan in Valhalla.
There's no shortage of good restaurants in Leipzig, a sign of it carving its own path in contemporary culture. Max Enk is a real find, tucked among the passages of the old town; it's bright, minimalist, with a menu to rival anything in London. But for locations you can't beat Panorama Tower. At the top of the soaring landmark that is Leipzig's tallest building, in Augustusplatz, it's an opportunity to see the city from a bird's eye view, the fusion on my plate reminiscent of the fusion of architecture below. Do restaurants still put salad on a plate where there's gravy? Evidently.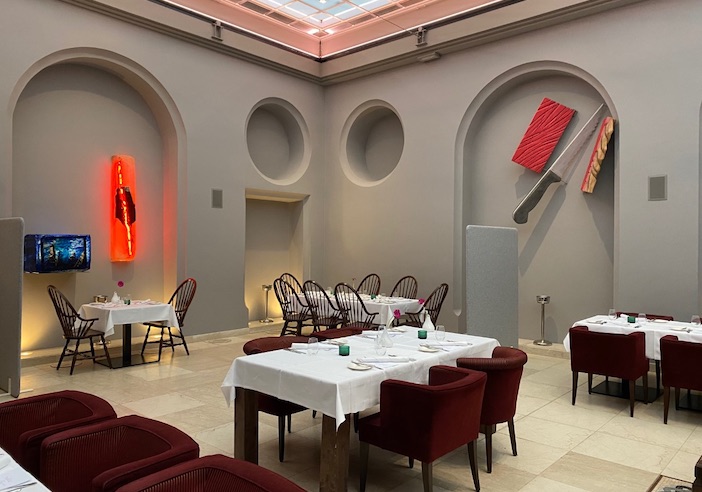 There's a touch of former GDR if you fancy something retro, too. A tram down the beautiful tree-lined avenue of Karl-Liebnicht Strasse (reminiscences of Paris, again) leads to Kollektiv and, opposite, Café Puschkin, set opposite each other in beautiful townhouses, amber light spilling from their interiors to the rain-soaked street. As I step off the tram and approach Kollektiv, I couldn't feel more George Smiley if I tried. Dirty three-quarter length mac and a carnation in my buttonhole aside, I nearly ask the bartender if he's my contact instead of ordering a drink.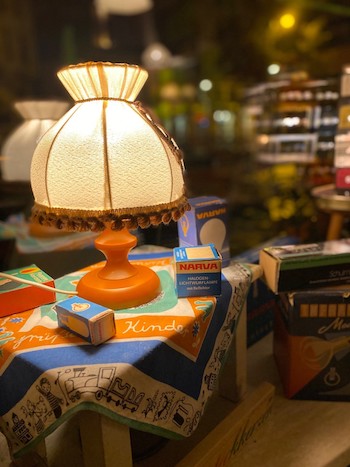 Inside, Kollektiv is full of mis-matched furniture, the decor crammed with Soviet-era memorabilia from street signs to lightbulb boxes to shellsuits and cassette tapes, and the menu features some delights such as '4 slices of bread with fat (and pickles)', schopska salad and bockwurst with potato salad. Two 'diesels' (beer and cola) down we cross the road to Russia and Cafe Puschkin. It's blisteringly kitsch, bathed in red light, and similarly quirky in decor.
Booths are created with doors nailed to makeshift timber frames, and the interior design is like something out of Changing Rooms from an indecisive but well-travelled neighbour. The only real giveaway this could be for tourists is the menu written in faux Cyrillic. It's a moment in which I get under the hood in the city and, to prolong it, I opt to walk back, taking in the ambience; passing pavement cafes and repurposed buildings as exhibition spaces, the clanging tram bells fading in the distance as I enter the hotel.
It's been called a 'little Paris' and a 'new Berlin', but I would say Leipzig has its own identity. It feels at once contemporary, historic, Bohemian, romantic; where Belle Epoque meets Eastern Block, with its distinct architectural quirkiness and cultural legacy. Rather, it could be Germany's answer to Barcelona, or Lisbon. But enough comparisons. Leipzig is, simply, Leipzig.
For more information about Leipzig, including its history, accommodation and dining, and ideas for what to see and do during your visit, please visit www.leipzig.travel. And for more information and travel tips in Germany, please visit www.germany.travel.
Photos by the author