In a travel triple bill this Bank Holiday weekend, we turn our attention to South Africa, as Rachel Fellows embarks on a grand tour, from the seaside town of Durban, through the 'Mandela Trail' and concluding in Cape Town. In this first part, it's all about spicy curries and the phenomenon that is the 'Sardine Run'…
When the sun sets over Durban, an igneous shock of ochre drenches the famous red and white lighthouse at Umhlanga, like a living watercolour. The navigational beacon has stood resplendently since 1954, when it was built in front of The Oyster Box hotel which, happily, sports a matching colour scheme – the stripy sun loungers and umbrellas around its beachfront pool are, similarly, picture perfect and a supremely jolly sight. At the opposite time of day, this landmark acts as a useful gauge for morning runners making use of the expansive promenade that hugs the white sandy beaches – the area is a hive of activity come dawn or dusk.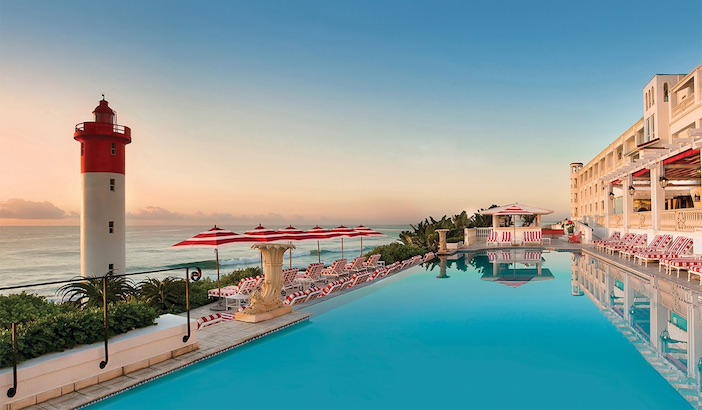 Envisioning South African holidays, it's easy to think first of the cosmopolitan Cape Town on the western coast, and the lush winelands surrounding it. You might fly in to Johannesburg and bask in a bit of city buzz before driving out to the Kruger, or some such, for a bush adventure. But despite being the country's third largest city, Durban doesn't always get much of a look in. Not from foreign tourists, at least; locals know to venture there for the excellent beaches, especially if based in-land, where the heat of the north can become oppressive at the height of summer between November and March. Now, a direct plane route from the UK means that Durban could easily become your next sunny spot. Particularly since that part of the Indian Ocean is so much warmer than many of the Capetonian waters, which chill you to your core even on the hottest days.
And those beautiful beaches are most exceptionally viewed from the skies. Ok, ok, so it sounds profligate – not to say unattainable – to talk of helicopter rides but, as it turns out, an airborne tour of Durban does not have to cost you the earth (and we're not talking dodgy budget lines either). For upwards of 2,420 Rand (around £132), you can glide above the shores in a dinky but nifty Robinson 44, and the perspective you get on this city is magical, especially during that golden sunset hour. You'll also get a glimpse of what else to explore during your stay, with views of the Moses Madhiba Stadium, the botanical gardens (Africa's oldest) and more.
Yet one phenomena that you won't see from the skies is the Sardine Run. For this, you need to be much closer to the waters though, come what may, there is no guarantee of you witnessing it at all. Never heard of it? Quelle surprise. But it's astonishing: between June and July, giant shoals of sardines – billions of them – migrate southwards along the coast. They look like a tumbling, twirling thread weaving along the seafront, which gets followed by various predators, meaning that you might see dolphins leaping in and out of the back of the convoy, or the slower fin of a shark zig-zagging behind. David Attenborough eat your heart out: this is Blue Planet right in front of your eyes and so it's worth keeping a look-out for it. If you're really keen, look to Twitter and local news sites for progress reports to help you hunt it down.
Back on dry land and you may be getting peckish, which is convenient as Durban's culinary scene is both eclectic and burgeoning. The main town's beachfront is abuzz with activity, with stalls and restaurants aplenty including the Cargo Hold within the marine centre, where sea life swims past the tables. It is worth querying a trip to one of the townships with your hotel, as the more informal, lively eateries, or 'shebeens', serve generous portions of South African signatures – braaied meat platters are laid in the middle of the table to be mopped up with breads, corn pap and eye-wateringly spicy chakalaka (tomato and bean relish), with music and plenty of drinks on the side.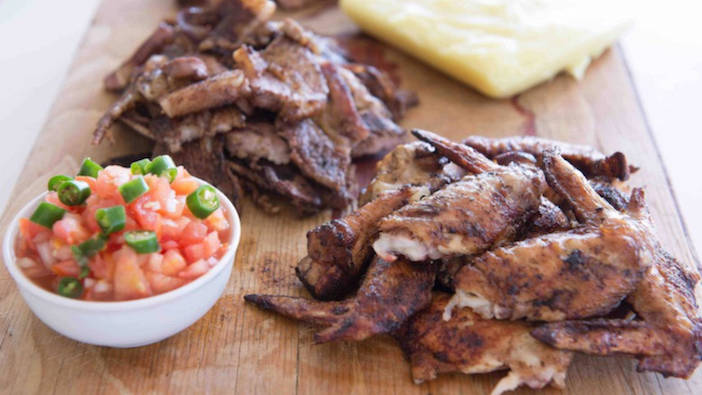 Max's Lifestylein Umlazi is the most famous and makes it onto various international restaurant lists, or there's the nearby Eyadini Lounge, favoured by local celebrities and a little newer. With a large Indian population, Durban is the home of bunny chow (a dish created in the 1940s wherein curry is served in a hollowed-out loaf of bread) and the Victoria Street market is the place to go for stocking up on spices. For an all-out kind of curry experience, then we are led back to The Oyster Box, and its renowned curry buffet.
Oh, the curry buffet. Whilst being precisely what it says on the tin, that tin is basically embossed in gold, as this five-star hotel does not do a single thing by halves: there are always at least 11 types of curry to choose from (or, by all means, go ahead and sample every one of them), thus accounting for every taste, with myriad condiments and accessories on the side. And you get to enjoy your meal whilst overlooking the Indian Ocean from the terrace restaurant.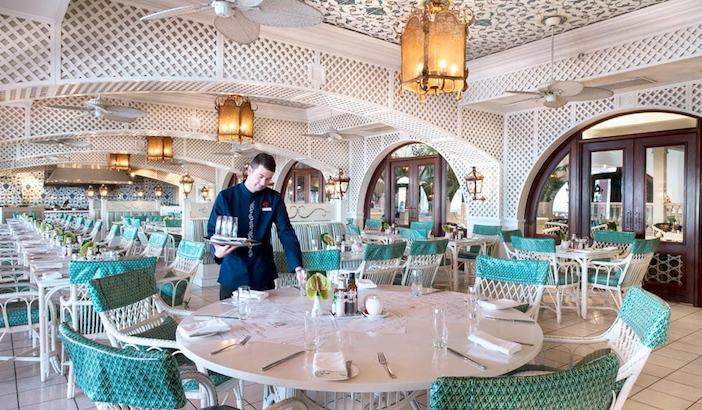 The Oyster Box is, undoubtedly, the place to stay in Durban. Dating back to 1863, the site has been a hotel since 1947 and was bought by the current owners, the Tollmans, in 2006. It is no surprise that oysters play a large role here, but they hold a greater significance than you might think because, aside from the private oyster beds out front and the state-of-the-art system for cleaning and storing the crustacea in the kitchens, it is over oysters – and Oyster Box oysters at that – that Bea and Stanley Tollman had their first date back in 1952: before turning into a grand dame of international hotels (the Tollmans preside over the Red Carnation group and more), Bea tried oysters for the first time ever here – and she spat them out, so alien did they seem. This very personal history causes the family to put special effort into The Oyster Box, and their presence is palpable – from the equestrian artwork of which Stan is so fond, to his collection of clocks adorning the first floor library; staff will reverently show you the couple's regular table in the formal dining room but, equally, their sense of exuberance is evident in the giant domes of sweets adorning the breakfast buffet.
If that's not enough of a domestic feel amid the irrefutable luxury, then there is even a resident cat: she is called Skabenga, she marches to her own tune (of that there is no doubt) and she made the news when she went missing a couple of years ago (the hashtag #findskabenga started trending on Twitter).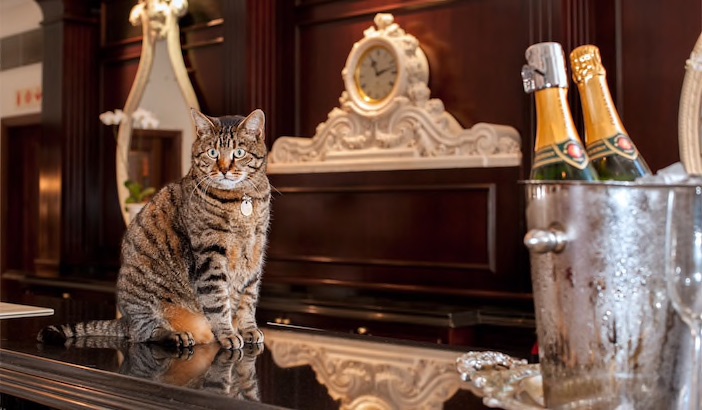 A good backstory is part of the allure of family-run hotels – it makes you feel a bit warm and fuzzy inside, and instills confidence that, if the place is of such sentimental value to the owners rather than representing a pure investment, then they are more likely truly to care about your opinion and thus enhance your experience. And so, as is only human, many a yarn gets spun and many a questionable fairytale is calligraphed onto bathroom walls for guests to stumble upon. But very occasionally, the fairytale turns out to be true, and perhaps that is what's behind the distinctive charm of The Oyster Box. Anyway, with its vibrant coral rooms and, of course, that stunning pool area next to the lighthouse, what more could you want? To experience the beauty of Durban, you'd be hard pushed to find a more idyllic, or luminous, setting.
Rooms at The Oyster Box start at TKTK. For more information, visit www.oysterboxhotel.com.
British Airways flies to Durban three times a week, with prices starting at £599. For more information and bookings, visit www.britishairways.com.
Legend Aviation's helicopter rides can be found here.