In the second part of our feature on South Africa, Rachel Fellows journeys from Durban to Cape Town, following a route marked by signature moments during the life of the man most synonymously linked with the country…
The R103 is your average highway. Linking Johannesburg with Durban in north-eastern South Africa, it is flanked by green fields typical of Kwazulu-Natal (the 'garden province') that stretch as far as the eye can see, with the odd farm or house dotted alongside. Then, just outside the town of Howick and an hour or so from Durban, at a seemingly random point, you come to one of the most significant locations in South African history: The Nelson Mandela Capture Site. It marks the precise location where the country's first democratically elected president was flagged down by a police car and arrested, leading to the infamous Rivonia Trials and his 27-year incarceration.
On 5thAugust 1962, 'The Black Pimpernel', as he was referred to in the press, had been on the run for 17 months, escaping detection by posing as David Motsamayi, chauffeur to a wealthy white businessman who was, in fact, the British-born activist Cecil Williams. The pair was travelling back to Johannesburg following a series of meetings in Williams's "trusty"*Austin Westminster, Mandela thus attired in a white dust jacket though, oddly, sitting in the passenger seat, when he "noticed a Ford V-8 filled with white men shoot past us on the right … Suddenly, in front of us, the Ford was signalling to us to stop. I knew in that instant that my life on the run was over."
As the most wanted man in South Africa at the time, one might expect something more extraordinary, more foreboding from the place he was finally caught. But the site at Howick is startlingly, almost unnervingly zen – even with fellow visitors around you. After turning off the main road, you drive up a long dust path towards a modest visitor centre (a revamped version of which will be opening soon) and park next to the tea rooms. Entrance is free and you are encouraged, firstly, to walk through a detailed exhibition taking you through Mandela's life and influences (it is a mirrored edition of one currently also on display at the Apartheid Museum in Johannesburg).
Fully apprised, you emerge back into daylight to amble down a thin, sloping concrete track towards Marco Cianfanelli's 2012 sculpture entitled 'Release.' This is comprised of 50 steel poles, all charcoal in colour and either 6.5 or 9 ft in height. Up close they seem slight and sway in the breeze, with odd, jagged edges that, when viewed from a distance, miraculously converge into the recognisable profile of Mandela. It will keep you captivated for an age – wandering amongst it, walking nearer then further away to see how the jigsaw so cleverly slots together.
You will be knocked for six simply by the silence, by the peace and the beauty of this remote spot. The province's weather is generally balmy (often bordering on sweltering) and with so much open land around you, the glaring sky seems endless. Even on a busy day at the site, nothing can distract you from the place, from what happened there and from its haunting serenity.
From Howick, Mandela was taken to the Old Fort at Constitution Hill, a prison complex dating back to 1893 with a weighty roster of political detainees, including Nelson and Winnie Mandela, Joe Slavo, Albert Lutuli, Bram Fischer and, in 1907, Mahatma Gandhi. A prisoner like Mandela would normally have been held in the 'Awaiting Trial' block but he was instead placed in the hospital wing. Some speculate that this was to keep him – and his influence – away from the other inmates and he was told that it was the most comfortable place for him to prepare his case. But it was also, he explains, "the safest place to keep me. To reach it one had to pass through two impregnable walls, each with armed guards and, once inside, four massive gates had to be unlocked before one even reached the area where I was kept. There was speculation in the press that the movement was going to attempt to rescue me, and the authorities were doing their utmost to prevent it."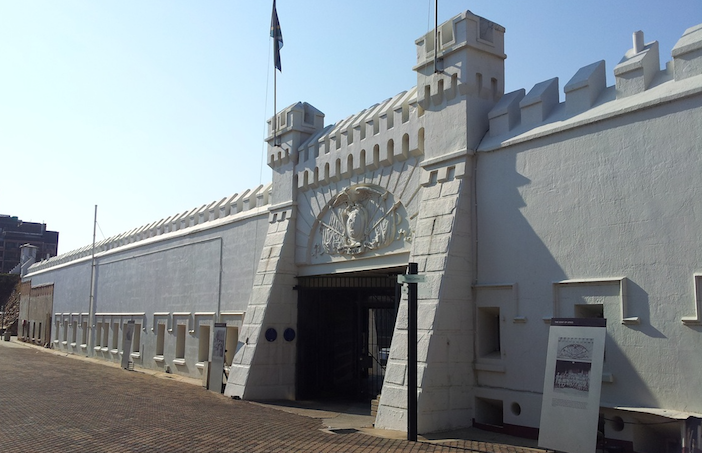 An hour's tour of the Old Fort includes time in the ward where Mandela was kept, which boasts an incredible collection of his personal diaries written between 1976 and 1989, including a host of correspondence. You get to see his painstaking handwriting and the sheer volume of letter-writing he did. Just outside is the Flame of Democracy, which burns perpetually in a copper bowl to mark the signing of the constitution in 1996, serving as a quiet, constant reminder of the force, as well as the fragility, of democracy.
The most comprehensive historical instruction is to be found at the Apartheid Museum, for which one journeys over the Nelson Mandela Bridge, a cable-stayed crossing built in 2003 linking the old side of the city with the new. The museum opened in 2001 and is a huge, interactive experience requiring a good half a day to get round at least. Upon arrival, visitors are issued with cards arbitrarily assigning them as 'whites' or 'non-whites' and determining which entrance they go through. So you might be separated from your group as you walk through the caged tunnel at the beginning, which tells myriad tales of individuals affected by apartheid throughout the twentieth century.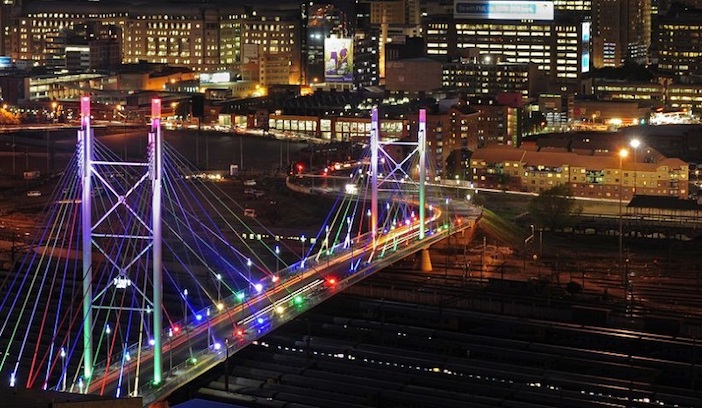 With so much to take in, you should take things slowly and make sure to see every video and every section. Finally, you reach 'Mandela Walk' and are encouraged to choose your favourite from a selection of his most poignant quotes, then uproot a giant wooden pick-up stick in a corresponding colour to the topic and place it along with other people's. There is a palpably excited air as guests jump back and forth to make sure they've chosen just the right maxim and jointly assemble the resulting rainbow formations.
Further south, the township of Soweto provides an even more profound perception of how Mandela lived when out of captivity, particularly if you visit his former abode at 8115 Vilakazi Street, which he bought in 1946 with his first wife, Evelyn:
"The house itself was identical to hundreds of others built on postage-stamp-size plots on dirt roads. It had the same standard tin roof, the same cement floor, a narrow kitchen, and a bucket toilet at the back … It was the very opposite of grand, but it was my first true home of my own and I was mightily proud. A man is not a man until he has a house of his own. I did not know then that it would be the only residence that would be entirely mine for many, many years."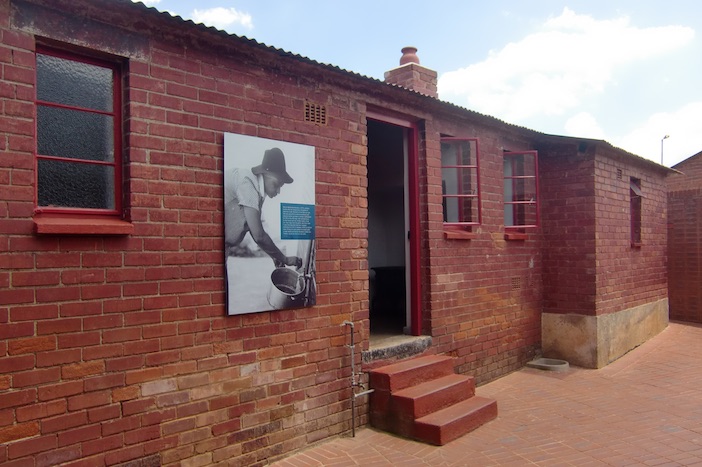 During Mandela's detention, the house was attacked and vandalized, even while his then wife Winnie and two daughters were living there. He insisted on returning to it upon his release, although had to move after a matter of days owing to security concerns. It now forms the Mandela House Museum and can be found halfway down a street that also once homed Desmond Tutu, giving it the unique kudos of having produced not one but two Nobel Peace Prize winners; you will find this fact repeated at you, breathlessly, not just by your guides but by any and all of the locals who gather round to talk to you. There is a quiet buzz in the air, which you will experience more of if you undertake a broader cycling tour of Soweto.
To be frank, this form of 'township tourism' can feel voyeuristic, and tourists are certainly not inconspicuous whilst pedalling around, but experienced guides will direct you steadily and, as ours told us, "We are trying to change history, so tourism is good." Lungile points to his protégée, Lebo Jr, at this point and explains that acting as a tour guide is important in providing a good example to the younger generation: "This is not Soweto, the township, anymore. We too can make a difference, be a positive role model; we grew up with criminals but that is not what we want anymore." Lungile works for Lebo's Soweto Backpackers, the first black-owned hostel in a township, where they had to borrow the bikes for their tours when starting out; now, they have over 100 bikes and more than 20 staff members with which to show visitors the length and breadth of the area. Once tired out, it's back to base camp for umqombothi (a sweet, thinly gelatinous and vaguely coconutty homemade maize beer), drunk from a communal cup around the fireplace, and the last Thursday of every month brings a guest speaker. The welcome you receive is charming and joyful, even if your legs disagree by the end!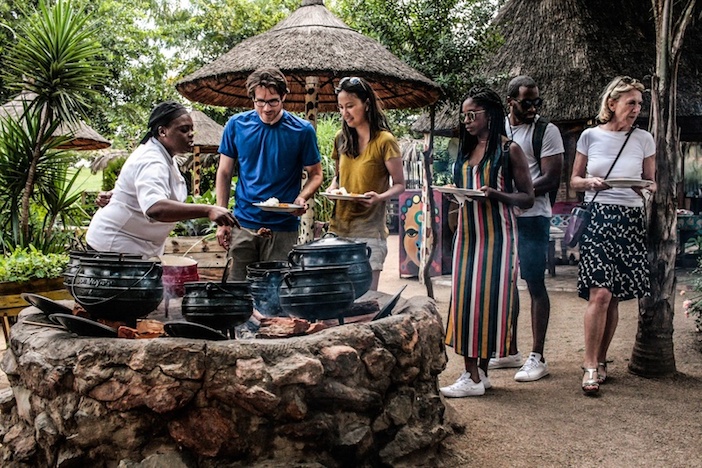 But of course, one can't attempt to follow in Mandela's footsteps without venturing south to South Africa's largest city, Cape Town. A 'Footsteps to Freedom' walking tour on the mainland will provide insight and set your bearings, but nothing compares to Robben Island, where Mandela was held for 18 out of 27 years. To reach it, you take a 20-minute ferry ride out of Table Bay, away from the bustling V&A Waterfront and its cafes and shops, and across nearly 7km of the Atlantic Ocean to this silent, bleak terrain. The ferry ride can – be warned – get brutally cold on waters that routinely get too choppy for crossings to take place at all (it is worth keeping an eye on the weather the morning of your scheduled trip). It is near and yet boundlessly far from Cape Town proper and experiencing it grinds home the pitilessness caused to anyone who ended up there. As Mandela described it:
"Robben Island was without question the harshest, most iron-fisted outpost in the South African penal system. It was a hardship station not only for the prisoners but for the prison staff … Journeying to Robben Island was like going to another country. Its isolation made it not simply another prison, but a world of its own, far removed from the one we had come from."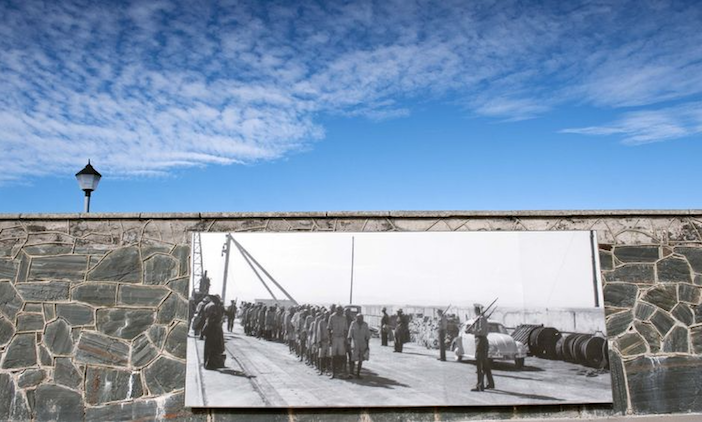 The museum there was established in 1997 and, once you arrive, a bus transports you through the gates and to the different sections of the island, with everything explained by guides who are all former inmates. One striking detail that you need to see to appreciate is the gleaming white of the chalk mines where Mandela carried out much of his manual labour – the continuous exposure to such an abrasive white landscape caused irreparable damage to his sight and you can feel why from just a glance.
Finally, you come to Mr Mandela's cell, as it is so reverently refered to (otherwise known as cell 466/64). You can no longer walk inside since it's protected from too much trampling by bars across the doorway, but that won't stop you witnessing every inch, so tiny does its 7ft by 8ft seem. As in Howick, you almost want to call Robben Island's setting peaceful, but it is jarringly so and beggars modern sensibilities not only to imagine being held there, but for why.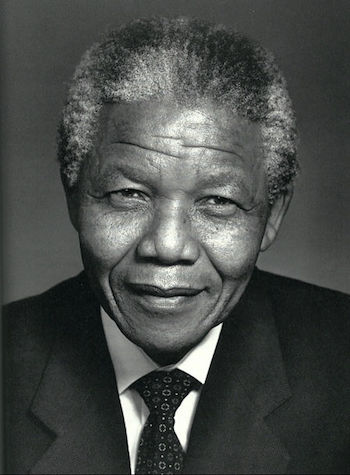 Nelson Mandela is indelibly woven into the landscape of South Africa: you can find links to him dotted all over, like the small town of Qunu on the Eastern Cape where he was born, or the Ohlange High School up near Durban where he cast his vote in those landmark 1994 elections, or the Union Buildings he worked from in Pretoria, or the Groot Drakenstein Prison near Franschhoek from where he took his first steps as a free man.
People everywhere remember interactions, or reports of interactions, with him and whilst one could imagine that sort of dedication seeming overbearing to visitors, it is quite simply awe-inspiring to witness the shared pride taken in this one, indisputably unique and irreplaceable leader. You will not be short of things to do in South Africa – the food, the wine, the mountains, the seas, the game reserves… they all scream to be experienced – but following in Mandela's footsteps (if only a few of them) is crucial. And really rather special.
*Long Walk To Freedom: The Autobiography of Nelson Mandela (Abacus, 1995)
Rachel's tour of South Africa concludes tomorrow as she explores one of the country's oldest towns, part of the Western Cape's wine country, Franschhoek…