We all know about la dolce vita, mostly from Fellini's 1960 film of the same name that maybe gave a somewhat idiosyncratic idea of the concept. But what about dolce far niente? This is a far more subtle idea – it means literally "the joy or sweetness of doing nothing". And nothing could be more Italian. As approaches to life go, it's the opposite of the Northern European one, where workaholism generally gains approval while pleasures (and time off) have to be earned. By contrast, dolce far niente suggests you aren't duty bound to do anything at all. The heart lightens and time unravels so you can enjoy even the smallest of delights.
It is a concept that is explained in the Italian section of the Julia Roberts film Eat, Pray, Love. A handful of Italian men are sitting in a barbershop (as is Julia Roberts, though I cannot recall why) when they tell her that it is only Italians who understand how to savour the simple pleasures, how to grasp delight from every moment. Everyone else is too busy running on the hamster wheel of life.
And, of course, it's true – in Italy you see those effortless, chic pleasures in abundance. Surely, this must be the easiest place to be in the moment. Surrounded by beautiful architecture, food, music (let's face it, even the language sounds like music), it's easier to take your time here, forget the pressure and savour each moment as it comes.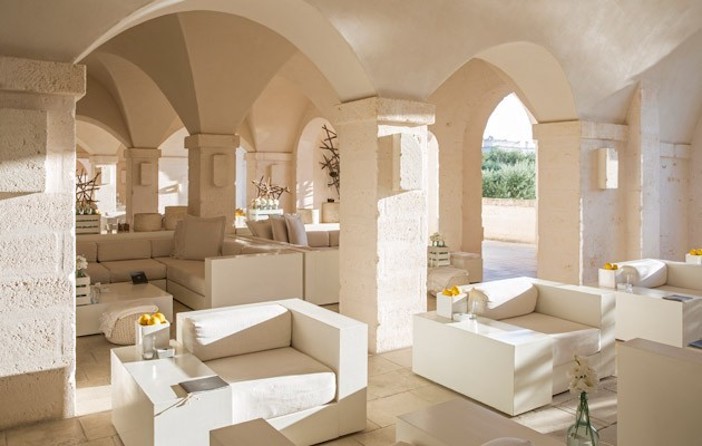 Borgo Egnazia epitomises this. Down in Puglia, a few hundred metres from the coast and nestled among olive groves, it's a place designed to unravel your senses. Arrive in the evening to see its creamy tufo limestone walls rise magnificently, the driveway lit by tall church candles in giant lanterns. The main doors open onto a long hallway lined with more candles, white sofas, perfectly symmetrical pairs of open fires burning scented wood. With its curved ceilings, it looks like an old monastery and it has a sense of peace that wouldn't be out of place there. Its design calms the mind with its rhythms – huge wicker baskets of walnuts or brown autumn leaves, bundles of pages from old books, tied up with string in wooden frames as "pictures", stone troughs full of rock salt, branches suspended from the ceiling, bundles of ancient iron keys, wood ladders leaning against walls and going nowhere.
At its centre is the Borgo's Tree of Life – its leaves created from the pages of books, an invitation to curiosity and an artwork of considerable beauty. This is the Borgo's main Corte (court) and this is itself surrounded by a perfect medieval village with chapels and colonnades, belltowers and piazzas. Yet all is not as it seems. This is no monastery or ancient masseria. It was built in 2010 – a very Italian fantasy.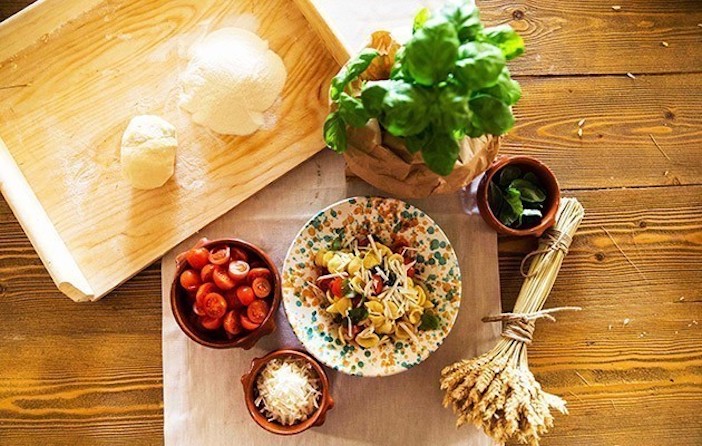 The delights of the Borgo are Puglian – architecture, food, olive oil and, when I was there, particularly wine. This, in fact, was at the heart of the Festa dell'Uva (grape festival) because it was harvest time and it seemed like a good reason to celebrate. Celebrations are not thin on the ground here – Puglians like to party and the week before there had been one to celebrate the tomato harvest and the making of traditional tomato sauce. In Puglia, it seems, there is always something to celebrate.
For the grape harvest, the Borgo's main piazza is decorated with lights and vine leaves and the vines are made into coronets for the guests and the people who work here, too – the female employees have the most insouciant "uniform" of floaty white dresses. There are stalls demonstrating ancient methods of turning grapes into wine and others with all kinds of food, performers mingling with guests (stilt walkers, fire eaters, tumblers and a man in a top hat whose main function is to blow bubbles to delight the children). There is an excellent jazz band that is sometimes interrupted by a traditional Puglian one. There is singing, dancing and, of course, the wine flows.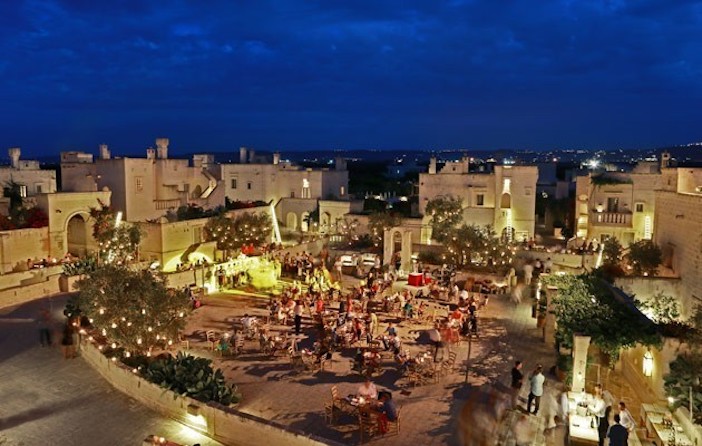 If this doesn't get you into the dolce far niente state of mind I'm not sure what will. But there is, helpfully, a woman with a magnificent headdress made of grapes who hands out mottoes from her wicker basket ("wine is the only artwork you can drink") and advises everyone how important it is to get drunk – either on wine or on love.
At other times, the Borgo is a haven of tranquillity. You can relax by one of its many pools, take the golf buggy shuttle down to its seaside restaurant Cala Masciola for the freshest of fish (this is just one of six restaurants), play a round of golf or go to their extraordinary spa. This is based on a real Roman one (its ruins are just down the road) and takes you back 2000 years – you're escorted by a therapist in flowing robes.
As you might imagine, they don't go in for off the peg treatments. Instead, you might try a massage inspired by the full moon or the sea. They have themed programmes, like the Happiness Break – "a guided course towards a light and joyous vision of life".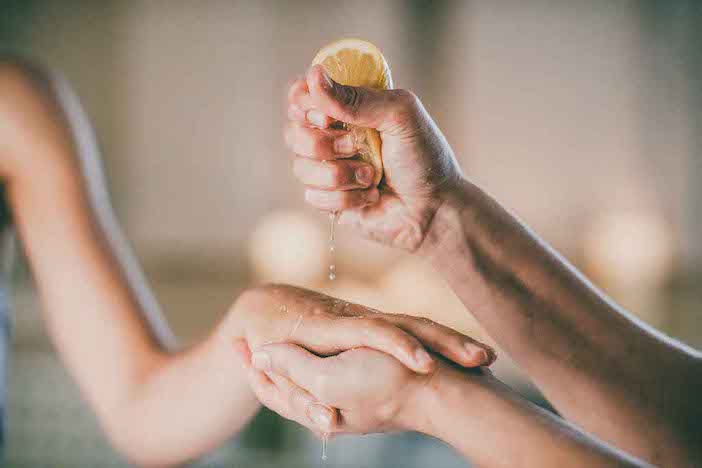 I tried three very different therapies. The first was their deep blue Floatation Room where you achieve the kind of weightlessness usually only experienced by astronauts as you float in a salt-saturated tub. It promises to correct your sleep cycle and I have to say – besides being a delightful half hour in itself – I slept unusually well that night. Then there was the Nagghir oil crafting massage. A series of different oils (almond, olive, caper) were poured over me in "a velvety embrace" that I wanted to go on forever. And, most unexpected of all, Nu sun Vair (a true sound) described as a meditative experience, guided by the sounds and stories of Puglia.
Giuseppe (actor, musician, singer) tells a story as he wanders around you, sometimes singing, sometimes playing instruments (some traditional Puglian, some of his own invention), sometimes speaking or chanting – all in Puglian dialect. Even Italians would struggle to understand the words but that is not the point. It is the rhythms and timbres of his musical tale that help you to create a story and a journey in your own mind. When he isn't doing this, he is the Master of Laughter, setting you on a path to take life less seriously and to stimulate laughter "starting from the small things". What can I say? Only dolce far niente.
For more information, including details of room rates, events and offers, and other properties in the San Domenico portfolio, please visit www.borgoegnazia.com.