Dubai, or Dubada as my 8yo now affectionately calls it, wasn't, I admit, my first choice for a family holiday. I'd heard mixed opinions, had preconceptions and, in my head, I'm imagining a sort of hybrid between Las Vegas and Disneyland. But is it style over substance? Is it just the playground of the nouveau riche? Or am I deferring to type and being the awful snob?
Little surprise my initial cynicism dissipated when I found out just how popular it was in the school holidays. We were intrigued. So, with the onset of the Easter break, and the first opportunity we've had to go away in two years, we packed our little nest of vipers and made for Heathrow…
Year-round sun aside, there's one main reason Dubai is popular for family holidays: water parks.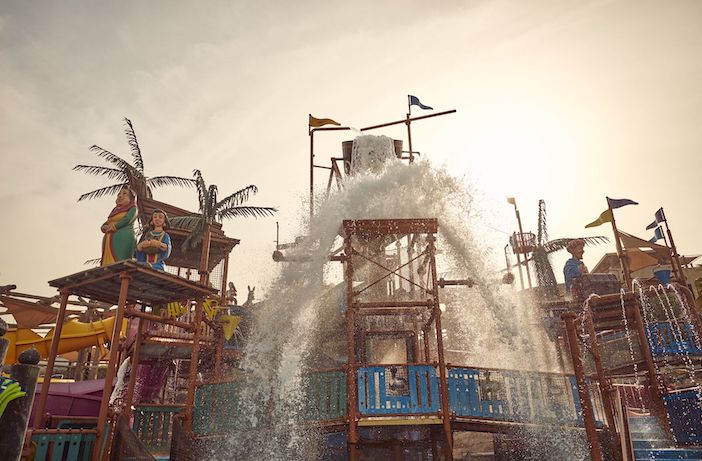 Ever since Wild Wadi first opened in 1999 the city has been synonymous with them, each trying to outdo each other in scale and excitement as much as its skyscrapers compete in size and wonder. There's Atlantis's Aquaventure on the Palm, the biggest, and perhaps best for adrenaline junkies, featuring the world's tallest slide; the Laguna is a bit more bijou and better for older children; then there's the Lego park for, well, Lego-mad kids (and let's face it, who isn't), complete with raft-making with giant Lego bricks.
But the original – and still the best, in many opinions – Wild Wadi is a catch-all for any family. Set out like an Arabian wonderland, it's a maze of overhead tubes and pipes and waterfalls. A meandering river around the park is also the entry point to some gravity-defying – and satisfyingly long – white water rubber ring rides; there are fun family rides, too, which got us all screaming in unison, not to mention a huge lagoon play area with a timed cascading waterfall.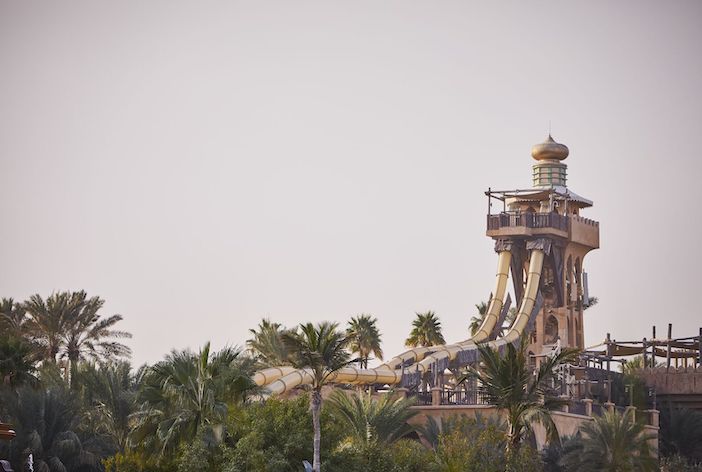 It's also home to the Jumeirah Scream, definitely one for the brave; the moment I stepped into the capsule and realised the floor was going to drop away from me, I knew I'd chosen poorly. Even the sternest of nerves will leave you trembling and kissing the ground as you come out of that one.
Okay, but water parks aside, isn't Dubai all about shopping? Well, yes, and no. Everyone raves about Dubai Mall. The ultimate Mecca to high-end consumerism it makes Westfield look like a market stall. Like any shopping experience, it's probably best avoided unless you want the relentless run of bored-versus-pestering liturgies that most child-accompanied shopping trips come with, although there are spectacles and curiosities, such as the aquarium wall (which is worth the look), the fountain and the selfie opportunity below the Burj Kalifa.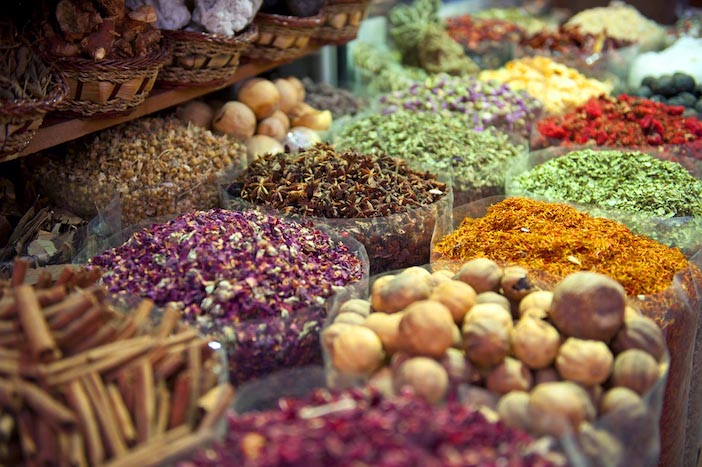 However, for a bit of shopping with a more cultural spin, the souks in the north of the city are a terrific throwback to the more traditional Middle Eastern market experience. The spice souk, in particular, is a must; down a narrow medina-esque passageway, colourful conical towers and wafting scents assault the senses; our little one was drawn in by the kaleidoscopic array as much as we were batting off the vendors badgering for business.
Taking that cultural turn one step further, lest we forget, Dubai is built in the desert and a three-day trip really doesn't have to confine you to the city. Once you've taken in the spectacle, exhausted the hotel pool and marinated in a water park, it's worth escaping for an afternoon excursion into the dunes.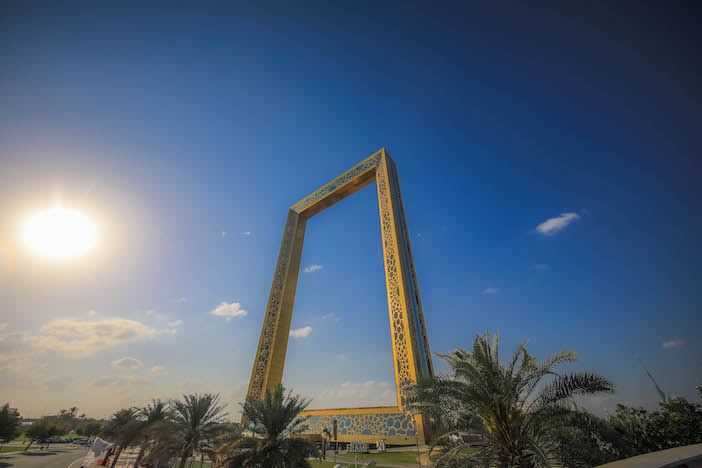 We're picked up from our hotel in a shiny red 4×4 Jeep Wrangler and our guide, Hycent, gives us a whistlestop tour as we escape the city, passing the various landmark buildings (and they are quite remarkable; the 'frame', the Museum of the Future, to name but two), and offering lots of insights into life in Dubai.
As we turn south on the Al Ain road, the built-up areas slowly taper away, and we encounter a more rustic Arabia, passing a camel race course and camel farms, before the desert begins proper, with firebush scrub, stony ground, Bedouin villages and, eventually, dunes. We're heading to Margham and the Dubai Desert Conservation Reserve, where we gather with other vehicles, before we set off on convoy for what will become a sort of theme park experience, desert-style.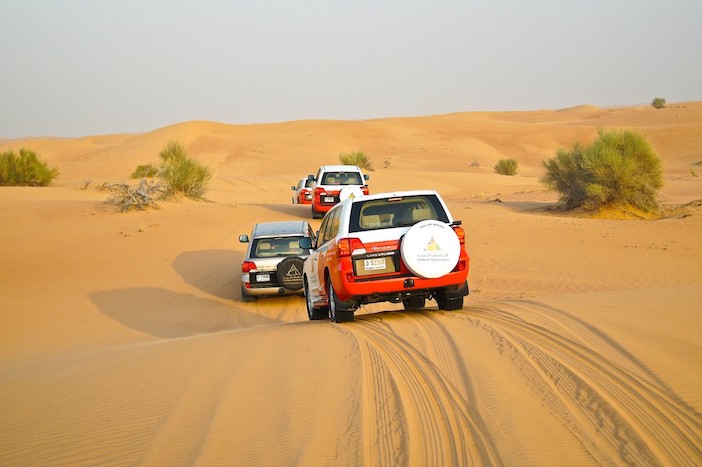 It begins with dune bashing, quite literally. Hycent described it as a rollercoaster on sand, and he wasn't kidding. Wheels spinning, sand spraying as we bank and slide, one second we're facing the ground, the next we're looking up at the sky, as if we're riding high seas, all to a soundtrack of gleeful screams and commentary from our 8-year-old in the back seat.
We soon peel off from the group for the private excursion, and continue at a more sedate level, gently bobbing over the undulating waves as we head further in, to their highest dune, for a short go at 'surfing' (as much a work-out going up as it is the thrill coming down) before our next stop; taking a camel ride to our dinner destination.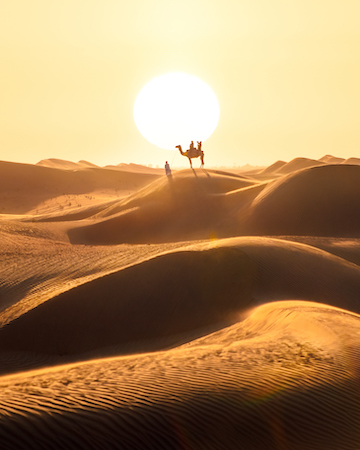 If you've never ridden a camel before, it's as inelegant as it is uncomfortable. With Mrs L protesting at my ungallant ineptitude to assist her, our daughter's curiosity alone was worth the discomfort. Despite the novelty wearing off quickly, with the sun slipping below the sand behind us, we spot our destination: a literal oasis a few hundred yards ahead, where a table is made up under a pergola, replete with Arabian mezze and barbecue, and a lounge area to watch the sunset as our daughter sits, enrapt, as she's given henna tattoos.
We savour the moment as Hycent entertains our little nest of vipers, by now more of a weary sloth, but we are here, in the desert, not a hint of the world's noise but for the whisper of the breeze, the flapping of the flame torches, and the soft soundtrack of the ambient Arab music. Beyond the lit border of our immediate vicinity there's nothing but blackness, a crescent moon in the sky and the smell of warm desert air. I was sceptical of this when I came, fearing being processed in a group with reluctant staff, but this was, truly, a memorable, special experience.
Desert dining aside, as you might expect, Dubai has no shortage of eating options, so it's a good idea to eschew the full board offer from the hotel and venture out. Since you're at Wild Wadi, you're a stone's throw from one of the many dining options by Jumeirah, the high-end hotel group, both with their Jumeirah Beach and Madinat properties, and two options for dinner both present themselves for families.
A steak wouldn't have been my first choice for dinner in Dubai, but then Hide is no ordinary chop house. Come to think of it, Jumeirah al Qasr is no ordinary hotel. It's where golf carts don't shuttle you to your villa, but dhows do, amid greenery so lush the Amazon would ask for a licence fee. But, this being Arabia, it's palatial, emblematic, evocative, and dripping in opulence, where chandeliers cascade as much as the waterfall in the lobby that accompanies your walk down to Hide.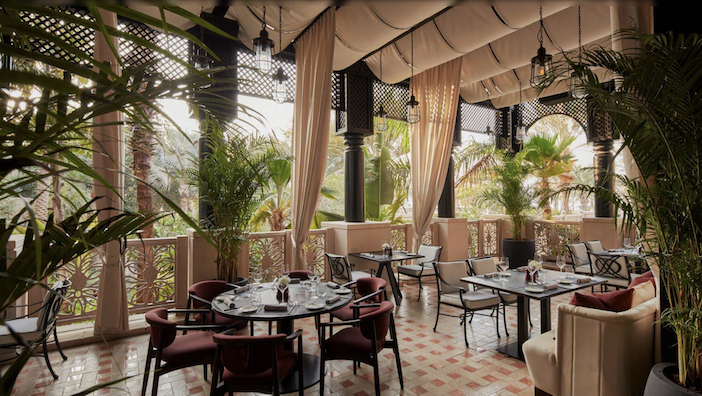 On an art deco-inspired terrace, soft breads and bite-sized tacos prefix a grill featuring John Dee Gold and Prime USDA steaks, but the signatures really draw the eye, from braised shortribs, lobster pasta and lamb rack to the intriguing 'hidden' burger.
Similarly, there's Bastion. One of Jumeirah's signature brands in its culinary portfolio, something it prides itself on – and you can see why. Situated on the top (25th) floor of the Jumeirah Beach Hotel, it's recently undergone a transformation from subterranean-style Argentinian rotisseria to a fresher, airier French brasserie, and a menu to boot. A lava stone grill turns out tenderloin and tomahawks, and staples are given a searingly impressive spin.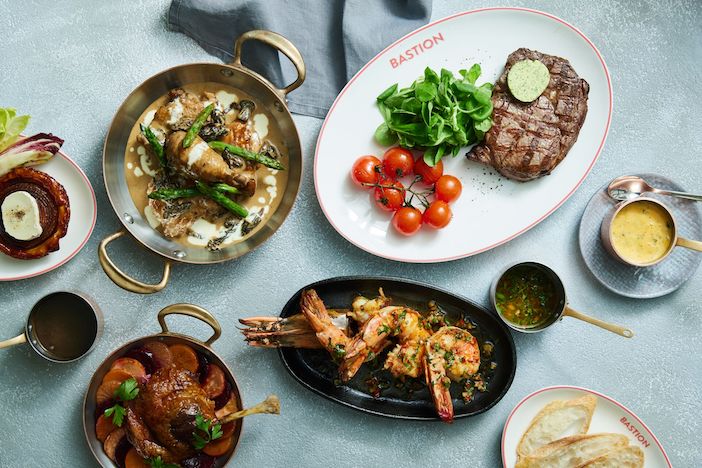 Bourgignon and baked camembert aside, the caramelised onion tart alone transports you straight to Paris. In fact, you'd think you were in a low-lit bistro in the Marais were it not for the stunning backdrop of the Burj Al-Arab lit up in green and twinkling its lights at you from the floor-to-ceiling balcony window.
As with Hide, Kids' menus offer more excitement than the standard chips-with-chips fare; it's as if they're specifically catered for, rather than simply running off small portions of the adults' menu, and if the look on our daughter's face when confronted with three boules of ice cream in an oversized martini glass is anything to go by, we could have eaten here every night. Even if you're not staying there, there's a dazzling light display from Dubai's main strip that would rival Vegas as you make your way back to your downtown abode.
Not unlike its Nevada cousin, Dubai is a brilliant half-term/long weekend/short holiday getaway, and better en famille. Even the six-hour flight feels painless, particularly overnight if you don't mind running on adrenaline on Day One. Needless to say, our preconceptions overturned; we began planning the next visit. After all, we still have the Museum of the Future, the sunrise balloon ride, the Jumeirah beach, the old town, the Palm, the sky observatory– oh, what the hell, I'm booking for Autumn.
For more information about Jumeirah hotels, including details of dining options, experiences and, of course, Wild Wadi, please visit www.jumeirah.com.
Arabian Adventures evening desert safari costs from £87 per person and is bookable online at www.arabian-adventures.com.
For more information about Dubai, including all forthcoming events such as the Food Festival (2nd-15th May 2022), and to start planning your trip, visit the official tourism website at www.visitdubai.com.