It's difficult to know where to begin this tale. Slap bang in the middle, watching hares nibbling at flora outside the window at 3am, a metre from the foot of the bed I'm tucked up in, breastfeeding my four-month-old baby. Their moonlit cottonball tales bobbing up and down, left and right; a moment so magical I no longer feel unlucky to be the only one awake at that godawful hour. Or towards the end, to another time I will never forget: bathing with bubba in an outdoor tub at sunrise, witnessing the reserve come to life through dawn song and starling murmuration; the upside-down version reflected in the still ponds, sliced up by gliding moorhens and swans.
No matter. Wherever I rewind to in the 24-hours we stayed at Elmley Nature Reserve, I am in awe of the surroundings and completely relaxed. My other half, too. Which considering it was our first proper trip away from home as a newly-formed family of three, a slightly daunting prospect, is quite something.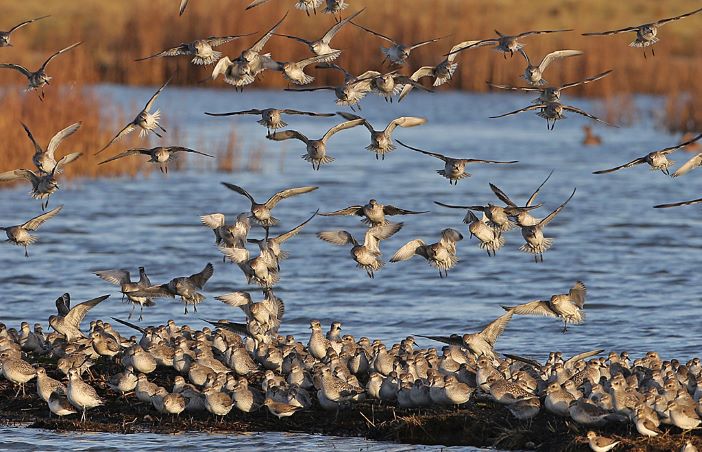 When we were deliberating where to head for this milestone, it was Elmley that came to mind. I have friends who have celebrated birthdays and anniversaries there, others whose social feeds feature regular snaps from year-round day trips. During those early days of lockdown, I too visited, virtually, via the live Instagram streams of reserve activity presented by resident nature guide, Abbie Burrows (@birderburrows), and wished I could teleport there. I'd had Elmley on my radar long before we finally made it.
Stretching 3,300 acres across the Isle of Sheppey, off the northern coast of Kent, Elmley has evolved over 40-odd years from being a farm to a National Nature Reserve, attracting swarms of rare birdlife year-round, and almost as many bird enthusiasts and experts as a result. What makes it extra special is it's the only one where you can stay overnight. And while it's an easy day trip to do from London, stay you must. You'll be treated to spectacular sunrises and sunsets, dawn choruses and dusk owl fly-bys. Plus, the accommodation is excellent and the welcome exactly what you hope for from a family-run affair.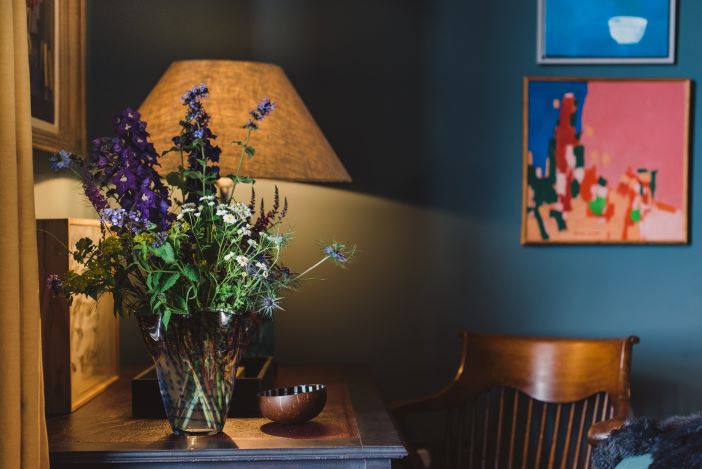 At Elmley's heart, is Kingshill Farmhouse. One-part Georgian, one-part Victorian, a lick of modern and a lot of sympathetic, no-expenses-spared, renovation, it's a very dashing B&B&dinner abode for 12, which has the claim to fame of being 'As seen on TV', having featured on Sandi Toksvig's Extraordinary Escapes.
There are fire-lit snugs dedicated to eating, drinking and swapping nature tales with fellow guests, negroni in hand; and quiet corners for pulling down one of the books from the shelves and keeping yourself blissfully to yourself. A large suntrap kitchen is a prime spot to start the day settled at the long farmhouse table, with a mug of Whitstable-roasted Lost Sheep coffee and one of chef Louisa's delicious Kentington breakfasts of fresh apple pastry and granola. Vast bi-folding doors frame views of busy owl boxes, grazing cattle and the seemingly never-ending land beyond, which at night reminds me of a scene from Sonic the Hedgehog's Scrap Brain Zone, as the lights from the nearby town and factories twinkle in the far distance.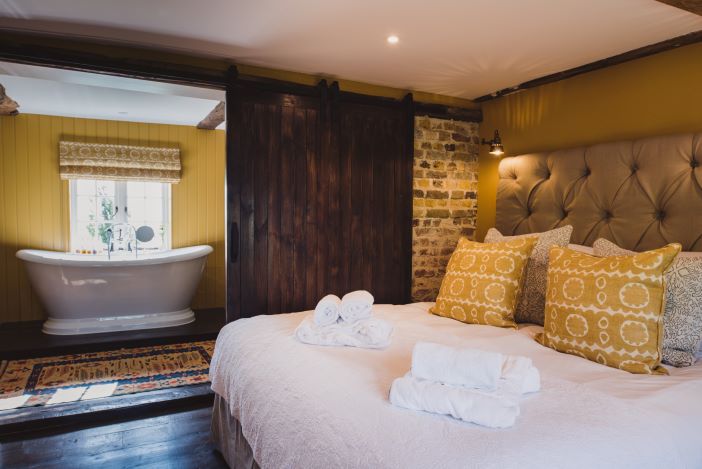 Upstairs, six south-facing guest rooms look directly onto the reserve while the interiors and Farrow and Ball palette nod tastefully to its flora. The best of a fine bunch is the Elmley Room, with double-aspect sash windows, four-poster bed, roll-top bath, and double rainfall shower all soaking up the restorative scenes of the reserve. Completely different, though just as lovely, is the Yellow Room, with a bed snuggled under low beams and exposed brick, and an elevated double-ended tub for sun-lit soaks. These are sumptuous rooms made for getting away from it all and being in the moment, lolling in the blissful peace of the surroundings, and resting after long days walking, solo or a deux. And while children under two and over 12 are most welcome to stay at Kingshill Farmhouse, it's exactly the sort of place I did not want to rock up with our unpredictable four-month-old. Still wet behind the ears of this parenting malarky, we felt it'd be too cruel to inflict that onto our fellow guests.
Dotted a short walk from the farmhouse are a variety of Shepherd huts and cabins. Tardis-like in their ingenious design. Tiny on the outside; unfolding within to provide luxury bathrooms and plump double or king-size beds. Hot water bottles, heavy feather quilts and Romney Marsh woollen blankets, plus clever insulation, make them truly all-year-round options. Some also have wood burners tucked inside and outdoor baths – enjoyed best at night in the glow of the fire pit, or first thing, when the grass is still blanketed in dew and the steam rises to join the morning mist.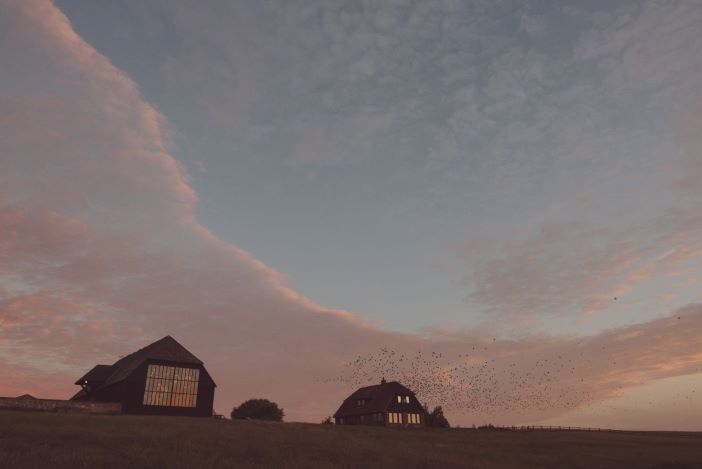 A moment's walk from each other, though cleverly shielded to feel completely private, and not a whisper of another's conversation wafting over into yours. It was one of these that we chose for our first little holiday; comforted by the knowledge that only we would be disturbed by the cries in the night.
Elmley Nature Reserve attracts over 12,000 visitors a year. It draws in even more thousands of birds. In November, when we visited, that included over 5,000 wigeon and geese, a selection of waders, four breeds of owl, birds of prey, and much more. Our fellow guests were couples, young families, but mostly people who looked like they knew (and love!) their bird stuff: camouflage waterproofs donned, flask filled, tripod underarm; or huddled together, a cloud of whispers, hefty long-lenses pointed towards a thicket, finger hovering over the trigger poised to capture the money shot like paparazzo stalking the latest big thing. Though much friendlier and keen to share what they've shot. Like the man who stopped us to point out a short-eared owl in a tree, we'd most definitely have otherwise missed.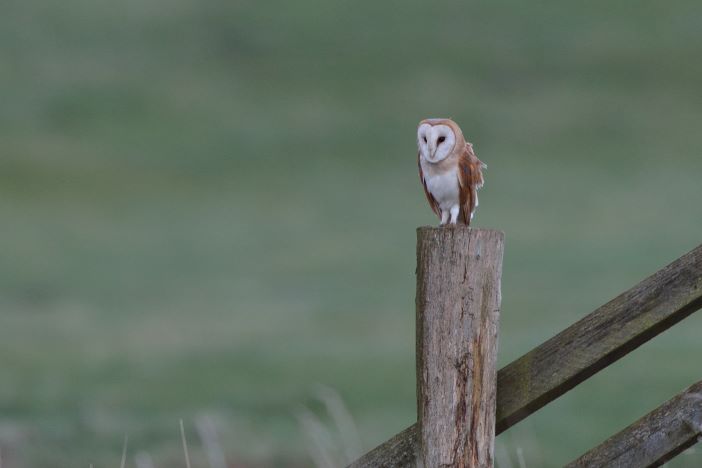 Our room was ready when we arrived, but so enticing was the land, we parked up, popped the baby in a carrier, pulled on our wellies, picked up binoculars, headed to the Cowshed Café to fill our travel cups with frothy lattes and stuff a couple of their warm sausage rolls and a flapjack into our rucksack, and then we headed straight for the trails.
We bumped almost immediately into resident nature guide Abbie Burrows who felt like a friend after those IG streams, and whose encyclopaedic knowledge of the reserve's nature makes for engaging almost daily tours. We'd ordinarily have joined one, but with baby in tow and a nap on the horizon, we decided to take a self-guided stroll, steered by one of the walking maps Abbie had handily annotated with tips on what to look out for where.
Within minutes we'd spotted a stoat, then a marsh harrier soaring for prey, a kestrel hovering over a patch where, presumably, a field mouse or other was snuffling below. Onwards, to what looked like a hare in the distance, and through the binoculars, turned out to be many, sharing the grass with cows and dawdling pheasants. "It's like Animals of Farthing Wood!" grinned Adam.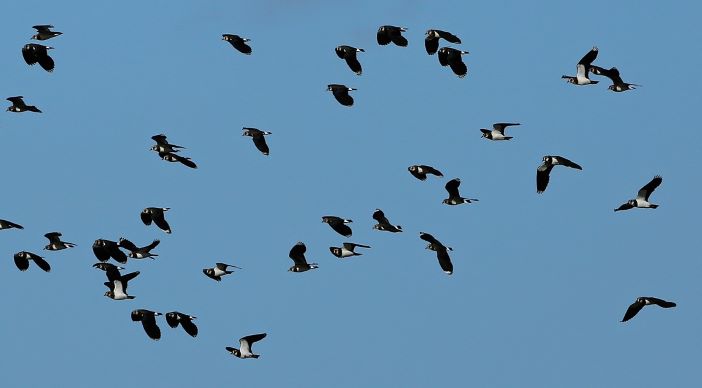 We spied Lapwings too, or "birds that look like they're wearing an admiral's hat", as I jotted down to aid identification later. We effortlessly ate through three miles of easy terrain, stopping to look around, spot nature, soak it all up, in awe of the land: orderly yet beautifully wild – the rush of the reeds, crack of sunset on the horizon, a brief drizzle, patches of typically British winter mizzle, and sporadic shards of sun casting a JMW Turner over the green pastures, still ponds, beach and waterways. A melody of tweets and chatter; a screech here, what sounded like a giggle over there.
We rested our legs, looked out for owls and scoffed our Cowshed Café treats in one of the hides, then ambled back before we lost the light, arriving at our hut feeling as relaxed as the long asleep baby. Ready to swap nature bathing, for some actual bathing.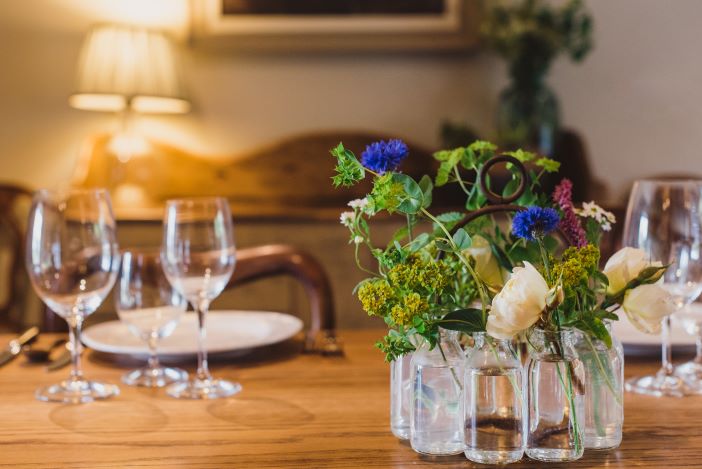 To limit food waste, Elmley's menus are kept short, seasonal and sourced as locally as possible, and guests are asked to place their order at least 24-hours before arriving. For dinner that means selecting either a meat or vegetarian option for mains and everyone having the same dessert. A welcome simplicity. That evening it was hearty pheasant cassoulet, followed by sweet, spiced Kentish apple crumble and custard. Exactly what we fancied after our long wintry walk. Plates balanced on our knees, toes toasting in front of the wood burner, we wouldn't have chosen to be anywhere else in that moment. After that, a wine-lit, starry-night bath, then a second at sunset, with my impossibly soft-skinned son. More gold coins for the memory bank.
Somehow, as I write this, it's spring already; summer soon. Time for the glamptious bell tents to stand among the wildflowers in the meadow, adding to the accommodation mix. For a flurry of newcomers to add to the winged mix, for butterflies and rare bees to buzz about the lavender, the croak of marsh frogs, and jolly troops of swooping swallows. Long picnics on the greens so perfect for them, and late nights toasting al fresco around the fire pit. More memories to be made in the land where the wild things are.
Stays in the Farmhouse are priced from £155 including a Kentinental breakfast.