My only brief experience of camping had been the time I was keen to try the tent bought for my tenth birthday which my father had purchased as the next best thing to a tree house. It was in the safe confines of the back garden, with my half brother and sister, that I spent the night, waking at first light, cold and to find the tent reeking of half-nibbled jam sandwiches and my brother's trainers. My curiosity of camping fully satisfied, I left them sleeping peacefully and crept into the house where the luxuries of central heating and a sprung mattress beckoned. Naturally my half siblings felt a little duped on rising to find me gone, but I merely smiled and announced my decision to use the tent as a playhouse from then on.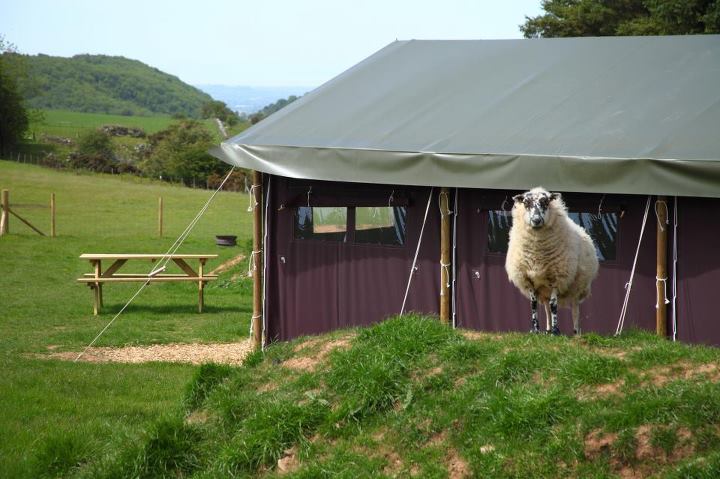 Nothing had since occurred to sway my views of camping until I was lured by the term 'glamping' upon discovering Feather Down Farm Days; an appealing compromise between nature and the bare necessities, namely a wood burning stove, a bed and a flushing toilet, located on 30 farms throughout the UK. My chap, equally at home in Mayfair or the African bush, leapt at the opportunity of playing the caveman for the weekend, and so we set off for Hidcote Manor Farm in the Cotswolds, well and truly loaded with cashmere jumpers, thick socks, wellies and enough tins of soup to sink the Queen Mary.
Arriving in time to light the wood burning stove and make the bed before nightfall, we were warmly greeted by our host, farmer John Righton, whose family have been farming the land since 1942. He pointed us in the direction of a barn where we came across the honesty shop (you just write down what you take and tally at the end of your stay) displaying a selection of store cupboard essentials such as oil, tea and biscuits, the finest local bacon, and fresh eggs courtesy of Hidcote Farm's chickens, who wasted no time introducing themselves to us as we stepped out of the car. Farmer John also suggested we make use of a wheelbarrow to transport our luggage across the muddy field and over a small stream – it certainly made a change from pulling up outside a plush hotel, having my car door opened for me and the luggage magically transferred to our room.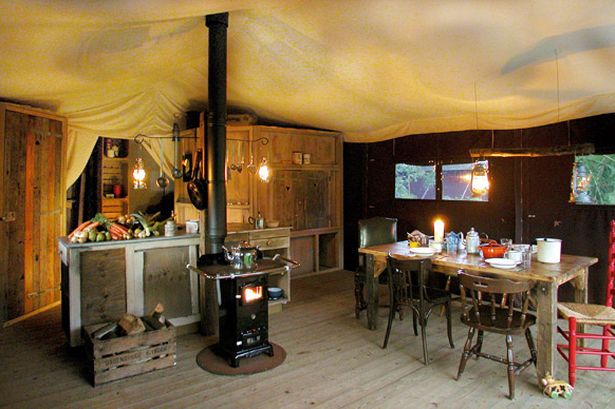 Feather Down is the brainchild of Dutch entrepreneur Luite Moraal, the man who introduced Center Parcs to Britain in the 1980s, and taps into the city dweller's desire for affordable weekend retreats. The tent, made of thick protective canvas and wooden flooring, is large enough to house up to six people and features a bunk bed, cupboard bed and a master bedroom all with pillows and duvets. It almost feels like a log cabin inside due to all the reclaimed wood. There are both indoor and outdoor tables and seating, and in summer the tent's canvas opening can be drawn up so you can experience the rolling hills and countryside as an extension of your living room.
With a cold chest to store your perishables, all the crockery, glassware and cooking equipment you need is there to use and is a fuss-free highlight of Feather Down. The central kitchen island has a sink with cold running water – just remember to bring hand soap and washing up liquid! We forgot and they weren't available in the shop; items vary from farm to farm. We were supplied with one toilet roll (more available to buy in the shop), paraffin in the oil lamps and one bale of logs per day, enough to see us warm throughout our stay. Priced at just £275 for a two night break, one can easily afford some of the other services such as bicycle hire, having the farmer make your bed and fire prior to your arrival, or the 'slow food' package – all the ingredients and equipment needed to make a hearty meal. Some farms even have wooden hot tubs (£80) available to hire, vividly described as a 'field spa'.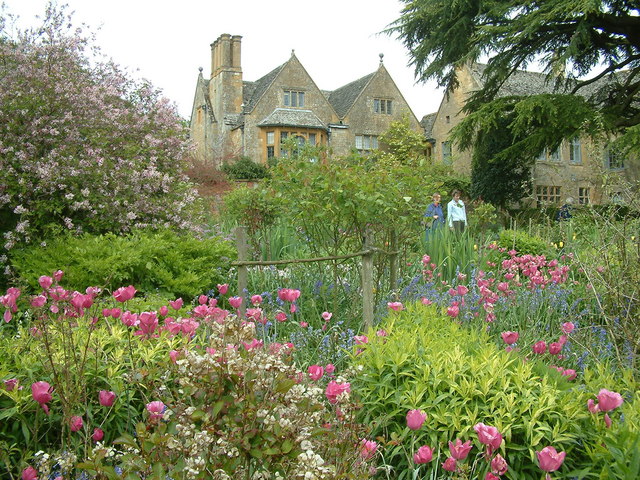 Feather Down is understandably marketed to young families, but all six tents were well spaced so never encroached on our peace and quiet; in fact the only remotely noisy neighbours were the sheep in the field! It was extremely romantic huddling around the fire with my beloved, sipping red wine from enamel cups and dining by candlelight on M&S canned chilli con carne and cheesy nachos with grated cheddar. After dinner we played backgammon and read to one another from Gerald Durrell's My Family and Other Animals and Laurens van der Post's The Lost World of the Kalahari.
In an area of Outstanding Natural Beauty, just 8 miles from Stratford-upon-Avon, the farm is an ideal base from which to explore the surrounding picturesque Cotswold towns and pretty honey-coloured hamlets. You are free to explore the 300 acre farm which now belongs to the National Trust, as does the neighbouring Hidcote Manor with their renowned landscaped gardens designed by Lawrence Johnson. It was the first property acquired by the Trust, gifted by Lawrence on his death in 1948 in order to preserve the magical set of room-like gardens which now welcome over 140,000 visitors a year. Feather Down guests are free to visit as many times as they wish during their stay and a voucher can be found inside the welcome pack.
That night the wind howled outside, lashing our tent and convincing me that a bird had managed to find its way in. A thorough inspection with my chap's torch was the only way to convince me otherwise. After that I slept like a log, only to awake to a bright but chilly autumn morning. We vastly underestimated the time it would take to light the fire, bring the stove up to temperature and boil the kettle, never mind cook sausages, bacon and eggs, all of which we prepared whilst wearing coats and scarves. The patience required during such an operation certainly makes you incredibly hungry and very appreciative of something warm and tasty.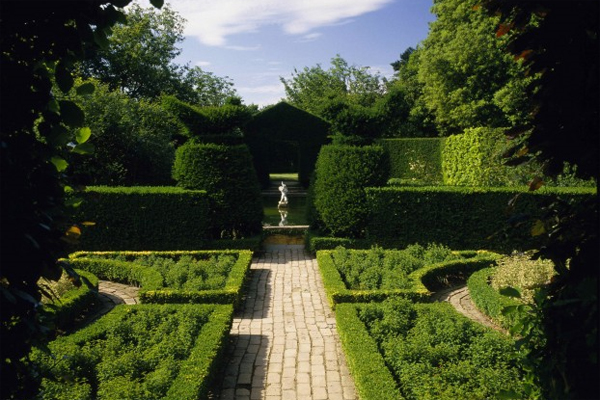 Walking hand in hand along the lane, we spent what was left of the morning exploring the exquisite gardens of Hidcote Manor, considered one of the finest in Britain, and reminiscent of Frances Hodgson Burnett's The Secret Garden; 'if you look the right way, you can see that the whole world is a garden.' We later visited the charming towns of Chipping Campden, Stow-on-the-Wold and Broadway, known as 'the jewel of the Cotswolds' and where we poked about in delightfully musty antiques shops and partook of scones and clotted cream at Tisane's tea room.
I'd be reluctant to use the word 'luxury' when describing Feather Down; a communal shower block certainly isn't my idea of it. But even I, a girl who enjoys the finer things in life, couldn't help finding satisfaction in returning, however briefly, to a simpler life. Plenty of fresh air and no phones, computers or televisions; we didn't even bring a radio. Instead we listened to the birds, the rustling trees and the sheep bleating in the field – it was heaven.
For more information about Feather Down Farm Days and their locations across the UK, visit the website. To find out more about Hidcote Manor Gardens, visit the National Trust website.