With a course that takes its students from the winding streets of the Fes el Bali souk to a rooftop kitchen and a hidden garden, Lydia Manch gets hands-on with Fassi cookery… 
We're sun-drunk on the rooftop of Palais Amani, long before the first cocktail reaches us.
Fez is in the first flush of summer, and it shows. Heat radiates up from the stones underfoot. Mellow citrus smells rise up from the lemon trees three floors below. Fresh from a London still clinging hard and soggily to winter, being jumperless in the early evening and this warm is the stuff of dazed daydreams. We wander the roof terrace, burying our faces in tomato plants and inhaling hard on squash flowers. Just two city folk, driven to a frenzy over a rare sighting of vegetables growing in the wild.
Plenty of those are going to end up in the Palais Amani kitchen. Lemons get preserved, squash and tiny sweet courgettes get tagined, tomatoes make their way into zaalouk (spicy aubergine salad) or harira (a mellow-spiced pulse soup). Mint reserves get ravaged, hard, for our mojitos. 'It grows fast, like weeds!' our bartender tells us reassuringly, correctly identifying us as people whose cocktail habit could wipe out a less prolific herb in hours.
And so we sit around on the terrace the night we arrive, mint-scented evening echoed back by our cocktails, like drinking in stereo.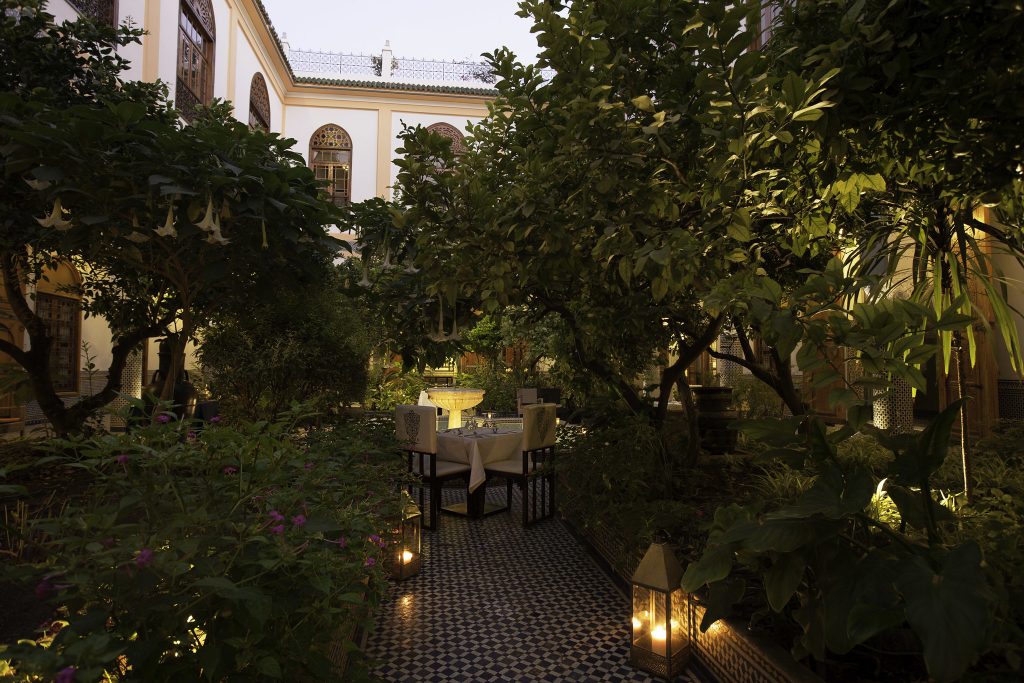 I've been thinking of the day-class we've booked at Fez Cooking School as our brief flirt with activity, something to balance out a fraction of the high-luxe indolence lying ahead. Palais Amani's a lovingly-restored outpouring of lantern-lit courtyards, ornate tiling, babbling fountains; our deceptively prosaic-sounding Executive Suite's more suited to sultans than businesspeople, all jewel-coloured light streaming through stained glass windows and carved mezzanine balconies, all pendant lamps and Moroccan slippers in marshmallow-soft leather.
The only way the riad could be more opulent is if they hoisted us in sedan chairs to and from our various plans, between rose-scented hammam and verbena oil massage, between fountain-side dinner and candlelit terrace nightcap. And it'd take some hoisting: the food here's both ridiculously good and incredibly lavish; three-course breakfasts segue into sun-dappled lunches into sprawling dinners without a huge number of hours separating any them.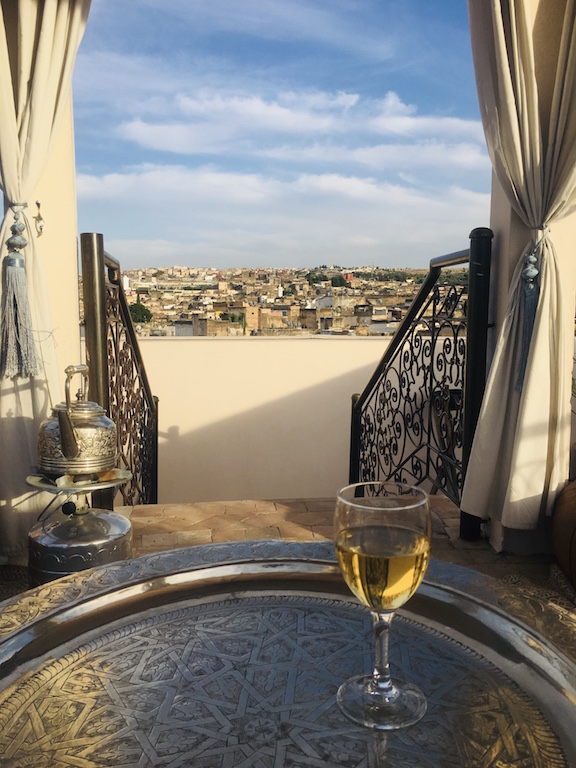 It's not that we never leave Palais Amani. We do, dazzling ourselves with the way repeated forays into the medina start turning the confusing snarl into a familiar knot of streets we can find our way through, mapless. Ruined Garden is, by two-person consensus, the spot most worth having pried ourselves out of Palais Amani for, serving small Moroccan tapas-y dishes by candlelight in the semi-tumbledown courtyard of Riad Idrissy. Close seconds: the palm-fronded pool at Dar Bensouda, dinner in Dar Hatim's tiny, elaborately carved-and-painted dining-room and the weirdly compelling Foundouk el-Nejjarine museum of woodworking.  
But Fes el Bali, more so than many other cities, is a place where a cookery class promises a real window into the city's way of life. This is a deeply food-centred culture. Not a restaurant culture, though, not traditionally. Friends eat at each others' houses, Loubna, our Palais Amani guide, tells us, as we wander the medina with her. Friends cook big pots of stew for each other and dig in around a busy table. Hospitality is the Fassi way, has been for centuries, but restaurant-dining is a relatively new addition to that. Which means there's a more immediate way to get under the skin of the medina's ancient mesh of Berbere/Jewish/Andalucian/Ottoman/Tunisian/you-name-it influences than via the burgeoning restaurant scene.
Fez Cookery School comes in residential or non-residential flavours, having moved into new, airy premises on one side of the Palais Amani roof terrace last year. And it comes in a few lengths and shapes – the bakery day-course being one that gets more and more appealing with every tensile, layered, beautifully oily flatbread we eat on this trip.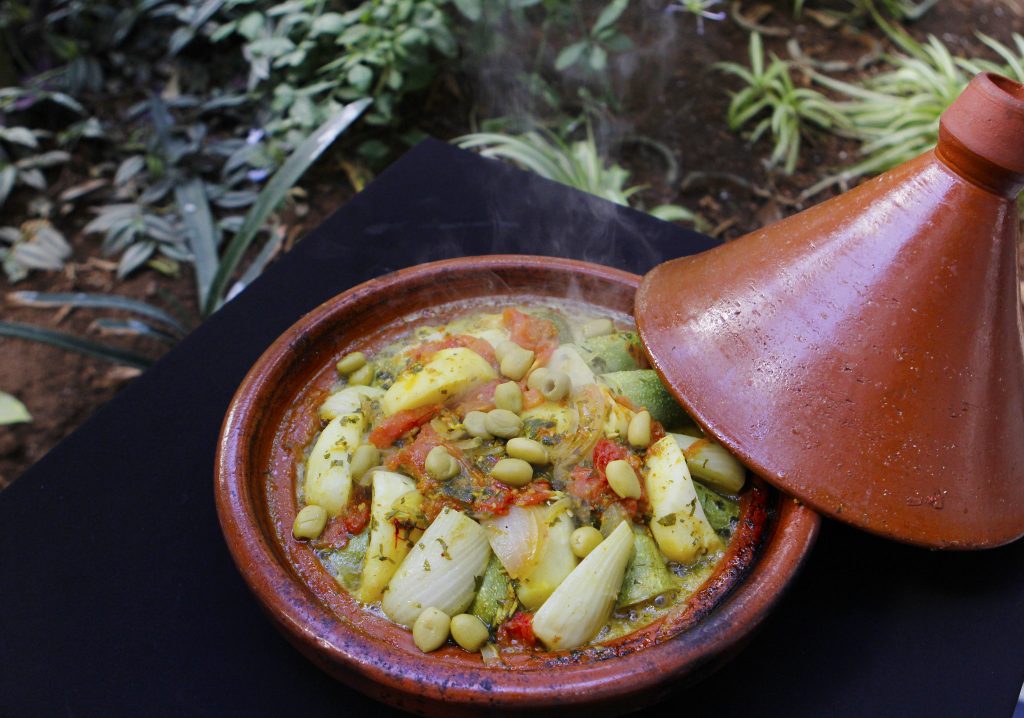 Ours, the broader version, promises a whistlestop tour through some key Moroccan ingredients, recipes and techniques: a shopping trip for supplies through the souk; guided prep of three Moroccan dishes with a Palais Amani chef, and a three-course lunch to demolish the food you've made.
That guided tour's a welcome way to ease into the medina on our first full day; the streets of the ancient city a tangle that Loubna gently unwinds for us. The souk's crammed with everything from cheese stalls and fried bread carts to bridalwear and silverworkers, loud with business being done and tinsmiths' hammering.
It's a mix of animals that are very, inarguably dead – camels' heads suspended at eye level from the roof of a butcher's stall, fish heads stacked high – and animals that are very loudly alive – the floors often roiling with caged chickens, baskets of snails, donkeys loaded with packs pushing through the narrow alleys, stray kittens fighting over fish guts. We have an intense, hypnotically busy couple of hours, scattered with quick pauses to try sticky Moroccan sweets, olives stuffed with preserved lemons, long strings of dates or wheels of crumbly pale goats' cheese wrapped in leaves.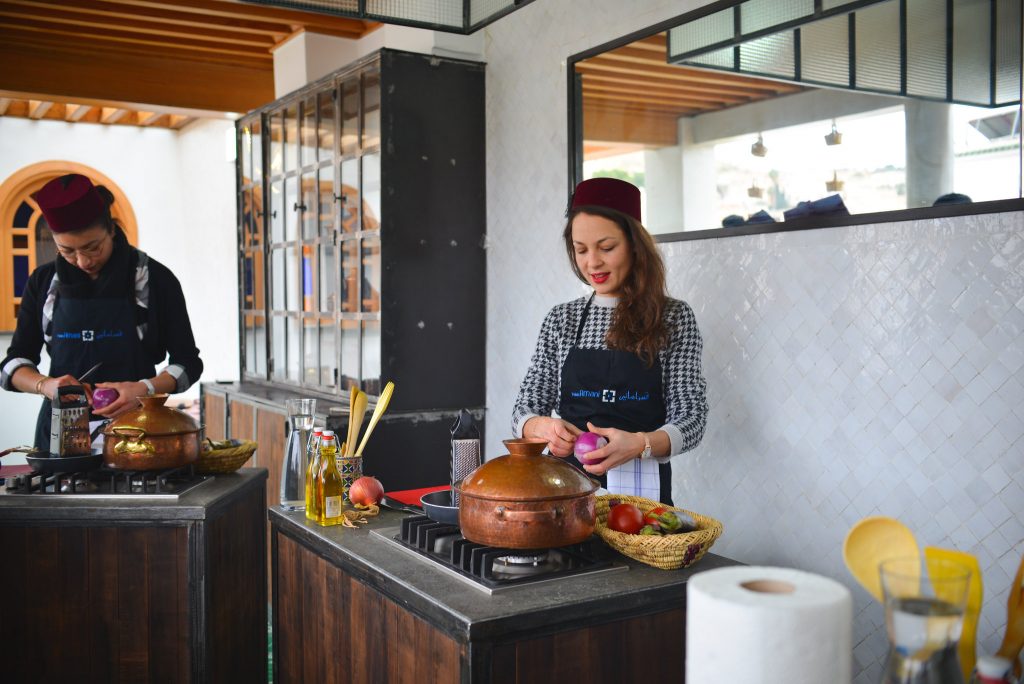 The Cooking School kitchen's the polar opposite, a shaded, quiet length of terrace, where the main noise is onion starting to hiss in the pan and Khaled on the radio. And the three dish line-up crams in an impressive swathe of locally farmed produce: the aubergine-tomato-garlic trifecta of zaalouk, a chicken and preserved lemon tagine, and orange and rosewater salad.
The class rolls along gently, the biggest challenge getting the hats we've been issued with at the start to stay in place. Trying to cook in a fes is a powermove, but one that my boyfriend seems to be nailing and so I badly want to. Constant resquashing it into place means mine rapidly picks up a layer of chicken thigh grease and parsley flecks, so at least has the advantage of matching my apron and face. Our chef-tutor bounds between our two cooking stations, finding nice ways to convey that my chopped parsley needs to be chopped one thousand times more finely.
We might never master the art of wearing a fes. But by the time we sit down to lunch in the courtyard – aprons off, face now devoid of chicken grease, a cold Casablanca on standby – tagine-mastery feels a lot closer. And Fes el Bali's complex, labyrinthine streets, and millennia-old weaving together of influences feel, maybe, a small fraction less mysterious. 
The four-hour private cooking class at Fez Cooking School costs 975 dirhams (approximately £82) per person, including a guided visit to the souk to buy ingredients, cooking class, three-course lunch and a cooking kit (recipes, apron and fes!) to keep. 
Rooms at Palais Amani start at £125 per night, with breakfast. The Exceptional Suite at Palais Amani starts at £260 per night, including three-course breakfast. For more information, visit Palais Amani. For all stays booked until 31 August 2019, quote SUMMER20 for a 20% discount on your booking. 
Air Arabia Maroc and Ryanair run direct flights from London to Fes.
Tagine photo credit: Omar Chennafi.