Among the popular spots along Brazil's coastline, Alice Payne seeks out somewhere beyond the crowds, and discovers the country's chicest beach town…
Halfway along the coast of Brazil lies a former fishing village where the fashionable set flocks. There are no direct flights, no harbour for yachts and the rustic path to the beach crosses a mangrove where, depending on the moon, you may find yourself walking through water. All of which makes this remote enclave more charming.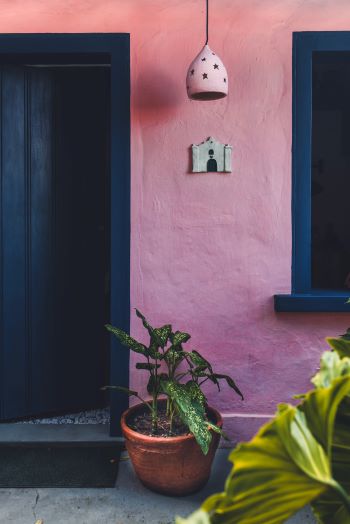 Trancoso's unique character is partly down to its unusual history. Founded by Portuguese Jesuits in the 16th Century, the village stayed mostly cut off from the world and without electricity until the 1970s, when hippies arrived and word of this picturesque destination got out. Its spirit endured though, and today Trancoso balances simplicity with luxury.
The town itself sits on a high bluff, perched above the Atlantic Ocean. At night, the sound of waves blends gently with live music from outdoor restaurants. Although its visitors may be transient, life here is firmly anchored by a sense of community and you'll find yourself softening into the daily rhythm of the town, where evenings revolve around the pedestrian Quadrado – a five-acre village green bordered by colourfully painted former fishermen's homes.
Although they may still look like cottages, these dwellings have been carefully transformed into smart guesthouses, boutiques and restaurants. Each one is a visual delight – whether cobalt blue with white shutters, or fuchsia with turquoise doors, or a peeling, faded yellow framed by colourful frangipane flowers. In the evening, guests dine outside them under trees adorned with lanterns, giving the Quadrado a magical glow as children play football on the grass and elegant Paulista's stroll by in flowing dresses.
At the end of the Quadrado is Trancoso's simple but iconic white church – in front of which you may have seen Beyoncé joining a game of football in her video for Blue. Built in 1656, the church is framed by ocean, with the Coast of Discovery stretching behind it from left to right as far as the eye can see – a striking strata of blue sky, pale sea, golden sand and green forest. Still as stunning as it must have been 400 years ago, the view has drawn visitors from Leonardo di Caprio to Giselle Bündchen and Naomi Campbell, amongst others.
Although Trancoso caters distinctly to the high-end traveller, its offerings are diverse and a holiday here can be whatever you want it to be – whether that's spending time relaxing beside an amazonite-hued pool at one of the humbly described 'pousadas' or enjoying a late-night full moon party at the beach.
And the same can be said for dining. One evening you may be tempted by Bahian street food from the market square, where you'll find tapioca pancakes and acarajé – a spicy bean fritter filled with shrimp – and the next night venture to a more elegant setting, of which there are plenty to choose.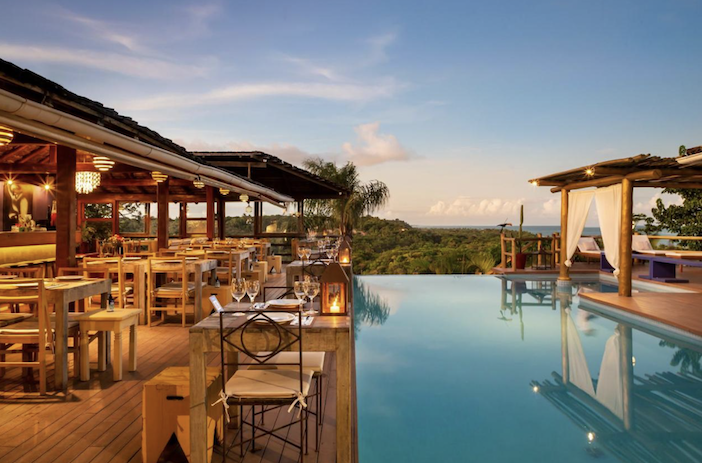 In particular, the tender meat at Argentinian restaurant Chimichurri is unforgettable, and the richly flavoured Brazilian cuisine at El Gordo, where dinner is held beside an infinity pool with uninterrupted views across the coast, is a must. After dinner, it's tempting to stop in at one of the late-night boutiques selling clothes, jewellery and art (all with São Paulo prices), before heading to a bar for fresh passionfruit caipirinhas.
When the day rolls in, you can take your pick from the numerous beaches to explore along this stretch of the coast, including the walkable Praia dos Coqueiros and Praia dos Nativos, the further afield Rio da Barra and Praia de Itapororoca, and the remote Praia do Espelho (meaning 'Mirror'), which Fodor's called 'Brazil's best beach'. Depending on where you go, there are boat trips, kite surfing and kayaking – or you can simply soak up the view from a cabana whilst eating fresh shrimp and drinking an organic Trancoso Mule.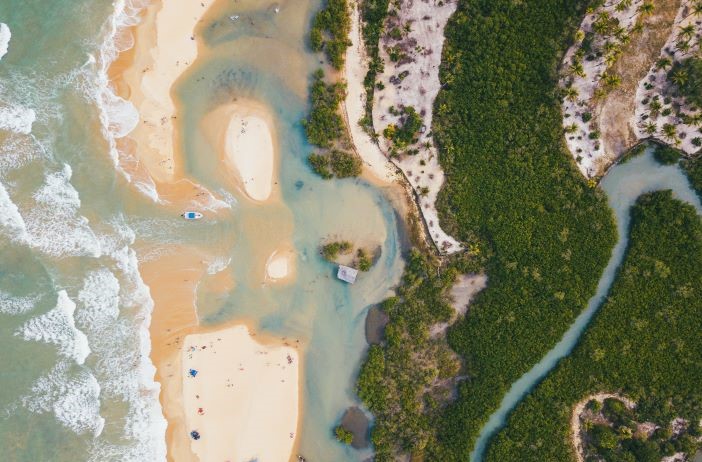 Which brings us to beach bars, of which there are many. The two most luxurious, however, are the celebrity hotspot Uxua Praia Bar and the newly reopened Casa Clube – both of which heave with people during the November to February high season. Trancoso is especially popular around New Year, when guests helicopter in to the region and there are parties every night. Visitors not hiring a private villa will be vying to stay at either the long-established Uxua Casa Hotel & Spa (with the aforementioned bar) or the new Hotel Fasano Trancoso.
Boutique hotel Uxua is dotted along the Quadrado and comprises 10 private villas – including some of the fishermen's cottages. Its attractive casas range from one to three bedrooms and are uniquely designed with reclaimed materials and antiques from local artisans. Some have pools, gardens, kitchens and indoor/outdoor bathrooms, but each offers its own enticement, along with access to the shared pool, restaurant and organic spa, as well as the glamorous beach bar eight minutes' walk away.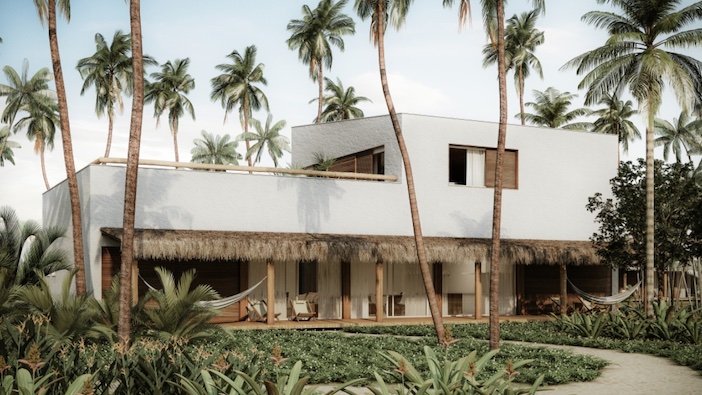 A short drive along the coast, meanwhile, brings you to the Hotel Fasano Trancoso, which is a destination in itself. The latest offering from the illustrious Fasano chain opened on New Year's Eve 2021 and is already one of only two Brazilian hotels to make it onto Condé Nast Traveller's Hot List 2022. Its 300-hectare site stretches along the Itapororoca shore – an unspoilt beach where the area's most exclusive residences are. This prodigious hotel comprises 40 bungalows and villas designed by renowned architect Isay Weinfeld, two outdoor pools (adults and children), a main restaurant, beachside restaurant, spa and fitness centre.
As anticipated, the Fasano has elevated the eco-resort concept to new heights. Its striking geometric swimming pool looks straight out of a Slim Aarons photograph, whilst the hotel's overall aesthetic reflects Brazil's current trend for contemporary, minimalist design that blends into nature. In fact, one hundred hectares of the site has been designated to nature, and the stark white bungalows are softened by the coconut trees and dense shrubbery in which they appear to nest. Inside, their palette of white, cream, taupe and pale grey echoes the general ambience of calm, whilst the clean lines of their slatted dark-wood ceilings enhance the rooms' sense of space.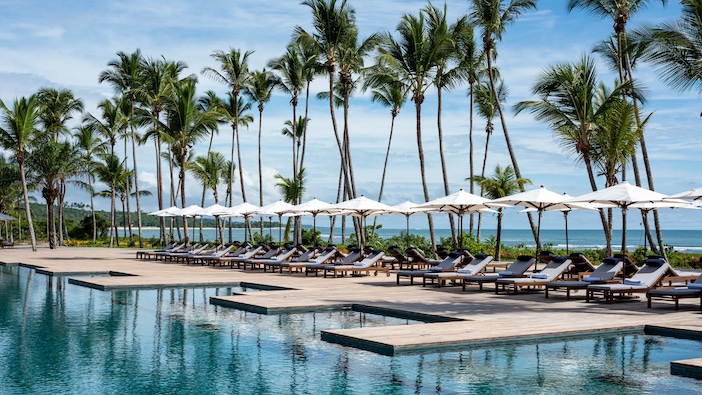 One of the hotel's most striking design features, however, is the 500-metre grey boardwalk that runs parallel to the beach and is dotted with coconut trees sprouting up en route to the beachside restaurant. Indeed, the grounds have been so artfully landscaped that, despite the dense greenery, not a plant seems out of place. Once you arrive at the beach enclave, sofas and tables are set amongst a vast, shady almond tree, and every need is provided for – from fresh towels to showers and even a DJ. You could easily spend a day here, dipping in and out of the warm sea just steps away. But eventually, dinner will beckon, and so back along the boardwalk.
The Fasano's main restaurant and bar are set on an expansive wood terrace beside the uplit pool, and dinner here is an evening-long event. Overseen by executive chef Zé Branco, dishes such as the moqueca (a traditional Bahian coconut seafood stew served with rice and farofa) are excellent, but it can be difficult to focus fully either on the delicious food or the tasteful live music, because the people watching is so absorbing. The Fasano is where the jet set come to mingle – and its glamorous clientele makes it a particularly engaging spot to experience the see-and-be-seen aspect of Brazilian culture.
Once you've eventually had your fill – of food, music or people – a chauffeured golf buggy will transport you to where you need to go, meandering smoothly along the Fasano's clean paths and manicured landscape. It's up to you whether you retire for the night or venture outside onto the potholed dirt road to town, to see what adventures the warm night will bring. But whether glamour or relaxation, nightlife or village life – whichever version of Trancoso you choose, it will feel like paradise.
For more information about Brazil, including other ideas for your trip, visit the official tourism website at www.visitbrasil.com. For more information about Hotel Fasano Trancoso, including other properties in the Fasano portfolio, please visit www.fasano.com.br.