This weekend, Emma Harrison escapes windy Blighty for Morocco's famously windy city on the Atlantic coast for a spot of kite flying, with a difference…
Think of Morocco and what springs to mind? The souks of Marrakech? The vibrant alleyways of Fez? It's time to think again! For those in the know, Essaouira is fast becoming one of the cities to visit in 2020 and beyond.
This enchanting city situated on Morocco's Atlantic coast oozes in charm and character. It has a lovely laid-back vibe attracting everyone from surfers to honeymooners. Essaouira's name means 'little picture' in Arabic, and its vibrant blue-and-white medina is certainly picturesque.
Morocco had been on my list of places to visit for ages, so when an invitation from Kite WorldWide dropped into my inbox, this felt like the ideal opportunity to make this happen.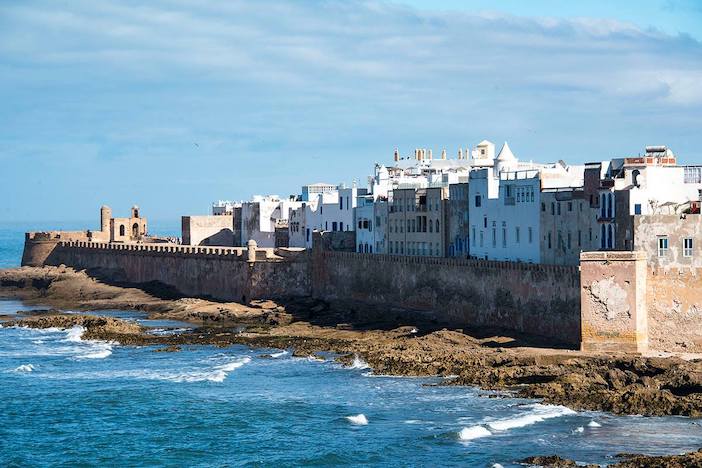 So, what's the plan, I asked? 'We are going to teach you to kite surf,' they replied. I had a basic understanding of kite surfing but went on to YouTube to find out more, and it's fair to say my mind was blown. Could I really do this? A girl who, I'm a little embarrassed to admit, sometimes gets her left and right muddled up?
Apparently, I could, according to Abdeloauhad Nasser, co-owner of Explorer Watersports who provide training to Kite WorldWide in a variety of locations throughout the world. He tells me anyone can learn to kitesurf at any age, and you don't necessarily have to be super fit either. And this pretty city is one of Morocco's best spots for kitesurfing, so I knew that I was in the best place to get my (kite) surf on.
We may be in North Africa, but the Atlantic's a chilly beast, so, wetsuit on, I headed down to one of the beautiful beaches of Essaouira where I was harnessed up and given the chance to undertake my initial training – on dry land.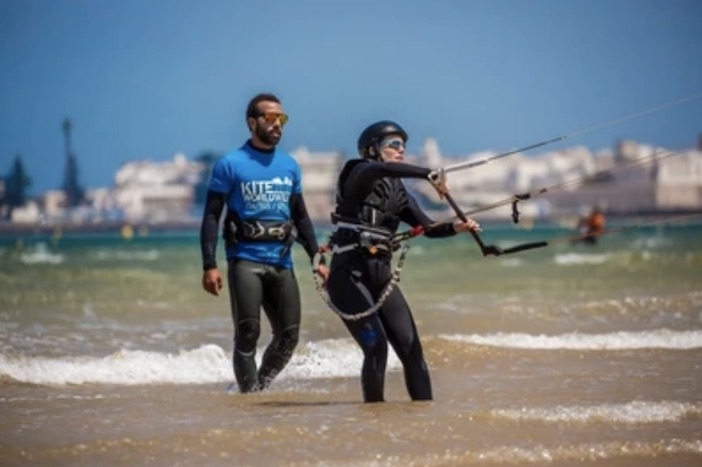 'Have you ever flown a kite before?' I hadn't, but this was not a barrier to getting to grips with the steering handle that controls the kite. This in turn is attached to your safety belt which allows the kite to pull you through and out of the water. It's all rather scientific, understanding the 'wind window' (where to put the kite to attain the different levels of power) but our instructor team were absolutely magnificent at explaining everything concisely which made getting to grips with the technique really easy.
Kite surfing is an exhilarating, thrill-a-minute sport and if you love being in the water, I couldn't recommend it more. It gives you an amazing sense of freedom and satisfaction (once you have nailed that all-important technique!). And for an all-round workout that really targets your core, it's ideal. It's all about balance and technique, especially with regards to controlling the kite itself.  Simply, as the kite flies left, you steer right and when the kite veers off to the right, you steer left – it really is that easy.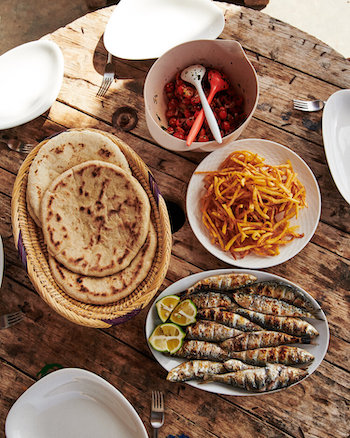 But there's more than kitesurfing to Essaouira. Sticking with Explora and their water sports, we headed up the coast for a spot of surfing, to a spot they told me offered the very best surfing conditions. We had the pleasure of having lunch at the gloriously rustic 'Castles in the Sand' where we were able to relax and enjoy a delicious meal of local delicacies. The 'castle' is really two luxury holiday villas over 200 years old and decorated in a traditional Moroccan style. Located right on the beach, music fans won't miss the connection with the iconic Jimi Hendrix song.
It may sound like a surf-focused trip, but Essaouira has a plethora of amazing things to do on dry land, from quad biking, yoga, horse riding on the beach, hiking, mountain biking and more. We were invited to participate in a fantastic yoga class with Essaouira's top instructor, Karim Elmouatasim, who had me stretching myself to my limits which was definitely needed after a busy day's kite surfing.
In need of some serious R&R, our home away from home in Essaouira was at the new luxury villas at the stunning Jardin Des Douars. The rooms are spacious and are elegantly designed in the Moroccan style; think intricately woven rugs, open doorways and colourful accessories. Each of the villas comes with a huge kitchen, stylish living areas and a private swimming pool – an ideal place to chill out after a busy day on the water. The Jardin Des Douars feels like an undiscovered secret, shrouded by lush argan trees and walled gardens, and it evokes a real sense of tranquillity.
Guests can take advantage of the on-site restaurants and spa where you can try treatments like a relaxing argan oil massage, algae wrap and indulgent facials.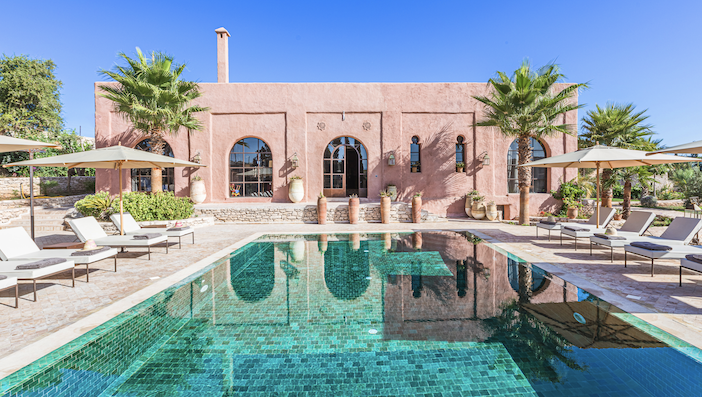 A visit to Essaouira cannot be complete without a visit to the lively Medina and its traditional souks, where you can partake in some retail therapy. From traditional musical instruments and leather goods to pottery and clothes, you are bound to find something that you love. Or, simply, lose yourself in the alleyways of this UNESCO World Heritage Site. It is charm personified.
If you are considering a trip to Morocco, whether you're into adrenaline sports or seeking solace on the coast, definitely make sure that you include a visit to the stunning city of Essaouira.
Emma travelled with kitesurfing travel experts KiteWorldWide and kitesurfing and surfing lessons were provided by Explora Watersports.
For more information about Jardin Des Douars, including details of wellness experiences and special offers, visit www.jardindesdouars.com.
Fly directly into Essaouira from London Stansted with Ryanair.
Emma is a freelance travel writer, contributing to various publications including National Geographic Traveller, The Sunday Times and House of Coco.