In the second instalment of his travelogue, David Constable continues his adventure in The Gambia, immersing himself in the morning catch and getting a little close for comfort with the local wildlife…
Ida restores faith into any doubters of The Gambia's chipper moniker "The Smiling Coast". Her wide-beamed grin is even more striking than the tourist guides and brochures, of which she appears on the front covers. A velvet brown complexion and smile of incandescence looks out from the page, dressed in gold earrings like recherché jewels and a Brunswick green headdress made of silk.
It had been arranged for me to visit the Tanji fish market with Ida Cham Njai and examine the morning's merchandise. Ida is a chef and teacher of African food, a "Hospitality Consultant" according to her business leaflet.
After choosing worthy specimens from the Atlantic trawl we'd prepare the scaly purchases at her home, she showing me the full repertoire of national dishes, through Domoda, Caldo, Yassa and Benchin. Then we'd sit in her compound garden beneath drooping citrus trees and devour our creations.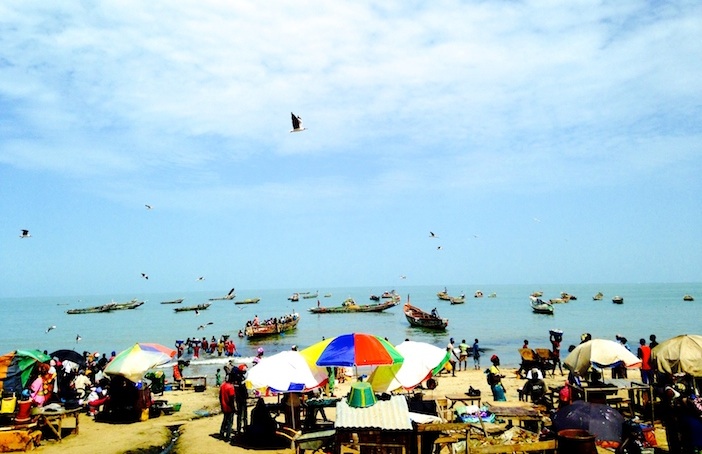 It had been arranged, except no one had told Ida.
Up and out early under the pretension of a meeting post-morning catch, I skipped breakfast and the assemblage of fruits for aquatic nourishment, only to discover that Ida was fixed with a morning of engagements. But it was important we meet. Everyone I'd met in Banjul and surrounding villages appeared to know her and had some flimsy connection.
And so it was I sat with Ida in her clandestine compound off a dusty stretch in Brufut, talking about food on an empty stomach. She re-shuffled her appointments and made space for an hour, advising me to continue with my morning pilgrimage to the fish market and to visit the smoke houses behind.
So I travelled to the coast, and to the edge of Africa.
Skinny boys in knock-off Barcelona shirts were hauling-in nets, less bulging but flapping with silvery, agitated fish. Old men sat on the sand and played God, thumbing the slimy skins and deciding each fish's fate. The acceptable were thrown into a wheelbarrow and a pile of dead brothers and sisters. The maimed and torpid lobbed back into the sea.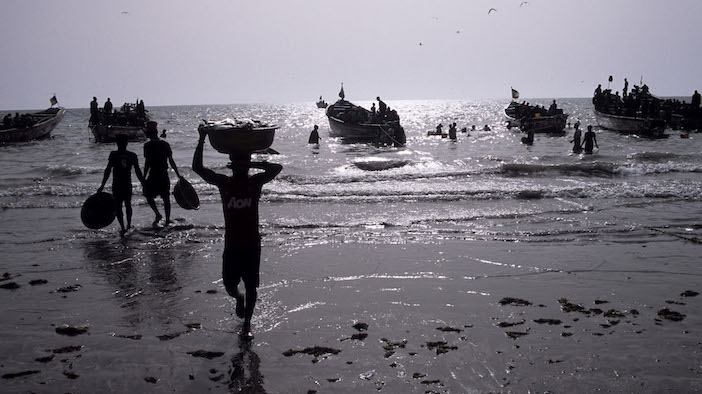 I should explain the smell. It's as important as the view, which is grotesque but so wonderfully genuine. Sea and salt mix with the grime and sloshing soup of scales and guts on the sand, and the inhale of rotting fish from the previous day's catch releases a putrid stench.
They say that a smell can trigger a memory, but here it has the reverse effect and mortifies the body, shutting down memory and heightening the senses. It hastens my breathing, which is not a good thing. Short, sharp intakes of breath cause my nostrils to wash-in the foul stink and I'm caught in a seaside nightmare, unable to escape the malodour, while the jelly blob eyes of dying fish look up at me, as they gasp and flap and look into the dying of the light.
You can't fake a market. It is the truest form of any place. A country at work and a reflection of its people; what they have, what they don't have, what they buy, what they sell. The template of the supermarket.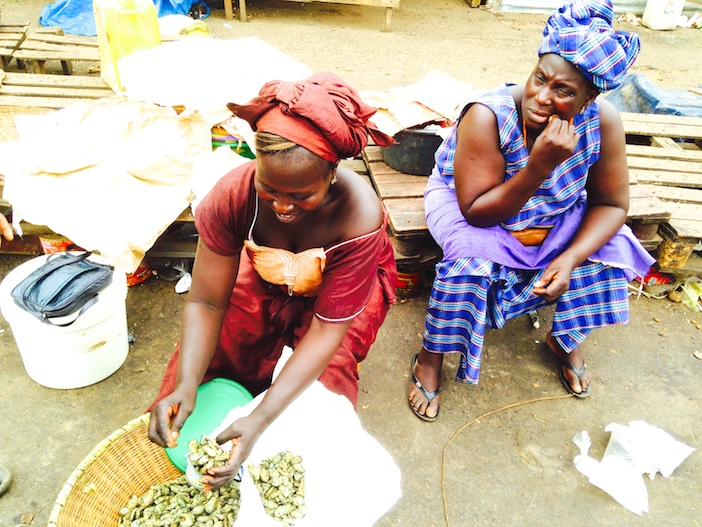 The most famous market is the Albert Market on Liberation Avenue, a tight and bustling collection of close-knit stalls and makeshift counters, all stunningly frantic. A street emporium of tie-dye fabrics, homemade crafts and jewellery, shoes, meats, vegetables, spices, coffee, baskets, baseball hats and dried-fish from Tanji. Tubby women sit on childish stalls and burn incense, the sweet smell carrying through the trails.
I visited the Abuko Nature Reserve, a 259-acre enclosure within 2.5-metre rim-fence. It's a tropical hike through dense forestry and the hiding place of a trillion, impish monkeys. They roam the dusty deck and leap from tree to tree, forever on the hunt for food. In the centre clearing is a small cage enclosure of brawny hyenas. Mauled and scared, they strut in the lazy afternoon.
The green monkey is the most tourist tolerant beast in West Africa. There's a problem with foreigners feeding them as if swans in a park, and now tubby green monkeys roam the paths, plumped-up on junk food and more likely to face high blood pressure and diabetes than the human population.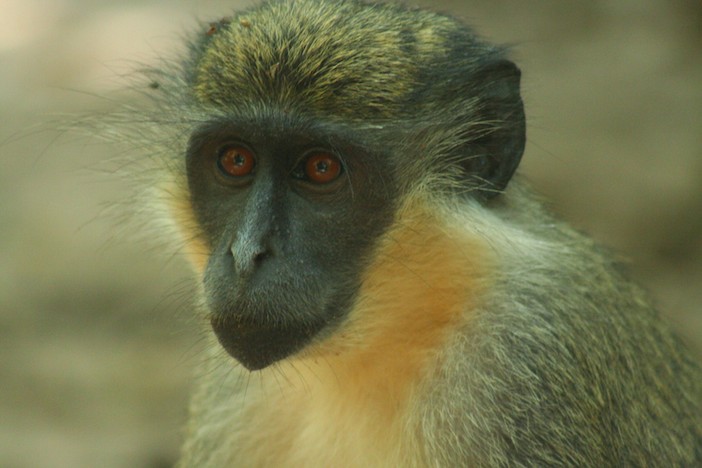 Other wild animals have long since left The Gambia, roaming east along the African savannah, to Kenya, Zambia, and Namibia and further; or poached before they could do so, creatures now stuffed and standing in a gentleman's club in England or their heads mounted on a billiards room wall.
Animals with a tamed and more docile life include the crocs at Kachikally Crocodile Pool in Bakau. The story goes that 500-years ago, two brothers went fishing in a swamp called Tamba-Kopa and caught two Nile crocs. They gifted the dangerous reptiles to the sacred Kachikally pool and the spirits of the pool accepted them. Ever since generations have stayed in the area, free to roam…and multiply.
There are now around 80 crocs in Kachikally, most of who cool off around the circumference of the furry-green pool, blanketed in pakanju-water lettuce. They have become so tame that I was encouraged to approach one and stroke him. You've got to be bleedin' joking, I thought. But no. I was waved with some haste towards a scaly heffa.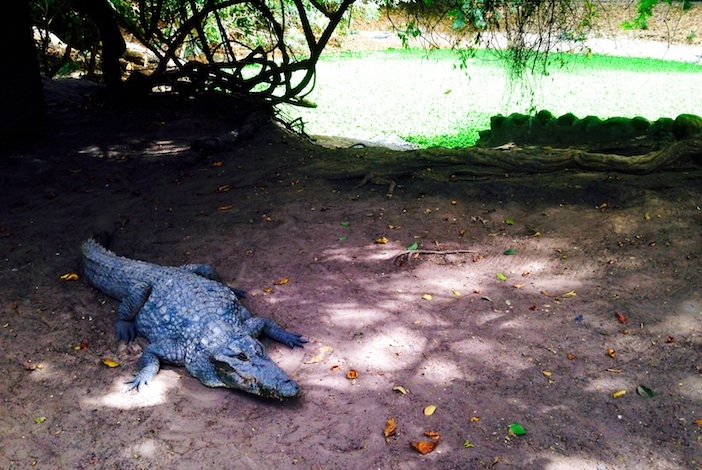 He sat motionless in the shade, his mouth open so that flies flew in, then SNAP! he slammed his jaws shut and sealed their doom. It was just before lunch, so I approached with trepidation. Never in my life did I think I'd be creeping-up on a crocodile.
I brushed the lepidote tail, which was muscular and firm and authentically prehistoric, then stepped backwards and cautiously away.
David's Gambian tour concludes next weekend as he ventures up river and deeper into the country…