If the unwritten sign was wrought reality, it would state: 'Overweight passengers may cause delays'. Our aircraft crouches on City Airport's tarmac, a breeze tickling the strip's slightly long grass. Finally, motivated by the whiff of compensation, three modest-sized volunteers decant to a later flight, allowing boarding. If your correspondent had been allowed, the £202 that BA offers could easily have bought him too. But the big perpetrator, billowing in a bivouac-like garment, remains, oblivious to her troublesome enormity! Perhaps she, rather than our relatively svelte press pack, should be checking in to the Grand Resort Bad Ragaz? There, weight loss through calorie-controlled, but flavoursome food ('cuisine équilibrée') is the speciality…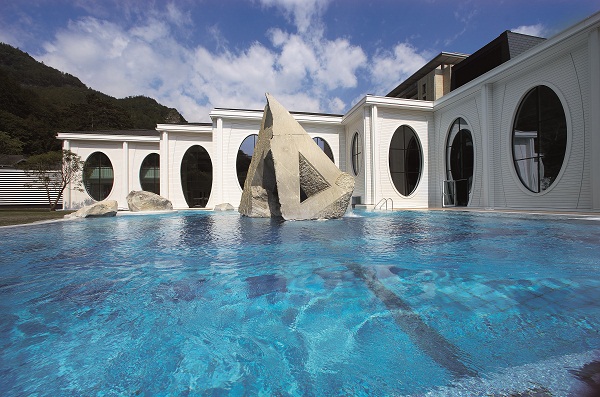 Post flight hunger quelled by salami-stuffed bretzels from a concourse wagon, it is time to embark on the beautiful journey from Zurich to the relaxing resort. One hour on, bordering chocolate box 'Heidiland', strings of Pinot Noir vines, golf and tennis, and the shadow of Mount Pizol, the resort basks in gorgeous greens of mature trees. Many of these were gifted to the original owner in the nineteenth century. Thermal pools, old and brand new, and sumptuous spas contrast the water source, 4kms away at Tamara Gorge. Legend goes that on discovering its steaming rocky jaws in the thirteenth century, a huntsman named it 'the gate to hell!' But the water's health-enhancing properties were soon felt.
Unlike the resort's Swarovski-lit steam rooms and ecclesiastically vaulted baths of today, the elderly and infirmed sought solace in humid twilight, where they were dropped 40 metres in a basket lift. Before they could be winched back up, they would endure five to seven days, bodies bloating in body temperature pools, to encourage the illness out. The recommended maximum is 30 minutes these days…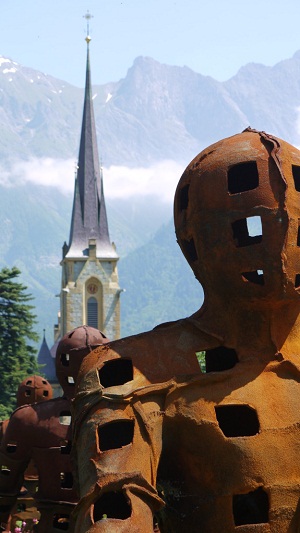 Neutral Waters
Very soft, and like the political temperament of this country, neutral, a sip of the spring water, which runs from taps in at least one of the resort's three hotels, protects one's health for a year according to the guide at the source. 'You just have to believe that,' she adds, emerging the rough-hewn tunnel with an umbrella. We amble in sunshine back to the comfort of the resort via the pretty town of Bad Ragaz. It is a town running on the clockwork of umpteen clocks, at least one of them floral. As with the resort, it is also currently strewn with slightly suffering, but compelling sculptures intended as homage to water.
Dealing with 20 brands as well as Bad Ragaz's own, water sommelier Jessie Strohmayer wears a water drop brooch instead of the traditional grapes, and pitches foamy Basque water and hard Swiss with red wines. The result clearly shows it is best to avoid bubbles with red wine.
The site tour takes in the medical centre, attended by 29 medics including a gynaecologist, neurologist (there is a MRI scanner), dentist, Chinese medicine specialist, blue-jeaned sleep doctor and plastic surgeon who 'doesn't do noses'. Oddly, breast reduction costs 333 Swiss Francs more than 'enhancement'.
The Grand Quellenhof is your correspondent's hotel, designed by a St Petersburg architect to the tsars in 1871, and recently imperceptibly rebuilt. Despite the traditional veneer throughout, bathrooms feature television panels and to no doubt many residents' surprise, blow-dry loos. Close by, there are sleeker Spa Suites with saunas, and the palatial but cosy Grand Hotel Hof Ragaz, with tall ceilings, gleaming parquet and four posters. In total, 290 rooms are served by 750 staff.
Eight Palates
The resort's restaurants include Mediterranean 'Olives d'Or', where good carb-free bread comes with Ibizan salt, the importance of which is made clear: 'Namun', for 'pure inspirAsian'; mountain Swiss 'Zollstube', and the fine-tuned 'Äbtestube'. Here, recently Michelin-starred, Mossimann-trained, national chef of the year 2011, Roland Schmid cooks vegetables and acquerello risotto in the Tamara's waters, forages for ceps in the mountains, and welcomes guests not only in his imposing crypt-like dining room, but kitchen, where two may observe action from a linen-wrapped poser table.
The resort strives to prove wellbeing need not be about denial always; indeed the benefits of relaxation and fun see the inclusion of a 'fumoir' by Swiss tobacco firm Davidoff, and even a casino rated 'friendliest in Switzerland'.
After two days, our clutch returns considerably more revitalised. At Zurich station, Goth teens attempt rebellion – 'the most rebellious thing they can do before going into banking,' jibes one journalist. And, at the airport, where the transfer train features piped yodelling, evocative, momentarily, of the beautiful landscape just experienced, weight restrictions aren't an issue: the Grand Resort Bad Ragaz has left us fully satisfied without rendering us fat…