I hadn't skied for ten years. Yet I set myself a journey to the Swiss Alps, filled with a mixture of trepidation and ballsy, thrill-seeking adventurism. But I dread all the rental fiasco of the clothing and equipment; strapping-in, clicking out, and lugging it all up there only to descend in seconds. That slow and annoying anticipation build.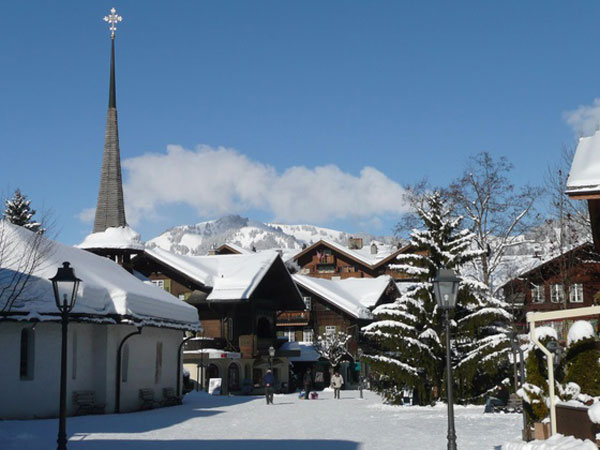 But some powdered prairies are worth the slog, their beauty the very best work of Mother Nature. Such is Gstaad, with a humble population of about 3,200 and 220km of piste. It's where my snowy expedition incorporated far more than blue sky and white banks.
I took the train from Geneva to Montreux (1 hr), then boarded the GoldenPass, an immaculately-run system strict on Swiss timing – and from whom British Rail operators could learn a great deal – up into the thin 1,050m altitude of Gstaad (1.5 hrs). It's one of the most stunning rail passages in Europe. The huge bay windows of the carriage rise into the roof allowing you to indulge in full panoramic view of Swiss farmland and chalets. It has all the enchantment of the greatest fairy tales: Gstaad's glistening snow sparkles as if diamonds are stashed within the powdery mounds; the rolling hills and meadows are communal playgrounds for locals, as well as wealthy stop-off tourists and celebrities (The Material Girl herself was spotted here with designer Valentino in December), and grand lakes reflect the wintery backdrop of silver dragon tooth mountains.
In regions with a raw desolate cycle – and in which temperatures commonly fall below -10°C – it's no wonder skiing is the primary leisure pursuit. It's accessible and covers all age groups. Young people partake for fun and frolics, but it's the elderly who populate. The twenty-something's will reach this stage but for now they mostly drink, throw snowballs, toboggan, and…oh! Snowboard. Skiers hate snowboarders. They'd gladly saw that plank in two, recycling it into perfectly useful skies instead.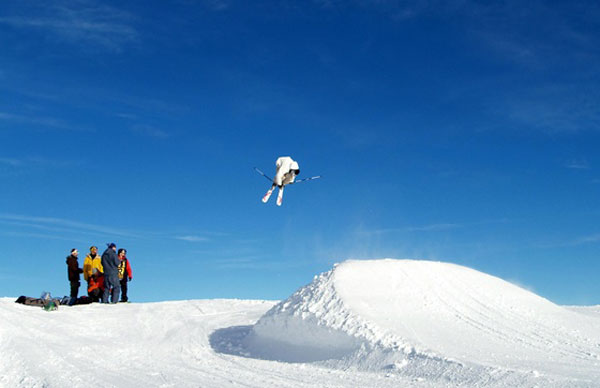 I notice that the older skier dresses in more layers than an onion, and in a diverse collection of wacky illuminate gear – with their inherent assurance and voracious inhaling – they wrap up tight and compare snowploughs and drink hot glödgat vin during regular office hours. My carriage to Gstaad was full of them.
I began at the foot of Gstaad-Saanen-Rougemont, elbowing past bothersome kids and oldies, all the while staying close to the side-rail for support and balance. I took to the slopes better than I'd expected. Locked into place, a slight forward lean and bent at the knees; my back straight, stiff, my eyes focussed forward and my heart ready. To begin with, it took all my concentration and efforts to simply stand still, let alone board the moving gondola. But my confidence increased along with my speed, which was key to my balance. There's no technique or finesse to my style. If I fall, bones break.
I think there's something rather unfair about being charged to rollick on snowy tops of natural beauty. But to ski above, across, down and through a town is one of the best ways of becoming intimately acquainted with its character. Something Gstaad has plenty of. An aerial view from the Alps is an introduction, the town's Preface.
But if the idea of balancing on two planks under your feet doesn't thrill you, then there are plenty of other recreational snow activities to delve into: snowshoeing (schneeschuhwandern), sledding, tobogganing (Glacier 3000 – the world's highest toboggan), husky rides, carriage / sleigh rides, ice climbing…and have you made yellow snow before?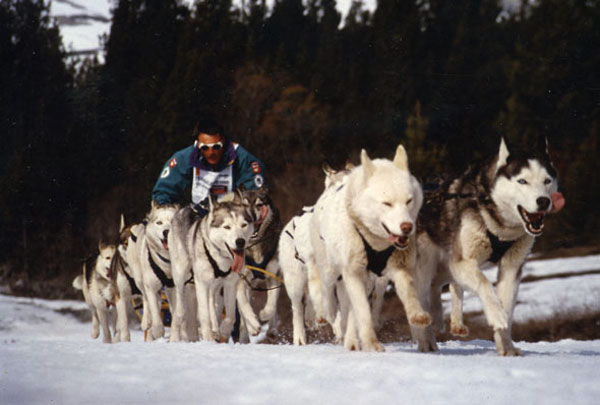 Snowshoeing is more difficult that it sounds, believe me. You cover some considerable mileage without the luxury of being able to slide. With descents of 10km, slopes of 27°, and a max altitude of 1,669m (recorded using Ski Tracks during my expedition on 27th January 2012), you'll workup a pounding of the heart and lungs, while off piste you'll delve deeper into Alpine terrain, discovering the veritable beauty of Gstaad's nature. The pine trees and Douglas Firs, the quiet swerving walkways; an 9-hole golf-snow-course which has seen the likes of Sean Connery frequent. If Bond plays snow golf up in the Alps, then I don't care what anyone says, it's totally f—ing cool.
Snow trails cover distances from 3km (Site Alp) to 5.5km (Rougemont-Gérignoz), while the Winterwanderwege (Winter Trails) stretch up to 8km, and roughly two-and-a-half hours of powder pushing. In truth they are not 'shoes', but plastic oblong panels that your boots strap into. Underneath they resemble running spikes, sharp and jagged so to support you while you keep balance in knee-deep snow.
René Minartz is a Dutch-born, Swiss-living, self-named 'Husky Man' and is my sled dog organiser. He's tall and athletic with the wind-scorned face of someone who lives by the freedom of the outdoors. In his elven years in Switzerland he has headed a polar dog colony on the Eiger Glacier (2,320m above sea level), seen victory in the Transalpine – the highest altitude sled dog race ever organised – and regularly takes visitors on sled trips on the Jungfraujoch (3,454m).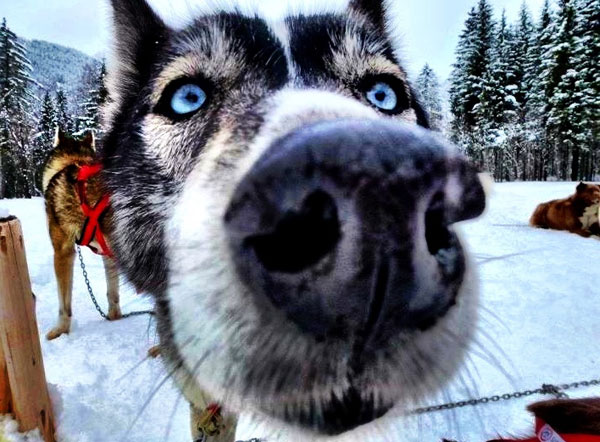 Minartz uses Siberian huskies and Greenland dogs. Both sets of hounds can't contain their excitement when humans approach. They bark and howl, "Wähle mich! Wähle mich!" The dogs are hooked in pairs, their tug-lines attached in turn to a central 'gang-line'. At the rear sit the human ragdolls, pummelled and thrown from side-to-side, if you don't hold on tight. The dogs pound the snow with grace and anticipation. From twenty-two, twelve lucky pooches are selected. They take to the course with ease, something they've done a thousand times before. Prior to being hooked and 'necklined', they stretch and showcase their athleticism. Come show time, two lines of six are formed. We're ready to rock. I cling on with my mittens for dear life. They zip along the snow in formation. It's synchronised and almighty to behold, like gliding along a marble table top. They are truly beautiful animals, their thick double coats creamy and dark, and the heterochromia of their eye, a piercing blue or molten brown.
While I could reel off Gstaad's recognised landmarks: Gstaad Palace, Grand Hotel, 'Le Chalet' in Château-d'Oex – and I can't recommend Ristorante Rialto highly enough – the true character of this Swiss town can be found in its people, like Minartz and Stefan Walliser.
Walliser is the Director of the Ermitage Hotel in Gstaad-Schönried. He is, perhaps, the warmest hotel director in these nippy regions. His attire is standard hotel manager cloth: dark, pressed and loose, his Manuel-style moustache only enhancing his beaming smile.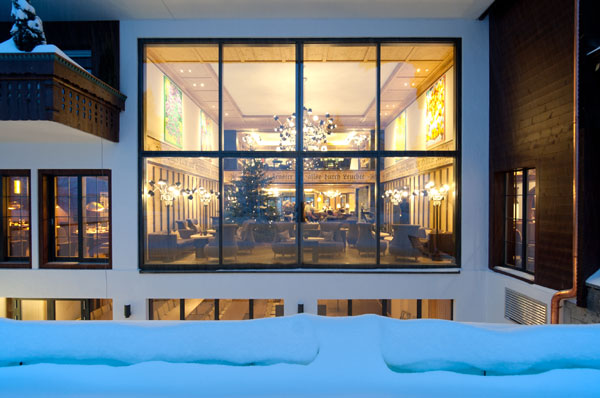 The Ermitage is well ordered. A recent refurbishment has left it juxtaposed between its original log cabin feel (much of the old lobby and bar remain), while the refurb has produced shinier, slicker features: new dining rooms (led by Peter Dosot), granite floors, animal skin furnishings and a piano bar. The bar is small but charming – serving a fine whisky sour – and is laced with one-million Swarovski stones, although they may wish to check that…it could now be down to 999,999.
In the bowels of The Ermitage is a 'traditional' inside-outside spa. You know what I mean by 'traditional', don't you? Swiss, European…warm, fleshy nakedness. We're all starkers. Dipping in-and-out of salt pools and plunge pools. I spent the designated fifteen-minutes in a 90°C mixed-sex sauna (in which, strangely, plates of fresh fruit are passed around – soft, warming, and picked through by sweaty fingers). After a relaxing few minutes I began to unwind, my ease and confidence growing. Oh Christ! Not now, not here. Then she walks in. Talk about Swiss timing: 5'9 and slender, smooth. Her hair tied back into a high ponytail, and she sits down in the only available single space: opposite me. I cross my legs, and smile. She smiles. Then time is called, "Time! Meine Damen und Herren. Das 15", and I bolt through the door, join a line of naked geriatrics, and am led outside where we proceed to roll in the snow. It scratches and stings the skin like frozen sandpaper. I come out to play, wee willy winky runs away. Then it's to the 'nude terrace Chouflis-Tal'. I could complain, but the minus temperature took care of business for me.
Later I'm treated to a 'classic massage', it facilitates circulation once again and all is restored to proper working order. If there's one thing you can say about The Ermitage, it's that they target the psyche, achieving that sense of calm and relaxation.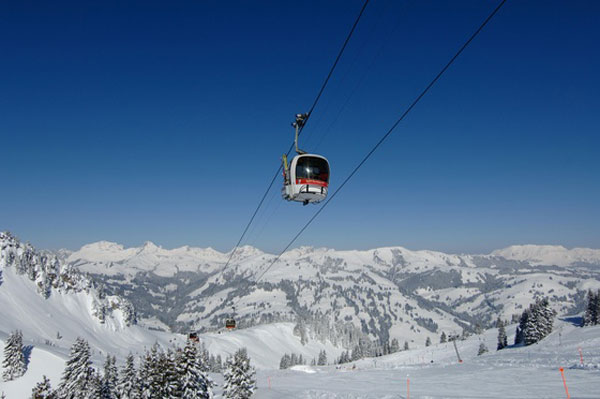 The next day I take a horse carriage tour from the Palacestrasse up to Turbach and along the Trüttlisberg pass. As the horses clip-clog along winding avenues, their Swiss bells chime around their necks. In difficult, icy gangways we raise-up the wheels, bolt to the sides, and use the underneath panelling to slide through narrow passages. Who knew horses could ski? The big beasts love it, galloping at pace, precise in balance. Their chocolate-colour hair blows back in the wind.
We pause at a tarmac platform for a picnic. I roll thin slices of holey Alpkäse into a small baguette. Hot, steaming glühwein dispels any shivers. Below I can see all of Gstaad and the medieval-like spiral tower of the Palace Hotel. We must be 1,000 metres high. Behind me skiers slalom, snow-plough and slide down Wasserngrat. Some are first timers, others are well into their sixth, seventh decade of snow-play. I breathe in the cool air so that my lungs feel a sudden chill, and Gstaad warms me to the very heart.
David stayed at The Ermitage Wellness & Spa Hotel, Dorfstrasse 46, 3778 Schönried ob Gstaad, Switzerland. Tel: +41 33 748 04 30. Website. For more information about Gstaad, please visit the official tourism website.