Round my neck of the woods, it only takes a freshly painted fence or a newly spruced pot plant to get the neighbours rioting in their masses and marching down to the council. So how on earth did one man manage to build an entire Indian palace in the heart of a traditional British seaside town? That palace is, of course, Brighton's iconic Royal Pavilion, resplendent with its voluptuous domes and elegant minarets.
Granted, it probably helped that that man in question was in fact King George IV, well, a title carries a bit of clout doesn't it. But it also probably helped that it was Brighton which he deemed the perfect location for this elaborate building; the seaside town where anything goes; where the cawing morning gulls soar above colourful fortune tellers setting up their stalls for the day and drag queens and stag parties merrily scattering through the streets finding their way home.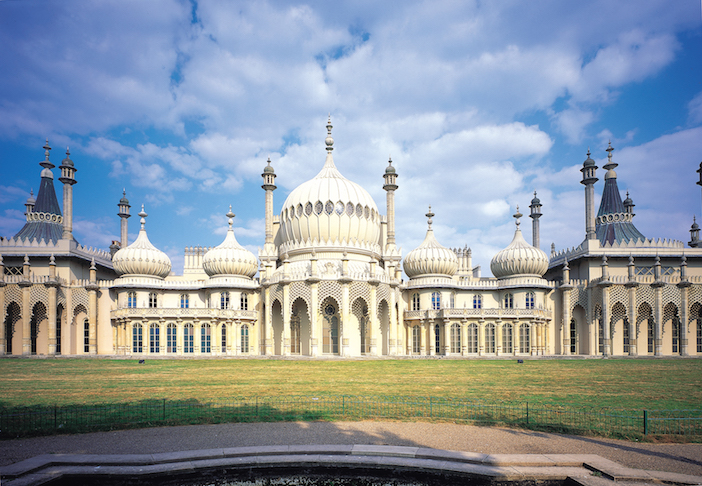 Standing on a swell of land skirting the South Downs, melting towards to sea, loud and proud Brighton is many things to many people. Having spent my university years there, I associate it with jovial meals with friends in its cheap Italian restaurants, scouring the weird and wonderful shops that fill The Laines for bargains, all night grindathons in its dingy nightclubs and sunny days recovering on its famous beach… oh yes, and the library, of course.
When I left Brighton, back in 2006, I had my future all mapped out. I would go to London, make my millions in media, get married, get divorced (blame the broken home for such dark thoughts) and return to its sun-drenched shores with my best friend, Annika. There we would set up home in a sweet little rose painted townhouse and start all over again. Well, thirteen years on, I was heading back to test the waters, sadly without the platinum Amex and shiny ring, but with a very jealous toddler back at the ranch and our university friends, Zahra and Gemma along for the ride. Oh, and a rather impressive bump boasting twins – I didn't see that coming back in the day, hey – maybe I should have humoured one of the fortune tellers after all.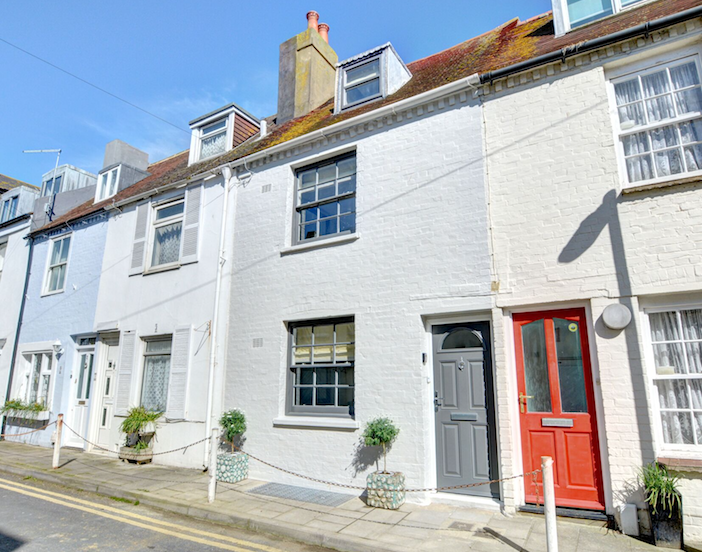 Our home from home was The Copper House, part of the Niche Retreats portfolio (a member of the Original Cottages family). Located down a quiet mews, just a stone's throw from the gloriously OTT Royal Pavilion and Brighton's famed pier… which shamelessly, still to this day, I have never visited. The five-bedroom townhouse, sprawling four storeys, proved the perfect pied-a-terre for our reunion. Despite being able to hear a pin drop inside, the property is just minutes from both of Brighton's bustling 'Lanes' areas; one an Aladdin's cave of twisting alleys filled with the glinting gems of antique jewellery shops and the other, a bohemian parade of vegan cafes, thrift stores and naturally, the odd psychic to boot.
At its core, the light-drenched bijou bolthole has a laidback simplicity to its décor, which exudes the charm of a French country pad. Think a muted grey and cream palate complimented by copper accents, understated chandeliers and gilded mirrors – with the odd glittery lampshade is a cheeky reminder that it also makes the perfect hen house. Local design touches include reclaimed wood from Brighton's derelict West Pier, which can be found in some of the bathrooms (it has three).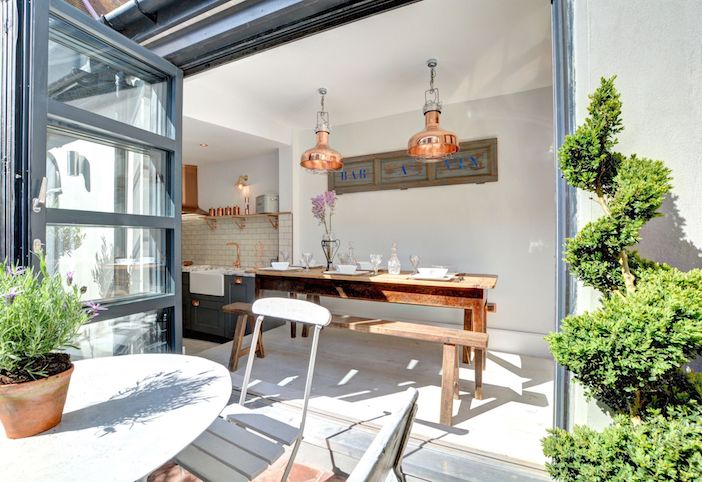 There is also a tiny suntrap of a courtyard. Backed by a rustic flint wall and dotted with olive trees, it makes the ideal spot for a quiet morning coffee before joining the crowds. The Copper House may not be slathered in rose pink paint, but it is exactly what I had in mind for my post-divorce escape all of those years ago.
Our weekend was a typical Brighton affair, if there is any such thing in this happy go lucky coastal town. It began with tea and cake in the hippy North Laines (gluten free, I'm sure), where whilst Annika spent the afternoon with a psychic called Pixie, I found myself rummaging through one of my old favourite haunts; Snooper's Paradise. Accessed via an old-fashioned turnstile, the enormous second-hand shop is bursting at the rafters with everything from used gas masks and creepy Chuckie-style dolls, to delicate handmade silk lingerie and Narnia-esque fur coats. Whilst Annika came out a little weary, with an in-depth knowledge of Pixie's house renovations and little else for guidance, I was the proud owner of a sweet blue crackle glazed plant pot and a bag full of nostalgia.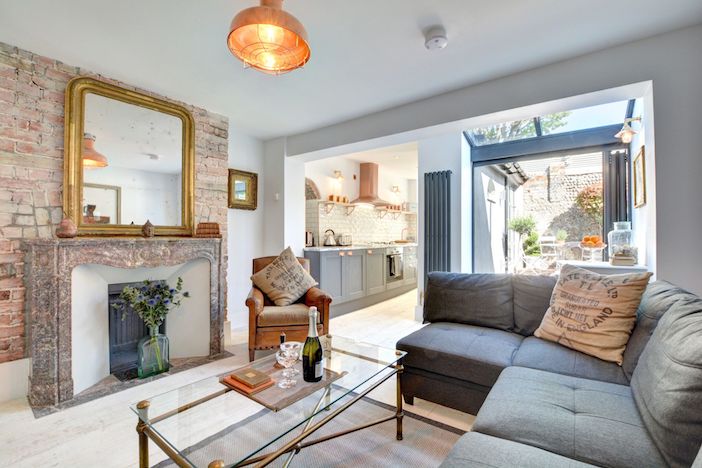 Later joined by our comrades, Zahra and Gemma, we spent the evening at The Copper House, huddled around its lengthy dining table, reminiscing about the old times. A bottle of wine in and the most bohemian of our gang, Zahra was eagerly Facebooking a Brighton-based shamanic healer called Sally, that she had met on a retreat in Glastonbury. As if by magic, the girls were booked in with the Sally's company, Leap Mindfulness, first thing in the morning, for an intuitive meditation session and tarot card – speedy, she must have been expecting them to call.
Despite my intrigue I opted for a spot of retail therapy rather than a tarot reading. Well, I am not sure I need a psychic to tell me that the next few years are going to be a heady mix of sleepless nights, dirty nappies, screaming children and a persistent 'mum tum'. Despite this, the next day, as I collapsed into The Copper House's comfy sofa with the sun streaming through the French windows on to my face, I couldn't wait for the girls to return and tell me all about it. I am not sure what I expected, for them to burst through the door giggling with fanciful tales and dramatic re-enactments I suppose. On the contrary, they all floated in as if they were on another planet all together, oozing zen and reluctant to spill the beans. Had they been hypnotized? Brainwashed? Drugged? Maybe I would find out over dinner.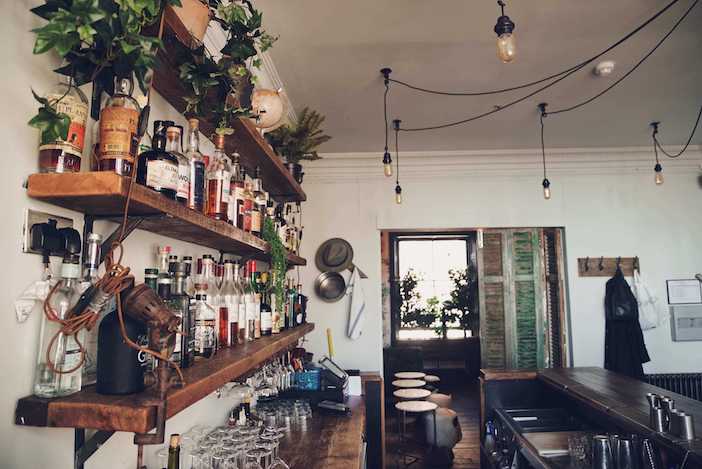 That evening, at acclaimed restaurant The Set, they finally opened up, waxing lyrical about the dreamy meditation, the uncontrollable wave of emotions and even the odd hallucination to boot. As the courses, and cocktails, commenced the conversations became deeper; the meaning of life, love and everything in between. I am not sure if it was my lack of booze or my lack of Sally, but I sat in awe of them all, nodding away with my water, thinking how much we had all changed since our dinners in the town's cheap Italian trattorias all those years ago.
The next morning, as we packed up our bags and locked up The Copper House for the last time, riding high on our friendships, yet deflated at saying goodbye to this weird and wonderful town once again, I took in the house's misleadingly humble façade. I'm sure the neighbours wouldn't mind if we gave it a lick of rose pink. Stuff it, lets pop in minaret or two on for good measure, it would blend in nicely.
Copper House is part of the Niche Retreats portfolio, a member of the Original Cottages family. The property sleeps up to 10 people in 5 double bedrooms. Stays start from £1,495 per week (off peak 3-night stays can be arranged from £1,121). For more information or to book, visit www.nicheretreats.co.uk or call 0333 305 8404.