"Just suck it straight off the toes." Not a line one wants to hear while sat at a restaurant table tucking in to a piece of foot-shaped food. It's 6pm on the last night of a trip to Hong Kong and I'm one of six huddled around a spread of various doughs and dim sum, following Sarah's suggestion we head to Tim Ho Wan, "the smallest and cheapest Michelin starred restaurant in the world", on paper, a perfect end to our trip of culinary and cultural discovery.
Due to its more convenient proximity to the airport, we headed over to Tim Ho Wan's newest and as yet un-starred site at 9-11 Fuk Wing Street, Sham Shui Po (head to the original branch on Kwong Wa Street for the Michelin), a very 'local' area with dubious drips from aircon units above and funky smells drifting and dropping about us as we got out of the taxi. Service came with wide smiles as the novelty of having a table full of fair-headed foreigners grew more and more evident, while we ate our way cautiously through a handful of 'inter-rest-ing' looking specialities. The chicken feet arrive looking exactly like chicken feet, pointy nails and all, and once I ditch the sucking recommendation for fear of blanketing the table in the remnants of the rest of the day's feasting, I pick at it with my fingers and discover it tastes just like flabby pork spare rib. A funny kind of food in more ways than one. Done and dusted, and never to be eaten by this mouth again.
Almost "smallest and cheapest Michelin restaurant in the world" ticked off, and we headed outside to flag down our cab to the airport. At that moment as we exit the street, quite possibly the worst smell in the world hits me in the face like a breeze block, even worse than those indescribable whiffs of I-don't-really-want-to-know-what that once caught me unaware in various back streets of Bangkok. I clutched my stomach, simultaneously weaving across the road in desperate search for a taxi out of this street, all the while the smell seemed to be travelling through the drains and popping up from under my sandaled feet. Eyes watering, gagging, and a humid sweat prickling my skin, I thought I might die of express Chinese torture right there and then. Two taxis arrived just in time and the group split and jumped in. For the first time during the trip, heading to the airport home no longer felt miserable.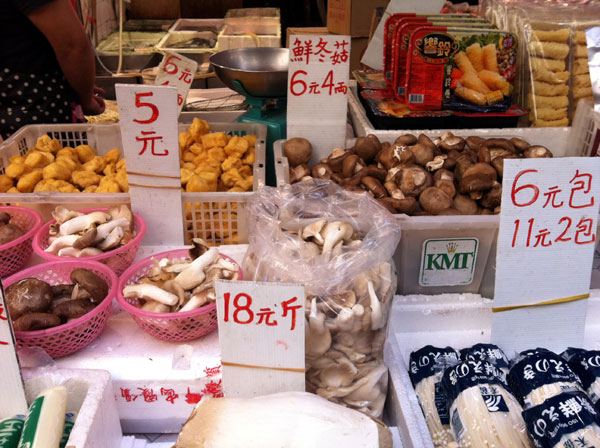 "Ah, stinky tofu," my seven-time Hong Kong visiting fellow traveller exclaimed as we buckled up our seatbelts. Four or five days before – I can't be sure, I'd lost all sense of reality by this point – I was sitting in the Grand Imperial London at the Grosvenor Hotel, Victoria, working my way through a dim sum afternoon tea, talking excitedly about heading to Hong Kong that afternoon and about how I really wanted to try lots of local specialities, "the weirder the better!" The feet and rancid tofu were two things we'd discussed and I'd added on my mental list of to-dos while I was discovering the city for the first time, confident that they couldn't possibly be that bad. Trouble is, when it came to the time to witness them, I had already been spoilt rotten with lots of more edible offerings from the island: Pho Tai noodle soup and other mouth-watering Vietnamese dishes at Nha Trang (Harbour City), and Hutong on the 28th floor of One Peking in Tsam Sha Tsui, to name a couple. The latter, with an abundance of antique dark wood carvings, paper lanterns and a wishing tree among the décor delights, is now firmly placed at the top of my Hong Kong dining discovery list. The faultless Northern Chinese cuisine – the signature crispy de-boned lamb and Ma La chilli prawns especially – and awesome views of the harbour, timed to coincide with the 8pm nightly harbour laser light show 'A Symphony of Lights', an altogether very memorable experience.
Before that last night, and in between breakfasts, lunches and dinners, there was plenty to keep the mind on constant alert. The breathtaking city skyline, reflecting in the water and changing colour like a mood ring throughout the day, making it a constant photo opportunity; the vertiginous sky scrapers sporting logos from well-known banks and electronics brands, hinting at the wealth circulating, the contrasting micro apartments and run-down densely populated areas reminding you that there're worries in life greater than whether the latest iPhone will be better than the last. A beautiful countryside you'd never expect to be a 40-minute drive away, in Sai Kung, offering sea views and impressive hexagonal volcanic rock formations, as well as jogging, canoeing, barbequing and scuba diving opportunities. All justifying Hong Kong as a holiday destination in its own right, rather than just a stopover, or place bag a bargain.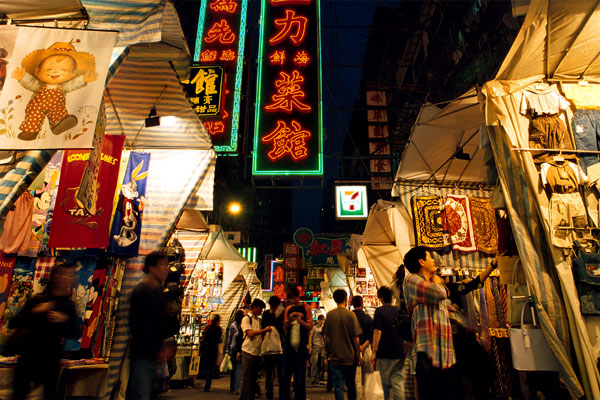 Residents and tourists mingle with ease in a well-controlled trickle, making it neither too busy nor quiet, and nothing like the hectic metropolis I was expecting, the bilingual signage making it a cinch to navigate with the aid of one of the free Hong Kong Tourism maps and a top-class metro system TFL could only dream of emulating.
A visit to the wet market on Nelson Street, in the Mong Kok district is a must-do for the food curious. A truly local experience which gives visitors a real taste of Chinese culture, rather than the air-conditioned malls and supermarkets, and one of the only places where you won't find English translations written on produce tags. Weird- and wonderful-looking varieties of mushrooms, sit among exotic fruit, vegetables, spices, meats, frogs, green crabs, live seafood ready to be selected and prepped; fish heads, so fresh the nerves keep them bopping about like an extra in Peter Gabriel's Sledgehammer; duck, dried whole and flattened, ready to be steamed and served with soy sauce, and live chickens, including blue ones "for a special kind of soup" I'm told, flapping around in cages, before coming to their inevitable, and very public, chop.
This area in between Mong Kok and Yau Ma Tei metro stations is market central, with Ladies Market (faux designer handbags and electronics, DVDs, t-shirts, etc.), and the self-explanatory Electronics Goods and Sports Goods markets all within short walking distance of one another. Well worth a stroll.
Epic views of the city can be found at the current 'world's tallest bar', Ozone at the Ritz-Carlton. A sleek setting for generous cocktails, accessible via two speedy leather clad lifts. It's so high you can feel the gentle sway as you stare out through the wall of glass on to the apartment blocks and Victoria Harbour far, far below, whilst nibbling through the constant delivery of nutty snacks.
On a shorter trip, I could've had a pretty good time without stepping that far from my hotel, the prime positioned InterContinental on Kowloon side. With some of Hong Kong's best eating options, attracting a local diner ratio of around 70%, represented through the likes of Nobu, SPOON by Alain Ducasse, worth a visit just to take in the 550 Murano glass spoons hanging from the ceiling and sample some of the 750 bins, a nod to Hong Kong's rank as China's wine hub; and the one Michelin star Yan Toh Heen, where I enjoyed delectable dim sum, true joy in the form of Wagyu beef and an entertaining mango dessert bubbling with liquid nitrogen. Just outside, The Avenue of Stars, Hong Kong's answer to the Hollywood Walk of Fame, is a stroll-worthy harbour side strip, sporting handprints from some of Asia's top actors, from Jet-Li to Jackie Chan, and culminating with a 2.5-metre bronze statue of Bruce Lee.
Across the water sits Hong Kong Island, where the majority of expats live and the business district sits. Slim line 'Ding Ding' double-decker trams, some dating back to the 20s, travel East to West, but the best way to take in the hilly sights and towering blocks above is on foot. Hollywood Road boasts antiques, arts and embroidery, and the Man Mo Temple, which dates back to 1848 and houses massive incense coils, burning away to keep bad spirits at bay, in case the stone placed at the doorway to trip them up, doesn't do the trick. Further up the hill, passed an impressively large Banyan tree, sit contemporary art galleries, cafes, and more antique shops.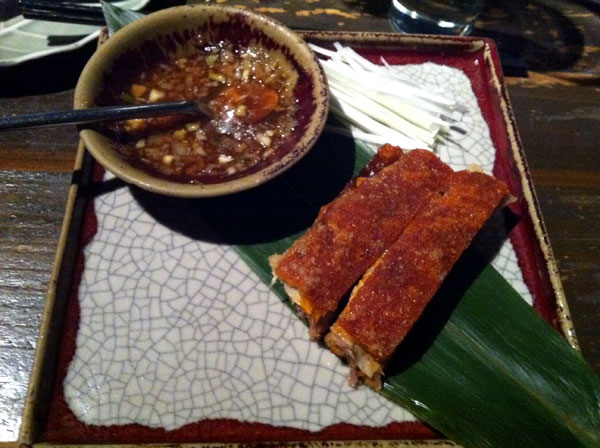 The very British Soho area, nearby, is a great spot to sample sake. A handy pavement escalator on Shelly Street, which goes uphill between 10am-midnight and down from 6am-10am, is perfectly placed to catch visitors at the exact point that they have likely decided they've had quite enough cardio for the time being, dropping you off at your chosen bar or restaurant to refuel for the journey back to the hotel. Among some awful Brit-friendly bars such as the London Underground logo-adorned Yorkshire Pudding, you'll find great little haunts such as Sakesan, a bar/restaurant serving delicious bites from the robatayaki grill, and an impressive array of sake.
Back down in the Business District, among shiny designer stores, the relatively new Armani Bar and Restaurant sits atop Charter House, also housing Armani fashion and home stores. Under cover, blanketed by red light, the sharp-suited and high-heeled sit and sup on expensive drinks, a similar clientele lounges around the rooftop bar, on sofas and bar stools, looking down on the hustle bustle below. A chic place to head to for one, or more if the credit card permits.
A certain amount of holiday blues can be expected after pretty much every trip away, but after the constant visual and edible entertainment on offer in Hong Kong, I felt really rather solemn checking in for the flight home. That, coupled with the so-good-I-almost-think-I-imagined it Champagne-accompanied bubble bath I had at the airport (a story for another time), and the fly like a king Cathay Pacific service, made arriving back in drizzly, dark, London town, all the more depressing. But, any memories of those unrepeatable feet, and that tofu, were trumped by the plethora of must-repeat highs of Hong Kong.