Lydia Manch spends a long weekend exploring the beating heart of Portugal's creative capital…
It's Porto, but it could be the Hollywood Hills. 
M.Ou.Co is a low-slung, sun-bleached sprawl of sandstone and polished concrete and slatted wood. It still feels like winter in London when we leave, but in Porto it's all sunlight sliding over textured walls, and the outdoor pool shimmering nearly – so nearly – invitingly enough to make you forget it's not officially spring yet. 
M.Ou.Co's is a look that over a few nights in the city I'll come to stop comparing to other things – a hint of Scandi simplicity, an echo of the clean lines of a Japanese ryokan, a touch of Californian sun-trap – and just accept as Porto's own. 
But new to the city, even though the Bonfim neighbourhood – where M.Ou.Co's based – is scattered with tall, narrow, stuccoed buildings in pale blue and dusty yellow and wrought iron and azulejo tiles as evidence that it is, definitely, Portugal, inside the hotel gates it's hard to shake the California comparisons, with the mid-century modern decor, and the disconcertingly unseasonal sunshine, and – most of all – the by-musicians-for-musicians feel. 
The hotel attracts a lot of musical talent, both as guests and performers in their underground gig space – the reception area, as we come and go over the weekend, often piled with instrument cases and high-spec hardware with bands checking in and out – but I can confirm musiclovers with low-to-no musical talent of their own are also welcome. We browse their vinyl library – a lowlit, high-ceilinged study with a 70s Mad Men look and walls lined with densely packed records, borrowable for your bedroom – with a martini in hand, and go back up upstairs with an armful of Midnight Cowboy soundtrack and Peggy Gou.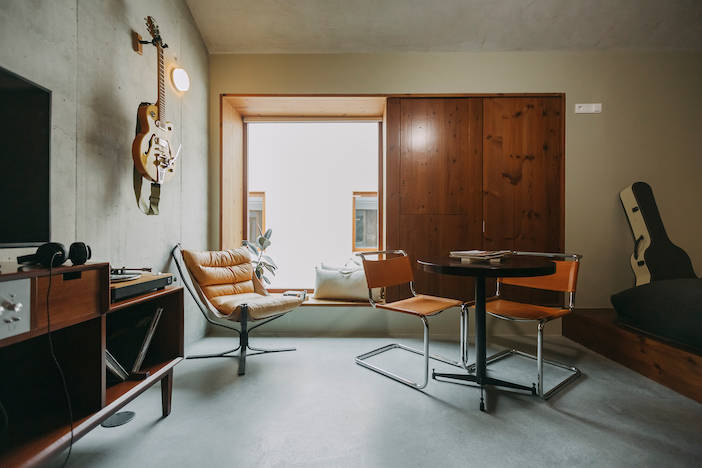 And a moment of appreciation for a hotel that actively encourages you to cause a commotion in your bedroom, with their free-to-borrow list of very high-performance Fenders. (They also supply a headphones menu to go with your Fender, so your commotion can be a private one.)
So the pursuit of great gigs and excellent caldo verde and late nights spinning record after record with the shutters open onto the hot night could have started and finished inside M.Ou.Co's high sand-coloured walls. But the pursuit of gravy-soaked prego rolls and peacock-scattered botanical gardens and expansive Douro river views means getting out into the city.
Our friend and guide moved to Porto recently after a few years in Lisbon, and is still high on the pleasure of the move, arguing that life in a country's second city, rather than its beaten-track capital, is where good times meet low pretension. And Porto makes a compelling case.
At nonchalantly beautiful riverview bar Miradouro Ignez on Rua da Restauração – little wrought-iron tables hot to the touch from the sun, the hill dropping steeply away to the Douro – we have the wide terrace almost to ourselves. basking here like warm lizards, with cheap, great vinho verde from vineyards just up the river. Same at the Jardim do Palacio de Cristal botanical gardens – where the people we see wandering through the manicured paths and palm tree fringed slopes are outnumbered by peacocks. Same at Laréu's garden bar, a city centre courtyard shaded by high stone walls and huge trees growing between the tables, with the peaceful shadiness of cloisters.
That's not to make our time in Porto sound saintly, or even vaguely wholesome. Maybe I can see a path through a Porto weekend that focuses on exploring Bombarda, the city's art district, relaxing by M.Ou.Co's pool, taking the long, scenic walk along the rocky shoreline to Foz, a nearby beachtown. Some nourishing seafood stew. Some heart-wrenchingly beautiful fado guitar on the record player.
And we do all of that. It's just that we also scatter our time with bursts of hedonism, which Porto might not demand but absolutely enables. Between every lowkey cafe and bar being so full of cheap, crisp and immaculately grassy vinho verde that not even Clapton's Chin Chin drinkers could put a dent in it, and elegant, semi-formal restaurants where thick gravy-soaked steak rolls are served as a light pre-lunch starter (hat tip to Cantinho do Avillez), it's a food and bar scene that invites some boundary pushing.
This is the heartland of the francesinha, after all, probably the most maximalist, punishing sandwich in the western hemisphere: invented in Porto, typically including four different meats, melted cheese, soaked in tomato and beer sauce, and often garnished with a modest 1-3 fried eggs. Cities that invent francesinhas don't make for detox weekend retreats, or at least not without a lot more purity of intent than we've arrived with.
In the column of pure decadence: the weighty, neon yellow – kind of… elastic-textured? – francesinha at MXM Food & Drinks that I eat with more pride in my determination than pleasure; Cafe Candelabro with its red-lit rowdiness and huge negronis, and rarely letting more than 5 hours go by without the next steak roll.
On the side of the angels, the thoughtful, joyful plant-forward small plates at Tia Tia, a medium-minimalist restaurant in the Baixa neighbourhood with a your-effortlessly-cool-friend's-house aesthetic and a killer natural wine list. Mistu, an old metalworks serving a modern Portuguese menu and sharp, outstanding ceviche, dropped into what looks like a 1920s New Orleans courtyard. And an afternoon sleepily watching the waves from a beachfront sofa at Praia da Luz in Foz.
And balancing between the hedonism and the purity that Porto has to offer: M.Ou.Co, with its greenery everywhere, and fresh, salad-heavy restaurant menu, and high-walled privacy, and the calm, clean lines of our suite with its mattress lying on a low wooden plinth – alongside a strong line in excellent and huge martinis, 3am guitar sessions in our bedroom, and a constant stream of musicians roaming the corridors with instruments hoisted over the shoulders, giving it a louche, backstage-at-Primavera feel.
By the time we're leaving we're feeling suspiciously well-rested, slightly triggered by the thought or mention of smoked meat, and increasingly coming round to our friend's way of thinking about the allure of life – or a long weekend – in a country's second city.
And we've definitively stopped comparing Porto to anywhere but Porto.
Rooms at M.Ou.Co Hotel start at 85 Euros including breakfast. British Airways has multiple weekly flights from London Heathrow and Gatwick to Porto. For more information about Porto, and to start planning your trip, please visit www.visitportugal.com. 
Header photo by Dominik Kuhn (courtesy of Unsplash)