Lydia Manch dives into a sunkissed autumn in Santa Eulària, and surfaces with a lot of reasons to start planning your spring getaway to the Balearics…
You know how Ibiza is. It's closing party weekend, a still-summery October. We're not wearing much, and still radiating heat. The room's shadowy, the lights flickering across everybody's bodies moving to the beat. The music's overlaid with a chant, something kind of primal that feels like it's rising up from the floor, feels like it's bypassing your ears and landing directly in your bloodstream. Everybody's radiant, sweat starting to glow on people's brows and collarbones. It's very personal and also deeply communal. It's kind of euphoric. You know: Ibiza.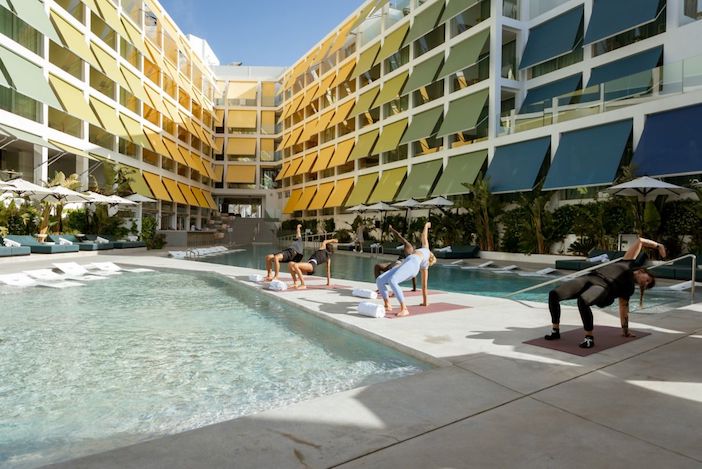 Except we're not at a closing party, we're at sunrise yoga in the downstairs studio at the W. "My beautiful tribe," Neliah Kandisha shouts over the music, "keep moving!" Kandisha teaches ecstatic yoga classes across the island – coaxing layers of bassy sound from the shruti box she travels with, weaving her own chants on top of it till the studio's thrumming with something hypnotic – along with more trad DJ sets at the island's clubs. 
And that's also Ibiza. A hippy history dating back to the 70s, layered on top of an island that was already a stew of Phoenician and Greek and Muslim and Catalan influences. Home to superclubs and celebrity mansions, regular stomping ground and occasional residence of multiple generations of Jaggers – but also home to communities with living memory of Ibiza as a primarily agricultural and fishing economy. A palimpsest of traditions, some of which look so contradictory that they surely can't co-exist – physically difficult to be at both sunrise yoga and break-of-dawn Pacha.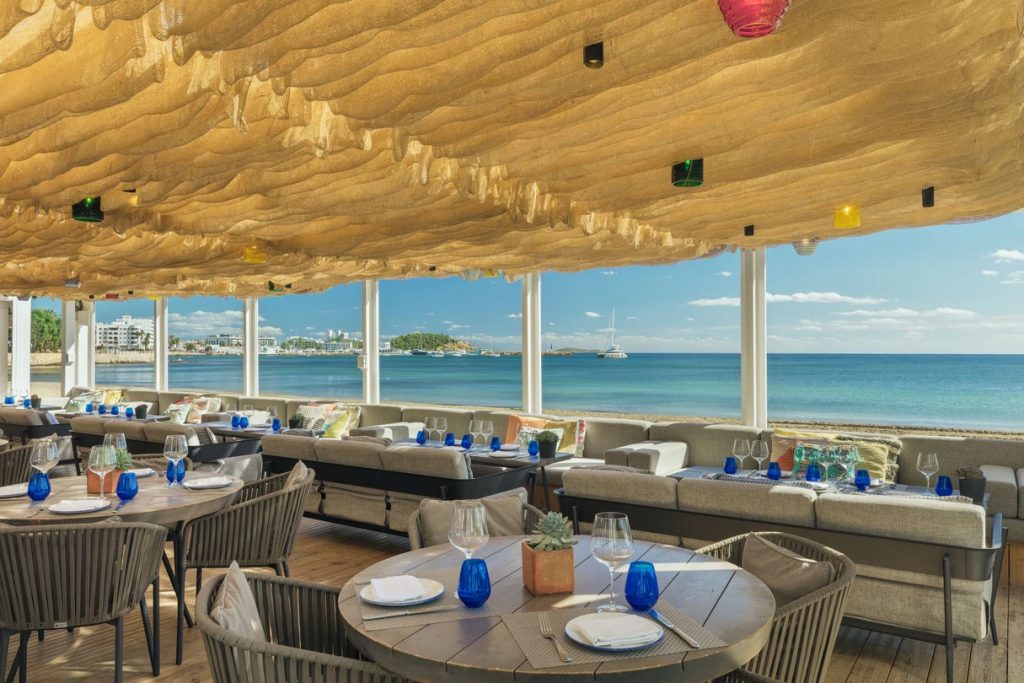 And right at the sunkissed heart of that duality sits Santa Eulària, one of the island's five municipal regions. Home to two of the island's oldest hippy markets, including Las Dalias, whose five-decade history's seen some of the most famous western musicians of each era performing at the bar. Santa Eulària's a mishmash of glossy seafront restaurants and big woodframed taverns, of long stretches of white sand studded with pricey beach clubs, and small, off-the-beaten-track, rocky coves.
It's home to tiny museums, elegant IYKYK agroturismo restaurants hidden down long, winding, unassuming roads in secluded spots in the hills, and rooftop pools fringed with palm trees at glossy, celebrity-haunted hotels  – countless ways, basically, to justify a trip to the region without ever coming within getting-a-stranger's-sweat-on-you distance of a David Guetta set. 
A lot of our time there's spent like that: dropping by little galleries and artisan liqueur producers; stopping off at highend beach clubs and lowkey beach taverns; zooming through the hills and olive groves and pine tree-lined roads with a hired Mini Moke – little cabriolet cars, tiny versions of the trad mehari rides you see all over the island – to get a view over Santa Eulària from high up. And it's a view worth getting: the district's a hilly, verdant one, scattered with architecture that's luxe in a textural, limestone-plastered, sunbleached way.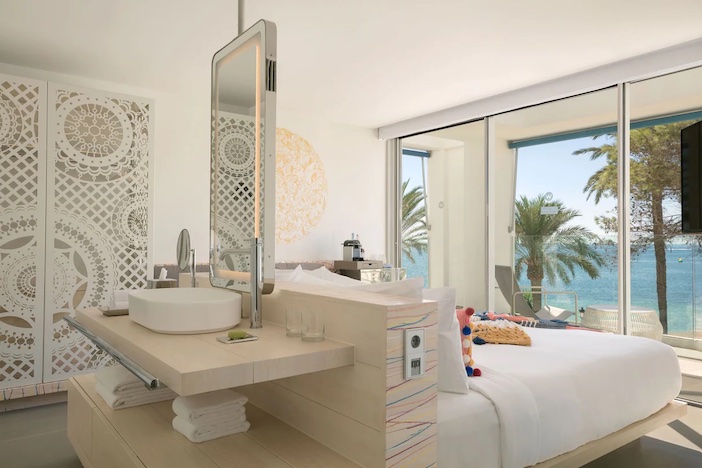 It's a take on luxury that, when you zoom into hotels like the W Ibiza or Can Toni Xumeu, becomes all woven textiles and beaten-up linen and grainy stone and nonchalantly expensive, no-two-the-same ceramics. Very good-looking, basically, with an emphasis on low-effort cool. For Santa Eulària's feel, think more Alicia Vikander wandering the island in airy toga-esque neutrals, and less the hi-neon fast fashion of the Brits-in-Ibiza stereotype.
It'd be easy to spend all your days and evenings in Ibiza like this: splitting your time between huge opulence and casual beauty. Hanging out at Maymanta, the celebrity-magnet Peruvian restaurant on the palm-fringed rooftop of the Aguas de Ibiza hotel, lightning strobing the night skies in a gloriously beautiful thunderstorm that lasts from sunset to sunrise. Embedding for an evening at La Era Ibiza, the lovely poolside restaurant at Can Toni Xumeu's hilltop agriturismo, eating suckling goat by lanternlight. Swimming at small coves where the tourists are outnumbered by the petrels. Hitting nearby Santa Gertrudis, where you can bounce between the lowkey loveliness of Bar Costa – a trad, low-ceilinged tavern doing chilly tankards of Mahou beer, and huge plates of manchego and toast and ibérico de bellota for under 10 euros each – and Overall Ibiza, a dimly lit, high-concept bar-restaurant where a solo scallop costs more than an entire meal at Bar Costa, and there's no cocktail list because you have your drinks dictated to you based on two adjectives of your choice and 'your vibe'.  
But one night, fuelled by late-nite tapas and high-concept cocktails, we slope off to Pacha and spend the night and dawn living the Ibiza that everybody already knows about, even if only by reputation. And it's all the things that you expect, except better, and we trail back to our hotel in the morning light, just in time for the start of the W's unbelievably lavish breakfast service: a pro piece of timing that it's impossible to regret, a natural high that even manages to carry us through Eivissa airport on 1.5 hours' sleep. 
Could you weave together a long weekend made up entirely of Ibiza's more wholesome side, limiting your decadence to – the okay, still quite decadent – afternoon cañas at tiny, wood-framed beach bars on tiny hidden coves, and fresh-off-the-fire paella studded with fist-sized prawns, and rooftop cocktails with the steady glow of lanterns laced through with the semi-constant crackle of lightning over the sea? You know, just spend your afternoons skimming over the Mediterranean in catamarans, and exploring the hills by Mini Moke; your mornings deep into ecstatic yoga and a smitingly sweet-hot-alcoholic café caleta? Sure, easily.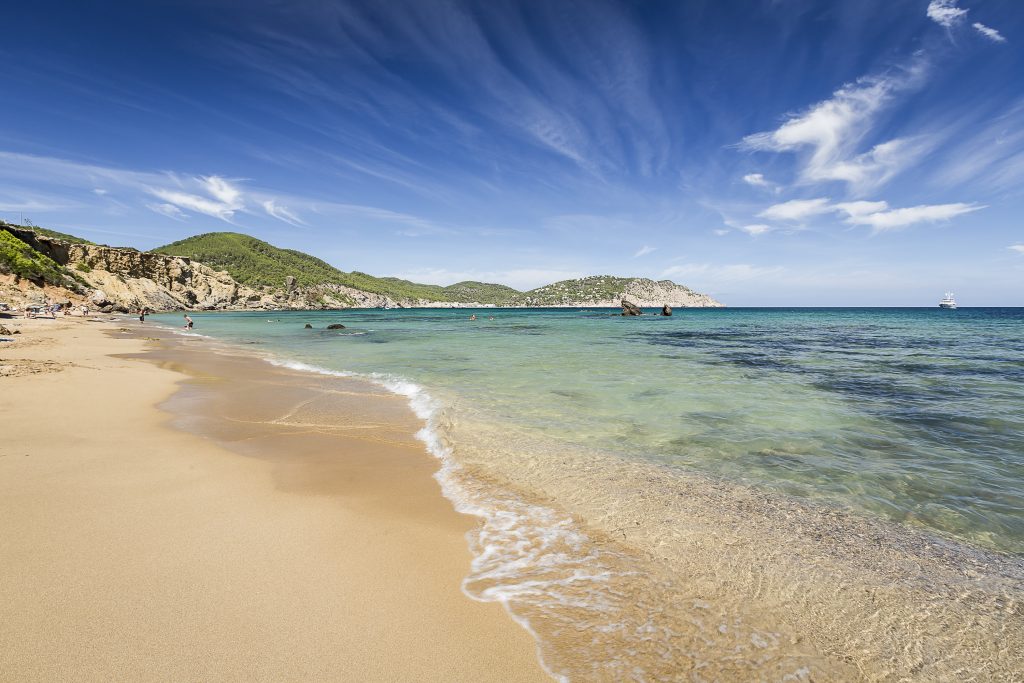 But much like when people try to make you choose a love language, the correct move here, imo, is to resist, and treat it as one glorious buffet. Have it all. Spend your afternoons walking in the hills and getting salt-encrusted in the Med and eating figs picked fresh from the tree, and your evenings at beach restaurants and elegant rooftop bars and loud, heaving taverns. And dedicate a handful of your midnight-till-dawns to the island's louder, wilder side. 
There are two Ibizas, sure. But in Santa Eulària you don't have to choose between them – they're just two sides of the same coin. And both of them feel kind of euphoric. 
The Arbuturian were hosted by the Santa Eulària Tourist Board. The W Ibiza starts at £252 a night per room. 
There are regular flights from London to Ibiza, including with British Airways from London City, and from the Aeroport d'Eivissa it's a 20 minute taxi to the W Ibiza.