With chances – let along choices – of travel still looking slim, Anna Selby considers one option that's coming available sooner than thought…
It's small, it's clean, it's empty, it's safe – so safe, in fact, it's confident to open up to visitors on 15 June. Iceland has had only a handful of Covid cases during May and will be testing all arrivals (results in five hours). So, it looks like this could be one of the first places to venture when we're allowed to board a plane again. And, chances are you're going to fairly socially distanced anyway in a country that is mostly volcanoes, lava fields, pools of bubbling mud, hot mineral springs and shooting geysers. It's a landscape so dramatic and explosive (literally!), it's hardly surprising it's the home of Vikings and sagas and trolls.
When I visited, I took a ship (a very small one) – Noble Caledonia's  Caledonia Sky – for a voyage around the whole of this island nation, starting and ending in the capital, Reykjavik. This is very much a 21st century city, sophisticated and European. Where we were heading, though, was another Iceland, one where life hasn't really changed significantly in centuries, maybe millennia. There's fishing and farming, horses and reindeer, tiny towns and villages and, as I was to discover, an astonishing array of wildlife, flocking to live in this cold climate.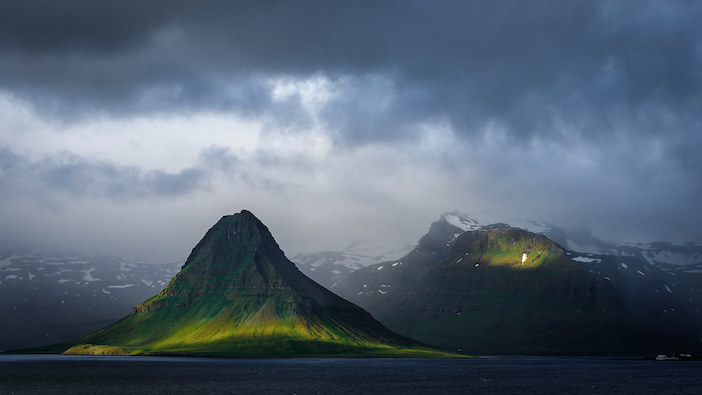 On the first morning out of Reykjavik, I wake to find we've docked in a small fishing village, Grundarfjordur, crouching beneath a massive peak. There's a narrow stretch of grassy lowland lit up by the pale northern sun and it quickly gives way to dark mountains, topped with patches of snow – in August. Wooden houses, all brightly painted in different colours (a Viking streak of individuality, I'm told) cling to the shoreline and it's eerily quiet with hardly any traffic. A cat takes a nap in the road to make the point. The air is so clean and clear you can almost taste it.
This is a scene that will be repeated over the next few days as this haunting empty landscape unrolls before us. Mountains, fjords and islands and a dark blue sea evoke a remarkable sense of emptiness and peace. Being on such a small ship (120 passengers) means we can reach places other, bigger liners can't. So we visit Flatey Island, home to just two human families, and plenty of cormorants and eider ducks. We pass hanging glaciers, abandoned fishing settlements and the further north we go, the more snow we see and the landscape grows ever more majestic.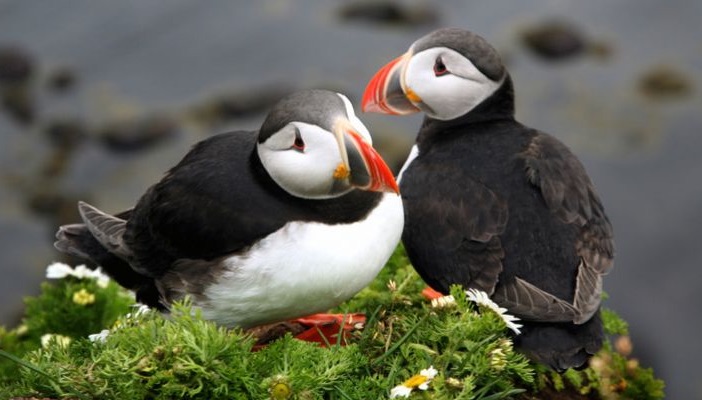 Another island, Vigor, has just one family along with some of the biggest colonies of arctic terns, eiders and puffins in the region. The down from the eiders' nests is worth $1300 a kilo and they live in a customised stone wall built in the 19th century, a sort of apartment block for ducks. The puffins rub shoulders with the eiders but prefer to burrow their nests into the ground. We walk around the island (all 2km x 400m of it) carrying flags to ward off any dive bombing from the territorial terns – or at least offer an alternative target – and finish with farmhouse tea with rhubarb tart (known here as "good marriage cake") made by the farmer's wife in their pretty 1880s wooden house. It is an insight into another world of sharp contrasts – harsh and cosy, wild and homely.
This is a trip filled with landmark events. The 400m high Latrabjarg Cliffs covered with gulls, puffins and fulmars. Leaving the cabin curtains open to be woken by the Northern Lights at 2am. Walking cross into the Arctic Circle on Grimsey Island. Finding the world's most northern botanical garden filled with surprisingly Mediterranean plants. Exploring an original Icelandic turf house – an unforgettable image of the local priest and his family huddled round the fire through the long dark winter, knitting, making ropes and listening to the old sagas.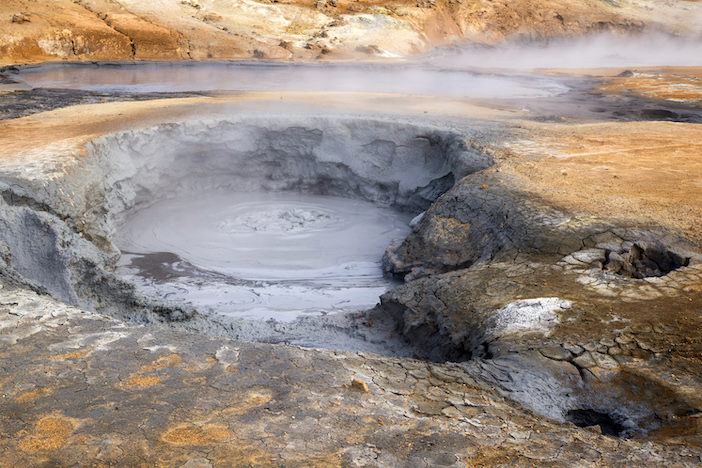 We travel inland to Namarskand where steam rises from the ground and the air is filled with the odour of sulphur. We drive past black lava fields and geothermal lakes – 100C – to grey mud pools, bubbling and splashing in a lunar landscape dotted with volcanic cones. The earth hisses, rumbles, groans – our planet at its most primitive, explosive and violent.
We take an amphibious vehicle into the massive glacial lagoon of Jokulsarlon at the foot of Vatnajokul, Europe's largest glacier. It is filled with icebergs that calve from the glacier and range from crystal clear to blue to milky white, sculpted into extraordinary shapes. They sparkle in the sunlight and we taste a piece of 1000-year-old ice. Where the lagoon meets the ocean, the ice bergs drift slowly out and seals playing in the floe.
There are extraordinary sights: the geological fault known as Almannagha where the American and Eurasian continents are pulling apart from each other and you can stand with a foot in each; the original Geysir (after which all others are named) spouting into the sky surrounded by bubbling mud.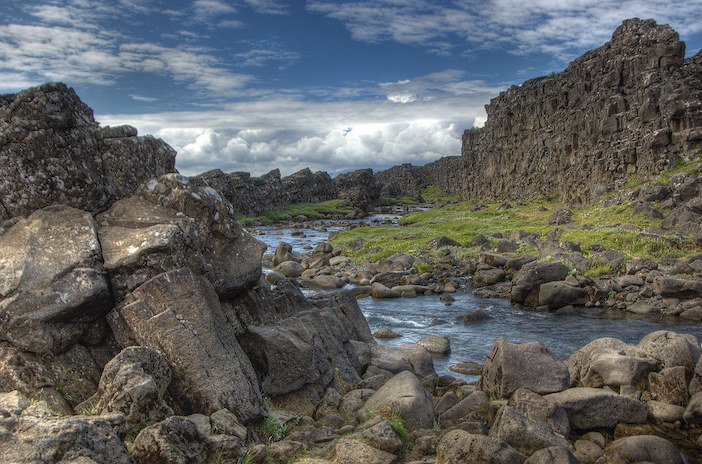 And if I had to pick one moment? There is actually no question. We were just leaving Eyjafjordur – arguably the most beautiful fjord in Iceland – when an announcement was made: humpbacks ahead! Four rubber zodiac dinghies were lowered into the water and everyone sped across to where the whales were last spotted. The water was unbroken, then five humpbacks appeared between the little boats. They spouted water, breached the surface, steaming away from us, flipping their magnificent tails and disappearing beneath the waves. They stayed with us for more than an hour. Some of the world's most magnificent creatures had come out to play with us. As they left a rainbow broke over the fjord.
Anna travelled with Noble Caledonia. For more information, including details of routes and packages, and up to date Coronavirus policy, visit www.noble-caledonia.co.uk or call +44 (0)20 7752 0000.
Title image courtesy of ORCA, taken on a Noble Caledonia voyage.